Born out of a shared love for absurd glamour, '80s/90s aesthetics and maximalism, Ciao Tschau is the new Berlin based creative studio and lovechild of collaborative partners German creative director Johanna Rüdinger and Italian film director Savio Debernardis. Ciao Tschau's model of creative expression synthesises Rüdinger's and Debernardis' respective backgrounds in both advertising and film thus allowing them to bring their dreamscapes to life. Personally, I think that where queer aesthetics are concerned, kitsch is to camp as Hansel is to Gretel and furthermore, the kitsch and campy open up a space of imagination where the spirit of playfulness lights the creative way forward. "Ciao Tschau, that's fun, colours and artificial scenery on the outside, but real people, real ideas and real stories on the inside…We are equally inspired by low and high culture, trash tv and renaissance paintings, dollar stores and luxury brands", share Johanna and Savio talking about their studio. Play is important, subversive and necessary — especially within the context of our modern white hetero-capitalist dystopia — and to encounter a creative studio led by an impulse of play is refreshing, to say the least. "Colourful, campy, queer, nostalgic and subversive — our work offers a fresh perspective for commercial and editorial still and motion projects. Our focus lays on social media concepts and scripts that correspond to the new way of consuming content and explores the creative boundaries of vertical formats." They continue;
Together we have a vision of bringing change to an industry that still treats inclusivity and diversity as an afterthought, not as a given. We want to give a voice and visibility to different characters and the multitude of their stories and realities and avoid the usual tokenisation in the media and fashion world. And we're not just talking about people in front of the camera, but also behind the scenes.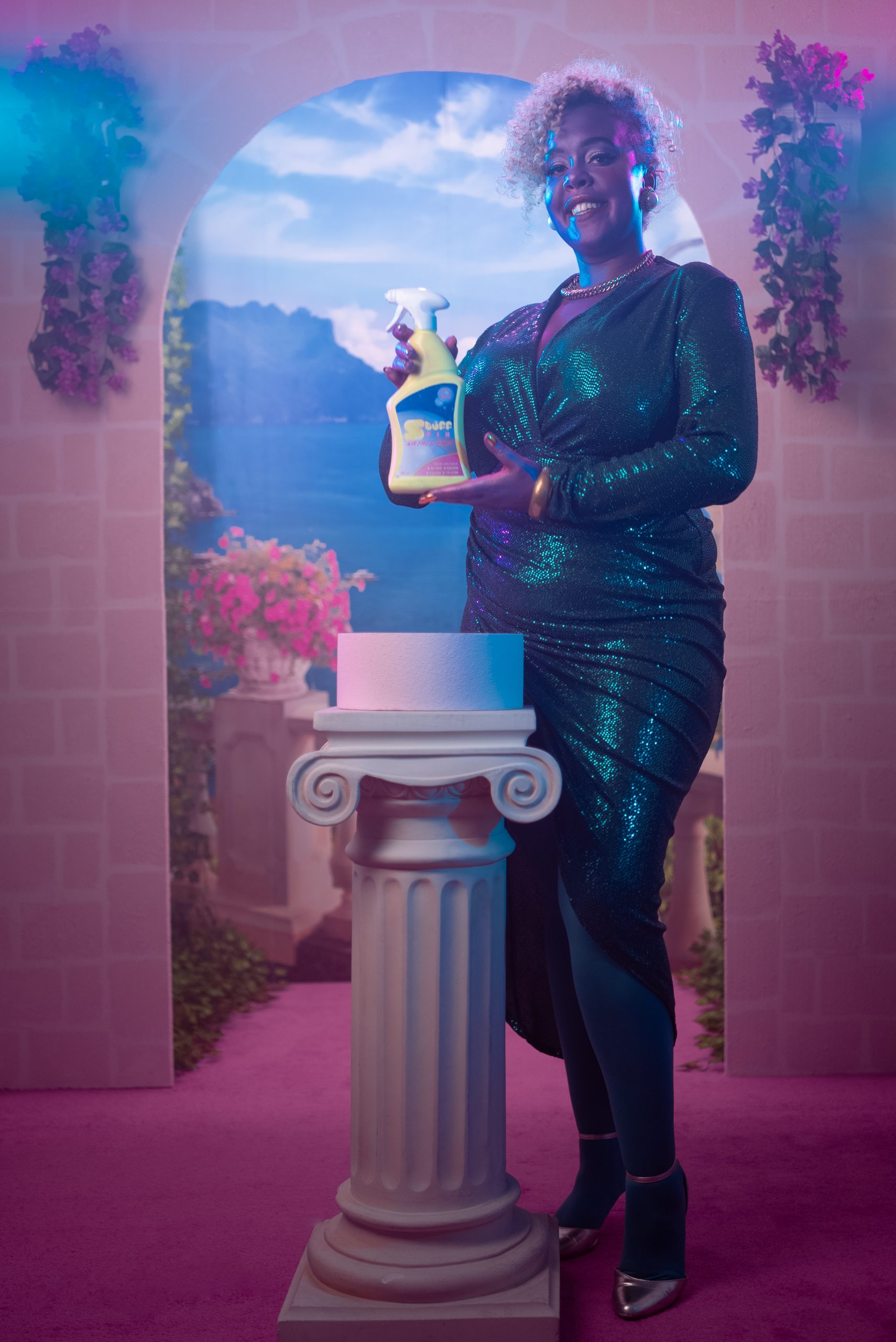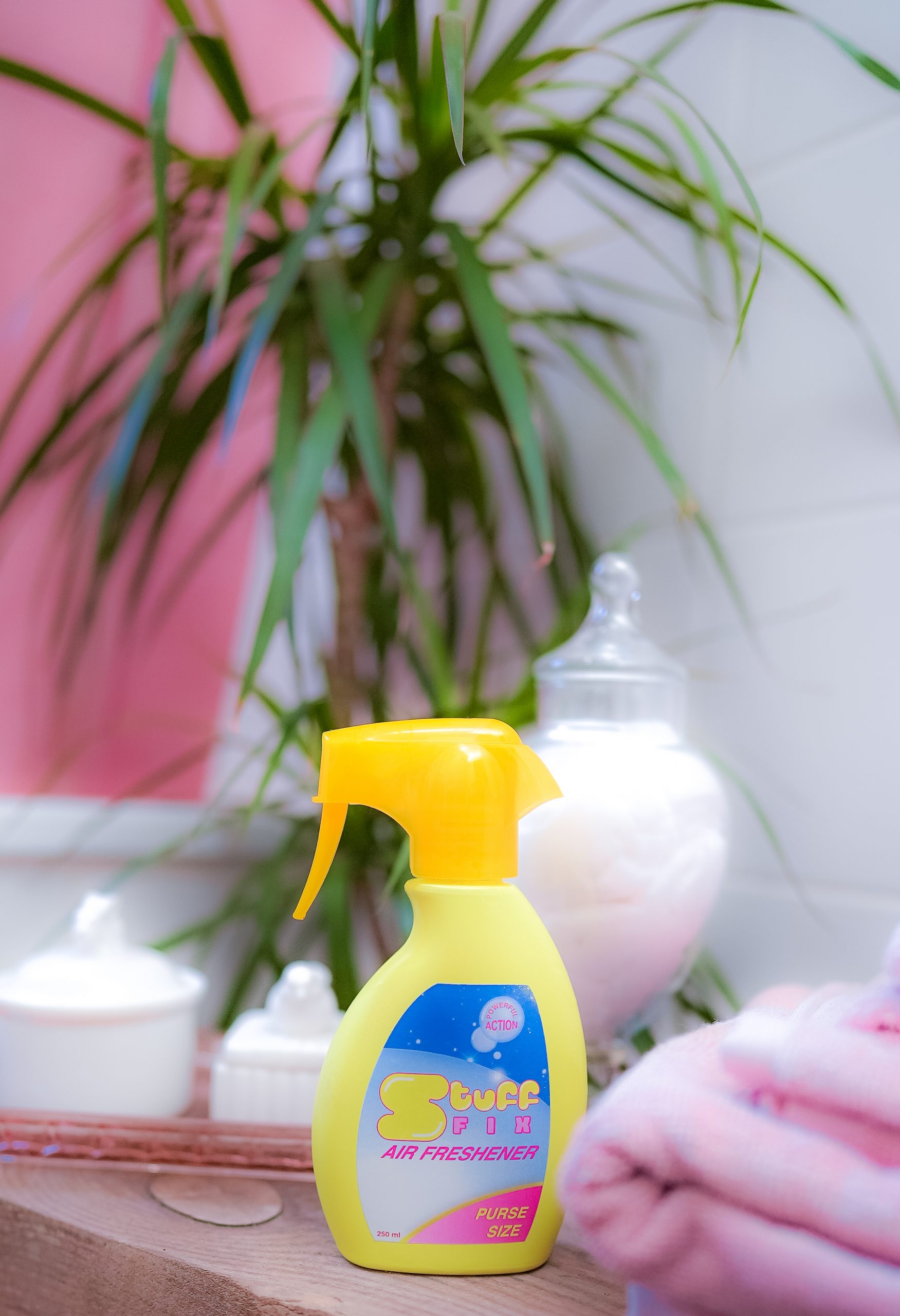 Where the individuals behind Ciao Tschau are concerned, Johanna Rüdinger brings to its artistic table her experience working as a freelance creative director and copywriter, having worked on both national and international campaigns. Speaking about the things that fuel her imaginative fire and aesthetic Johanna shares; 
As a child, I couldn't get enough of the visuals of 90s shows like The Bold and the Beautiful, Sailor Moon, or anything supernatural. As an adult, I am enamoured with lavish, decadent, and opulent interior design. I admire a renaissance painting like I admire an old advertising spread, the plastic setting in a Thai food stall like the mirror hall in Versailles. 
Savio, on the other hand, brings to the creative studio his years of experience working as a film director in both independent cinema and television, approaching advertising and new media formats with a cinematic eye and passion for storytelling. Where his own aesthetic inspiration is concerned he expresses that; 
My education has been done in parts by reality and talk shows, and in parts by my studies of [the] history of art. Which explains why I built my aesthetic on the coexistence of cultural references, from the lower pop culture to the highest cinema d'auteur. I dream of creating visual environments where all those references can communicate beyond the usual cultural hierarchy. A dreamland populated by rich housewives pulling their hair over Gucci bags, 50s Hollywood divas collecting their tears in crystal jars, mingling with fashionable aliens from retro-futuristic planets.
Stuff-Fix Air Freshener — an infomercial for a fictional spray that promises to fix the stuffy old smell of white male power structures in the workplace — is Ciao Tschau's first hilarious, witty and counter-discursive in a tongue-in-cheek sort of way first released project. "Does your office suffer from the soul smell of structural disparities? Then you need Stuff-Fix Air Freshener! Because some stuff just really stinks; sexism, racism, ableism, ageism", begins the ad which was inspired by "a childhood raised on infomercials and advertising that showed stereotypical ideas of women and solutions for housewives, yet bordering on the fourth wave of feminism." Johanna Rüdinger and Savio Debernardis' Ciao Tschau created an infomercial that is also a piece of subversive social commentary; humour their creative ally. Expanding on what inspired the fictional product and infomercial they share; 
The fictional product was inspired by a plethora of fantastic, albeit mostly useless, solutions to nonexistent problems. There was everything to keep the modern woman comfortable and occupied while fulfilling her duties as a housewife, mother, and object of desire. While we love the aesthetics, wanky transitions, and soft light, we were missing a useful solution to a real problem. So we created: Stuff-Fix Air Freshener. The film's glamorous, outlandish and campy visuals are both an ode to and a critique of the infomercial. The set in all its plastic and plaster glory is reminiscent of fantastic studio designs while the styling celebrates the beautiful cast.
Watch the Stuff-Fix Air Freshener infomercial here!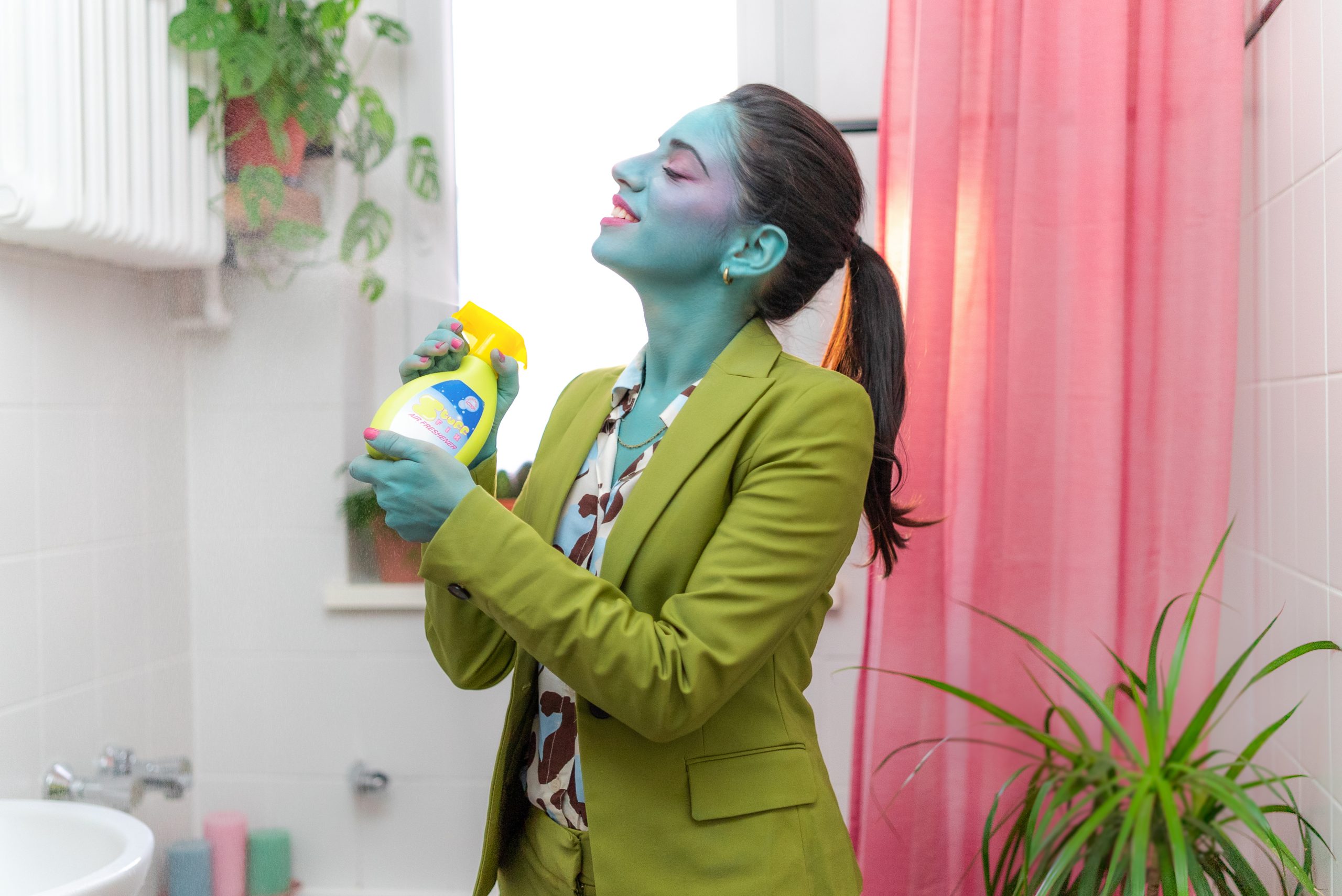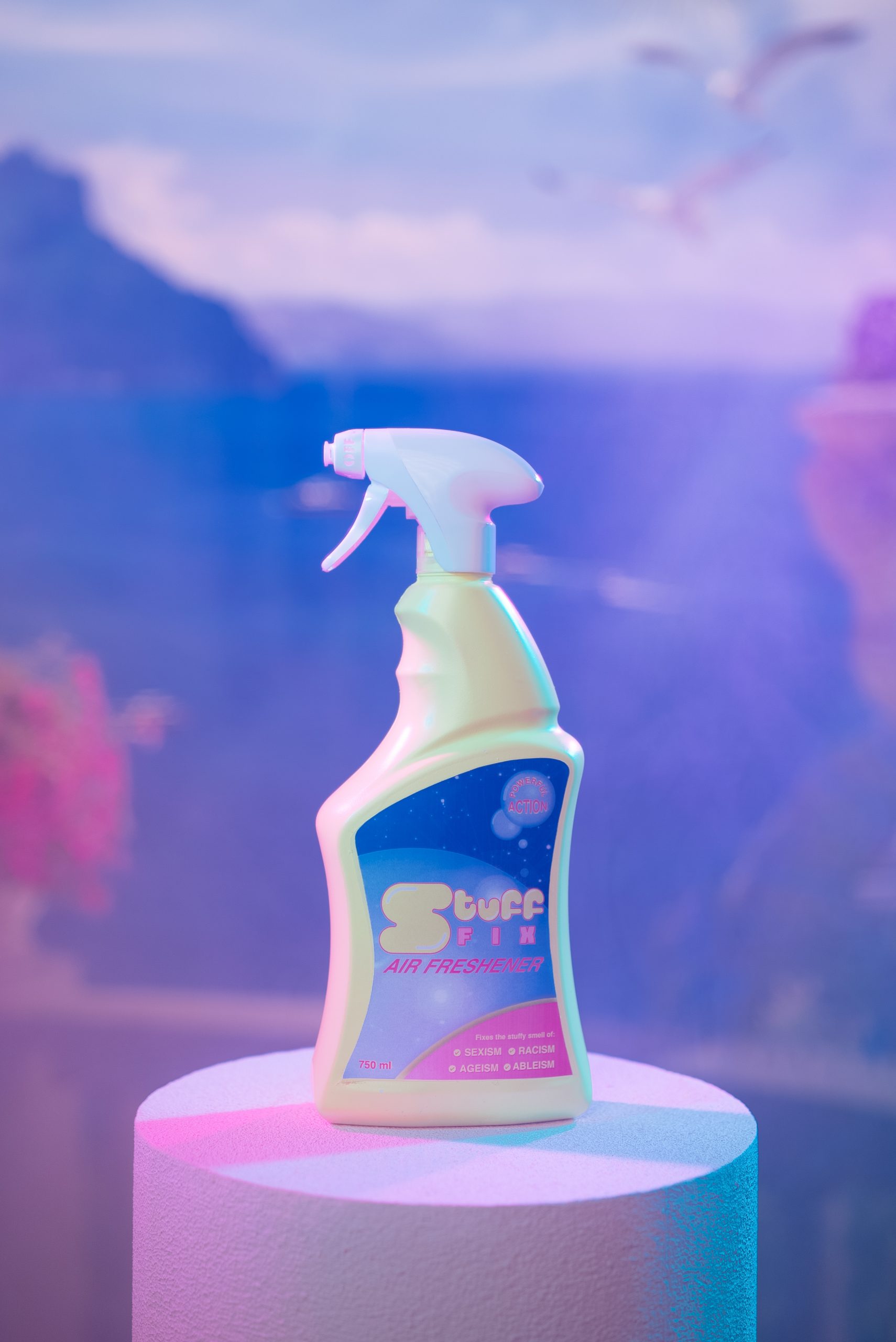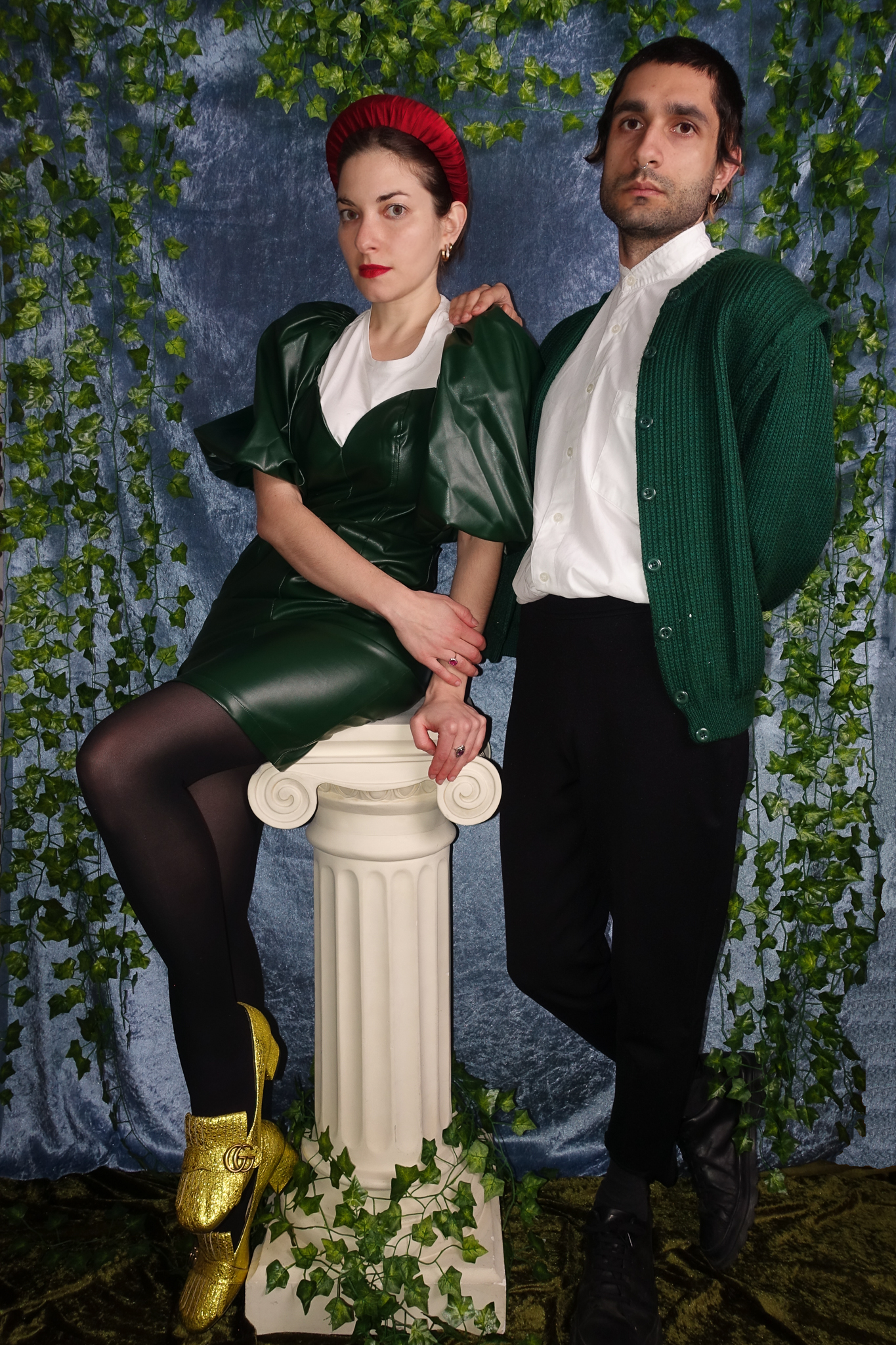 Johanna Rüdinger and Savio Debernardis
Credits:
Written, produced, and directed by: Johanna Rüdinger and Savio Debernardis
TV-Host: Cadbury Parfait
Customer : Irene Della Casa
VO: Johanna Rüdinger
Director of photography: Jana Pape
Camera assistant: Pablo Sahin
Editor: Thea Aae
Music composer: Felix Römer
Motion graphics designer: Eric Linn
Makeup artist: Sophie Tschumburidze
Hair stylist: Krizstìan Berki