Tbose Moroka wakes up to a pounding headache, remnants of nausea in his throat, a steady pain behind the top of his ears and limbs that ache from the previous day's twelve-hour drive from Cape Town to Makhanda. Who could have imagined that the National Arts Festival (NAF) would be such an extreme sport in 2030? He muses. The Virtual Reality (VR) headset he wore to the first show could be to blame for most of the pain he's feeling — everything comes with side effects and for him, VR means nausea, no matter how many times he uses his headset. It was worth it though as he recalls how he was able to participate in the theatre show as if he was on stage and not at his backpackers. 
The highlight though — the reason for the drive — was an in-person live music show. The stories his mother, Thandi, had told him stretch back years. Her face would glow as she recalled the days of being in a packed room appreciating the sounds of guitars, trumpets, vocals and the occasional "yeah" from the crowd. The performances, a dynamic dialogue between the artists and the audience. No one performance was ever the same; the energy from the audience impacting how the artists engaged. Harnessed chaos, the moment and the feeling, beautiful. Thandi would say it was this that made her able to listen to an artist's set twenty times, each performance bringing with it different emotions. 
With those stories in his blood, it was inevitable that when NAF finally made a limited number of in-person shows available, Tbose would be first in line to book. Thandi's voice guided his choices, her death still hits him out of nowhere and he almost clicked two tickets instead of one at the checkout. 
It is a complex mix of emotions that floods him in the almost packed room in Makhanda. Excitement, disbelief, grief, nostalgia — and if he's honest — fear all compete for primacy. Even with his "yeahs" muzzled by his surgical mask, he finally feels what his mother spent all those years trying to explain.
It is a new normal his mother, a COVID-19 casualty, could never have predicted. With rolling waves of viruses, crowded spaces deemed a hazard, he imagines what those shows packed beyond capacity in Makhanda must have felt like.
Pause.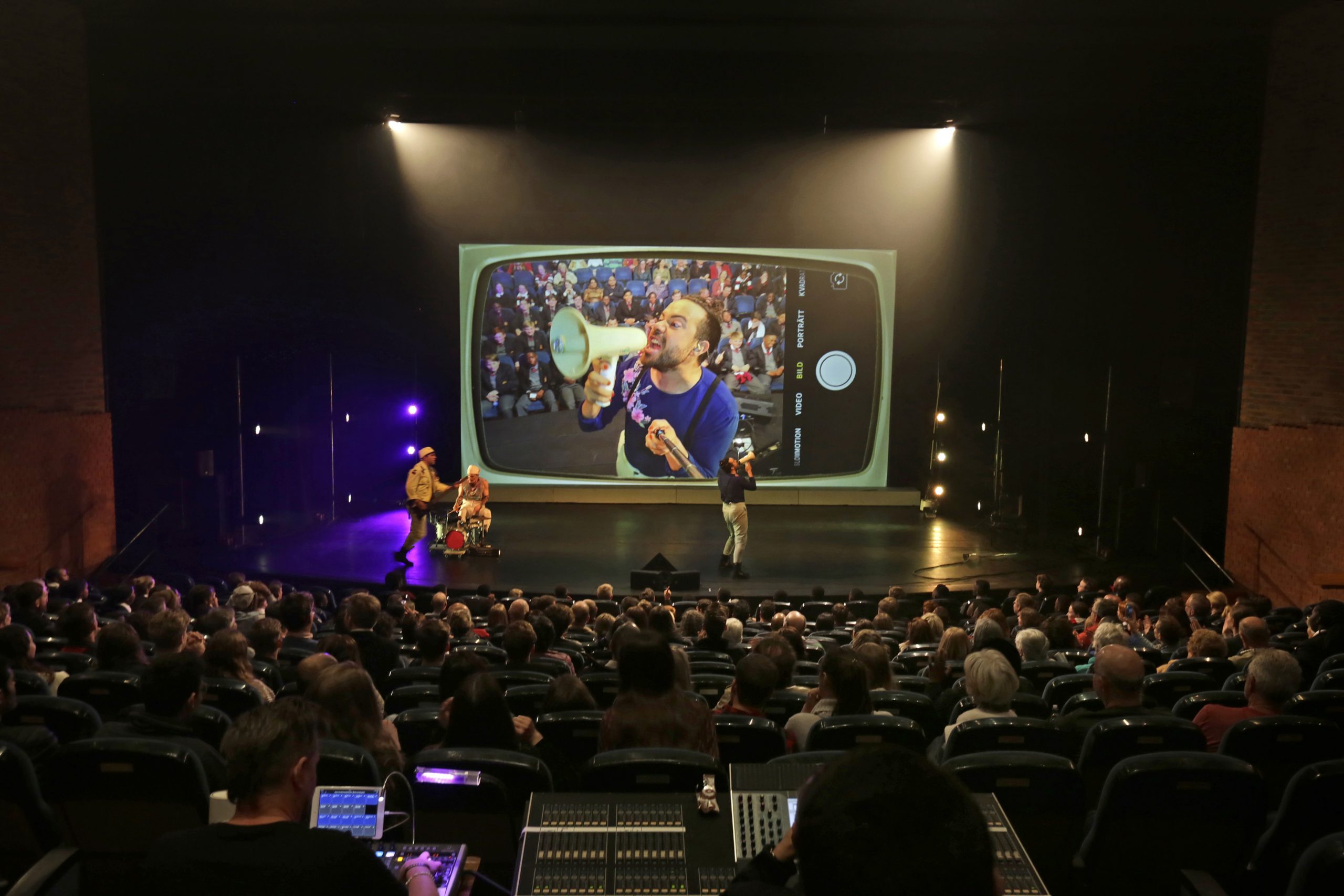 Photograph by Mark Wessels; I am Somebody, National Arts Festival, 2019.
Writing this from a somewhat bleak 2021, one can only speculate on what the festivals of the future will feel like. If radio killed the pop star, it would not be too far-fetched to say that COVID-19 killed the live experience. Who would have anticipated a whole calendar of festivals being cancelled or being moved to the virtual realm when the then Minister of Health Zweli Mkhize confirmed the first positive case of the respiratory syndrome Coronavirus, COVID-19, on 5 March 2020?
Truth be told, we still all clutched onto hope even as the first casualty, the Cape Town International Jazz Festival meant to start on 27 March 2020 was cancelled. As the number of positive cases grew, that hope slipped away. In-person festivals and live shows became carefully controlled rarities, to be enjoyed from behind masks with appropriate social distancing in place. 
The impact of the virus cannot be overstated, but humans adapt and they adapt quickly. With our hopes pinned on the expected vaccine rollout, plans for exciting, groundbreaking hybrid festivals that accommodated a small live audience and virtual events were imagined and launched across the country. However, the best-laid plans came undone as the third wave herded the country back into level 4 lockdown. The hybrid National Arts Festival that was due to be held from June to July 2021 from Makhanda, Johannesburg, Cape Town to screens all over the country was forced to go fully online in July.
As we find ourselves in a turbulent 2021 with rolling lockdowns, vaccine denial, and questions around post-vaccine protocol at festivals, we imagine what our festivals would look like in the future and what role innovation will play in the metamorphosis. 
Understanding the importance of innovation and collaboration in creative spaces, NAF has partnered with Future Festivals South Africa to explore what the 2030 festival experience will look like. 
Imagination is a powerful tool, and through this project, artists Duduetsang Lamola (blk banaana) and Francois Knoetze are able to harness a 'collective imagination'. In an open call, the public is invited to contribute their dreams for a future festival, exploring what spaces and places could be possible. Drawing and incorporating from all the shared contributions, blk banaana and Francois Knoetze will create an immersive 360-degree video visualising a festival of the future.
To take part in this project, visit the Festival of the Future website.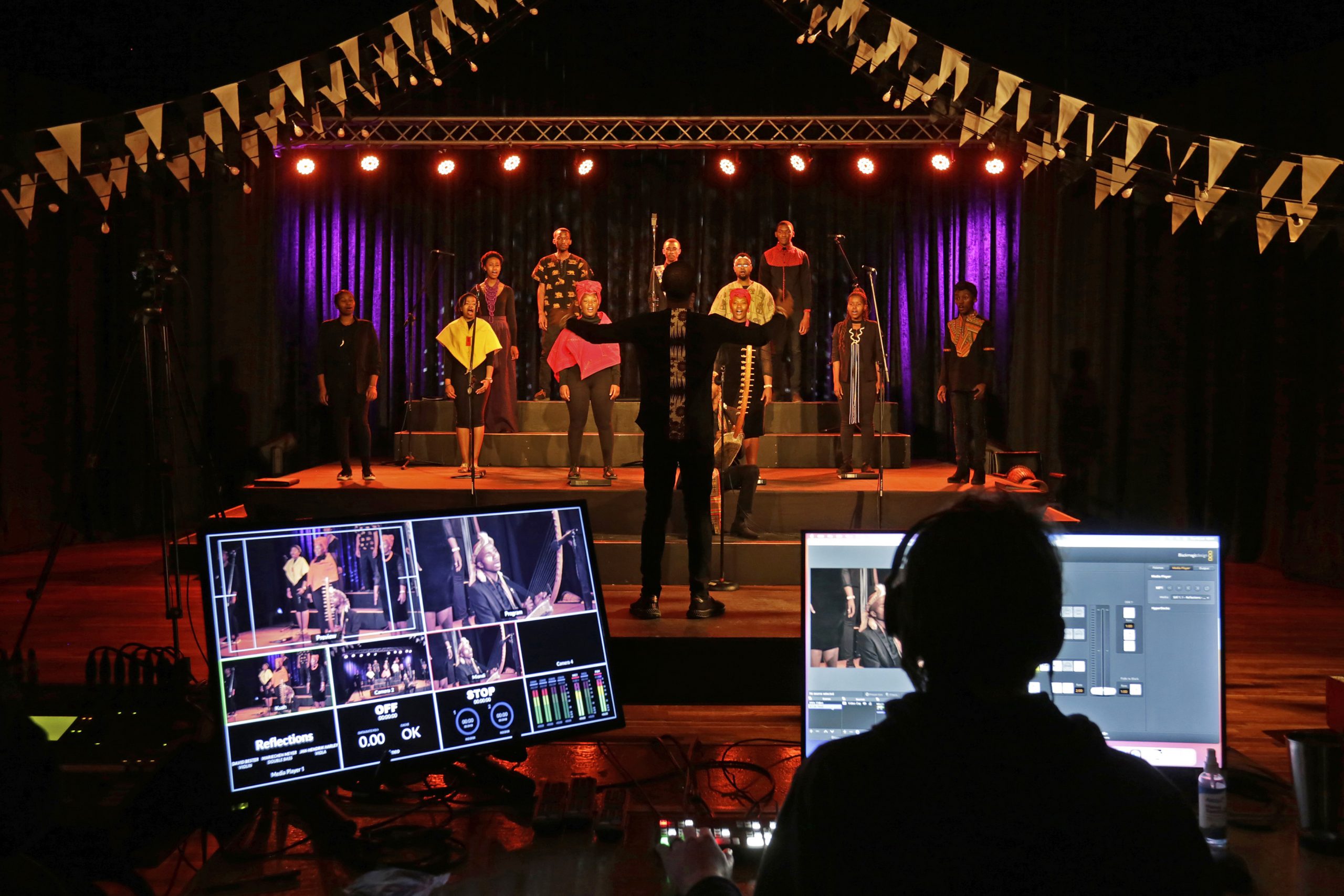 Photograph by Mark Wessels; Let My Love Be Heard live stream, National Arts Festival online, 2021.
The festival of now
To imagine the festival of the future we need to first unmap the festival of now. In South Africa, festivals and live music events were hard hit by the unpredictable nature of COVID-19 and the implications it brings. In a study done by the South African Cultural Observatory, 90% of the respondents who were operating in the local live music industry stated they had lost income due to the pandemic, this was despite the majority of these respondents being established entities. Additionally, a staggering 25% indicated that continuing with any elements of their business under lockdown would be impossible. 
A dire situation, but also a possible springboard for event organisers to push their own boundaries and to really think outside of the box. Festival organisers and artists need to develop new ways of engaging with each other and the audience. They need to feed the demand for more innovative ways of interacting with audiences via social media and alternative platforms. In the festival of the now, an artist needs to go beyond presenting their work followed by a session fielding questions from the audience, if the show is to be labelled as interactive.
The fully online NAF in 2021 has given us a chance to glimpse and explore what is possible. Writer and editor, Dave Mann, marvelled at the innovative creativity on display in Another Kind, a show produced by 2020 Distell Playwright winner Amy Louise Wilson. Another Kind is described by Mann as being "primarily a response to a need for theatre in an ongoing pandemic", he further states that it is "an interactive, digital repository of a performance on the workshop floor, a long view of the act of storytelling." The artists of NAF 2021 have not been deterred by the limitations brought on by COVID-19, instead they have found ways to tap into technology, integrating digital tools to enhance their storytelling. Mann, after seeing several theatre pieces, remarked "Theatre is changing. Evidenced by the kind of work on show at virtual festivals like the NAF, it is no longer so reliant on a physical space or a traditional stage, for one."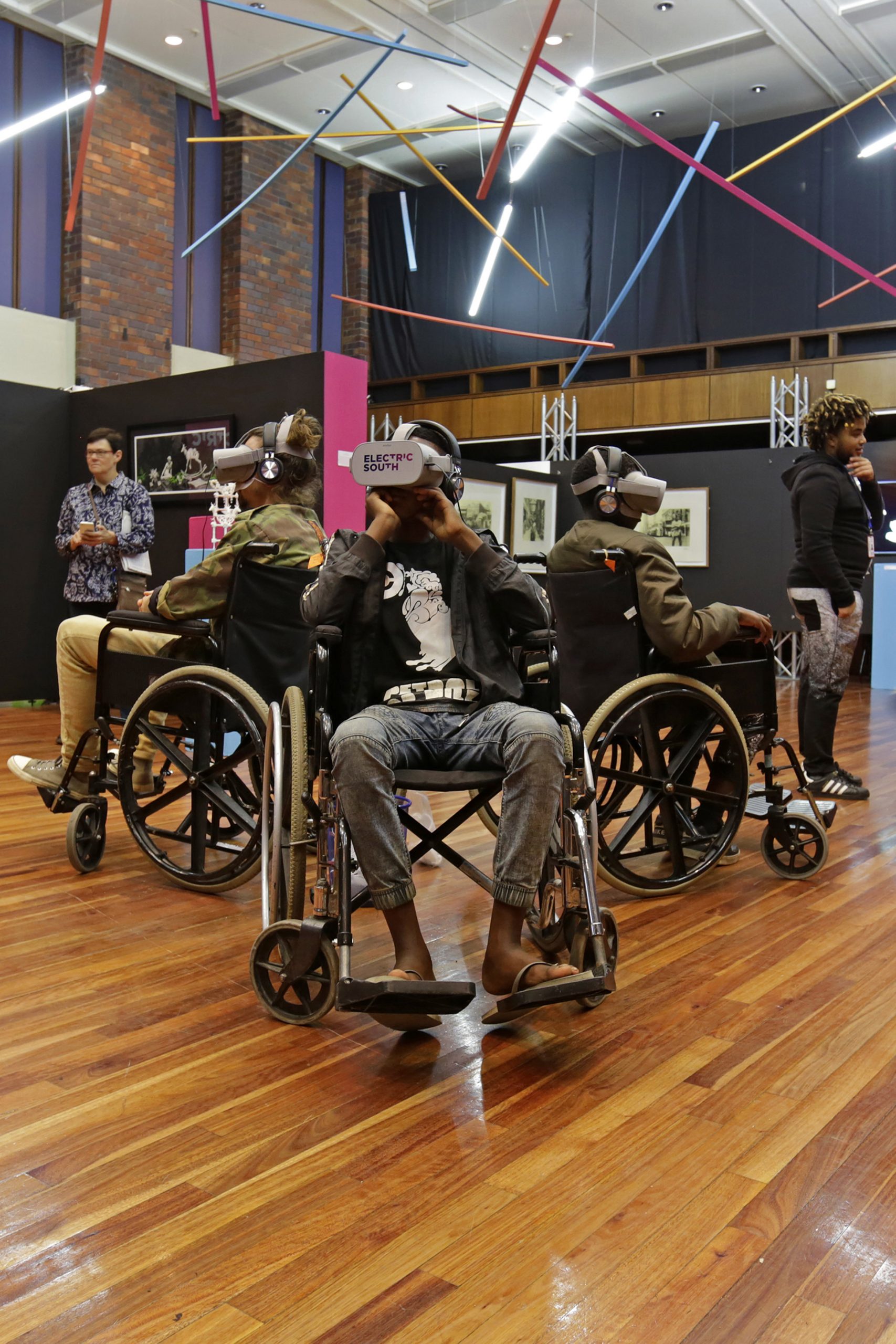 Photograph by Mark Wessels; Creativate is Electric South, National Arts Festival 2019.
Post NAF 2021
There are many questions and a lot more unknowns, however, one thing we do know is that we are never going back to the old 'normal'. As we think and reimagine our festivals of the future, there is a lot to consider. Are we — as inherently social beings — going to be happy to pay for, and enjoy performances from the comfort of our houses, our "yeahs" there only to annoy our neighbours? Adding to the conundrum is that people have become far too comfortable consuming art online for free, so how feasible would purely virtual events be? How do we leverage the untapped innovation capabilities to enhance both the virtual and physical festival experience? 
Festivals have to be agile if they are to be successful and safe. The hybrid model that integrates both virtual and in-person events is clearly the best way, and to plan going strictly virtual if the number of positive COVID-19 cases rises. This model offers exciting ways to build onto the live in-person events. With the virtual extension of the festival experience, festival goers can after a live session; ask the artists questions, network with other festival-goers, revisit sessions, interact with the work on display or even use VR or augmented reality to enhance their virtual experience. When curating virtual festivals we can now create intimate, real virtual worlds within which the festivals exist. We can extend the experience by providing festival-goers with interesting, post-festival content that they can interact with. Festivals can now be global and accommodate a higher threshold of people. Organisers now have the means to track their virtual audience's behaviour, assess which components work and which do not. People who could before not afford the cost of traveling, accommodation and festival tickets, can now attend from within their homes or they can go to one of the other venues hosting the Festival nationwide for that one on one human interaction we all crave. 
The opportunities are endless. 
If art is the beautiful, sometimes chaotic but mostly true manifestation reflecting the heartbeat and reality of its time, art festivals then take on the role of being the living experiences of these reflections. And remember that your contributions to the imagining of the future festival are welcomed until the end of August. Create your response in any format you prefer and submit it via Festival Letters from the Future.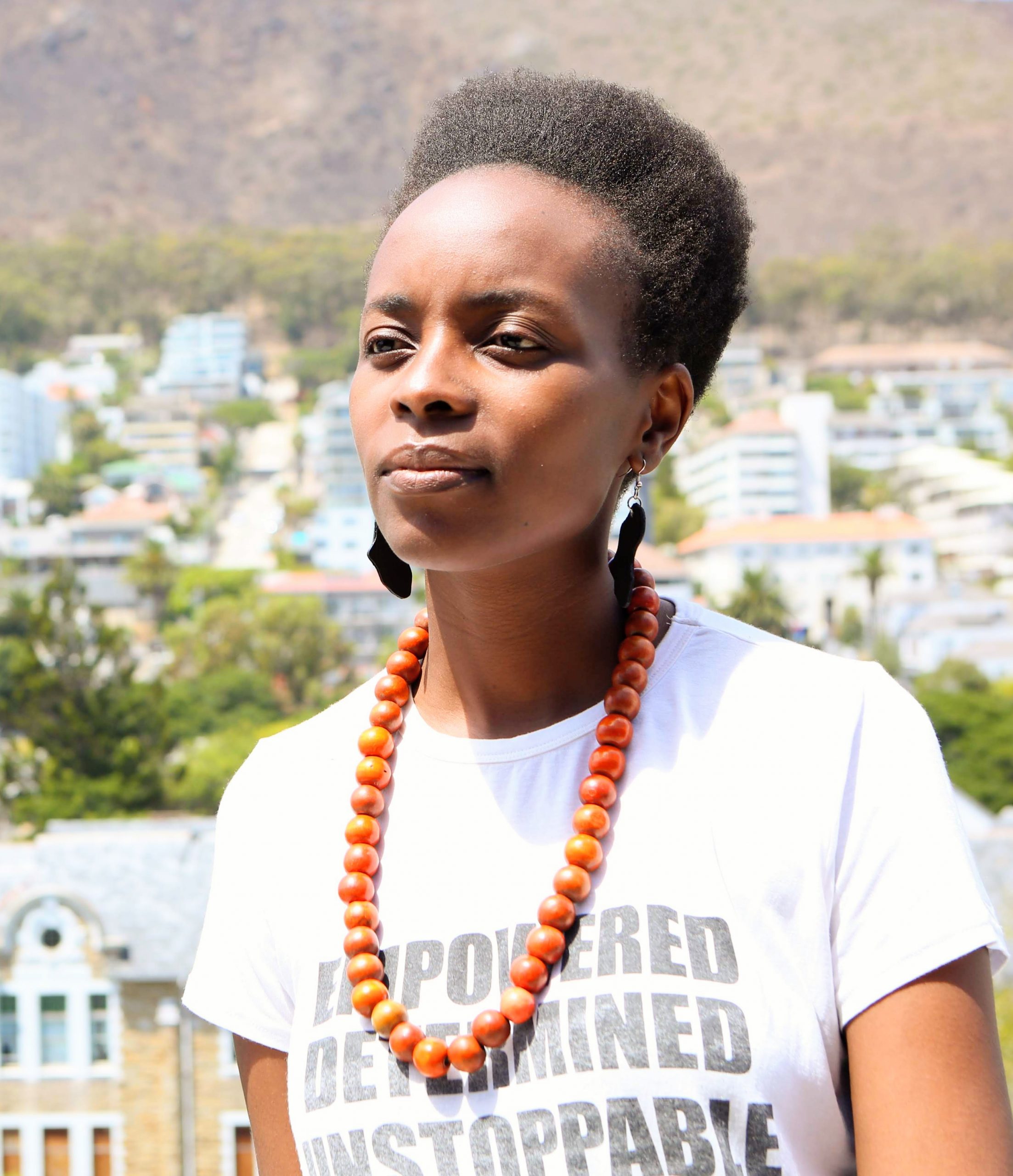 Portrait of the author Mabel Mnensa