The video for "Persistent" opens with a woman who works for Shugga Mobile (a re-vamp of T-Mobile) walking down a Brooklyn street past a strip of bodegas, bakeries, liquor stores and quick-cash markets. She enters an empty room in a porn shop, sits down on the table, picks up a remote control and presses '6-9' with her neon green acrylic nails. The TV switches on and Ian Isiah's big blue eyes open on the screen. An NSFW strip tease session ensues. Isiah is up against a pink background, performing for this woman: they are all gold grills, tattoos, lip gloss and inches. "Tryna get some pussy in this bitch- got that henny on deck" they repeat in autotune over and over and over. As they sing on screen, she undresses herself to this song, taking off her work clothes to reveal white lingerie. Isiah seems to be directing her for a lot of it, as she moves around the room, touching herself on the couch and then on the table while they watch each other. Isiah put's their own silver painted fingertips in their mouth, and she mimics the motion. She straddles the table and looks up at them adoringly. In the last few moments, she's wining her waist and twerking on the table, still gazing at Isiah and she starts to tear up.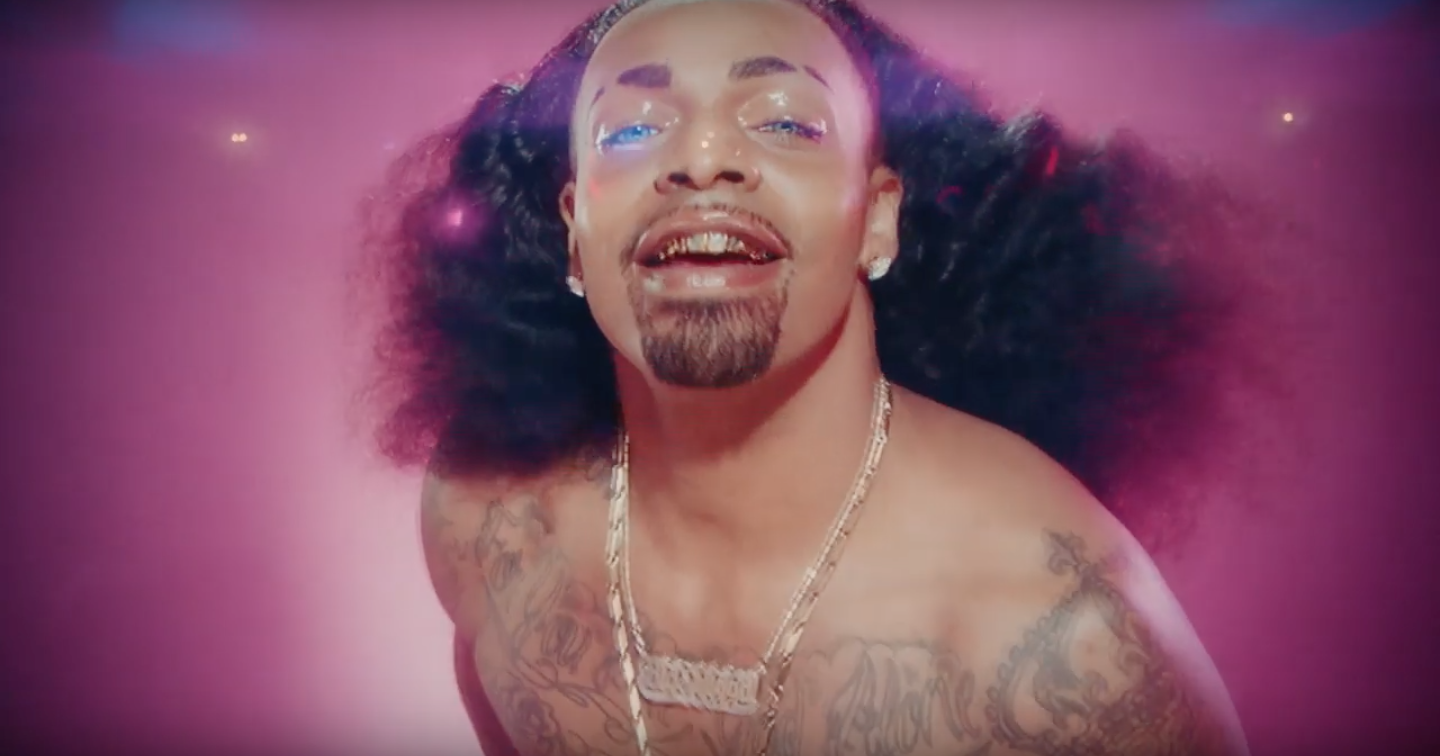 The video for "Persistent" debuted on Pornhub, the Canadian adult-entertainment site and porn aggregator that amasses a daily average of 92 million site visits. When you enter Pornhub, you're greeted by a home page with a wide selection of videos, labelled under tabs like "Hot Videos Internationally", "Recommended for You" etc. There's a side tab that offers more options like "Live Cam", "Categories" and "Fuck Now". One of the extended tabs is "Channels", where individuals can upload their own content: both public and premium, giving workers control over their own content and image. Isiah has their own channel on the site, where they're ranked 1344th. On their channel you can find the public version of the Persistent video as well as the private one (which you would need a Pornhub account to access). The decision to present a music video on the platform is surprising but not insane. Pornhub, unlike many of its competing sites, has a business model that aims to see it bring sex out of the shadows and into the mainstream world. The site has made the move from free-porn aggregator to something akin to a lifestyle brand: offering viewers an experience that includes cancer check-ups and clothing collaborations with heavyweight streetwear brands like HoodbyAir. This year, the site introduced its new brand of "ethical content" with BeeSexual: a kind of 'nature porn' in which bees engage in sexual activity voiced over by some of the sites most popular entertainers.
Most people come across some form of pornographic content every day: ranging from the 'Local Girls who Want to F*ck Near You' banners when you download something illegal to hardcore fetish content. According to a survey by The Atlantic, only 29% of Americans think that porn is morally acceptable. It's safe to assume these numbers are far lower in South Africa. As Pornhub increasingly expands into creating content that brings sexual experiences into the public sphere, our questions around the morality of pornography are becoming more complex. It's unsurprising that it's users would take the opportunity to diversify the content that they provide their viewership with.
Isiah, also known as Big Shugga, is an artist who has made a career from exploring their relationship to sex and their desires for what they want to do with their body. Theirs is a kind of artistic presence that evokes memories of artists like Prince and Little Richard. On 2013's 'The Love Champion': every track is accompanied by an 'explicit' warning. On 2018's 'Shugga Sextape, Vol 1', Isiah takes us on a ride that is just as sexual and more emotional than any previous release. Isiah is an artist who occupies a unique space that blends spirituality (see Holy Will with Blood Orange) and sexuality. The Shugga Sextape is Isiah singing about strip club pussy, Hennessy, but also about love.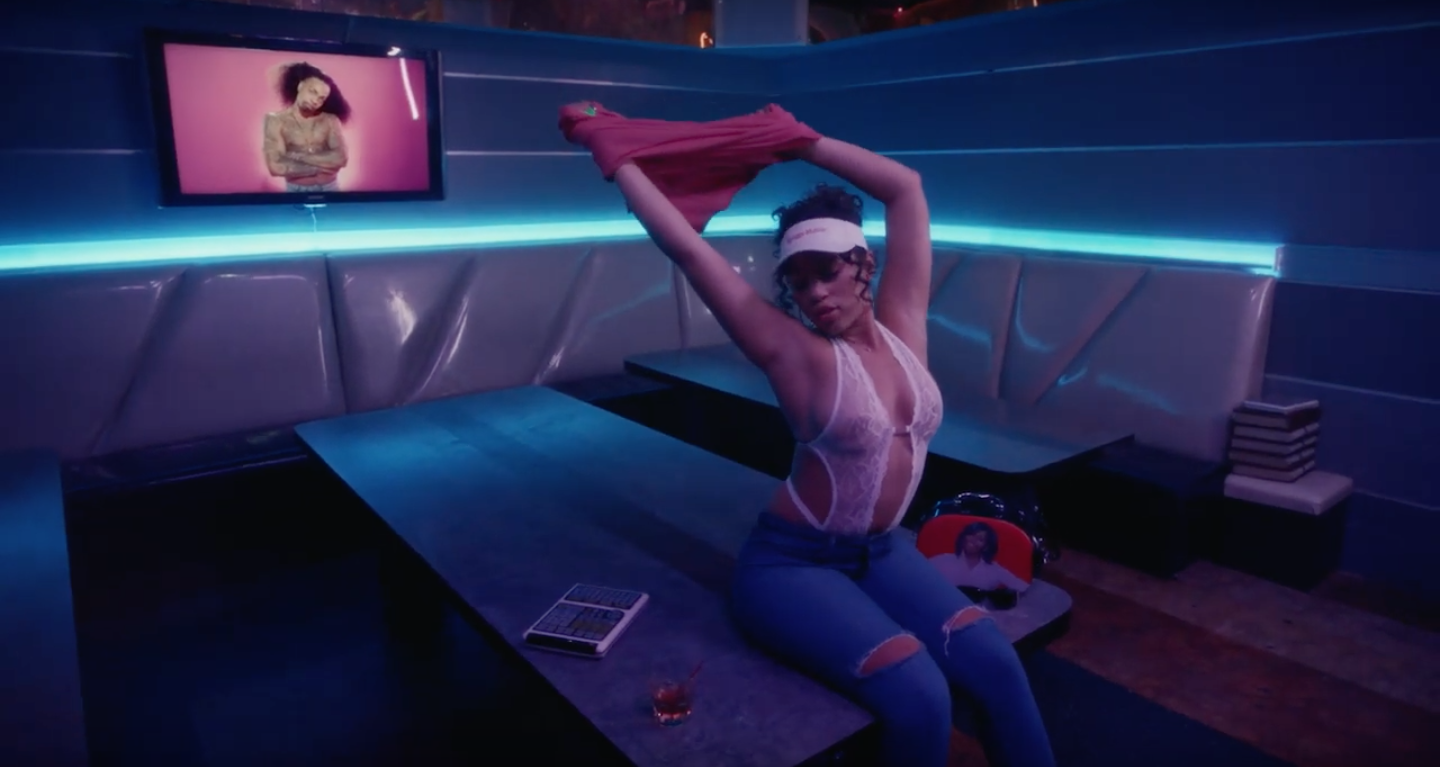 A song like "God" sees Isiah sing (in brilliant falsetto) "All I wanna do is smoke some weed with you, and you don't have to explain why you wanna kill the pain, just lay down with me and forget this misery". Conversely, a song like "Killup" employs strong dancehall tropes, with Isiah singing "killup the pumpum, give it to me hardcore, give it to me rough, make me scream, make me want more". As Isiah describes, the song is about "tearing up the waist real good, breaking up the punani". It's the kind of content that is sexual without being performative–even when it is performing. Both Isiah's music and body are an expression of his identity: pan-almost everything. Pan-sexual, pan-gender and everything in between. The lyrics on 'Shugga Sextape' are about people with bodies: not just men and/or women. The pussy could belong to anybody. That's where Pornhub, as an artistic choice, gets interesting.
The relationship between blackness and sexuality (particularly diasporic blackness) has always been complex and complicated. A long and painful history of colonization, slavery and racial abuse has left residues of difficult feelings about the black body and the sexuality attached to it. Black bodies are viewed simultaneously as undesirable and hypersexual.
Black men's sexuality becomes centred around the idea of their physical prowess, the assumption of huge penises and the 'danger' associated with being with them if you're a non-black person. Black women are constantly deemed naturally promiscuous, loose and their sexuality and body up for grabs. Black bodies that fall anywhere in between the binary are, to paraphrase Janet Mock, at the intersection of "pass them by and pay them no mind".  A societal distaste for black bodies does not operate in isolation. Respectability politics are constantly at play, alongside religious dogma that dominate black cultures both on the continent and in the diaspora. Generally, Black people are often taught that the way to move up 'respectably in society' is to remain demure and attempt to present oneself in ways that avert the historical stigmatization. Combine these factors and you have created the hotbed for people to have complicated relationships to sex and desire.
Society's hang-ups about blackness and sexuality are directly reflected in the pornographic content people are consuming. As Vex Ashley explains, people generally do not engage with porn in the same critical ways they do other media because, aside from the fact that they're masturbating, "people assume porn is culturally worthless and disposable". The mainstream porn industry not only services peoples already existing problematic tastes but continues to shape and create them: and then pay sex-workers accordingly. As expert Shia Torrant explains: the way pornography is keyworded perpetuates racial and gendered stereotypes. Sites like Pornhub make use of catch-all phrases that make it easier for users to shop for their porn and maximize browsing efficiency. By directing people to easy-to-use phrases like "big black cock" and "ebony BBW", porn sites both entertain old stereotypes about race and gender and construct the taste of a new generation. Black people engaging in sex work, across the spectrum of sexuality, get the short end of the stick working in an industry that is exceptionally white.
"Ebony Porn" is notoriously poor quality: with little storyline and even less lighting. Interracial porn plays directly into stereotypes about black sexuality (think about the 'cuckhold' genre: in which white woman have sex with black men while their white husbands watch, incapacitated). White women in porn often refuse to engage in interracial porn in order to cash bigger cheques when they eventually make their debut with a black man. The number of black women that appear in high-quality, high pay-out porn is slim. Where their numbers increase is in genres of pornography that are more violent and fetishization based. According to the data, black people in porn make (on average) about half of what their white counterparts do.
Ian Isiah's music video plays within that environment. Their body and their interests are increasingly present but still seen as unconventional in the wonder-bread white landscape of pornography. That same body and desire is unconventional and often demonized in black spaces too: where heteronormativity dominates. Putting "Persistent" on a platform like Pornhub (that is both on the frontier of bringing sex into the mainstream while operating along the same problematic racial/gendered lines as the rest of the industry) means taking up space. The "Persistent" video is two black people, adorning particularly 'black' aesthetics and engaging in behaviours that are very black. The video is high quality, high resolution. The bodies on the screen are well lit. There's a storyline that makes sense. Both people on screen are engaged with their sexuality and are open to expressing it both with themselves and with the viewer. The premium content is posted to Isiah's channel, which means that they can get a bigger slice of their revenue, at rates they can negotiate. Both Isiah and the woman in the video look like they're enjoying themselves. Mainstream porn should take notes.