The Basel, Switzerland based fashion design label AFTER WORK STUDIO has the transformation of sport silhouettes and their perception in mind. Making use of sporty silhouettes typically associated with cycling, diving and more they similarly use classical design elements that are altered to encapsulate feminine elegance yet retaining their casualness. Fabrics that they are drawn to in their implementations include cordura, lycra and nanotex. Colourful accents disrupt the balance of collections that are viewed as continuous. Sustainability comes to the fore.
I had an interview with founders Karin Wüthrich and Matthias Fürst to find out more about what their studio is all about:
When did AWS begin? Who are the main players and what are their individual roles?
It's quite a long time ago, when we both started working together in the field of fashion. Karin was attending her bachelor studies at the Institute of Fashion Design Basel and Matthias who originally studied graphic design was occasionally involved in concepts, photoshoots and print design. In 2013, we decided to attend a master[s] at the same university with the goal of founding our own label afterwards, but to get new impressions as well.
Today we are working in a small team with Matthias and Karin as the main players. Both are working in conception and design whereby Karin's focus is more on pattern cutting and development of the garments and Matthias' field contains print design and graphic design.
Could you tell me more about your SS19 collection? What was the main inspiration behind the designs?
The inspiration and topic for a collection lasts always for two seasons so the SS19 has kind of the same inspiration as the AW18/19. The main ideas and influences of both collection[s] where a new interpretation of bobbin lace which you can see primarily in the AW18/19, but also cycling, diving and other sport dresses.
Concerning the styles and models our aim is to transform both sporty and classical elements into feminine elegance and casualness with a masculine lack of attention.
What does the title of SS19, Season 2 refer to, 'No Guns allowed in the valley studio'?
We really like a good atmosphere in our small studio where we also prefer to have an open communication so the title means literally that in our studio are no guns allowed. But it has another meaning as well. These days we rarely find places that are unspoiled, empty and uninfluenced, so in that unspoiled valley (if it exists) shouldn't be allowed guns.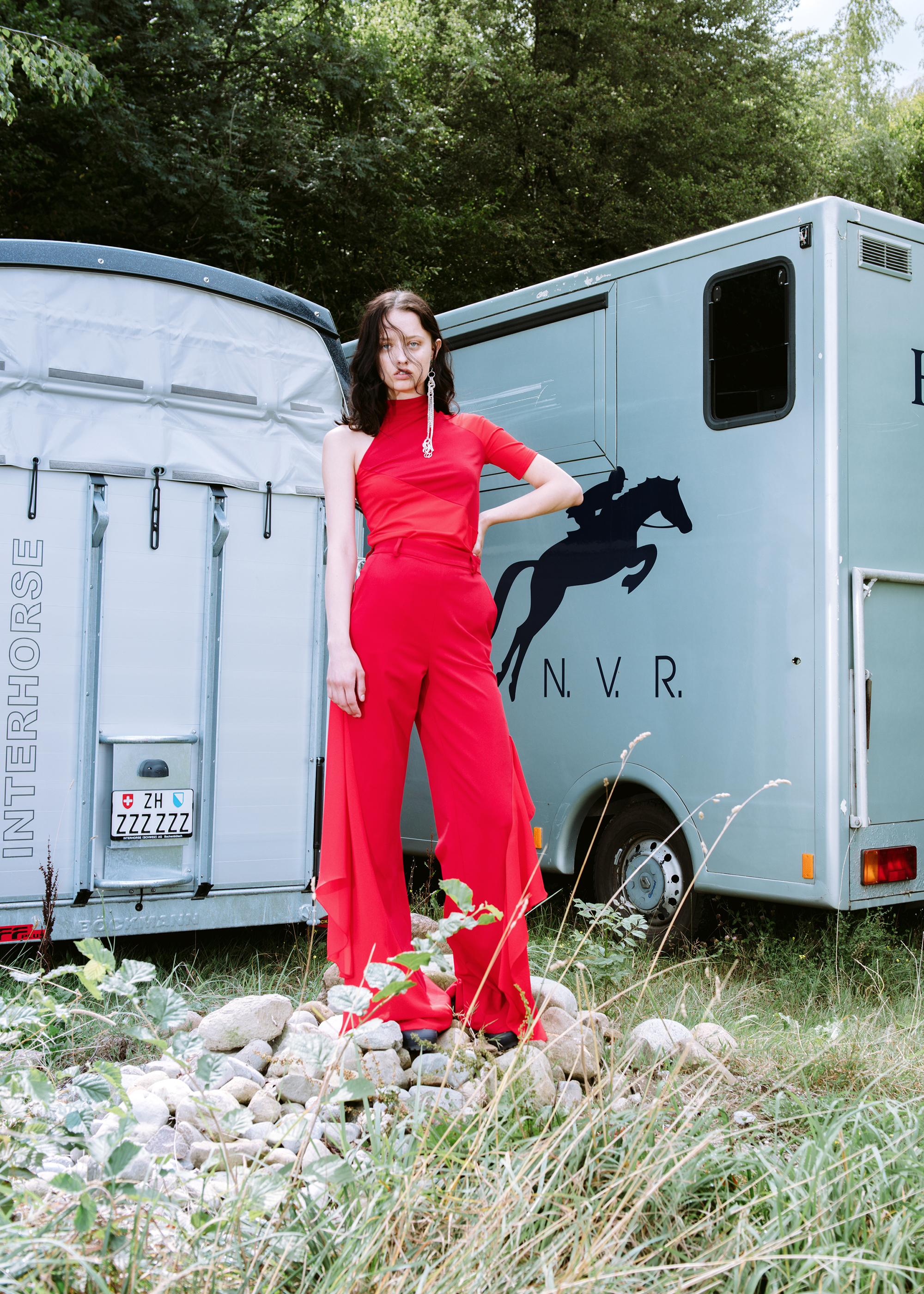 Which fabrics and designs are you most drawn to?
We focus more and more on functionality so technical materials like cordura, lycra and nanotex are very important, but we use also natural materials like wool, cotton and silk.
And prints when they fit into the concept. We prefer a casualness of the design but with unexpected elements.
Which colour palettes are preferred in your final garments and why?
It really depends on the topic and inspiration of a collection. Clear and loud but also soft or off. We often use colourful accents to disrupt the balance of the collection. We like distortion.
Who is your target market?
The focus is on women who like garments that works in many situations and are also sporty and kind of multifunctional. They are curious and young at mind, they don't want to be perfect at all.
AWS is selling in Switzerland, Great Britain and South Korea.
What is the design ethos of the studio?
AWS stands for fashion that [does not have] to be seasonal in the classical sense. We are doing collections which are usually smaller series of garments that result in a kind of continuous collection. This [is] also with a focus on sustainability in the usage of materials and resources. Nonetheless, we are presenting our garments in a seasonal rhythm.
Could you please unpack the visual identity of the brand and why it was chosen?
The logo of the brand has its roots in our Master Collection. It was developed based on the idea of remembering things but not be[ing] able to assemble the memories properly. We [haven't] change[d] it since then and it influences also the other components of our visual identity. A huge influence [is] the photographers we work with. Randy Tischler who stands for a very spontaneous and document[ary] imagery and also Noemi Ottilia Szabo who did our last two lookbooks.
What future plans lay ahead for the label?
In two weeks, we are presenting our new collection YOU MUST REMOVE BELTS BEFORE WALKING THROUGH METAL DETECTORS in Zürich at the fashion show Mode Suisse and at the beginning of March we will be part of DACH Showroom in Paris.
Keep up with AFTER WORK STUDIO on their Instagram account.