It could be said, that creative transformation is the marker of an innovative designer, whether established or emerging, it is what one can do with the resources within reach that make for the most interesting garments. I recently put out a call on my Instagram stories for emerging designers in Cape Town, sparked by feelings of a certain stillness in the design space. This is when I received a link to Hlumelo Kakaza's underground iterations of upcycled garments — clothing modified with recycled materials, emblazoned in neon drippings — and my somewhat demotivated mood surrounding small scale designers in the city was wholly and duly elevated. Personal initiatives of upcycling — transforming existing material into something new — is perhaps my most favourite aspect of fashion construction. So, it is endlessly inspiring to witness creatives like Hlumelo carve out their unique aesthetic with a dynamism that challenges the boundaries of our capitalist-driven pursuit of novelty. As with most Gen-Z's, Hlumelo describes himself as a multidisciplinary creative; delving into both design and music simultaneously. What makes this project extra intriguing, are the corresponding songs he has curated to complement the pieces thus honing in on both his converging practices.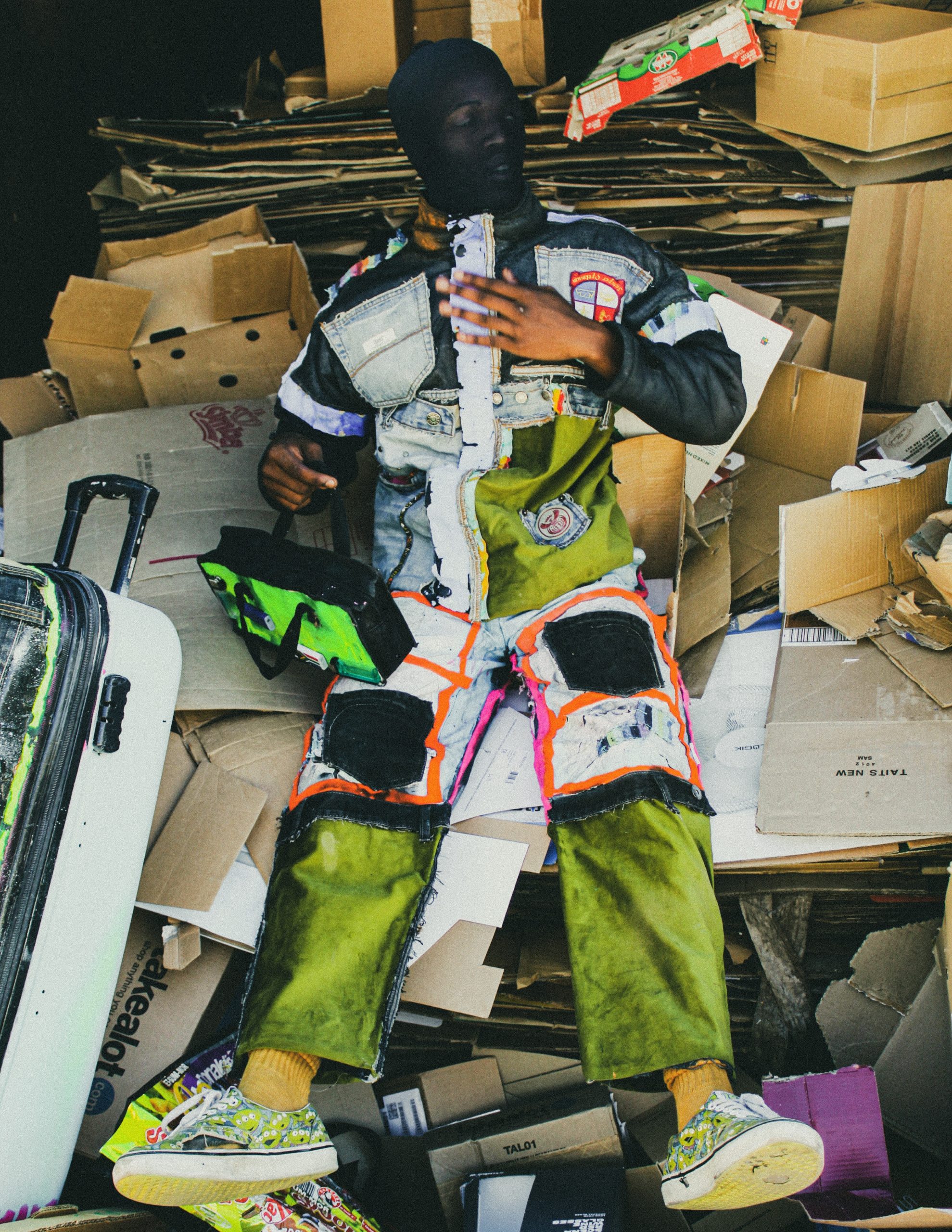 In our conversation, Hlumelo offers up some wisdom on what drove him to employ both music and design,
I didn't have much cash at the time and it was during lockdown, and I wanted some new clothes. So I looked back on a high school design project in which I incorporated chip packets into a pair of shoes. It seems a bit uninteresting now, the school project, but that ability to use what I have around me was really exciting last year — especially in the confines of the restrictions.
Having had my own experience with lockdown upcycling fever, I relate so much to this sentiment of drawing on one's immediate surroundings for inspiration and elevation, even if the output is not necessarily covetable by others, it becomes deeply cathartic interrogation of one's own ideas. Hlumelo muses, 
I want to travel the world and explore different places, and that seemed so far away in lockdown. So I took pieces like luggage, shoes, a bag — the kind of things you need when travelling — and worked with those in my process. It was a way to connect myself with the vision I have for myself, growing as a creative and hopefully getting bigger opportunities one day across the world.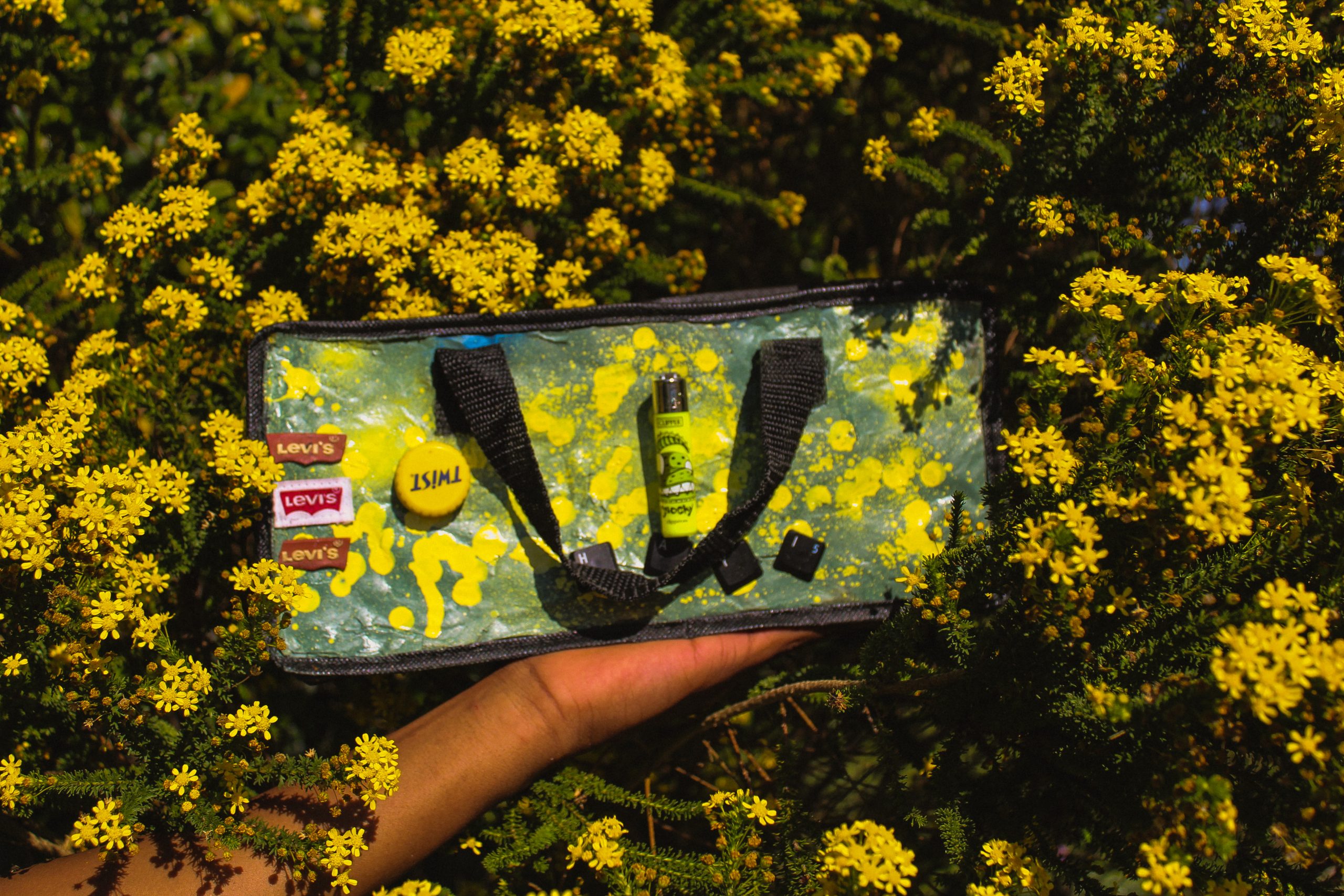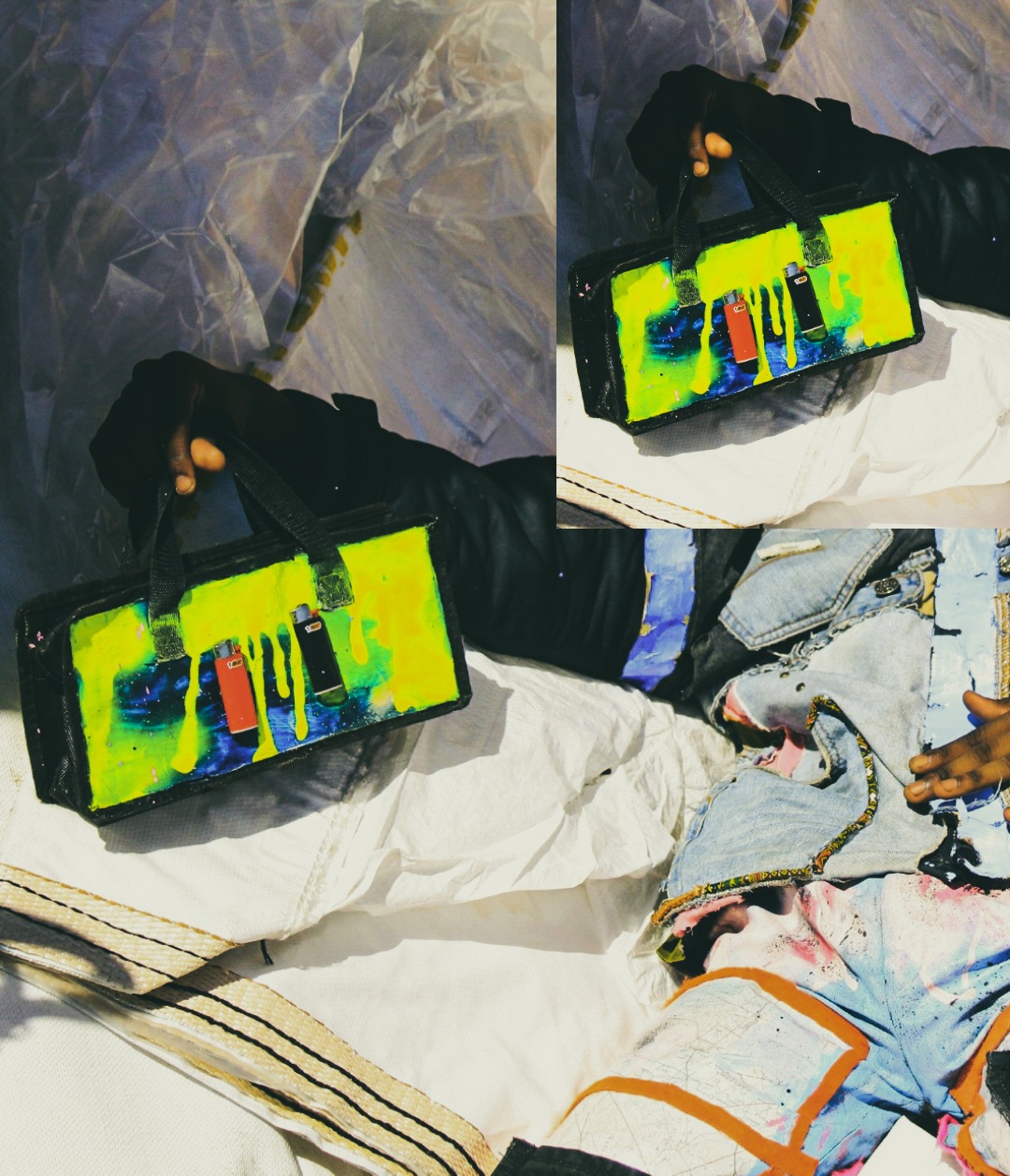 I was really curious to understand the nature of the project to include music — knowing in my own experience how all too often music and fashion intersect and reflect each other. 
The processes of making music and designing couldn't [be] more different. My intention was never to create a piece and match it to one of my songs, it was more that suddenly, I had this body of work with the garments and then when I went back to my music, the context became clear that the two were somehow linked. My music has elements of yearning, of heartbreak and vulnerability, and the pieces were my way of journeying through lockdown. So, it happened quite organically that I was able to intertwine the work together.
I ask what inspires Hlumelo, 
Conversations like this, with different people from different walks of life. I wish I could be a bird sometimes, on top of a building, just watching the city carry on in its flow. Seeing other human beings be human themselves, gives me so much to work with in my own experience as a human being. It's a wild experience, and [it's] so exciting to be alive and able to pursue what we aim for. That depth of the human experience is what drives me.
Sometimes, I get goosebumps talking to younger people because their sentiments, awareness and approaches can also be deeply awakened and full of a wisdom that affirms to me that they are leading the way. I felt this way in this interview, lead by the honesty and authenticity of Hlumelo's expression. Ending off, I ask him what he dreams of for the next five years? 
I know this might seem shallow…but I really want to make money off [of] my ideas. I want to be able to create and sustain myself and even though going through broke periods [has] given me strengthening experiences, I want to be financially comfortable to keep doing what I love.
I assure Hlumelo it's certainly not shallow; we deserve to get paid, to be abundant, and to change the world one real human at a time.