"…design is a verb and a noun, being a design artist, allows me to shape shift. Essentially it is the intentional creation of a plan." Storytelling is all encompassing within the expression of design artist Lunga Ntila. Intersectionality, sexuality and femininity are her building blocks. "I can't be a singular expression of myself. There's too many parts too many spaces, too many manifestations" – Solange Knowles, sited by Lunga in our interview.
The analytical framework that she is drawn to in her practice is articulated as awareness, perspective, framing and identity – multivocal tools that are employed to address specific issues. Praxis becomes an invitation to partake in conversations that are difficult yet highly essential. The narratives that unfold and the conversations that they open include conversations that speak to marginalized peoples, the dismantling of the white patriarchal social order and the upliftment of black womxn.
Self-Analysis / identity
Re-imagining
Perspective
Unlearning
Interpretation
– the blueprints of Lunga Ntila's practice
The above-mentioned fundamentals of her blueprint act as prisms which aid in an understanding of the problems that she wishes to solve. "It is about inspecting identity, reimagining a limitless future, through intention and exploring different narratives. This formula allows us to explore and challenge the ideologies that govern the different facets that exist within us."
Her visual articulation takes influence from music as well as movements such as Cubism, Post-Impressionism and Expressionism. What she refers to as a "complete abandonment of perspective" becomes an appealing factor. "In Post- Impressionism (PI) we see an emphasis on the art being more subjective, packed with expressive symbolisms which are translated in colour and form. In cubism the multi-dimensional fragmented images also speak to subjectivity and perspective because of the different perceptions that come with history and experience shapes what we understand and see."
These influences come to the fore in Lunga's work through the core mapping and re-mapping of identity, reimaging and perspective. She presents to us, her viewers a distorted self which has to be interacted with in slithers and slices of the complete whole – "…which forces you to re-imagine how you view her".  Self-portrait. Distortion of perspective. Performativity. Limbs cut from bodies to form new organic and inorganic shapes. Cut-out. Copy. Paste. Contort. Reform.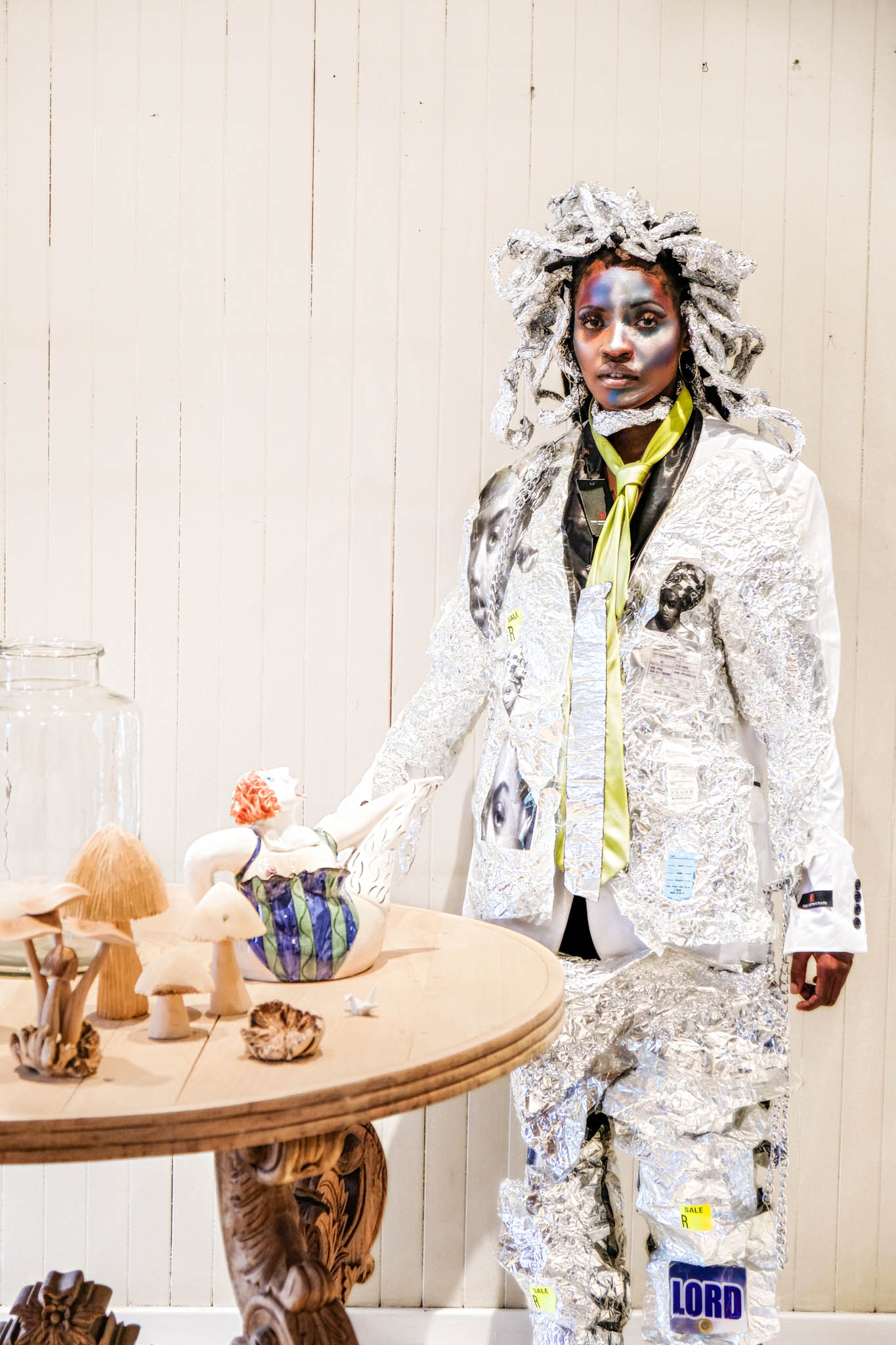 Her evolving conceptual practice can be felt in pieces such as Shape of you which becomes a slight exaggeration of the male physique resulting in a different way of viewing, contrasted against traditional ways of seeing male forms; paying homage to Expressionism.
Another body of work addresses pieces from art history which have white people as the focal point. Here is where decoloniality steps in as she dismantles these artworks by placing herself into their skewed perspective (socio-politically and historically) and makes herself the point of focus through active manipulation. "I have come to realise that identity is something we are gradually progressing in but still struggling with, if we look at blackness for example, it isn't a self-created identity, and because it is determined by other people it becomes a uniform of some sort, an umbrella term that Franz Fanon believes immediately isolates the black person, there is a constant existential crisis we undergo, we have to start seeing the world from a post-colonial view in order to understand who we are, without isolating our history from ourselves."
On the importance of storytelling she shares; "It fosters collaboration and connection because it is emotionally invested, creating familiarity bridging the gap between our differences, since it's the primal form of communication, it connects us to a larger self and universal truths. This then influences your motivation, focus and empathy, making it easier for people to participate and share and believe in something, this is how we change perceptions in our social world."
Recent collaborative projects include a project with North Of, a Norwegian creative collective who came to Johannesburg in January to record member, Vuyo Ole Smaage's EP – "As project manager I was able to help him achieve collaborations with: Spoek Mathambo, Daev Martian, TSA, and Ato Song. This EP is currently being mastered. This was really exciting for me because it was definitely out of my comfort zone and it was one way to get deeper into the world of music which I already love."
Late 2018 saw Life Be a Drag created with artist Natalie Paneng which examined performativity. Additionally, Lunga acted as the creative director for Property of Society's Winter AW18 collection The Parable of Cashmere alongside Wandile Mbonani. Lunga also formed a part of the series Pictorial Nerve '18 with Offset Culture that formed a part of an Art Book Fair in Sao Paulo, Brazil and was later shown at Keyes Art Mile as a part of their Summer Exhibition, 2018. Her work was again featured as a part of Investec Cape Town Art Fair 2019 showcased by Offset Culture. In 2019, she was a part of Design Indaba's Emerging class of 2019. "I gained a lot of insights which I feel helped shift the way I look at and value my work as well as how to get more reward from my collaborations as well as individual work. It was time for me to look at my practice in a more strategic manner to ensure longevity."
Speaking to the future of her practice she states, "…I am hoping I come across opportunities that allow me to: create, solve, and unify."
Credits
Photography: Marcia Elizabeth
Stylist: Ketu Malesa
Hair and MUA: Tammi Mbambo
Photographic Assistant: Casey Delport