The year is 2017, the building is August House. Here, established and baby artists gather ceremoniously to water their artistic gardens into bloom.  
I've been revisiting the day we met, after you ascended from the body on the 11th of August. On the afternoon our worlds first collided, I sat quietly at a tiny desk in Themba Khumalo's studio, writing, scratching and leaning on the jazz to help synchronise the poetry for a looming publishing deadline.
A bold woman with sexy height, a high-top fade and intoxicating energy walks in — she wears orange leather pants, a halter top with the exact same hue and matching Converse All Stars. I smile at her as she walks in my direction, her relationship with colour intrigues me, and she smiles back. Her eyes rest and light rises from them, she says her name is Lunga, and I get the first inkling that God Is Among Us.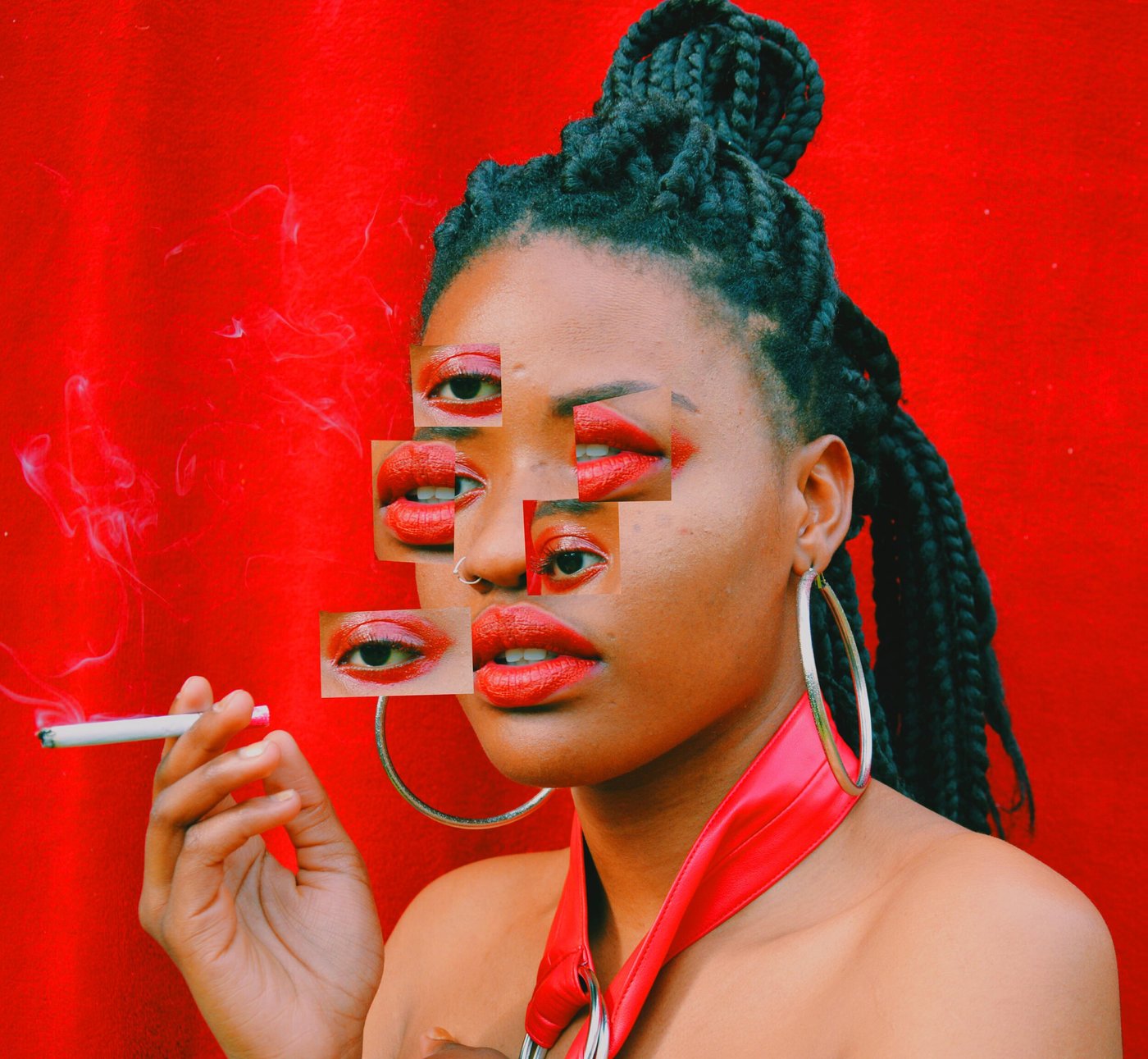 I believe that our curiosities are gateways for our spirits to decode the physical in a metaphysical way. Lunga's curiosity was like a malignant itch, the kind that touches one spot and sets the rest of the body on fire. ❤️
This itch birthed an expansive body of work, experiments and captivating distortions of physical matter, space and time. Her first solo exhibition at the Bkhz Gallery in 2019 titled Ukuzilanda signalled that Lunga was growing into her voice with a soft boldness that only she could summon as she invited us to contemplate the art of "fetching oneself" and leaning on African ancestral rituals for healing modalities.  
After Ukuzilanda, colour slowly slipped into extinction in Lunga's practice, the works became monochromatic and sculptural — she began to play around with form more intentionally. Her exploration of lineage and ancestral influence was illuminated, tied together with consistent threads of red. She explored themes that centre healing, spirituality, the transference of ritual, trauma and spiritual intelligence between realms.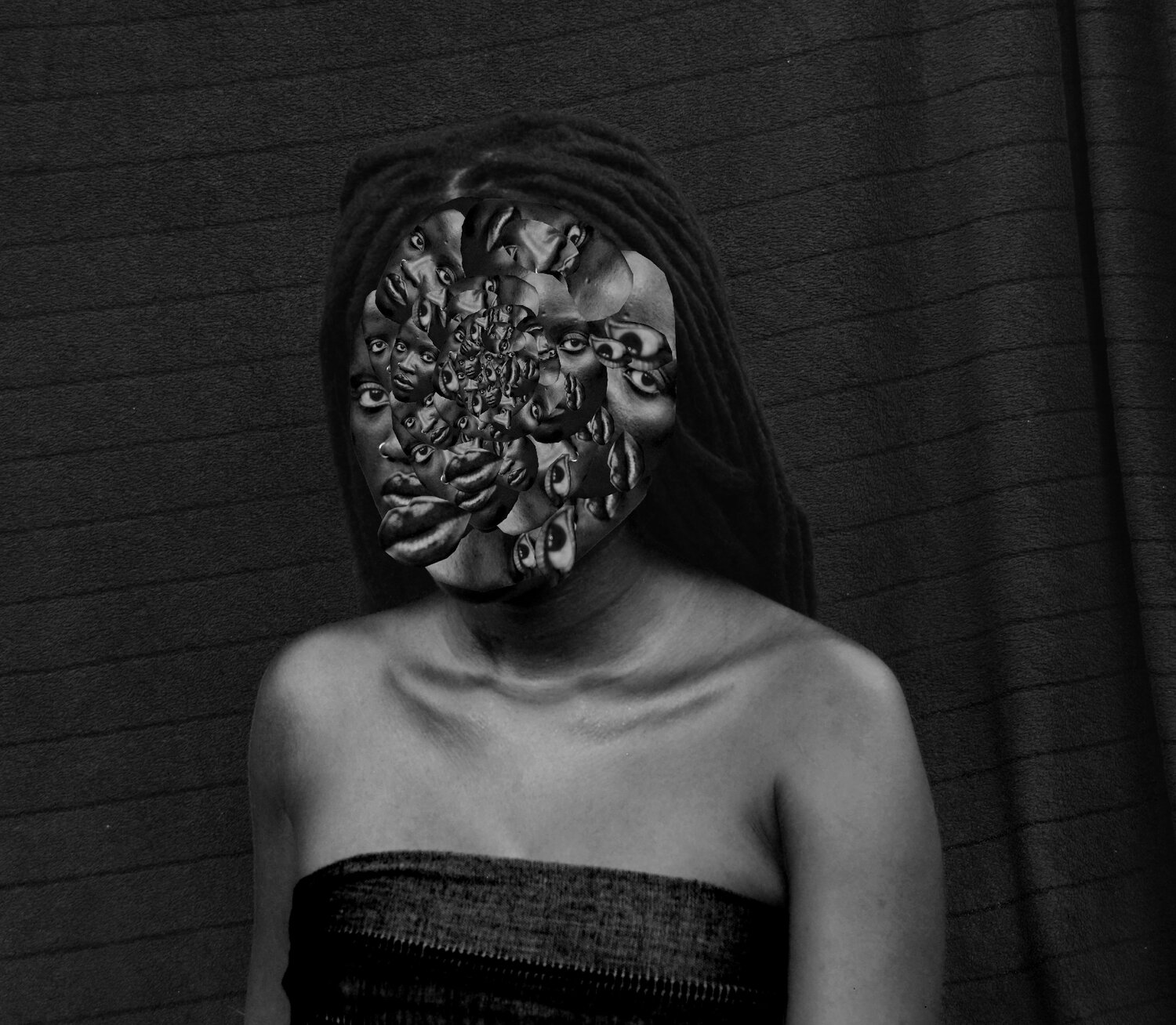 My inkling from 2017 was plastered with a layer of truth when I stepped into her second solo exhibition titled God Among Us at the Bkhz gallery in August 2021. She referred to this body of work as a sequel to the internal voyage that set itself in motion from Ukuzilanda, and dared us to do a deep dive into the inquiry of how we are manifestations, expressions and physical evidence of God. I remember looking into the mirror installations and asking her to confirm that her fear of looking into who she truly was is melting, a tender laugh is what she gave, it was enough. 
Her work is an invitation into the altar of contemplative discovery, where we plant a soft gaze on the puzzle pieces of our own lives, and float between mystery and knowing. 
Our relationships with ourselves can be complex, sometimes we pull ourselves apart to put ourselves back together congruently, but she reminded us that a perfect puzzle is an illusion, the way she collaged herself back together represents a weaving of timeless truth.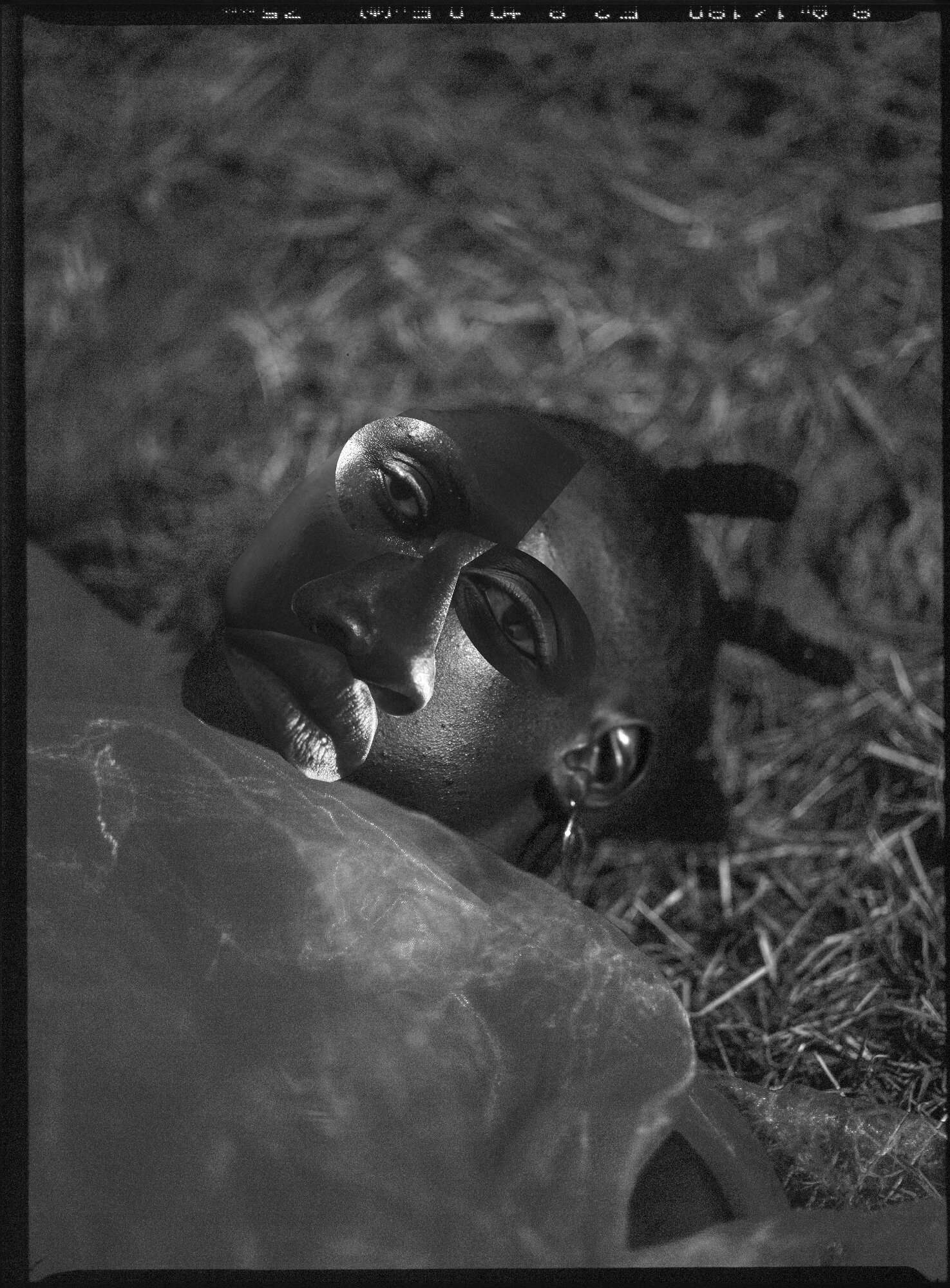 Ntila's work was showcased at the Art Book Fair in Sao Paulo, Brazil and the Keyes Art Mile summer exhibition in 2018 as well as at the 2019 Investec Cape Town Art Fair. In 2018 Between 10and5 named her one of four South African creatives to watch alongside Nkhensani Mkhari, Rendani Nemakhavhani and Ferrari Sheppard. In 2019 she is listed as a part of Design Indaba's emerging creatives class. She has since exhibited her work in Paris, New York and Belgium. 
Her solo exhibition Clarity in the Abyss opened this past Friday, 19 August at the Uitstalling art gallery in Belgium. In her artist statement, she shares:
Through my art I look into themes such as identity and spirituality, these two help me understand the vastness of being. Collaging allows me to bend and form new worlds, I get to use the canvas to explore African spirituality and my interest in the unseen. My work has helped me create space for conversations about the transitional characteristics of identity and spirituality.
As a result, my work has become a host for our common grounds and has also brought out our dualities. People see themselves through my eyes, and they also see me in ways which I haven't seen myself. The red is used as a bridge between humans and divinity, it removes the veil between these two worlds and acts as the first point of contact for the characters and the supernatural.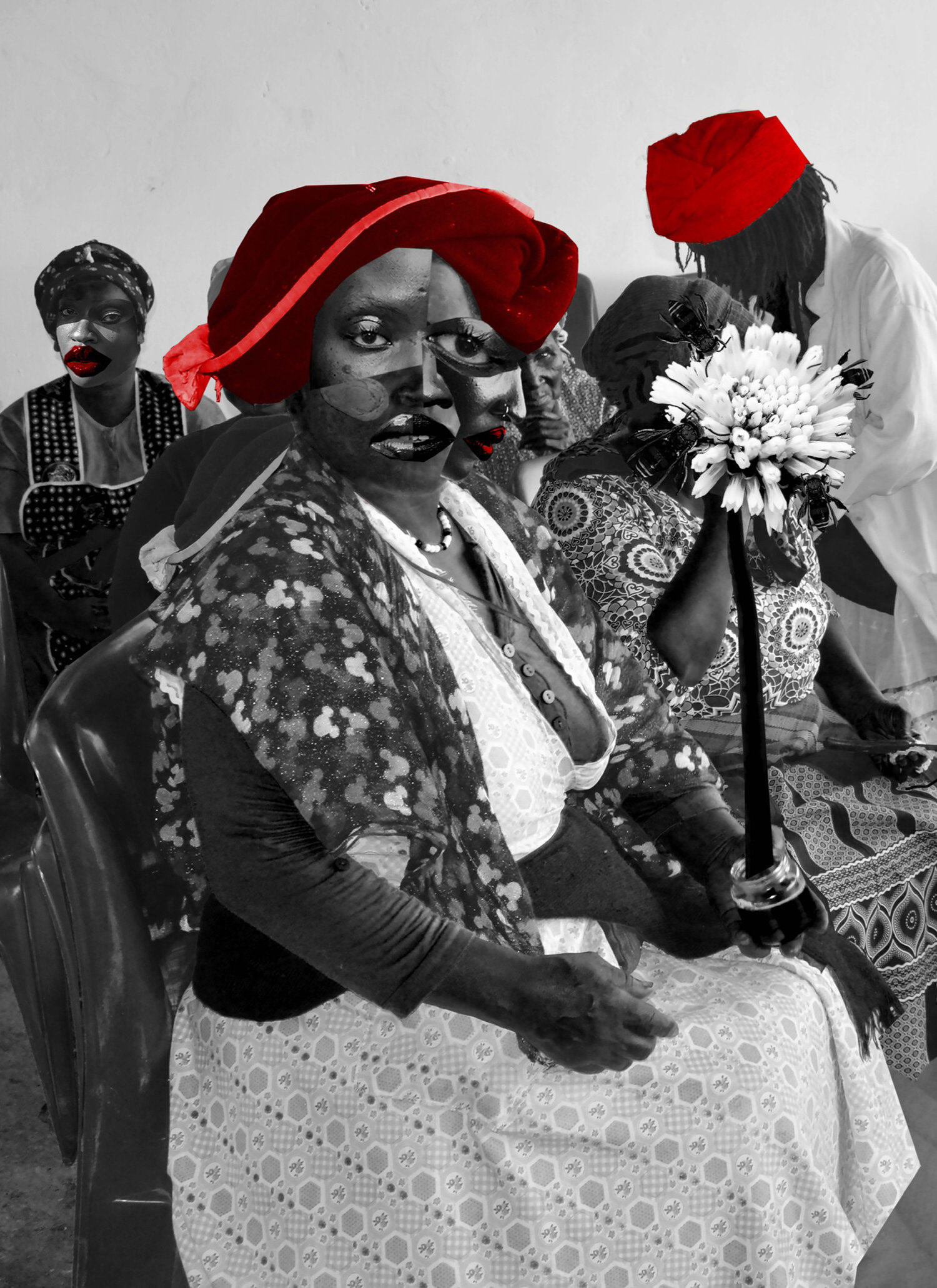 Dear Lunga, 
I look at your work now and I see you look back from different dimensions in space and time, you look back from your eternal knowing, the infinite lifeform that you are. 
I finally see the black velvet that invited you in, so you could tell the story of duplicity, of existing in multiples, knowing how to splatter the temporary matter that we are so ubuThixo bakho could compose itself through collage. 
BabyCakes, when I got the news that your body had gone into eternal stillness, I felt you in the blood moon, the tides of the ocean, the breeze that kissed my skin and the shadows that moved through the day.
God is multiple, this was clear to you, You have reaffirmed that our sensory perception fools us into seeing less than what is there for us to behold.
With God Among Us, you asked, "What happens on the other side when you walk into the light? Is there a huge welcoming of your ancestors? Is there some initiation process? Kwezeka ntoni?! The art series shows the moment this being walks into the room, the preparations that were set in place welcoming them, everyone is in awe of this person. They have waited for them for so long." 
We are in awe of you and grateful to have been in communion with your indelible light and artistic mastery in this lifetime. 
The truth is back in its fullness; 'you are neither this nor that, you are everything; you are neither here nor there, you are everywhere' 
I will miss your twin sets, begging you to wear colour and getting Whatsapp photos with the evidence of you wearing lime green while travelling to other lands, your style really is inimitable. Your questions about love, life, art and co-creation were sincere – thank you for that. It was the quickness of your wit, the dryness of your humour, and the tenderness of your heart that had us enchanted and plugged into the fullness of your light. 
Thank you for a mystical 27 years of Lunga Ntila. 
Kulunguile, Ulungile,
Lunga