Those who no know go know after listening to "Umthandazo Wamagenge", that there is an enticing playfulness that skips in the tune of Siyabonga Mthembu's whistle. One mixed in with two parts the type of ancient knowing nestled between the wrinkle of Nkgono's brow as she tells ditshomo on a cold night. "Umthandazo Wamagenge" is the second song on the eight track album titled Indaba Is which was released last Friday 29 January through Brownswood Recordings. Recorded over 5 days in the summer of 2020 close to Joburg, the compilation sonically weaves together a collective of South African Black musicians and bands through improvised and newly composed music. I hear Siya's full of stories whistle, and am transported to my teenage body at Ko'Spotong in Newtown back in 20andwhoknowswhat—seeing The Brother Moves On perform for the first time and being utterly captured. I think of Indaba Is; produced, curated and managed by award-winning pianist Thandi Ntuli and The Brother Moves On bandleader Siyabonga Mthembu—and I move towards languaging it as the now dusty dreams, memories and post-1994-political-pillow-talk of our democratic nation state-experiment in the form of sound. The sounds of apartheid's afterparty—our rainbow nation in sonic technicolour.
The project captures a living culture of making music, one in which bands exist to birth musical concepts as opposed to being static monoliths. The artists who make up the musical topography of Indaba Is include; Sibusile Xaba, IPhupho L'Ka Biko, Bokani Dyer and Naftali to name a few. The opening track "Ke Nako" by Bokani Dyer sets the scene:
with irony as that was a slogan used to get voters to the polls in the first post-apartheid election. Now, Dyer's using it to remind us to think again about who we are and where we're going. That's always been the question for The Brother Moves On—a genre refusing, personnel revolving performance collective named, with a twist, for The Wire's assassin: Brother Mouzone. Here, it's embodied in a meditation on relationships refracted through the distorting glass of their context.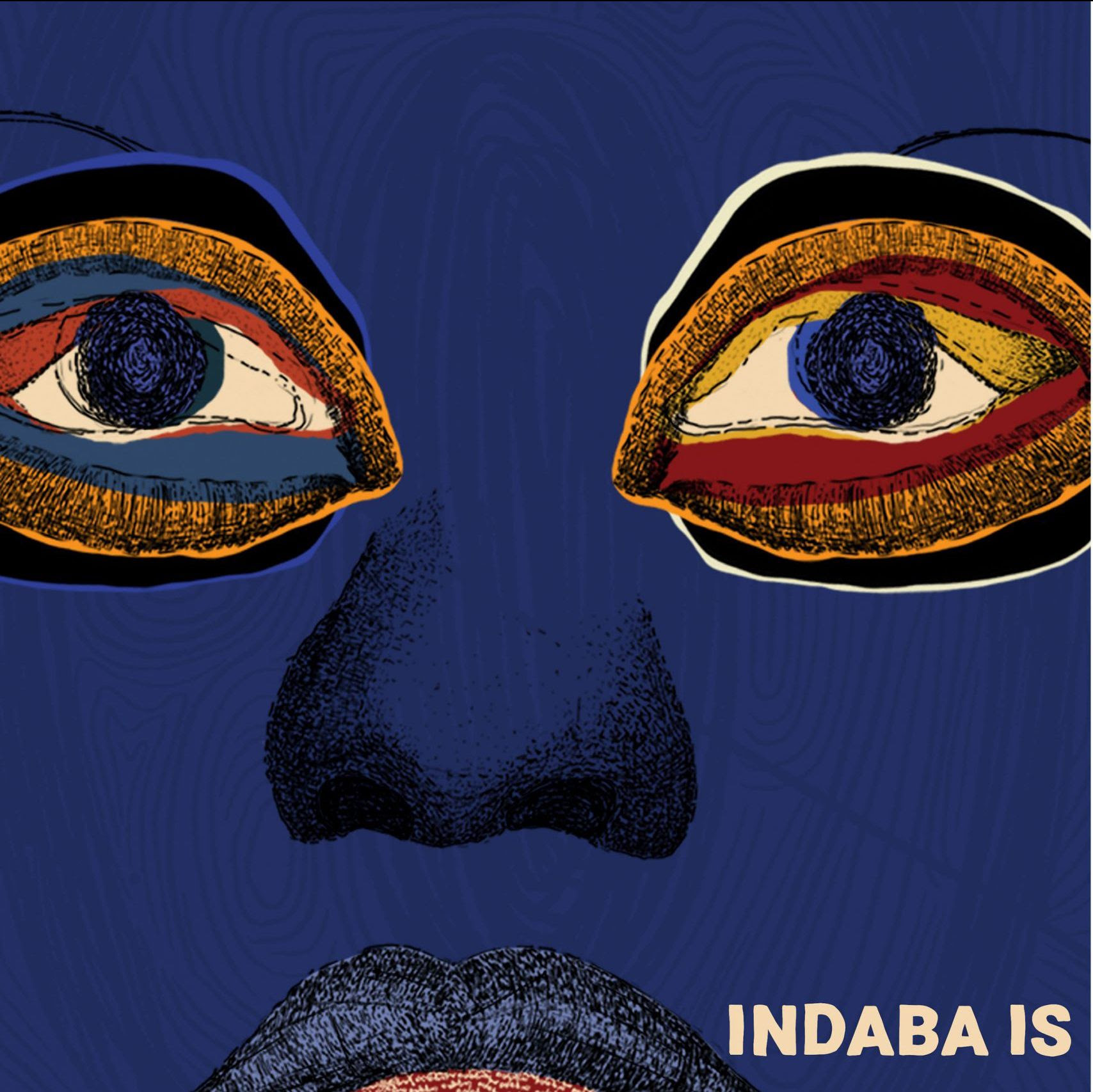 Album cover artwork by PR$DNT HONEY
The fourth song on the album by The Wretched titled "What is History", starts with a soundbite of Black Panther Kwame Toure speaking about the assassination of American Civil Rights leader Martin Luther King Jr., I call it a song even though that doesn't feel quite right. Quite fitting for what's moving in its form; reckoning feels more like it.
We find our humanity on the other side of
death and despair
The settlers world is a hostile world
What is history
Fear can not dwell
when there are those
left to die.
What is history
These are the song's/reckoning's only lyrics. However, woven into them alongside its earlier invocation of a geo-politically rooted Fact of Blackness through the soundbite that ushers in the racial politics of America, is the voice of Winnie Nomzamo Madikizela Mandela. Reminding us that The Fact of Blackness, although textured differently around the world, seeps through from the same abyss:
…if you have done that, if you were picking the bodies of the children on June the 16th 1976, I can't pretend but we were the generation that engaged the enemy. Unlike the leadership on Robben Island. The leadership on Robben Island was the 'cream' of our society and the top leadership so they were not subjected to the violence that we were being subjected to.
Mam'Winnie's voice also does the work of ushering in questions around the neo-paternalistic, patriarchal violence South Africa's own "liberation struggle" is told and remembered through.
Her presence poses the same question; her history is still weighed down with calumnies even after an apartheid police boss admitted not a shred of evidence linked her to the killing she was accused of: the whole farrago was deliberate fake news. That, like 'Ke Nako' and The Brother Moves On's bitter allusion to "black yellow and green" (the colours of the ruling ANC)  is the thread of another kind of tradition – the reminders and remainders of South Africa's struggle not yet won – weaving through the album.
Indaba Is, is a sonically textured, historically intertextual, considered, resistive and re-imaginative offering that does critical, processing and healing musical work from a place of sincerity. A sonic manifestation that does the work of excavating the complicated and undoing H/historical feelings, and even perhaps those dreams we were sold that we may still cling to.
In that context, iPhupho L'ka Biko's 'Abaphezulu'—an invocation to ancestors, including the spirit of Steve Bantu Biko—is a fitting conclusion. Opening with the notes of Kinsmen's Druv Sodha's sitar, it smashes another of the walls apartheid tried to build against Black unity: between South Africans of African and South Asian heritage. The classically-inflected gospel voices of Mthembu's dialogue with Indian and modern jazz rhythms and free horn improvisations in joyous heterophony. 
Indaba Is compilation is released on Brownswood Recordings on 12" LP, CD & DD formats. Listen or stream here!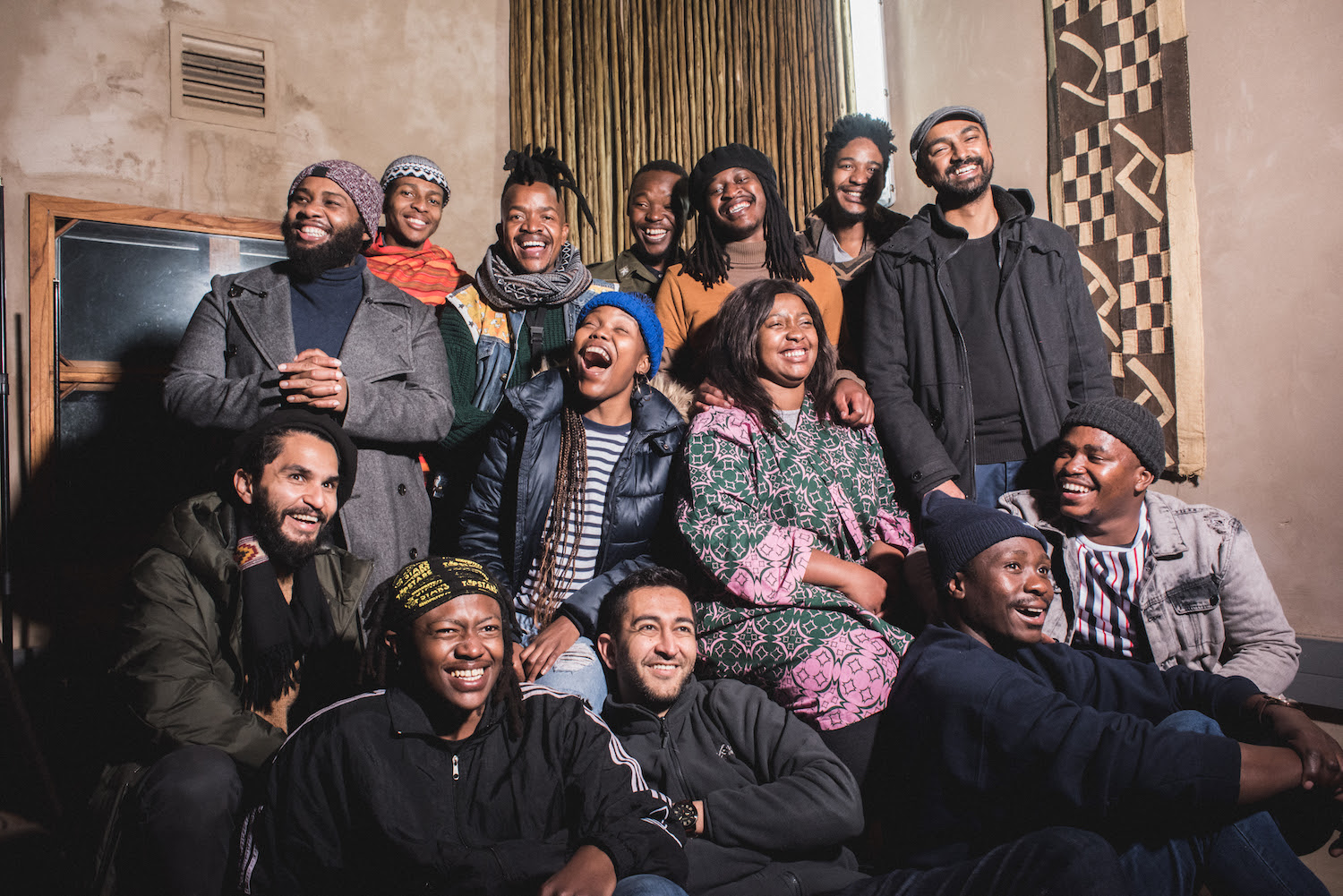 Portrait of iPhupho L'ka Biko & Kinsmen by Tseliso Monaheng