Having fallen in love with the magic created by a never-failing pinhole camera and darkroom, and discovering how she could paint with light and bring mood into her images, Thandiwe Msebenzi found photography to be her unexpected fine art soul mate. Since this initial blossoming of her passion for images, coupled with the desire to tell stories, Thandiwe's art practice has been centred around speaking about men and masculinity in relation to herself. With her first solo at SMITH, Utata undiphotha inwele, we see how this anchoring thematic thread continues but is addressed from a different angle.
"What is new in this body of work is how I am reflecting on violent masculinity as a scaffolding to how young boys are raised to looking at how that violence affect women." Using examples of women in her family, Thandiwe extracts how their self-defence in the face of violence compels them to "take on the role of masculinity, which questions the role of who is feminine and who is masculine." This body of work also finds its roots in a vivid childhood memory that Thandiwe holds in mind, which consequently birthed the title for the show. This memory is of her father plaiting her hair in the evenings, which is connected to memories of other men from her childhood who displayed kindness and softness towards her that was often associated with femininity. These two strands which are touched on throughout the show, demonstrates how daily life, particularly one dictated by violence, can have unexpected openings that twist dominant gender constructions. "The work begins to tell the stories of those young men who were teased for being weak and soft, men who don't conform to violent masculinity this work continues in my Masters thesis at UWC."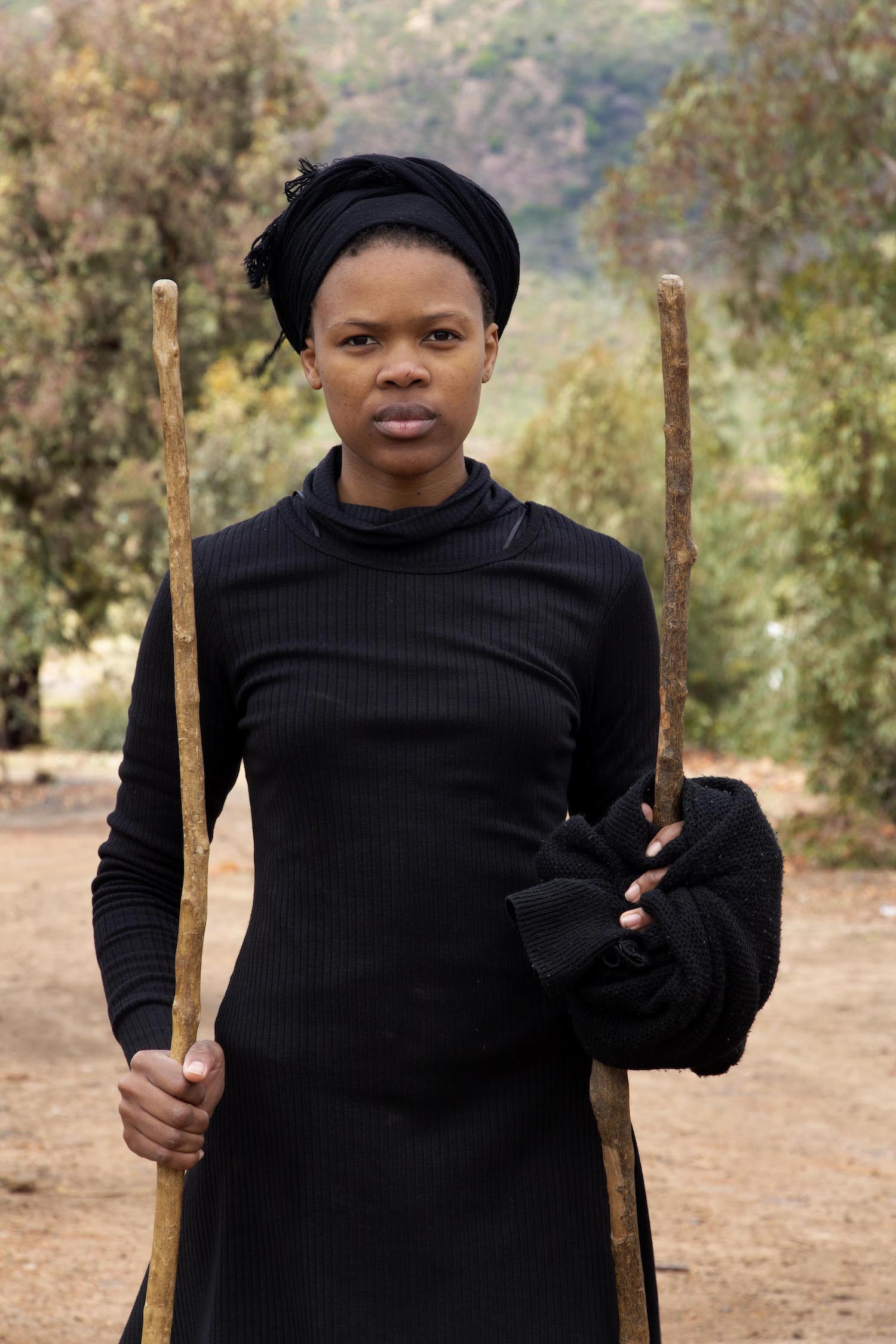 The photographing of objects that are used as weapons is a familiar presence in Thandiwe's work. Reflecting on her last body of work Awundiboni which explored rape culture, Thandiwe expressed that she discovered that her grandmother was hiding weapons under her bed. She started taking photographs of the weapons kept under the beds of all the women in her family, and later those from other families, with this practice serving as evidence of the reality and collective fear shared by these women. In this show, the work titled 'Phantsi kwebhedi ka Nompelo' sees a hammer alongside a knife and other potential weapons. These objects are photographed on a bed. The softness of the bed contrasts with the metal weapons, mimicking the disruption of who is masculine and who is feminine explored in this show.
Thandiwe shares that she works with herself and her family members often in her practice, "because it's easier and I use my body to narrate the stories that come from my body."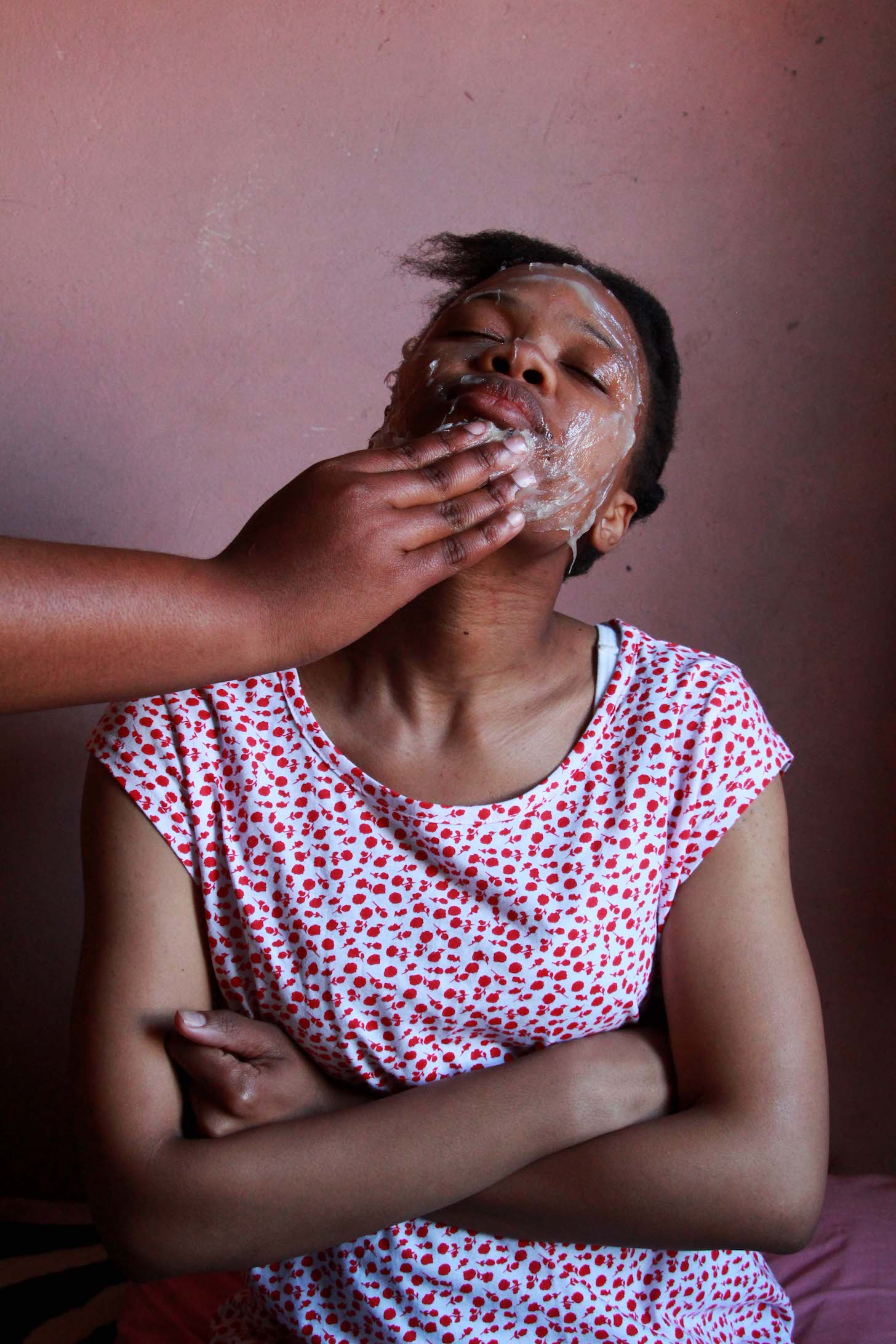 Reflecting on striking moments she experienced when creating Utata undiphotha inwele, Thandiwe relays a day with her grandmother:
"There are many beautiful stories that run through the body of work especially ones about my grandmother who is notorious for carrying weapons where ever she goes. So one day during my visits to the Eastern Cape she asked me if a carried [a] knife, I said 'no'. She kept on asking me this especially towards the time that [I] was going to head back to Cape Town with the bus.  Every time I asked her why I needed a knife she would say, 'You might need to cut an apple or food on the way'. Eventually she realised I was not taking this seriously [and] she went to her room and brought back a small knife from her bag, and told me a tail of how that knife saved her from a bad tempered man in the bus when we were travelling with her as children. At that point I thought, 'This is what you mean, Gogo'."
Utata Undiphotha Inwele is currently on and runs until 4 May at SMITH, 56 Church Street, Cape Town.
Special credits:
Thandiwe's cousin Lukhanyo Oyiya, who has been her assistant photographer since she was 13 years old, and is now 17 and doing her Matric.
The Magnum Foundation Social Justice Fellowship where the body of work was groomed, and the New Imaginaries project at UWC which supported the final exhibition with the funding of Melon Foundation.