The WNBA regular season is at a close with the playoffs in full swing—and while it was a short campaign—it will be one of the most memorable in the league's history; not only because of the bubble experiment but because of how it became the most politically tinged season. After the death of George Floyd in June, a lot of NBA and WNBA players took part in protest action and used their platforms to amplify the message of racial justice. Then the NBA announced the resuming of play in the "Disney bubble" – an isolated complex in Orlando, Florida where the WNBA and NBA played games behind closed doors without the physical presence of fans in order to minimise exposure to the COVID-19 virus. The continuation of play was met with mixed reviews from players with some asserting that it served as a distraction to the momentum that #BlackLivesMatter had garnered. Aware of this dynamic, the WNBA opened the season by dedicating it to #BlackLivesMatter and social justice, particularly to women who have been victims of police brutality with the #SayHerName hashtag. WNBA players have also been wearing t-shirts with the names of slain women and holding a moment of silence for them before games.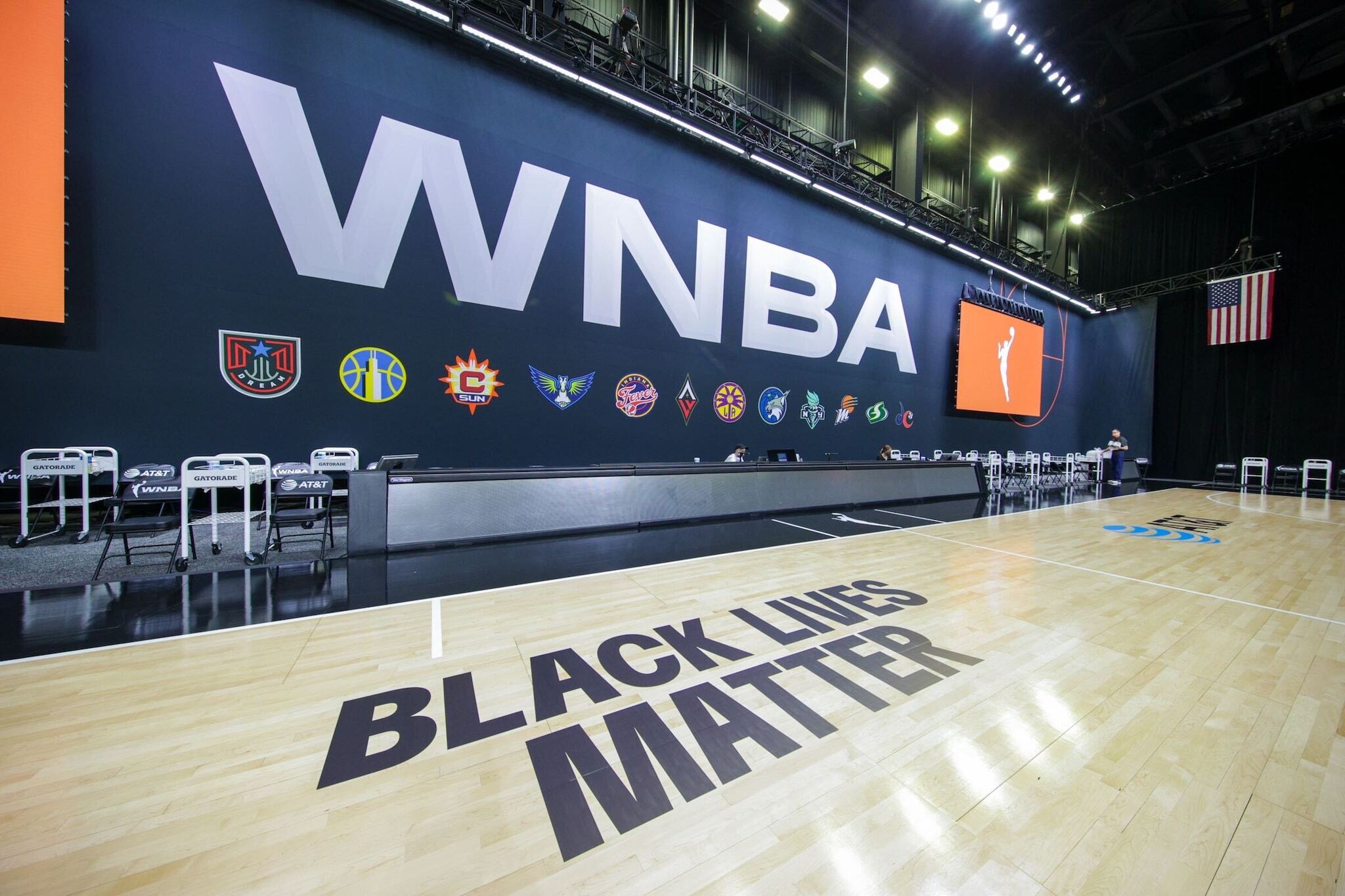 The WNBA has a reputation for leading the charge in protest action in American sports. In 2016, the Minnesota Lynx wore unauthorised warm-up t-shirts to denounce the murders of Philando Castile and Alton Sterling– a month before Colin Kaepernick would sit out the national anthem. In the past two years, Minnesota Lynx forward Maya Moore has not played basketball because she has dedicated her time and resources to criminal reform justice. "As many WNBA players–past and present–have said and, more importantly, consistently demonstrated, the reason why you see us engaging and leading the charge when it comes to social advocacy is because it is in our DNA," said Los Angeles forward Nneka Ogwumike. "With 140-plus voices all together for the first time ever, we can be a powerful force connecting to our sisters across the country and in other parts of the world. And may we all recognise that the league's stated commitment to us – in this season and beyond – offers a pivotal moment in sports history." The league also launched the new platform, The WNBA Justice Movement, to promote racial justice and equity. "I knew coming into this season that I only wanted to play if I was going to be vocal about systemic racism. With the creation of the WNBA/WNBPA Social Justice Council, the players in this league have been able to do that and more," stated Chicago Sky's Sydney Colson. But the WNBA has also had to reckon with itself internally. After announcing their support of #BlackLivesMatter; Atlanta Dream owner and Georgia senator Kelly Loeffler wrote a letter to WNBA commissioner Cathy Engelbert expressing strong disapproval of the WNBA aligning with the organisation. 
Several WNBA players tweeted and spoke put against the owner, calling for her to be forced to sell her stake in the team. After a couple of weeks, Dream players posed for a picture with a couple of other league players while they wore "Vote Warnock" t-shirts; in reference to Raphael Wornack who is a potential Democratic candidate that could challenge Loeffler's seat. "To say to us, as WNBA players, to keep politics out of sports is incredibly hypocritical. There's some irony because all anyone has ever done is judge us on everything but the game of basketball," three-time champion Sue Bird told New York Times in response to Loeffler's letter. Atlanta Dream point guard Renee Montgomery was fully supportive of her team even though she is not in the bubble. Montgomery with other players like Kristi Tolliver, and Natasha Cloud, has opted to sit out the season to focus on social justice initiatives outside of the WNBA. She has focused on voter registration and voting rights efforts ahead of the November election. The 33-year-old veteran is also raising $3 million to support historically Black colleges in Atlanta. Cloud, on the other hand, has used her corporate sponsorship with Converse to donate $25 000 for racial justice organisations in Philadelphia. She has also participated in protests and wrote an op-ed for The Player's Tribune titled 'Your Silence Is a Knee On My Neck' outlining ways in which complicity is harmful to the fight for justice. "These issues that we're fighting for, these issues that we're raising, they directly affect us every single day of life," she told Undefeated. "The biggest thing is for me to use my platform as a microphone. That's the goal, be a voice for the voiceless.