There is a long history of artists going against the status quo. Of seeking out avenues beyond what was institutionalised and what was accepted, or even celebrated, in their day. A famous example that comes to mind was the beginnings of the Impressionist movement in Paris in the Salon des Refusés ("Salon of the Refused") in 1863, where a large number of artists including Paul Cézanne, Camille Pissarro, James Whistler, and the early iconoclast Édouard Manet, put together their own exhibition in defiance of the official, government sanctioned salons. Well as they say, the rest is history, Impressionism took the world by storm and the artist as provocateur or agent of antagonism, became central to future trends.
Much of contemporary art is born in this spirit, and thus we find ourselves discussing an event such as the Joburg Fringe. The Fringe is an independent art fair and organisation first launched in 2008, complementing the FNB Joburg Art Fair. It's an artist-run initiative with a petit but potent history that celebrates the inner city. Now in its 9th year, the Fringe has continued to expand, giving a platform to up-and-coming artists and providing an alternative artistic experience to the polished spectacle that is the FNB Art Fair. This year the Joburg Fringe had found its home in Victoria Yards, Lorentzville (the suburb established in 1892, when Jozi was just 6 years old). The contrast between this space and the Sandton Convention Centre could not be greater. If capturing the dynamic grit of the city was one of the goals then it definitely achieved it. The challenge for any new radical venture is to stay radical, fighting the urge to become simply a new form of institution as it achieves success. Fringe accepts free submissions from anyone, although a jury has been set up to maintain standards of excellence.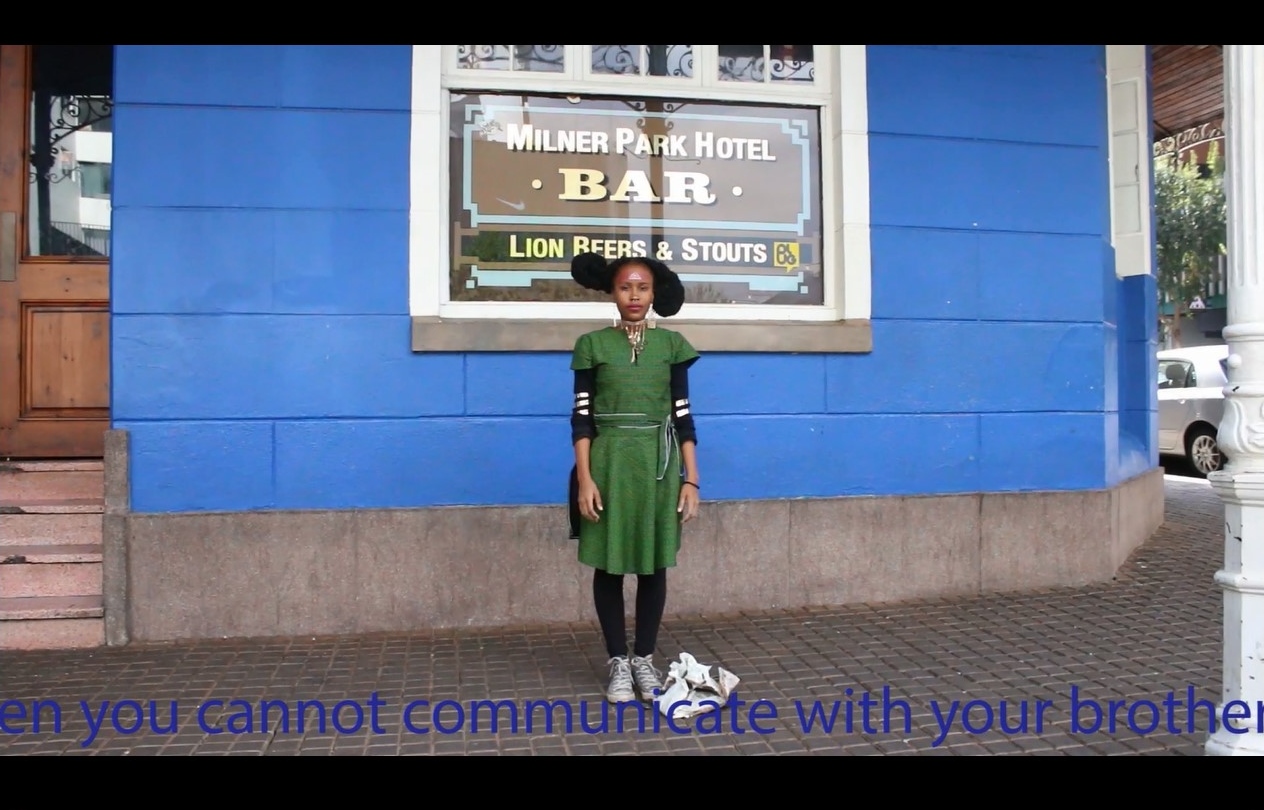 What was most exciting about this year's Fringe event was the two special projects; curated shows by Mbali Tshabalala and Sikhumbuzo Makandula. Young Capital: White Noise by Tshabalala included many young artists, such as Alka Dass and Johan Stegman to name just two; artists who are making incredible work but are not at the stage of their careers to be signed to a gallery showing at the Art Fair, complementing the idea of the Joburg Fringe being an artist-centric alternative. The timing of the event is crucial as it takes advantage of the presence of the foreign and local audiences that surface in Johannesburg around this time of year. Young Capital provided an opportunity to experience carefully curated and considered art, whilst still appealing to collectors with a more affordable range of art, opening up new markets and exposure for these artists.
The 2017 version of VideoART!, curated by Sikhumbuzo Makandula was titled WE WON'T MOVE! –and featured a compilation of two collectives, one based in Joburg: Title in Transgression; and one in Cape Town: matsang (made up of Duduetsang Lamola and Malik Ntone Edjabe). Title in Transgression is a group of four artists working collectively, consisting of Simnikiwe Buhlungu (b. 1995), Dineo Diphofa (b. 1995), Malebona Maphutse (b.1994) and Boitumelo Motau (b.1995). They consider themselves to be "formed in a time of frustration with disillusionment of racial, social and political ills, Title in Transgression seeks to creatively address these ills through numerous artistic platforms. Conversations concerning black identity and the black lived experience inform both their collective practice as well as their individual practices." WE WON'T MOVE was a moment where the curator, Makandula, expressed interest in their own individual practices within the collective. What arose was an intriguing showcase of four creative personalities, where the viewer was left to consider not only the common themes which each member addressed, but the relationship between the individual and the collective, and how one begins to shape the other.