The process of process includes not only emerging and quantifiable forms, but also the intellectual, emotional, and tangible experience of process which is not necessarily sequential.
– Jack Richardson and Sydney Walker (2011)
Fluid brushstrokes of grey and green abstraction punctuate pastel-pink walls. Adjacent blank canvases lie in wait for the artist's hand. The sound of a saw and casual conversation reverberates through the space. A constellation of clamps, chisels, and hammers are peppered by wood flakes and off-cuts – encircling a map of making. BKhz is in a state of process. Reminiscent of Deleuze's philosophical concept of 'becoming', the ongoing and ever developing show is rooted in artists' practice.
Furthermore, creating work within the gallery space articulates an inherent refusal of the pristine and finished visuality synonymous with exhibition practice. In many ways, this underpins Banele Khoza's (BKhz creator/initiator) desire for the space – to expose the public to the entirety of practice: inspiration, planning, production and exhibition making. Situated in Braamfontein, the gallery hopes to provide an alternative exhibition space to emerging and established artists. And in doing so has extended an invitation to Lady Skollie, Mashudu Nevhutalu, Chris Soal, Sharon Moses, Allen Laing, Ke Neil We, XiaoCheng Hu, Tatenda Chidora and Matt Hazell to participate in this open-studio-exhibition.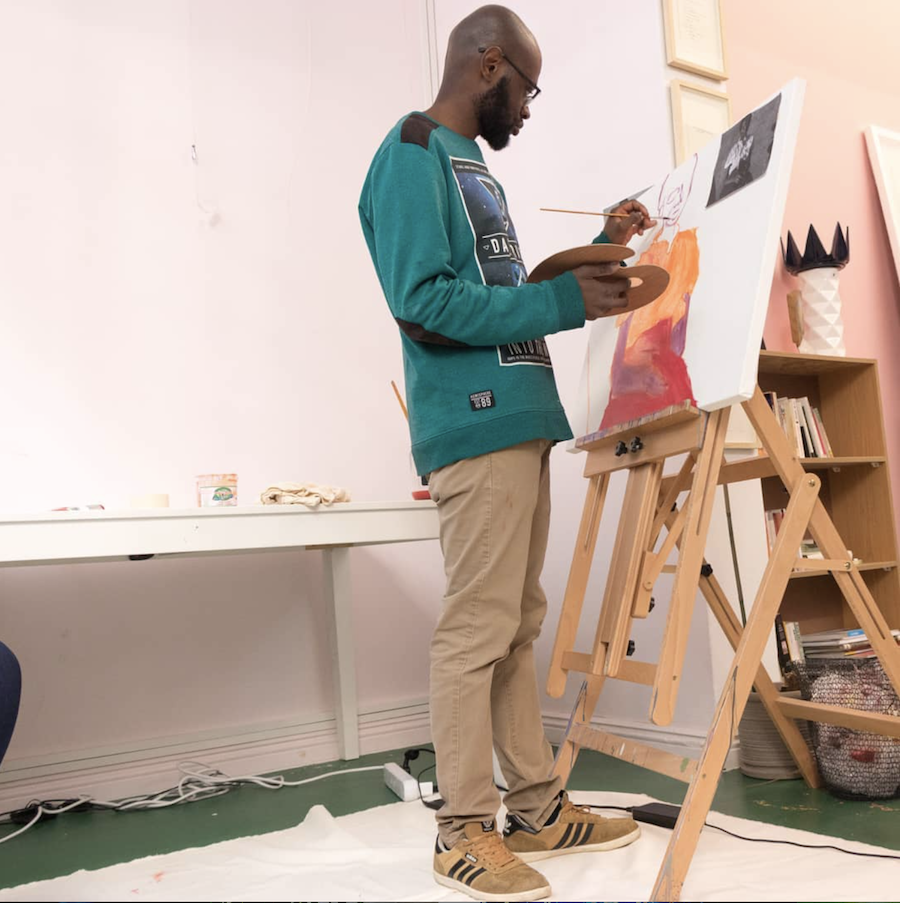 Process articulates an interest in transparency and public engagement – literally visible from the street outside – it offers insights into the diverse production and practice through the presence of participating artists. In their paper, Processing Process: The Event of Making Art (2011) Jack Richardson and Sydney Walker note that process – at the intersection of thought and action – allows for a multiplicity of relationships in constant flux. Going on to say that, "whereas process typically has been associated with a movement toward predetermined and identifiable qualities, the process of process represents a movement through the immeasurable intricacy of relationships produced by the experience of making". This 'process of process' seems evident in the show.
Artists actualise a kind of tracing or mapping of their presence – performing a visuality of inhabitation or occupation in the space. "The process-event represents a dynamic synthesis of forces that are immanent to the various elements that compose an artwork, and that are activated as a consequence of the artist's and the work's presence." However, underlying notions of negotiation come to the fore, both between artists, navigating physical and conceptual space, as well as audience and on-lookers treading the line between sanctioned engagement and a voyeuristic spectacle. The creative capsule's potential to disrupt dynamics in a sense hinges on, "the artist's receptivity to chance, and even chaos." This sentiment may extend to the audience too – necessitating a disregard for preconceived expectations in allowing for an immersive and dialogic experience.
Process runs form the 13 April – 26 May