Leaving Côte d'Ivoire during the civil war in 2004, multidisciplinary artist Marie-Claire Messouma Manlanbien now lives in Paris. Bringing to light the duality of distinct cultural elements in order to establish new fused expressions, Marie-Claire's practice is layered thick with meaning. Her interest lay in the intricate relationality of universal pop culture, the everyday as well as the process of traditional handmade items. The work then creates physical happenings between what is industrial and what is artisanal.
A great influence in Marie-Claire's practice is that of the matriarchal Akan society in Côte d'Ivoire – known for making weights to calculate the value of gold. Momentary, poetic storytelling in constant reconstruction, the work becomes palpable in a formation of witnessing and tracing – that of a multitude of past cultural histories. Regarding her practice as a continuum, she sees her ideology as one which addresses intersectional femme politics taking on a symbolic approach in its execution. Each installation curated and methodically sculpted by her hands shape a poetic plateau with each individual element constructing its own identity thereby acting as a symbol of a variety of cultural inspirations. A poetic narrator and maker of forms her work takes the modes of sculptures, textiles, weaving, drawing, installation, engraving, musicality, video-performance and photography. Inspiration lends itself in the form of storytelling, the tradition of orality of of guadeloupe and the ivory coast.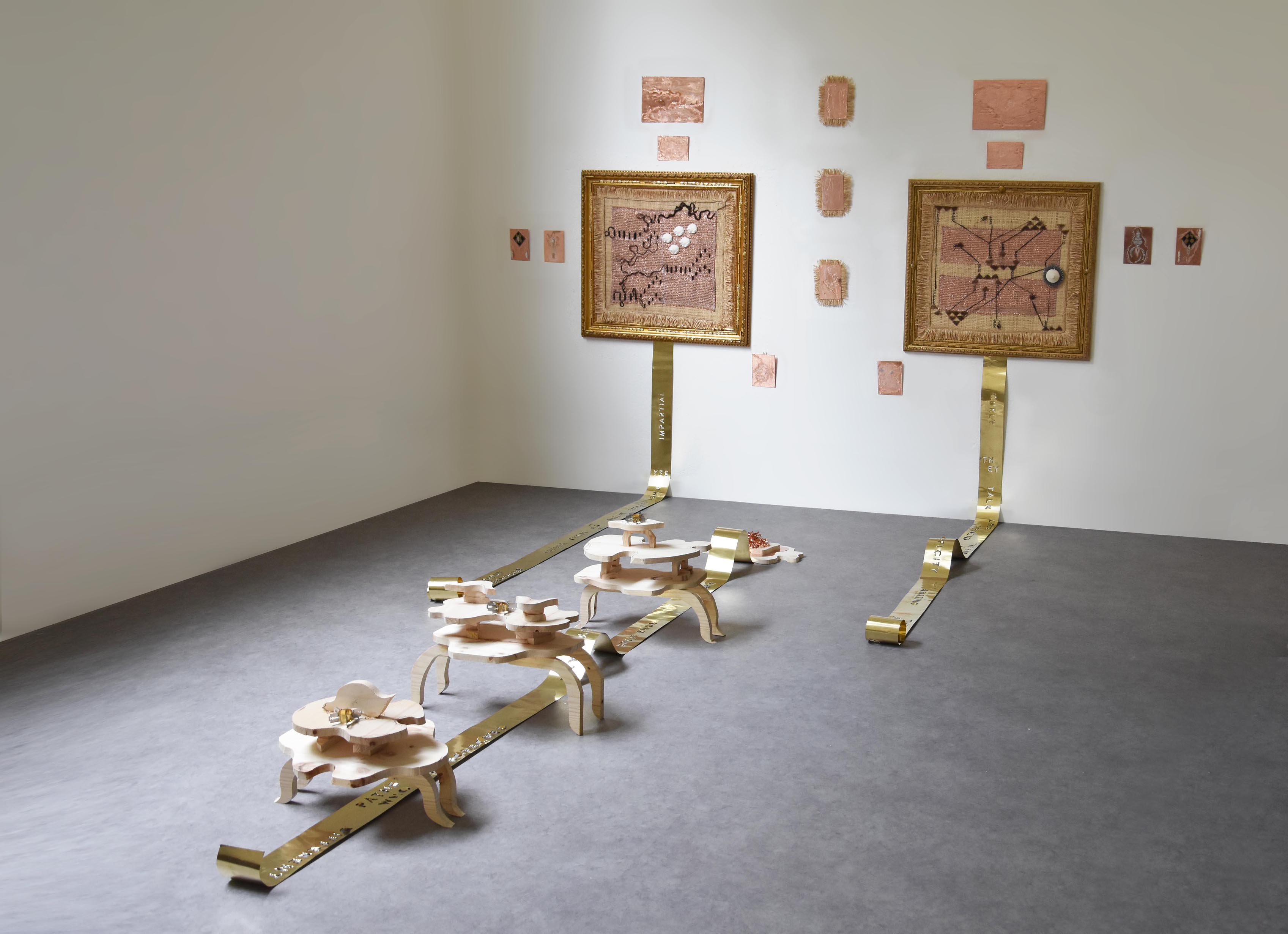 Her latest exhibition 'Forces Field' is an investigation as well as a production of shapes that weave into the construction of feminine blackness as viewed from the white patriarchal gaze. The exhibition removes itself from taking on the stereotypical shapes that the project could have lent itself to not making use of any – body.
Once again concerned with duality, the title 'Forces Field' speaks to both belonging as well as exclusion. As observed by Cedric Fauq to think about force fields in the canon of art reflects Walter Benjamin's notion of the "artwork's aura" detangled in his essay 'The Work of Art in the Age of Mechanical Reproduction' (1999). Fauq continues to say that "where the aura holds passivity, the force field is active. It suggests strength and endurance."
Shuffling away from the temporality of the work and its ritualistic making she bridges potentialities of the work itself in its presentation. Upon observing from a far distance her works seem to be made out of the banal, being built up of no particular formality as though they are coded inscriptions.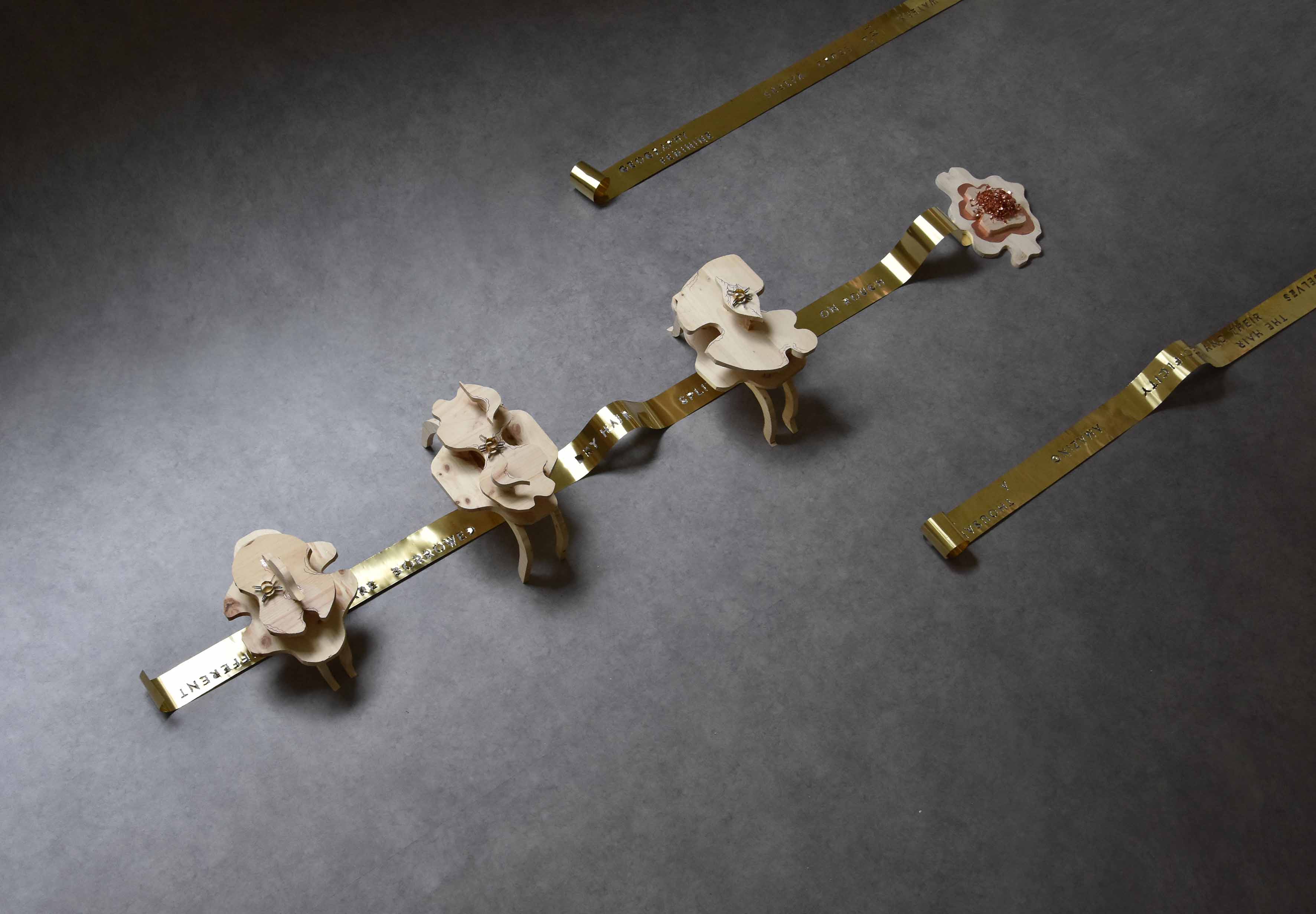 A task in class-dragging is taken upon the artist as she frames her works oftentimes in heavy golder than gold frames motioning to luxury. Breaking away from their force fields the viewer is confronted with semi-military maps constructed of human hair, sponges and dried raffia. The prickly calculation with which these maps are executed speak perhaps to notions of a lost civilisation; both one of the past and one of the future. These intricate map depictions bring together the unknown yesteryear and the unforeseeable future. The space where the black female body has reconfigured herself in permanency as a mythological being. These curated forms establish a new linguistic that cannot be understood by the gaze of the coloniser.
Sometimes works take on a performative framework as Marie-Claire transforms her wall tapestries and sculptures into garments that function as shields. A practice that speaks as a challenge to misconceptions of blackness and its embodiments; the work both reveals and hides. A force field of black feminine strength is weaved in sanctity.
The exhibition runs from May 22nd – June 22nd 2019 at 50 Golborne gallery, United Kingdom.