Richard John Jones works with stories of erasure, displacement and marginalisation. Specifically, Richard addresses obscured or erased histories and practices through installation, video work, performance as well as domestic craft techniques.
He sees the process of domestic craft as the site for technological innovation. Feminism embraced. A floral pattern hugs tightly around a body – fluidity. Queering of gender, queering of the archive.
I had an interview with Richard to find out more about his practice.
Could you tell me more about yourself? Where did you grow up? When did your interest in art begin and when did you begin practising professionally?
I'm originally from Chesterfield, which is in the East Midlands in England. I moved to London to study at Central Saint Martins. With the people I met there I started getting involved in a group that were organising exhibitions in a squatted car showroom in Peckham. That space ended up becoming Auto Italia South East, an artist-run commissioning organisation that I was the Co-Director of until 2012. Since then I have been focussing on my own work but I take the experience and way of working with me from those formative years. To be honest, I always wanted to be a fashion designer when I was younger. I was addicted to magazines like Dazed and Confused when I was a teenager and would go down to the local petrol station every month religiously to buy the newest issue. I was mostly interested in the club-kid style, in figures like Leigh Bowery, in the outrageous, exuberant, and camp. There was something so liberating and expressive in the possibility to create or transform yourself into something other, alien, freaky, and beautiful. I think that I responded to the possibility that the magazine opened up, that there was this other world, this place where difference was embraced, where culture was DIY and grass roots, that queerness could be celebrated. I think in retrospect I was too conceptual or weird for fashion school so I'm glad I ended up in art but I have a huge respect for fashion styling and design and its communicative power and it was definitely the reason why I ended up in this situation and why I felt like I had to go to Saint Martins.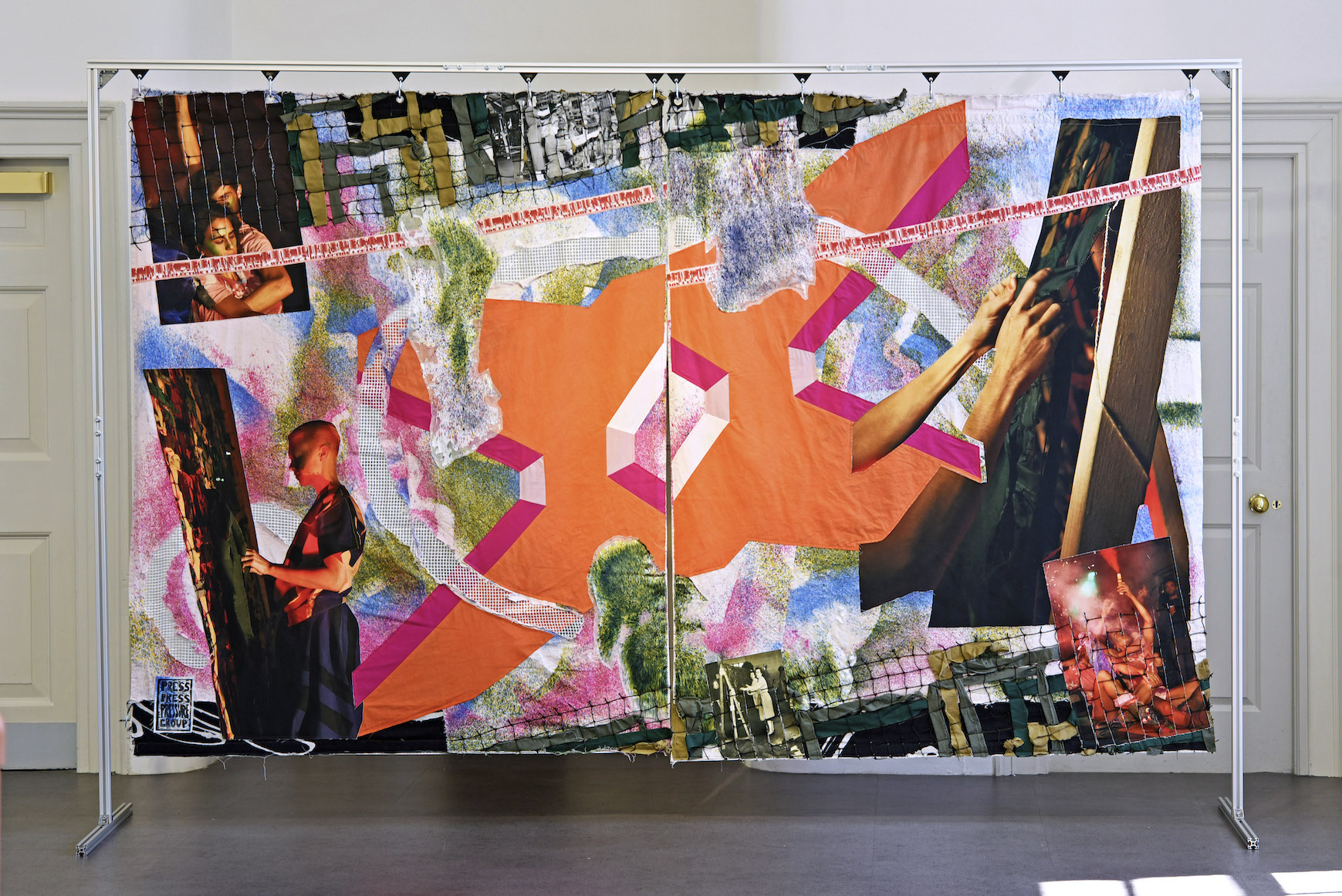 Reading up about you it is stated that your work "is concerned with histories that have been erased, forgotten or marginalised" which of these histories specifically do you work with and why?
I am interested primarily in queer histories, or more accurately, ways of queering history. Sexuality, amongst other things, is an identity category that is not primarily visual or visible so I have worked a lot with how the stories relating to these are lost or obscured and I'm interested in working with the limited images or signifiers that come to represent these. Of course, there are connections with other social categories and I'm equally invested in understanding how gender, race, disability and class intersect and how these are side-lined or obscured in mainstream culture. Recently I have been working with the locations and histories of public sex and cruising, conducting research and also considering how they have appeared or been used in art before. Alongside that, I'm also working now with a regional folk dance style from the UK that has its roots in the industrial history of the region, touching on questions of gender, class and nationalisms, so the places my work goes are often quite diverse but, at the core, the enquiry is consistent. My book "Paraperformance", that was published last year, outlines in more detail the stories and references that have been at the centre of my work over the past few years.
Does the use of domestic craft techniques in your practice bare any symbolism and if so what is it?
Yes, I'm invested in these methods as feminists and women artists have prioritised them in the past. Textiles, craft, decoration and domesticity are inherently positioned as feminised activities, they are often examples of embodied knowledge and they have historically been excluded from the art world. As forms of labour, they often haven't been documented and as such they have little historical representation. Of course now we can see that craft has become very popular in contemporary art but, at least to me, I think that what we see now is that these objects are being brought back as commodities, objects that embody a promise of political progressiveness whilst being inherently commercial. Craft often appears to us now as a kind of extension of the 'artisanal' world of commerce, where we see blobby ceramics and textile work as not only unique but full of a promise of political authenticity. Although my work could definitely be positioned within that I am more interested in how craft processes are sites of technological development. The story of craft is one of industrial mechanisation where the embodied knowledge of crafts-people is expropriated by the machine. I'm often working with aluminium frames and structures used for the construction of 3D printers and other high-precision machines in the framing and exhibition of my work.
The story of technological development is, for example, reflected in the story of weaving that, originally practised by women in the domestic space, became mechanised and industrialised in the 19th century. This transformed the role of the makers not only into operators of machines but also into consumers of the products they would originally manufacture whilst their production knowledge (that was often embodied) was translated into machine code. Although this is a historical example, it is a process that continues today with all forms of manual and supposedly "unskilled" labour. Because we cannot talk about craft without talking about industrialisation these things are also intimately linked to colonialism and the role of industrialisation and trade within that. For me that is all there within craft processes. When we talk about or use particular craft techniques, we talk about technology and globalisation, and that is something that is stimulating to work with, particularly considering the interest I have in art primarily as a process that leads to a visual representation.
I also turned to these materials because I felt that they create some useful and stimulating problems within the production of contemporary art. Considering that most art is now made through outsourcing, following hand-crafted materials through a production process often frustrates that pressure of just-in-time production. In some recent commissions I have experienced how using certain materials has required projects to be longer-term, involving greater institutional commitment and follow-through and creating communities or at least multiple actors around the production of a work. This is far more stimulating and admittedly sometimes extremely frustrating but I still find that preferable than working primarily alone and outsourcing the main elements of physical production to external companies.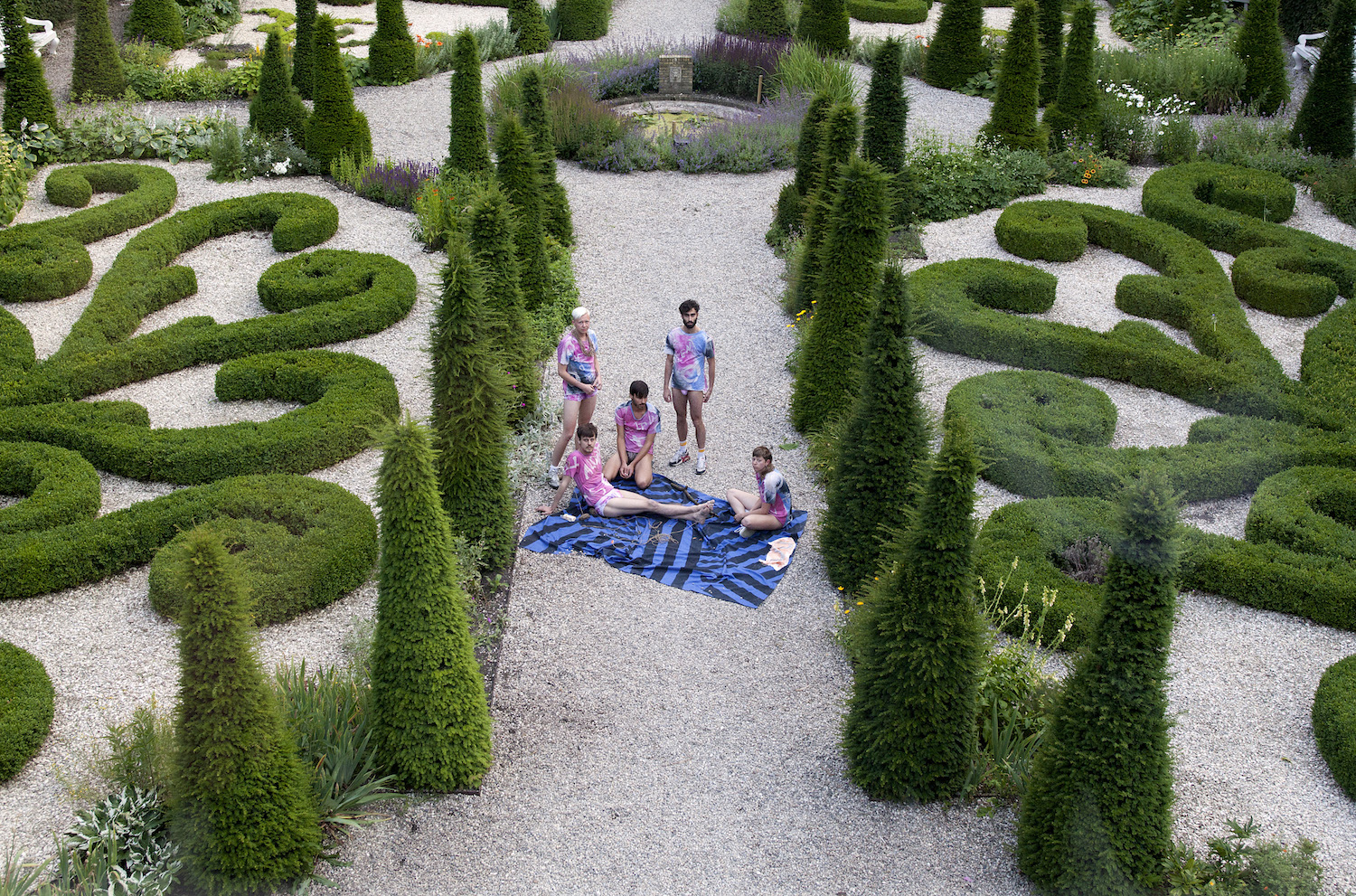 What kind of textiles do you usually work with and is there meaning connected to the patterns of your suits?
Recently I have been working with the documentation of my previous performance work and incorporating that into fabric collages and also repeating floral patterns. I am interested in artists that have done this before in the Pattern and Decoration movement, for example. I'm also interested in the idiomatic nature of floral prints. I have been working with references to the Arts and Crafts movement, but also Chintz patterns and chequered fabric designs. These all have a specificity to design history in the UK and its former empire and I'm interested in working critically through this making the connection to their use within a national story or how those patterns create feelings of belonging or identification. A lot of my work with floral patterns came out of a commission I made for the Tallinn Print Triennial in 2018 called "An Exercise In Taste and Shame". I designed four repeating floral prints for that and I am continuing to use them in different ways in other works. I have been really intrigued by how floral patterns are so ubiquitous and I've had some interesting conversations in different places where I have shown the work. For example, for some people the floral patterns triggered memories of the soviet era textiles in Tallinn, whilst recently in Brussels someone immediately connected them to the Flemish landscape. This possibility for them to appear idiomatic in quite different contexts is something that I want to explore. Something else that I was particularly interested in was how a repeating pattern is essentially an image that has no borders and can create a seamless continuous surface, something that is also endlessly reproducible. For me, this was a totally new and very stimulating way of thinking about what an image could be and how it could be used and I'm going to be working with this more in the future. For many years, my work has been quite involved in print-making and the idea of repetition is something that I have been working with anyway, so the possibilities in repeating patterns feels like a logical progression for me.
Richard John Jones' floral patterns are available to buy for a limited time directly from Contrado.
His book 'Paraperformance' is available for purchase here.