Over the past few years, queerness and queering have transformed, morphed and taken on all sorts of contortions in the public imagination. Although most people claim to be more tolerant and can perform that tolerance (thank you hashtag woke), many out there still harbour both conscious and unconscious prejudices towards the queer community. After all, it's much easier to watch POSE and stan Billy Porter's beautiful high heel collection and Jason Momoa's pink velvet scrunchie as indicators of the fall of patriarchy and toxic masculinity, than it is to actually do the work.
While "touring" into queer life might be a usual activity for most heteronormative people, queer communities are constantly surviving and thriving against a complex system that marginalises and oppresses. Queer communities achieve this through healing, resistance, creativity and kinship. In Cape Town, a new project —Outskirts—embodies these elements through the performative power of burlesque and drag. I interviewed two of the organizers [Eevee (a drag queen) and Tazme Pillay (founder of The Death of Glitter)] to find out more about the project as well as the upcoming launch which will take place at the iconic Zer021 on January 31st.
THE MEMO? COME AS YOU ARE.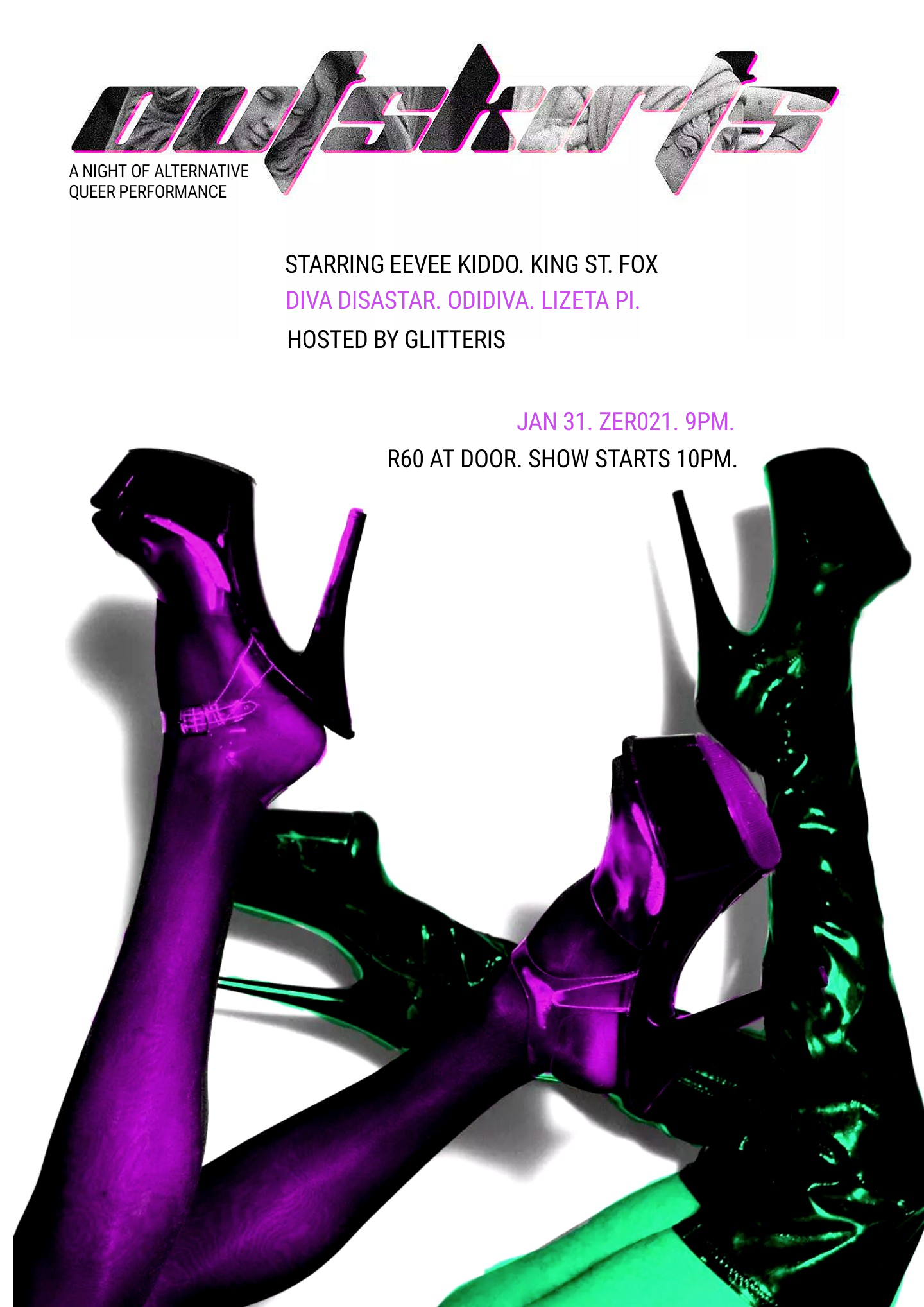 NM: How would you describe Outskirts; what is it, how did it come about and why?
Tazme: I would describe Outskirts as an alternative theatre space for queer performance art. It's a night for the drag queens and performers who may not do the mainstream sort of thing to have a space to share their work. Eevee and I had been chatting for some time about starting an event together, and at the same time, I was chatting to King St. Fox who wanted a space for burlesque that was outside of their usual performance spaces. Then Zer021 approached me to curate a monthly event for them, and it all sort of fell into place. I think it was born from the need for this kind of space; a stage for the weird kids or those performers who are a little off-centre to be able to perform their work. It's also great that Zer021, an established drag club in Cape Town that usually focus on more mainstream drag, have been so supportive of this.
NM: When I think about "outskirts", I think about the edges and the fringe – however, the word does not always conjure up positive connotations, can you tell us why you have chosen this name for this project?
Eevee: I think it's correct that the name doesn't have an outright positive visage. In my view, a good drag performance should have an aspect of darkness or the unsettling, just for a little balance. It is a party where everyone is invited but we still represent the underground artistry of Cape Town. Outskirts itself really just refers to the alternative, the fact that we as performers are operating from the fringes of this city's queer club scene. There is nothing mainstream about our group or what we do on stage.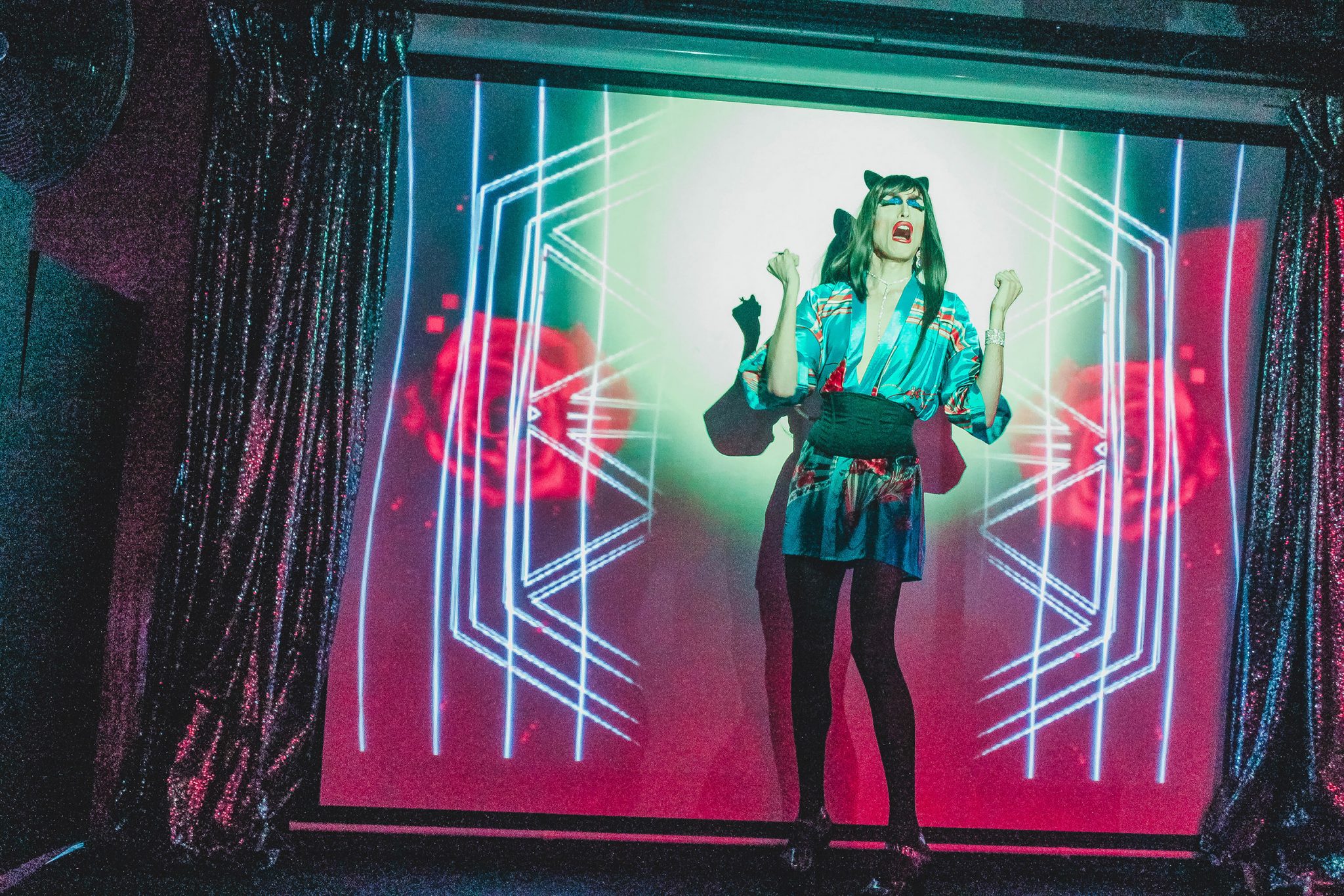 NM: You mentioned that Outskirts is an intersection or combining of burlesque and drag; can you explain to me what you understand these art forms to be exactly?
Tazme: Firstly, we really enjoyed the pun; outskirts, skirts, drag queens. It just made sense. I remember when we came up with it; Eevee and I hadn't thought of a name and we were brainstorming and I think she said; "It needs to be something that takes us to the outskirts" and I was like, "Stop, that's it. That's the name". And yeah, it doesn't always conjure up positive connotations and I think that speaks to the work; what you're going to see at Outskirts is not safe. It's challenging, it's subversive and it's a bit strange. So yeah, there's this connotation of the outskirts being a bit dodgy, but that comes from this idea of "the other"; the outskirts of a city, for instance, feels strange and uncertain because it's "the other" and in many ways, that's who we are. We are the other side of drag and burlesque, and it's not always pretty but it's valid, it has something to say and now it has a space to say it.
NM: For me, both of these art forms have a strong element of 'fiction' or 'make-believe'. How do you think subcultures within queer communities relate to this notion of 'make-believe'?
Eevee: 'Make-believe' is at the heart of what we do. That momentary suspension of disbelief is what the audience is looking for. I think as queer people, we often turn to fantasy to compensate for our disenfranchised real selves. It is no surprise that I can command the attention of an entire room while I perform – a power that disappears when I am out of drag and away from the music.
I hesitate to delve into the philosophy of drag any further than that. At the end of the day, people really just want to watch a show like ours at the end of a long week with a drink in their hand. It's about creating magic with as little resources as possible.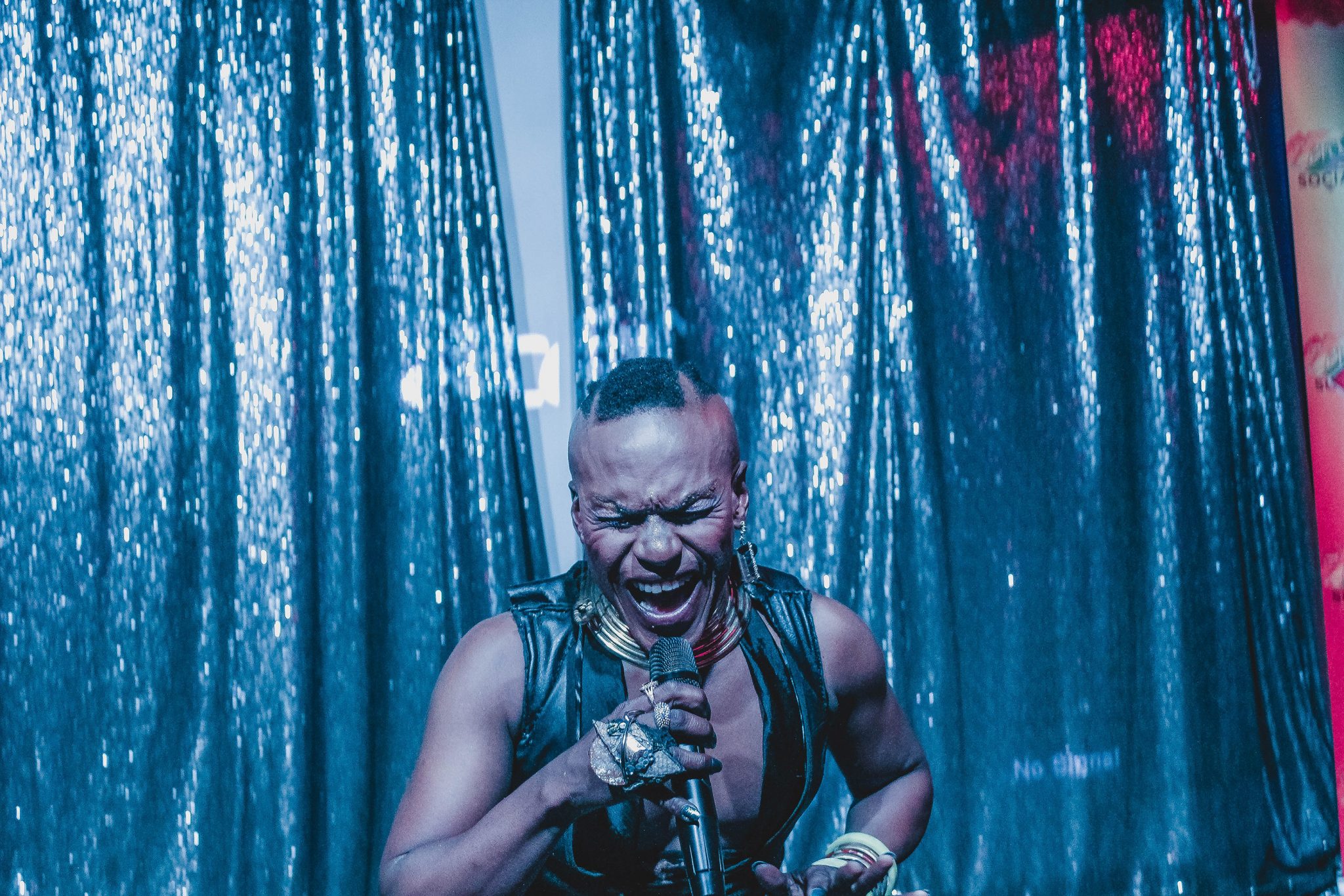 NM: Can you tell us a bit more about the performers?
Tazme:
Diva Disastar is whimsical and cheeky, she entices and entertains audiences with her sultry smile and burly buffoonery. With a penchant for bawdy humour and bad-to-the-bone bumps and grinds, this dynamic "Original Dame of Burlesque" is a lady of many disguises! She may appear sweet and innocent on the outside, but she's infamous for pushing boundaries.
King St. Fox: In a world full of yings and yangs, arose a rebellious gentleman with a heart of gold. Sauvé and secretive, King St.Fox epitomises gender fluidity with tongue-in-cheek Boylesque performances that often leave ladies, and gentlemen, questioning their preferences.
LiZeta Pi: A Bobette from Black Orchid Burlesque SA. Taking inspiration from classic burlesque, vintage fashion, sex positivity and feminist empowerment, and infusing her own brand of liminal sexuality and shameless geekery, LiZeta Pi looks forward to making the glittery, provocative, tantalising art of the tease just a bit more weird and wonderful with her transformative flair!
Among many more supporters who have made the project possible, Outskirts' King St. Fox had this to say about the project: "Outskirts is a place to play and to have fellow performers to bounce off of and with. Creating collaborations that might not have necessarily been seen in other performance spaces."