The modern architecture of a glass storefront offers a glimpse into a space burgeoning with knowledge on well curated shelves and caffeinated conversation. The Commune is a radical community-centered, collectively-run bookshop. Situated on Reserve Street, the project is local to Braamfontein in the hopes of engaging discourse in South Africa and on the continent. Its name, an ideological reference to the Paris Commune, positions the space in relation to a political history and commitment to justice, liberty and equality. In the midst of the global shift towards increasingly right-wing politics, the Commune offers a refreshing and relevant alternative.
Collaboration and the dissemination of knowledge are central to the progressively left Pan-African bookshop. Collective member, Fezokuhle Mthonti describes how "we take ideas incredibly seriously in the space, and so that is why you have a wide range of thinkers across the left in terms of the books that we choose and the books that we curate. That is also synonymous with our programming, we hope that a lot of the ideas that are present in the shop are also present in the kinds of people that we collaborate with on various projects." The Commune also works in partnership with neighbouring cultural centre, the Forge.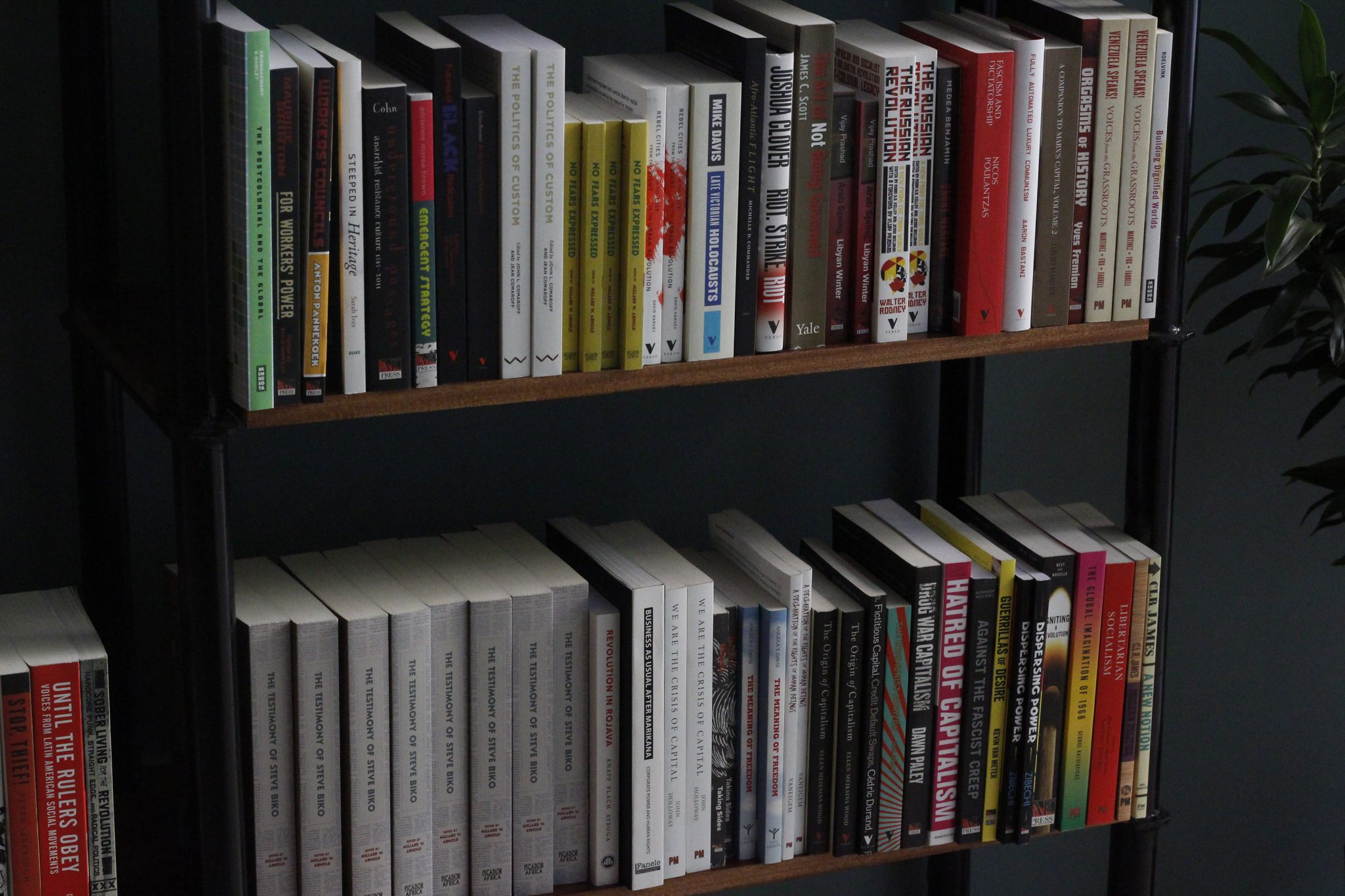 Photograph courtesy of the Commune
While bookshop in part, the Commune offers much more. The collective book curator, Aragorn Eloff, notes how, "historically, and in the current time these kinds of spaces are very important politically. They serve as hubs for activism and for people getting a radical political education, they can resonate with people who feel differently about the world but don't necessarily have a context for which they can explore that with others". A crucial aspect of this is situated around co-creation rather than authoritive knowledge production. Eloff describes how curation in terms of the material is non-sectarian thus allowing for a broadly left progressive space. He goes on to say that, "we take that 'broadly' very seriously. We are not beholden to any one set of ideas, analysis, philosophies, strategies, tactics or whatever else. We are just about presenting dissident forms of information and allowing people to draw their own conclusions from that."
The notion of a collectively run space offers an exciting prospect, although not one without challenges. Eloff explains, "the collective practice is difficult, because it is antithetical to a lot of the norms that hierarchical capitalist society. So not many people are innately used to it, so it takes a lot of practice, it can be incredibly frustrating, but when it works, it works exceptionally well and has all the benefits of collective thinking and empowering different voices to be heard are benefits that we don't often see in more conventional structures". Each of the team members – Nala Xaba, Yvonne Phyllis, Ryan Honeyball, Justin Barrow, Fezokuhle Mthonti, Aragorn Eloff, Nonzuzo Gxekwa, Lweendo Hamukoma, and Mwelela Cele – contribute their own skills, insights and experiences to the space. Nala Xaba enthusiastically relays how, "we're also right at the beginning, I think that we are all like-minded in the ways that matter for the team and also so differently minded and backgrounded". The Commune are open to collaborating beyond the collective. Mthonti mentions, "the intellectual nexus in everything that is happening here is intellectual work – artists, students, workers, people from across generations, across ethnicities and nationalities are always welcome in the space and also co-create and co-programme the space".
If you are interested in collaborating with the Commune:
Pop into the shop or send an email to info@thecommune.org.za