Writing about Azibuye – The Occupation is almost as tricky as watching it. I had to move mountains to lay my hands on a headset, then realised my ancient iPhone wouldn't work in the Samsung VR Gear headset which meant also procuring a Samsung phone. After fumbling through the Android system, I somehow managed to set it all up, triumphantly emerging from the hardware-software snarl. I eagerly purchase a day pass for the National Arts Festival only to find myself harassing the festival manager on a daily basis, waiting for Azibuye to be uploaded. To be fair, this was the first online festival in its 46-year history but, after all that work, it was a bummer that technical difficulties prevented the film from being shown. Luckily, I am friendly with the film's director, Dylan Valley. He sent me a secret password to stream the film thus confirming my first VR experience as a thrilling adventure before I had even pressed play. When I did, I was so confused because I could hear the sound clearly but the picture was so blurry, all I could think was, "Damn, Dylan is waaay more conceptual than expected." Turns out I needed to turn the resolution up to 4K to experience the full glory. Luddite VR Enthusiast is my new persona. But before I get into the film itself: a quick word on the filmmaker.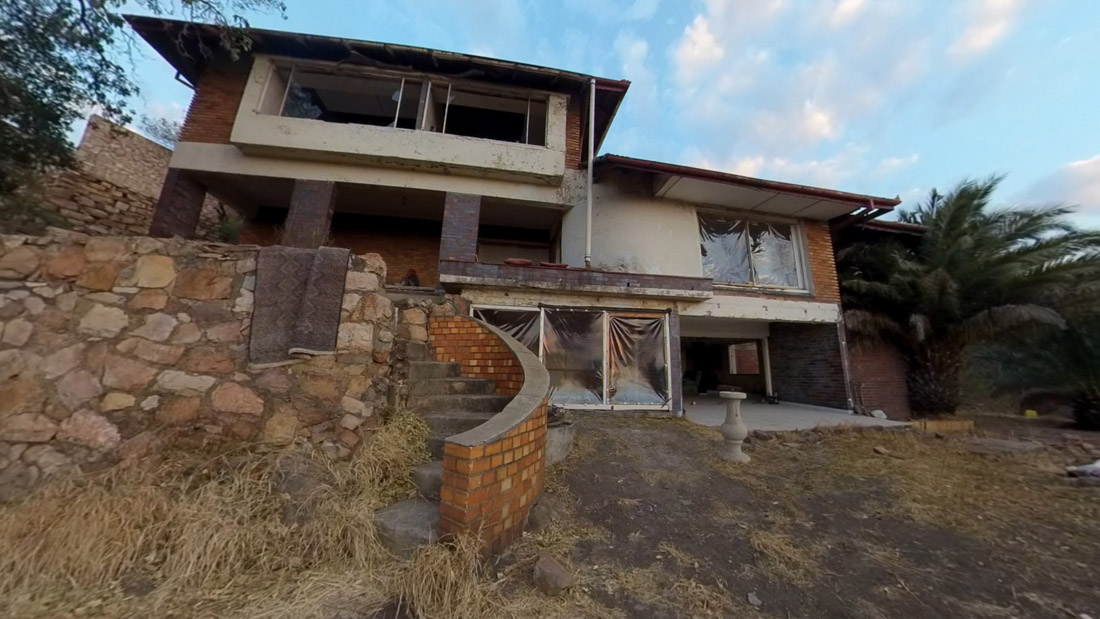 Photographic still from Azibuye – The Occupation
By way of bio: earlier this year, Dylan joined the University of Cape Town as a lecturer. Before that, he worked at the University of the Witwatersrand where he is registered as a PhD student. Before all of this Dylan had received a Pulitzer fellowship to pursue a master's in specialised journalism at the University of Southern California (USC) in Los Angeles, where his thesis documentary was on the groundbreaking web series The Misadventures of Awkward Black Girl, the genesis of Insecure as we know it today. Dylan is also an editorial board member at Africa is a Country, an Atlantic Fellow for Racial Equity 2019 and has directed several pieces for Al Jazeera. In other words, man knows what he's doing. By way of work: what I like most about Dylan's documentaries is how well he balances very serious issues with a decidedly not-serious sense of humour. Incarcerated Knowledge (2013) for instance, follows Peter John Christians, an ex-convict with a dream to become a hip hop artist. The film offers a really insightful look at the struggle of trying to break out of the cycles of violence endemic to gang culture; while still leaving room to laugh with real delight despite witnessing the difficulty of trying to rebuild a post-prison life.
Azibuye – The Occupation, his first virtual reality documentary, premiered at the Sundance Film Festival as part of the New Frontiers selection, which showcases projects that use emerging technologies. The film follows Masello and Evan, relaxed and at home in a decrepit mansion in an affluent part of Johannesburg where they have illegally taken residence as an artistic and political act to address the ongoing racial inequalities in land ownership in South Africa. Azibuye means "let it come back." Originally part of a larger group, the pair spent a long time looking for the perfect house to occupy. Masello is a performance artist who also describes herself as a 'memory keeper' and Evan is a Mkhonto we Sizwe veteran, former trade unionist and education activist. I can't think of more romantic characters, and the best part is they are 100% real. I was totally blown away by the visceral experience of being in the house with them, up in the ceiling with Evan while he draped a tarp over missing roof tiles, down in the vegetable garden with Masello, admiring the verdant surrounds. But on the other side of the charming pair and the marvellous novelty of the medium was where it started getting tricky for me.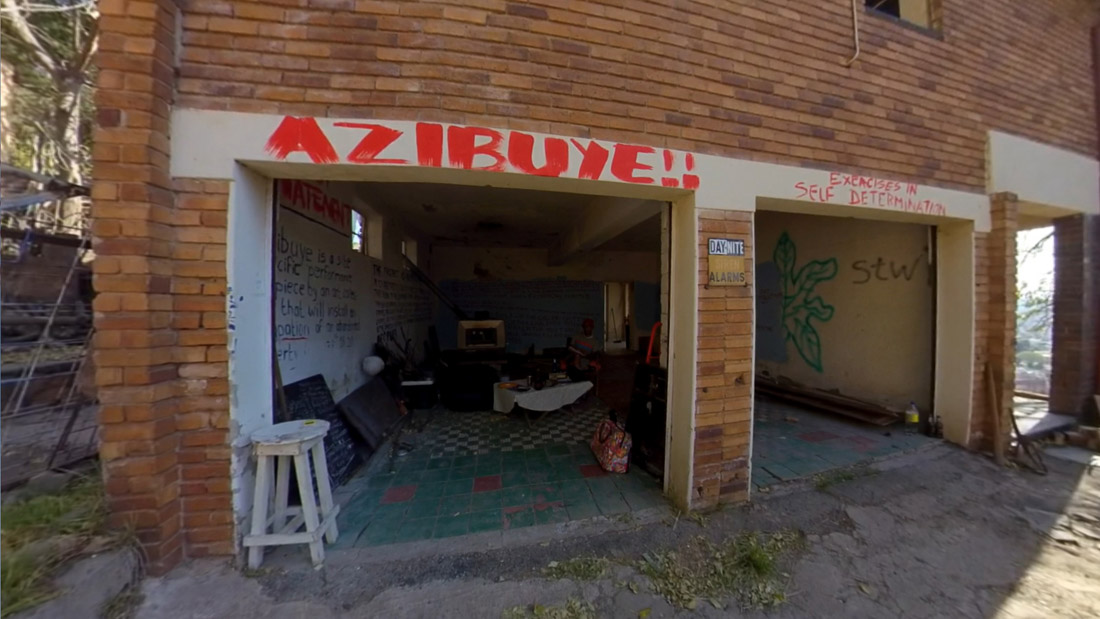 Photographic still from Azibuye – The Occupation
Throughout the film the term occupation is lobbed around, somewhat glibly. On the phone, Dylan described how he knew that the space would work well for an immersive experience and wanted viewers to be able to "experience the occupation." But when I think occupation in the context of land reform in South Africa, I think verb, not noun. My understanding of a land occupation is the process of a group of people settling on a piece of property and struggling for secure tenure, not residential invasions of vacant structures. When successful, occupation-as-verb is then conventionally referred to as an informal (shack) settlement. Considering that there are 4 million people currently living in urban informal settlements, "the most visible manifestation of inequitable land access" in South Africa—the words we use when we talk about land reform are important. Equally important, is an awareness of how easily land debate discourse can be hijacked by unseen organising logics, whether these are governed by NGOs and international funders keen to change political dynamics, or by artists/activists who don't believe in paying rent. Then again, it is never an occupation until someone labels it as such, and maybe that's the real charm of this project: in their own small way, in their own small corner, Evan and Masello have reclaimed the land campaign, albeit illegally.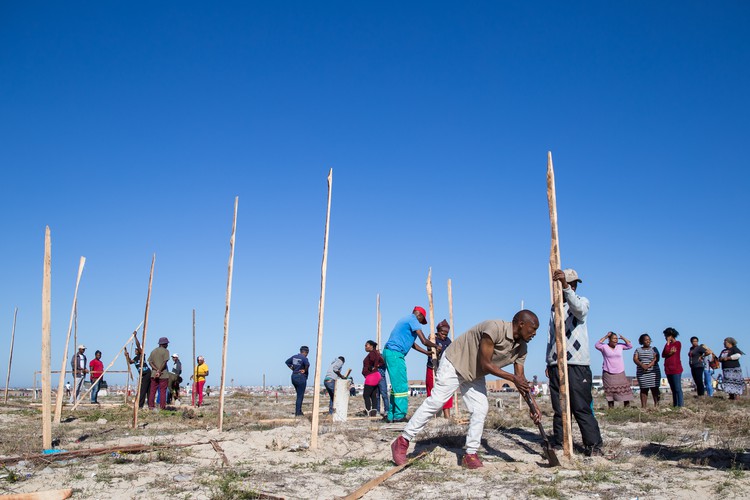 Khayelitsha occupation by Ashraf Hendricks
That said, I found it strange that in most of the promo for and reviews of the film, the two are described as 'homeless' black artists/activists. But in the film, Masello simply states, "the rent in Troyeville (where they lived before) was killing us" and that they were looking for the right place to occupy for a long time. This makes it hard to imagine what the long-term agenda of the occupation might be, overshadowed as it is by the complex short-term reality of living rent-free on someone else's property. Similarly, in the absence of output (beyond the political statement), I struggled to engage with this as an artistic statement and found myself questioning what it means to be homeless, to be an artist, to be an activist? When I told my mother about this, she replied, "Sounds like they want dissent for neighbours and anarchy for bedfellows". The occupation is presented as a tool to address the ongoing racial inequalities in land ownership in South Africa which is what most interested me about the film; I am surprised by how difficult it is to find artists/writers/anyone explicitly addressing current land reform issues in creative ways. According to South Africa's land audit of 2017, white South Africans (9% of the population) own 72% of farms and agricultural holdings compared to black South Africans (79% of the population) who own just 1% of the country's rural land. The situation is serious.
Masello and Evan moved into the house proudly protesting white land ownership… *plot twist and spoiler alert*… only to discover that the owner of the property is black! He bought the house after apartheid ended, and is now unable to do anything with it without paying gazillions of rands to legally evict these illegal occupiers. This is why the others vacated the property, conflicted by the owners' race negating their original agenda. The film includes a recording of the owner being interviewed telephonically and having his words following me while I wandered through his house was hella unsettling. I felt rude for being there. This quirk in both the videography (the absent owners' presence is definitely the loudest) and the land redistribution narrative is another example of Dylan's humour, but it is also what leaves me most conflicted. Given how painfully our history of land dispossession endures today, what does it mean to protest grossly unequal land ownership along the dual axes of race and class?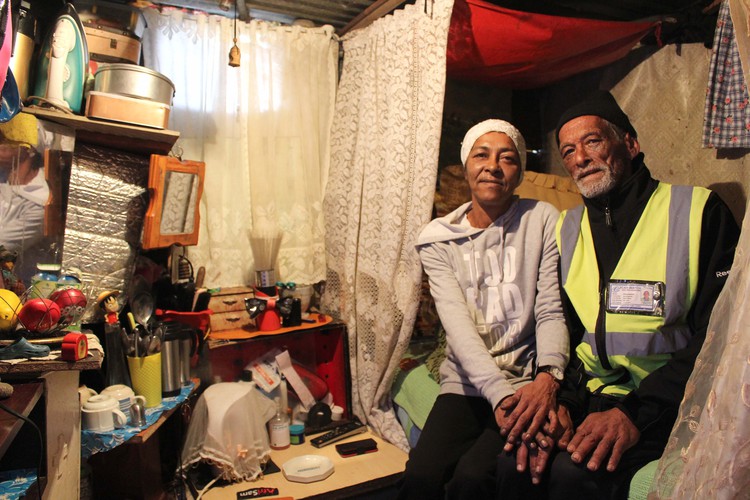 Fayrooz Sign and Deno Hansen, formerly homeless Woodstock residents facing eviction by Masixole Feni
When I asked Dylan how he would feel if he was the owner—or even a neighbour—in this situation, forced to contend with an 'occupation' motivated by principle (not need, in the conventional sense) his response was diplomatic: "this is why VR is so interesting, it allows for a heightened sense of empathy". I felt that on multiple levels. I identify with the two calmly indignant revolutionaries, the upset nosy neighbours, and the hurt landed gentry deprived of his politically (read: racially) unproblematic property. Surprisingly though, I felt the most for the house itself, which I came to think of as the main character of the film. From the rotten roof beams to the exposed concrete, I wanted to see it restored to its former glory; fairly experienced by all who need, deserve, and care for it, however that is to be determined. This, I suppose, mirrors my ever-complicated feelings about the land on which it so restlessly rests.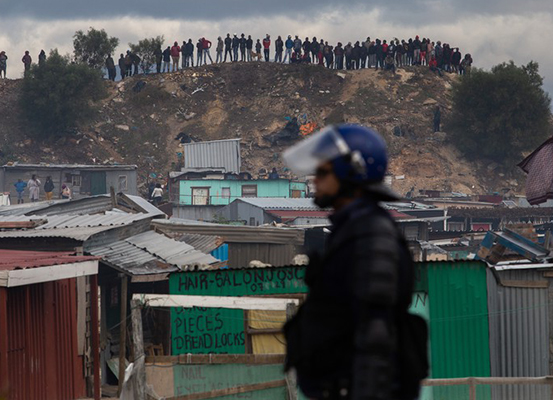 Siqalo Informal Settlement protest by Ashraf Hendricks