"I loved what the Black Panthers stood for and what they created and I think there can be a new version of that if we can be organised and Pyer Moss is that. 
We're a platform. That's what we do well, not just the clothes but the message, the story, and the whole community around it."
 Kerby Jean-Raymond, 2021.
Haute couture — a French term meaning "the high art of sewing" — is a 19th century fashion movement, popularised by the Parisian clergy and characterised by high-end luxury fashion garments produced in ateliers (boutique luxury production houses).
Although today's contemporary fashion industry only compromises of a small subsection of luxury brands that still produce haute couture, within a fashion world dominated by ready-to-wear fashion brands, this genre of luxury fashion continues to hold some form of irreplaceable relevance — labelled as "invaluable" by most luxury fashion houses which continue to stage couture shows.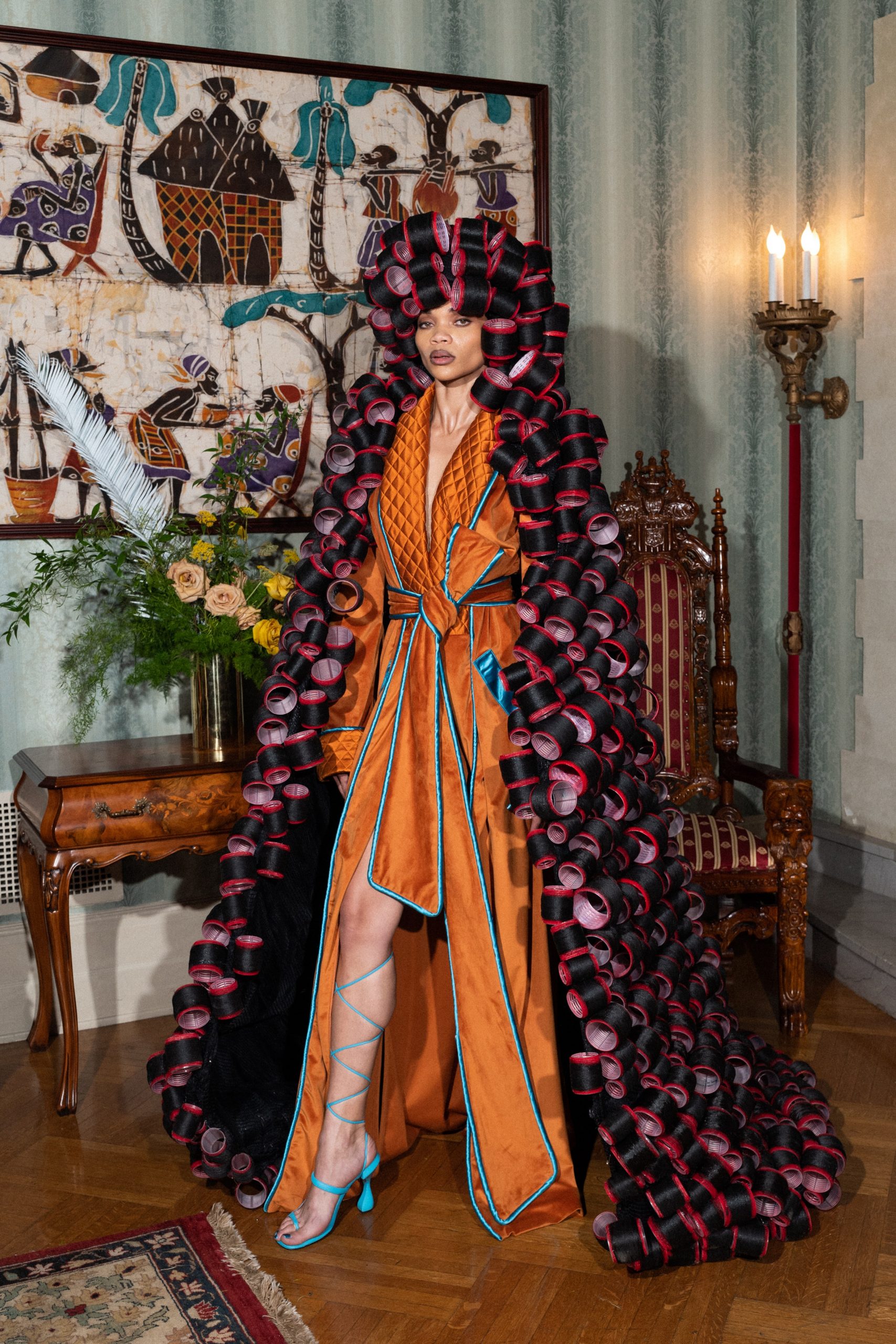 According to outdated historical definitions, in order to be accepted as a couturier, a fashion designer must include at least 20 dressmakers and showcase at least 75 designs in Paris each year. Apparently, the designs need to be made by hand and to measure — and this stringent, capitalist and traditionalist definition is a clear example of why the Black Gaze has become absolutely necessary within all spaces of fashion — as well as within haute couture.
Early-to-mid July, outside of the iconic Madam CJ Walker's mansion situated in New York, Kerby Jean-Raymond — the infamous founder and creative director of Pyer Moss — staged his first attempt at couture, carving his name into history books as the first Black American to showcase at Paris Couture Fashion Week.
His collection, titled What U Iz, is a dichotomy of tongue-in-cheek commentary, meshed within historical anecdotes on American culture, as well as its obsession with disempowering Black bodies; all expressed through clothes, music and performance art.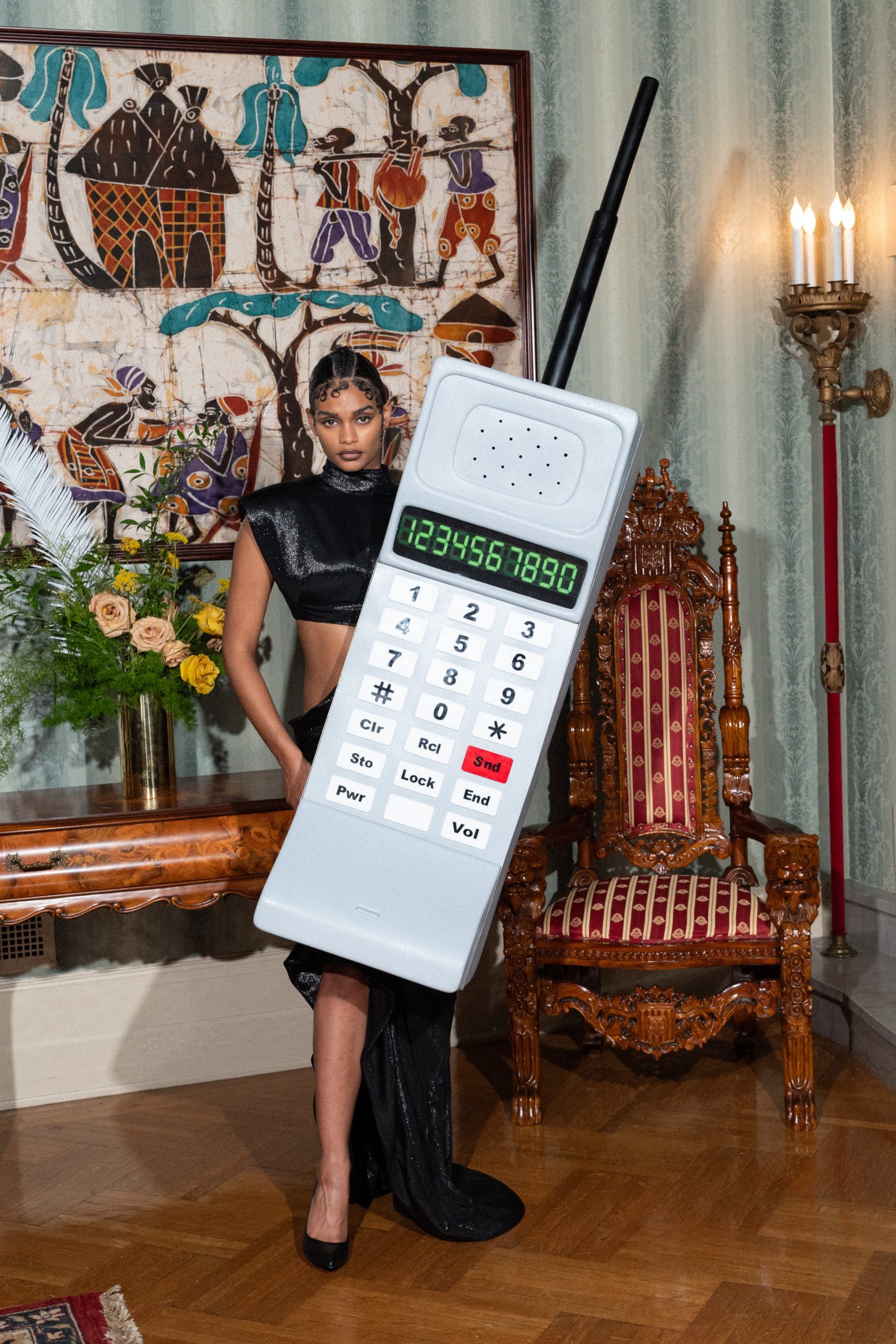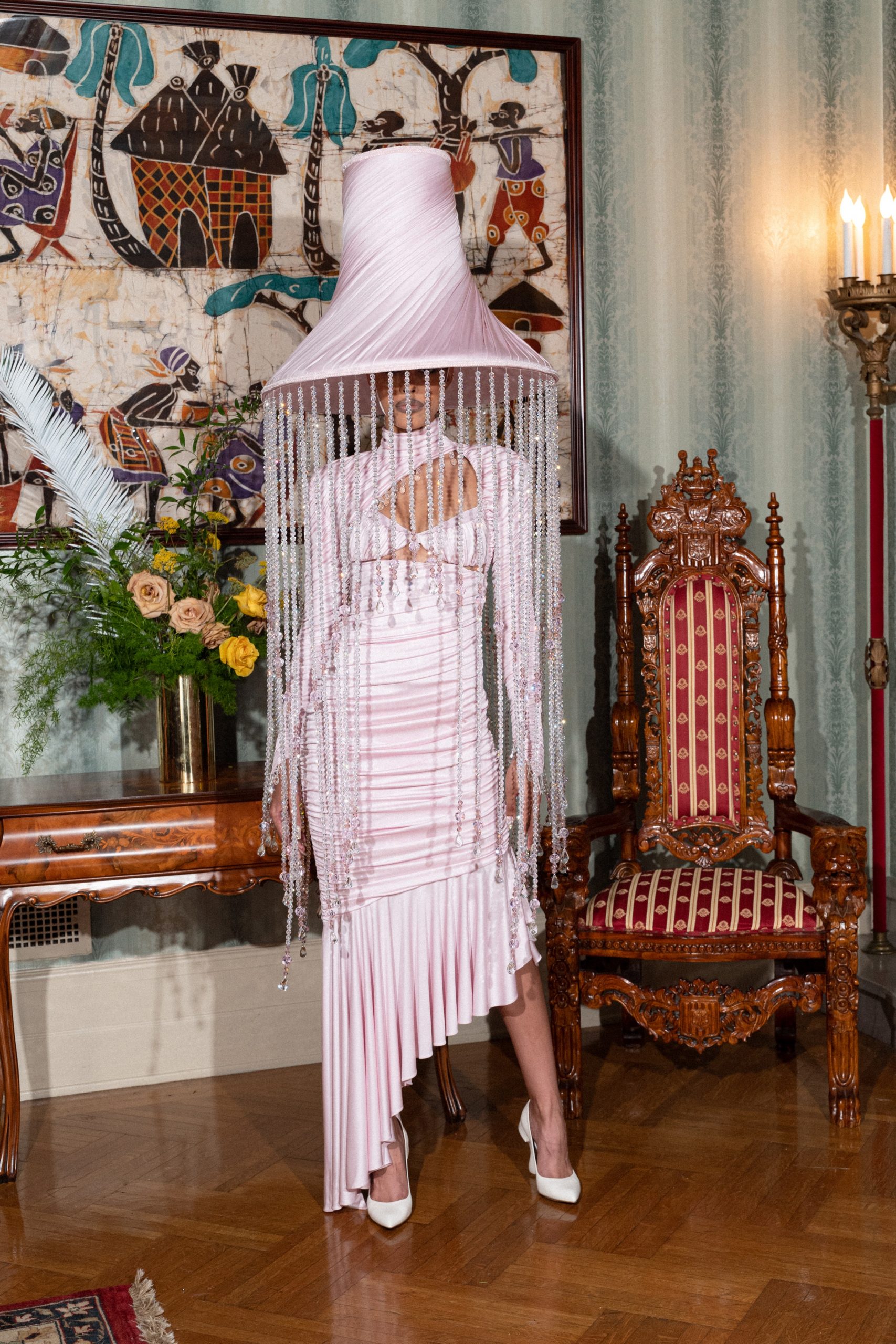 I've watched the collection countless times, it really feels like theatre. The stage was opened by Elaine Brown, a historic US Black femme activist (the first Black woman to chair the 60s Black Panther Movement), reciting tales surrounding the Black Panther movement, the assassination of Dr Martin Luther King Jr. by the white US government and much more.
Accompanied by a musical performance by rapper 22Gz, the mood was set for Raymond to deliver a theatrical performance; exactly what his Pyer Moss fashion shows have become infamous for. Inspired by recurring themes within his life such as New York culture, racism, and more — these themes were all fused together in order to create the garments.
This is quite evident in pieces such as the New York City staircase design and the large "Pyer Moss" branded peanut butter jar, which felt as if it drew aesthetic similarities to Andy Warhol's Campbell Soup. However, once you look past the satirical extremities purposefully placed by Raymond, you begin to see a bold, sexy and alluring potential femme customer take shape in your imagination.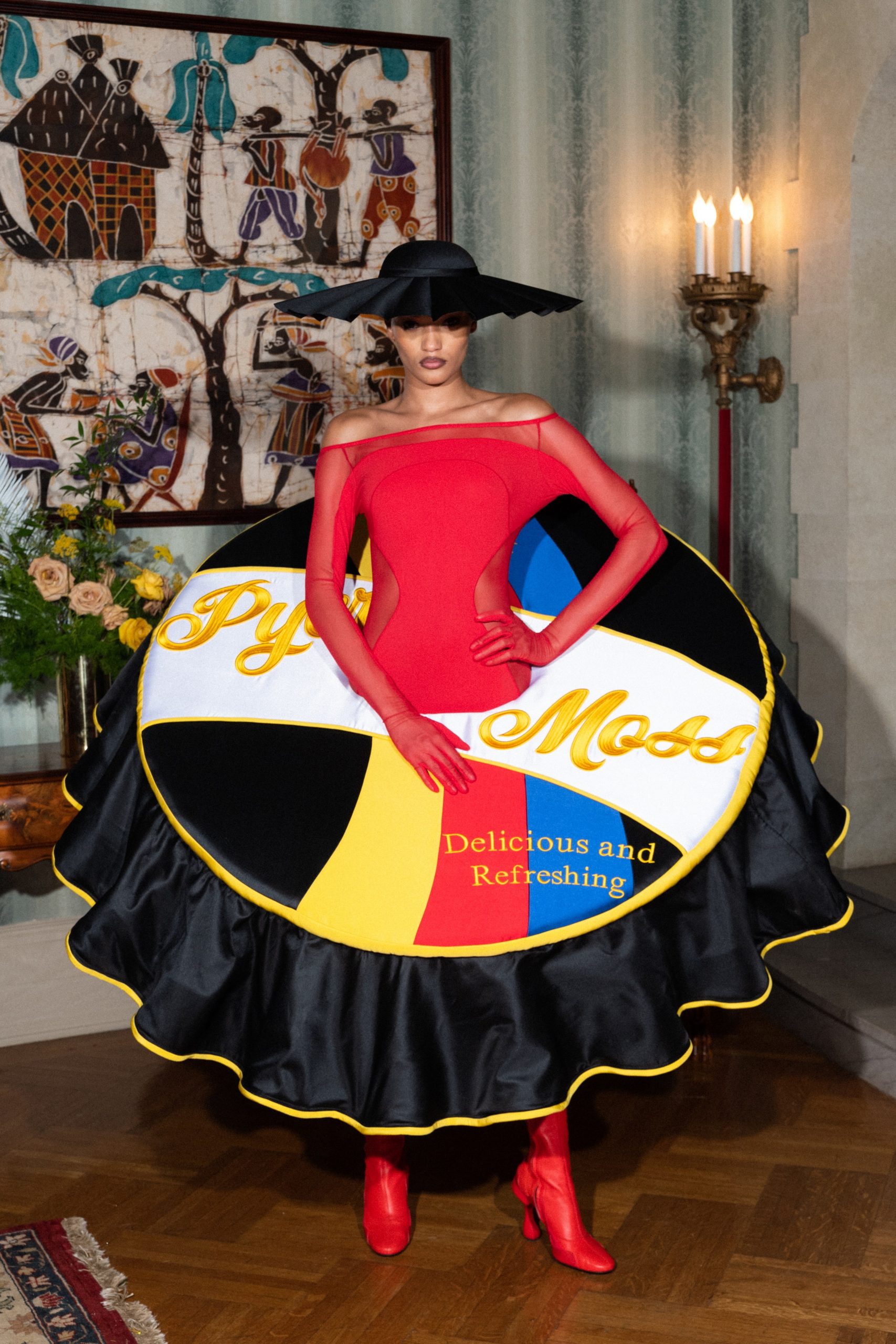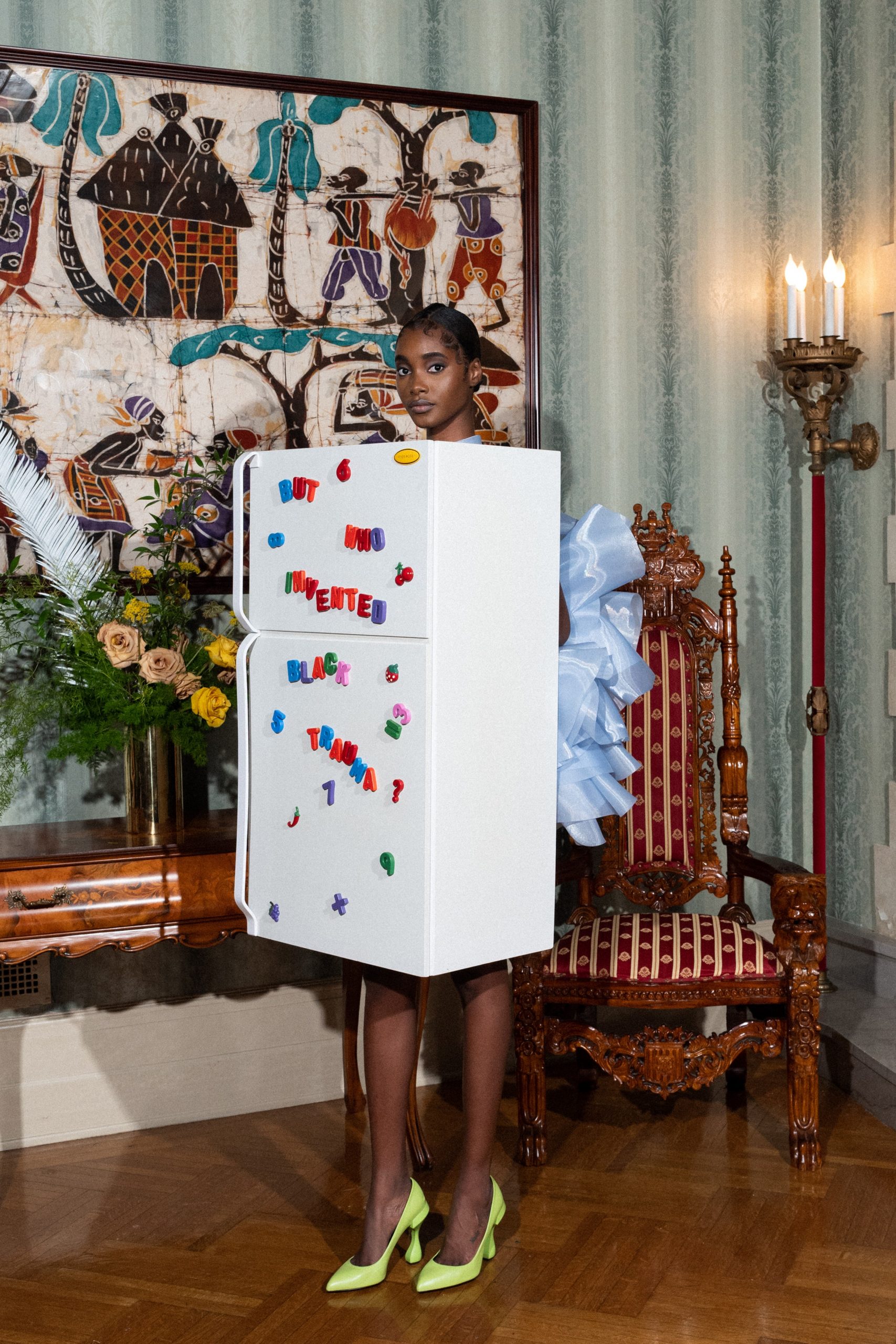 This collection placed a massive emphasis on imagining what the future for Black Couture could look like, utilising the Pyer Moss identity in order to investigate, and conceptualise this individual, yet shared reality.
From the anecdotes of links between the USA's Black Panthers to South Africa's Pan Africanist Congress of Azania (PAC) — right through to the garments merged with theatre; the collection was an undeniable success and an exercise in expressing and celebrating Black Joy.