The eponymous label Daisie Jo depicts wearable art as a step toward sustainability – holding a profoundly succinct ethos of slow fashion, generational skill transference and in-house production values. Tucked away in the Karoo, lies their dreamy studio adorned with collaged prints, rainbow colour threads and hands on artisanal craftsmanship; each garment is uniquely constructed, stitched and sometimes painted with emotive motifs. Daisie Jo creates a poignantly soft world of colour and texture through the application of fashion design and ensures that this label remains an antidote to the diabolical fast fashion neurosis that so much of the industry is rooted in. I am moved by the thought of such love and consideration being woven into a garment and treated as if it were priceless fabric — honouring both the textiles used and the touch of human ingenuity.
Cultivating a local fashion scene requires a mindful and meditative approach. Small production runs while ecologically motivating, are difficult to navigate from an economic standpoint. I am a strong advocate for localised production as resistance against global conglomerate control and we have an incredible array of South African designers creating and weaving their own fashion stories. One that is not dictated by the Global North's Eurocentric cycles and demands. Labels such as Daisie Jo remind me of the wonder that is creating clothing; the care required for putting true love into what one makes. I am drawn into a world of colourful organzas, bright floral embroidery and contrasting monochrome with all garment images shot in the desert space of the balmy Karoo.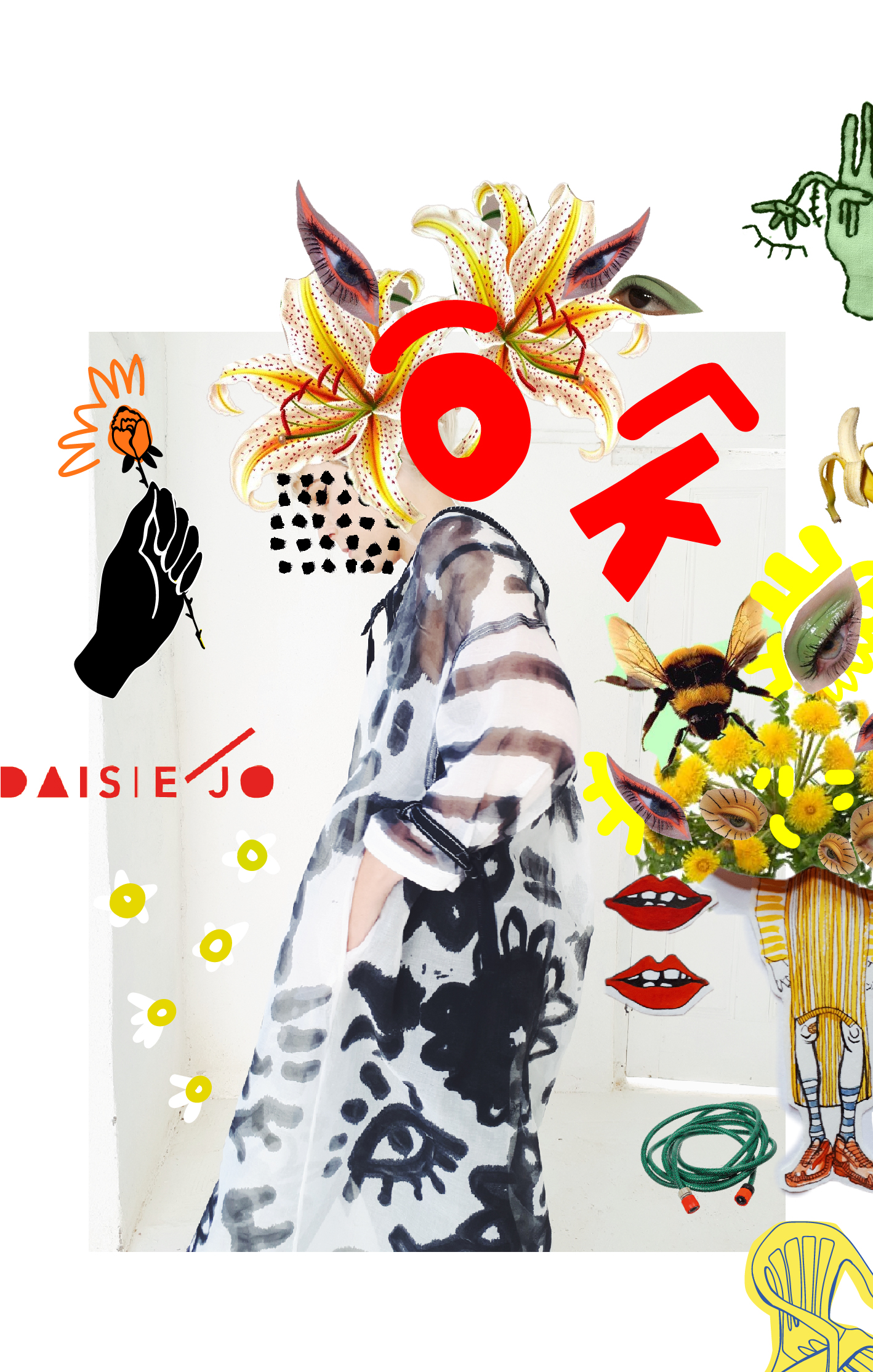 How did you get into designing, and has fashion always been a reference point for communicating your creativity?
Yes, I grew up in a creative environment I guess. My dad is an architect, my mother had a decor factory with seamstresses and with my Ouma's intricate embroidery – so I was constantly surrounded by it. I was allowed to draw on the walls from a very young age. Our house was always full of artist friends and crazy old garden ladies. My mother taught me that nothing is too precious for everyday use. So wearing a garment once or twice completely eludes me – I think every piece you own should make you happy in some or other way. So I guess that is why I love making and wearing detailed embroidered or beaded pieces and wearing them everyday. Wearable & useful art.
Your manifesto for sustainability is so beautiful and somewhat sentimental. How was the label conceived?
I moved to the Karoo more than a year ago – needed a change. I loved living in Joburg but the space in the Karoo is a visual overload and I really enjoy the nothing. I have been working on my label for a long time but finally felt it was time to just jump in and take it head on, [it is something I have been] wanting to start for a long time. Being independent, creating jobs and creating spaces to transfer skills is very important to me. It is quite literally slow fashion currently, I am taking it step by step and still very much figuring out the process.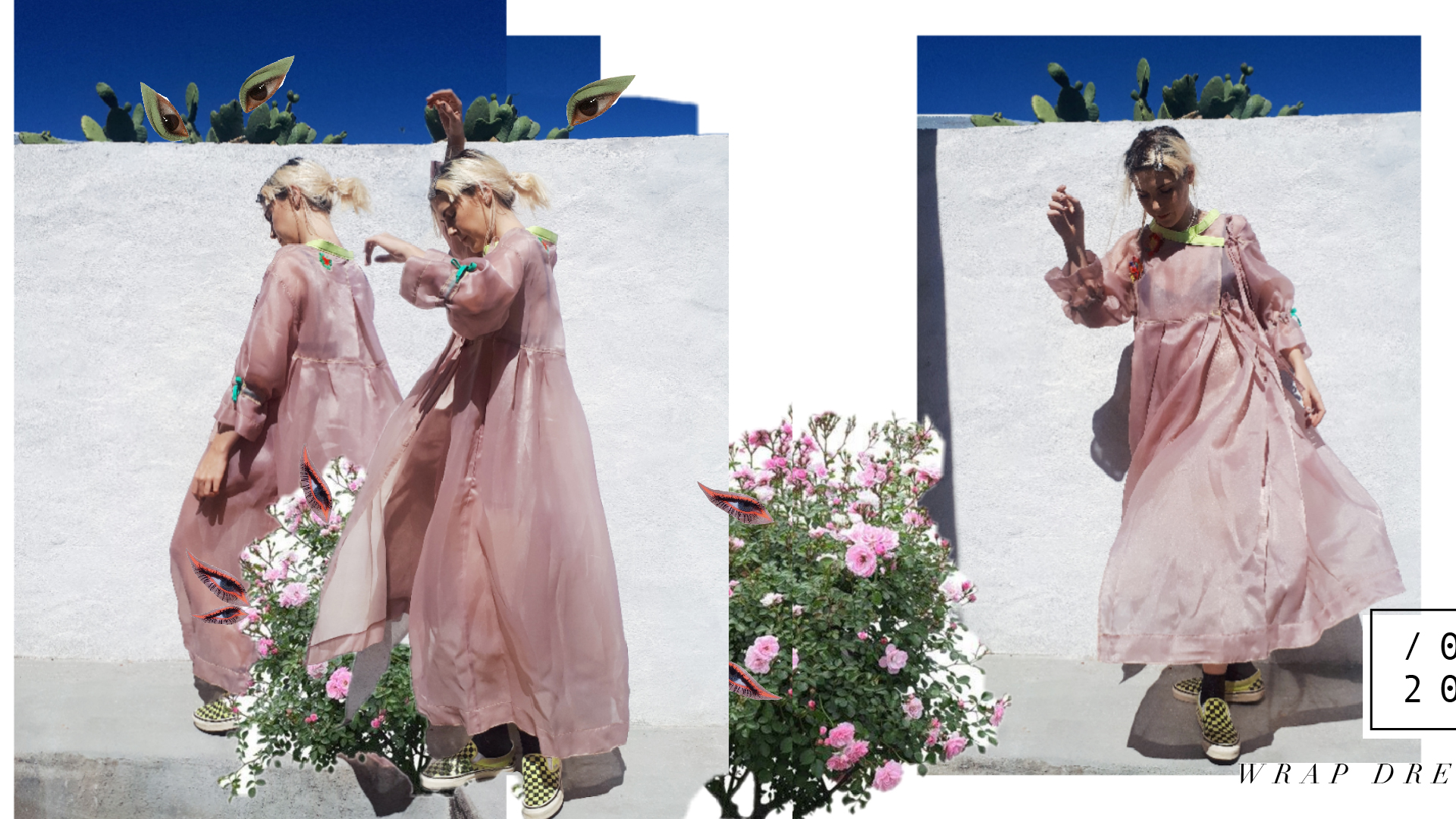 Each garment is stitched and printed with such attention to detail – can you give some insight into the creative process behind these labours of love? 
Time is luxury. I put a lot of time and consideration into each garment. Hand cut garments = Minimal waste. Making beads, pressing flowers and drawing prints—repurposing. Limited resources push me to innovate and work with what I have, which takes a lot of time; slow fashion quite literally. Considering the garments lifespan by starting with quality fabrics  is very important to me, natural fabrics feel better against your skin. Creating special pieces thus heirloom garments, [that will pass from] generation to generation is the goal. Respecting the craft of making clothing but also not taking it too seriously. I am so privileged to have clients that appreciate & enjoy the pieces as much as I do making them. I love seeing how everyone wears it and styles them.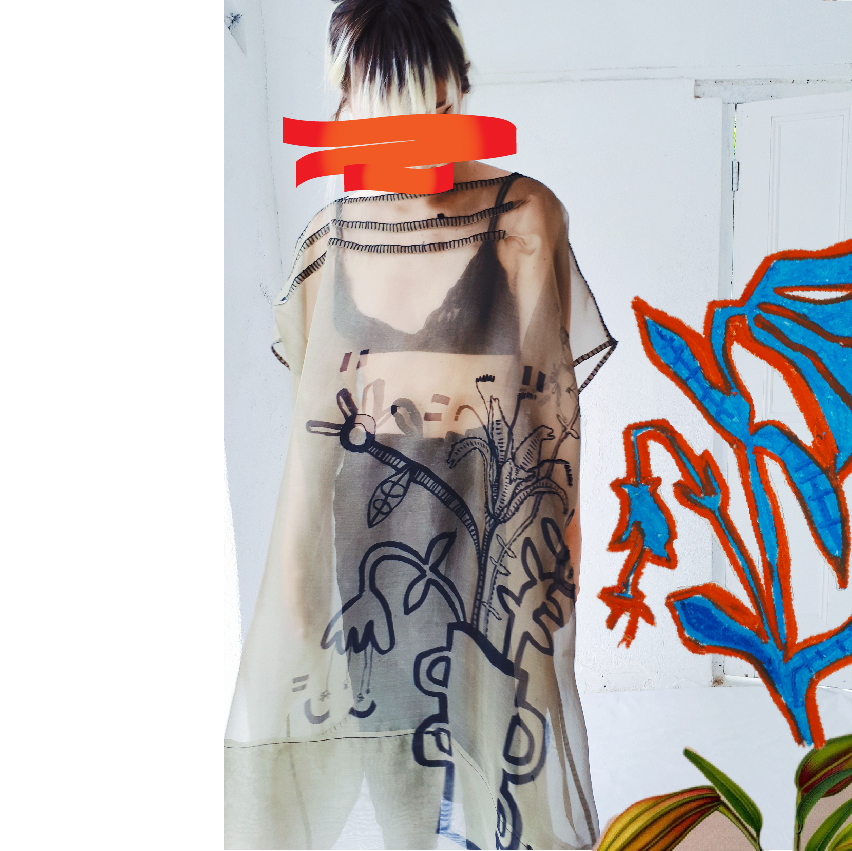 How do you envision the label growing and what are the challenges of being a small business?
Bursting out of the seams a little, being in a small town far from resources is very tough but [it is] also great because I look for different ways to do and make things that I might not have access to.
Your shoot images are always so dreamy, what is it like to produce the collection in the Karoo? 
Thank you! My cellphone balancing on a stack of books! The light is very fresh and harsh which I love. I have time and space. I am really enjoying the process! No trends and no seasons. Slow living slow fashion.