If Mkay Frash were a comic book character, he would levitate in celestial space, straddling comets, in constant orbit between worlds. His hands cupped, as though in telepathy with the surrounding sky-scape. From his outstretched fingers, threads extend like webs, connecting disparate planets, weaving transcendental tapestries. This would be his superpower: his ability to draw worlds together, curating spectacular cosmic collages. No wonder his suit is camo. Mkay is a cultural explorer on the hunt for kicks. In discovering aesthetic treasures and glistening brands, he also links them to a vast network of people and places.
Mkay is the don of South African sneaker culture. He's founder and host of the online magazine Hunting For Kicks . Sneakers are his weapon, his tool and his metaphor. The shoes transport us, literally and figuratively.  But they also leave imprints, documenting and celebrating a youth in motion. But more than sneakers, Mkay is an OG in the game: a long-time curator, commentator, and producer of street culture.
 'I'm a gangsta. I dowanna put myself in a box and say, "this is the type of person I am", because if I wanna switch up, I don't want you to look at me like, "Yo, you just switched up on me!" I'm a gangsta. I go for what I want. I can decide any time what I want to do." A veteran shape-shifter, with camo-adaptability.
Mkay's influence and longevity on the street scene have come from his ability to occupy in-between spaces: between artists and agents, between the corporate and the cutting edge, between peripheral hoods and central hubs, between people and product.
It started young. Mkay grew up in a place of assemblages, where multiple worlds met: a taxi rank in Marabastad, Pretoria. Before forced removals, Marabastad had been a site of racial and cultural synthesis — Pretoria's District Six or Sophiatown.
'My dad is a taxi owner. I grew up on a rank basically.' That explains Mkay's catch phrase: eTimer lePusha amaTaxi yena uPusha amaTakkie. Taxis connected 'the hood' to town. This meant that from an early age, Mkay was traversing two worlds, connecting the hood to city brands, and the city to hood threads. Because the taxi rank was a nexus — the starting point for all journeys — it was also an aesthetic explosion. 'People, wherever they're trying to get to, they go to the rank. Whether they're travelling to the office, the jazz club, the tavern, each one brings their own style. I grew up seeing a lot of style as a young kid'.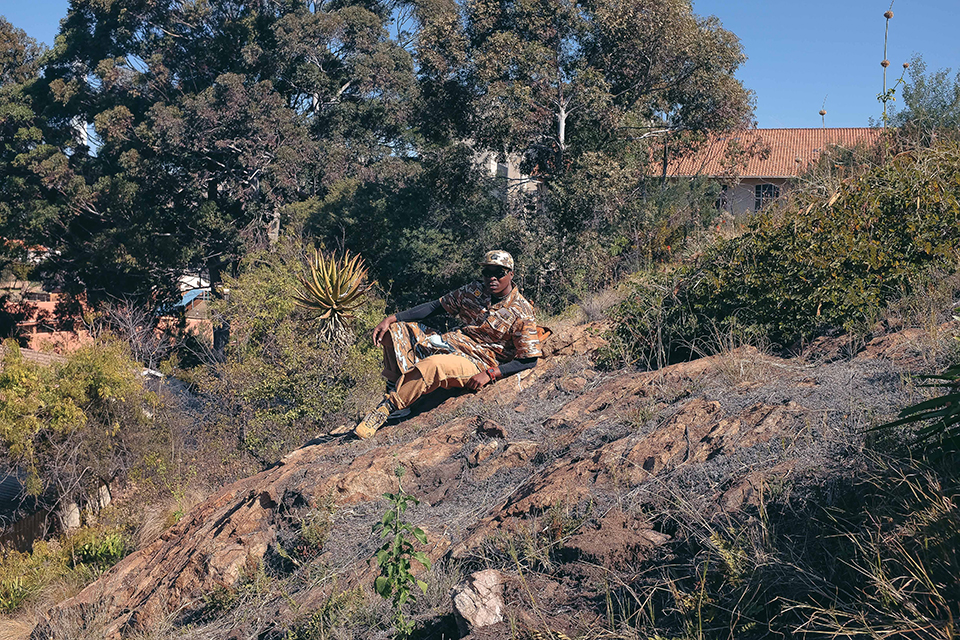 Today, Mkay's camo attire reads like a patchwork of jumbled pieces brought together. Camo was designed to resonate with the wearer's surroundings. Appropriate since Mkay's character was forged at the intersection of multiple stylistic cut-offs.
Just like the rank, his home was a meteoric style catalogue. 'My mom was a teacher, a music conductor and a fashion designer. She used to dress us up in her own clothes. So Christmas day, we used to change four times, four times! I grew up like that. My pop's wardrobe is crazy! My mom's wardrobe is crazy! It's like even a battle. The type of space clothing took in the house was just ridiculous.'
The attention to threads was stitched through Mkay's early life, from his parents to his uncles, to the streets themselves. He tells the story of visiting one of his uncles in jail. After a long wait, his uncle emerged from the cells keen to show off his customised prison apparel: standard leather shoes transformed to suede. 'I come from that', Mkay says, 'It's not even flossing. It's a lifestyle. That's what we do.'
Amid Dead Prez and basketball courts, the taxi rank and family wardrobes, Mkay's origin story unfolded. He discovered the transformative power of the right kicks and the right threads. 'For me clothing was always that. When I rock somethin', girls react to me in a certain way. People treat me differently. After I tasted that, for me it was like a no brainer. I was like, I gotta look fresh if I wanna get this type of treatment or this type of vibe'.
In his first year of college, Mkay, a 19-year old maverick, co-founded a streetwear store, stocking local brands. It was dubbed 100% Flavour. That was when the Magents crew recognised his magic, teleporting him to Jo'burg.  Nineties fashion trailblazers, Magents were putting their streetwear on some of the country's biggest kwaito, house, jazz and hip-hop stars.  While coordinating the brand's PR, Mkay worked with the likes of Mandoza, Trompies, Lebo Mathosa, and Rudeboy Paul. In 2006, he teamed up with Scoop Makhatini and Nkosana Modise to launch Ama Kip Kip — a brand that blew up on the scene.
Mkay was picked up by Nike in 2008. Like Spiderman's radio-active spider bite or The Flash's lightning bolt, connecting with Nike injected Mkay's already exceptional craft with super-capacities. Nike saw Mkay's talent for re-aligning the cultural cityscape: connecting crowd to commodity and clothing to culture. 'They wanted to open a space where influential people could come through and grab product'. This marked the beginning of Gallery on 4th in Melville, which Mkay describes as 'an interaction billboard, where kids could come in and check out Tier Zero stuff from Nike — the latest, limited and most special product'.
Lit by Mkay's power to bring worlds together, Gallery on 4th became a key meeting place for cultural producers. He and his crew hosted the regular Jumble Rumble, showcasing local urban brands, including Strussbop, Head Honcho, Butan and Thesis, to a soundtrack of Jo'burg DJs and live performances.
The Gallery also spurred a number of creative collectives.  At the end of 2009, Mkay was asked to compile a team to 'work the space' — marking the beginning of Boyz'nBucks. 'We did a lot of crazy shit with big artists at that time.'
With clothes as the catalyst, Boyz'nBucks detonated into audio-aesthetic debris. 'The fashion thing was always the thread. That's how we started'.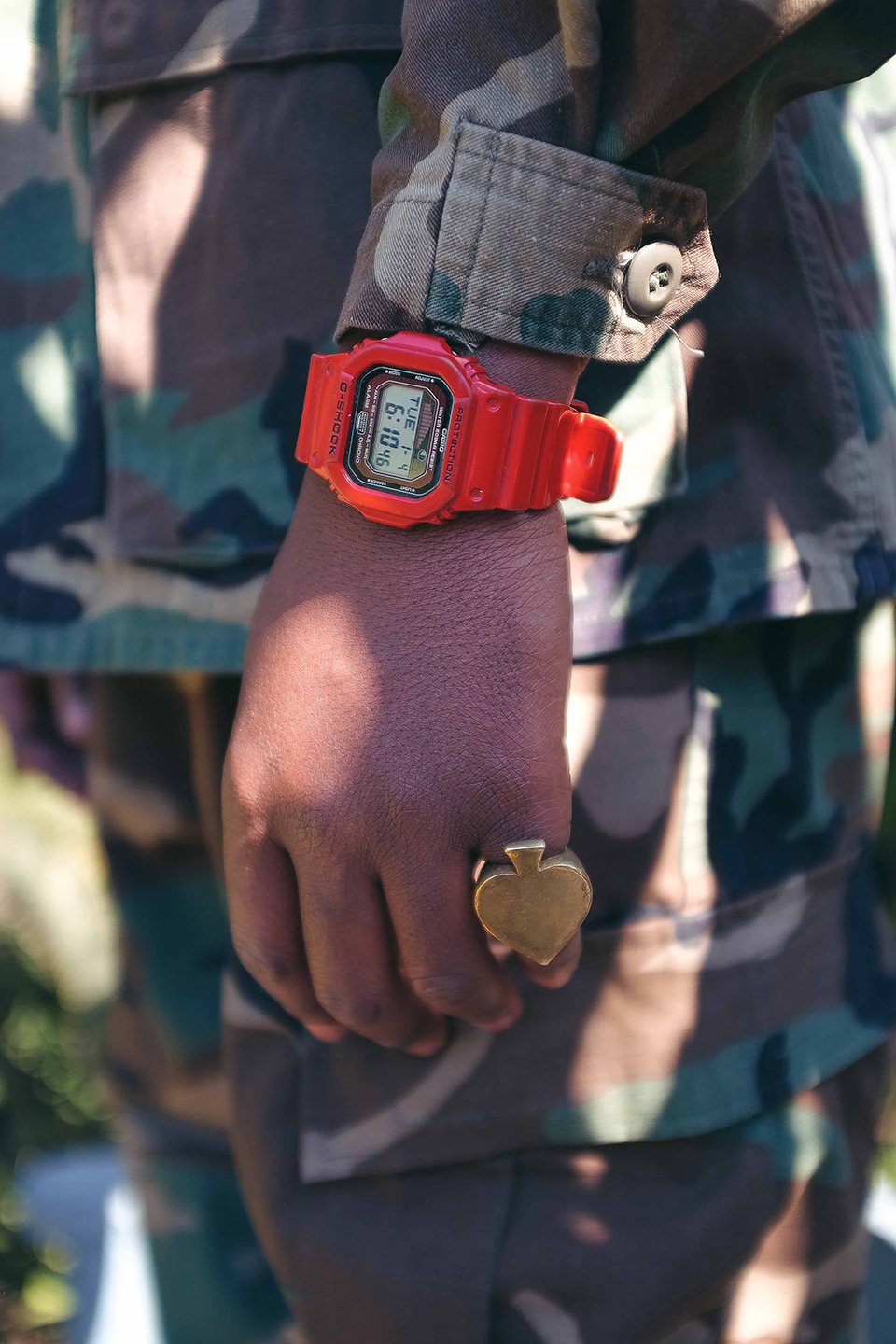 For Mkay, it's been sneakers. They are the stuff of the streets, the courts, the hip-hop stages, and the backyard battles. More than that, takkies have been enigmatic double-symbols: of creativity and consumption, solidarity and status, nostalgia and aspiration. Mkay explains that 'when the Nike shit popped' was when he got serious about the sneaker game. Sure, he'd owned some premium kicks before, but with less sense of direction, without having plugged sneakers into his personal compass.   'I was collecting then, but now it's a thing now, because you go deeper into it. You understand the culture. You see cats who are 40 and doing it. Like damn, there's longevity in this shit!'
Sneakers are art, ambition and identity, but they are also money. Growing up on hip-hop and b-ball, Mkay knew that his mom would be hurting when she copped him the latest J's.  He's tried to use his platform to celebrate sneakers, while also pushing back on consumerism.
'I always say, "don't believe the hype". I'm always into the shit that I'm into. Aint no blogger that will tell me what's ill. No, I know what's ill. I know what I like. If I don't like them, I don't like them. You can hype them as much as you want. And I always try to push that. Buy the shit that you like and buy below your belt, you know. Cos sometimes you've got a Gucci aspiration, but you don't have a Gucci wallet. You don't have Gucci money. You can still be stylish without rocking Gucci. How you gonna compete with an engineer when you in matric? You're putting your mom under pressure.'
Mkay's sneaker show, Hunting for Kicks, started four years ago, while he and a friend were literally hunting for kicks in Cape Town. There was a massive Concords release: 'We managed to get like 20 pairs [for reselling]. It's crazy, back then you could get away with a limited shoe, 20 pairs, and they would let you buy the whole stock. I wanted to record the joint. So I've got my Macbook on my lap [and] he's driving.  So we do this mini-clip talking about these Concords: when did they come out, why are they so important to the culture, all of that. [Later] I took a look at this clip and was like "this clip is dope". I put it on Facebook and a lot of people reacted. And I was like "oh shit I can do a lot of this"'. 
Since then, Hunting for Kicks has offered intimate insight into local sneaker culture and featured some of the biggest names in the game: Marc Mac, Jake Lipman, Haydan Manual, Scoop. The list also includes some of the flyest women on the scene: Urban Mosadi, Thithi Nteta, Empress Mrs Mome, Sumaya Peterson.
'I always wanted to capture the whole sneaker culture in SA. I felt like it's gonna be essential in the future looking back, you know. I felt there was a need for that. The stories sometimes get diluted when written by people who are not part of the culture. So I felt like I was the right person to actually tell that story'. And in telling the story, Mkay, as he so often does, has weaved disparate narratives together. The stories of each cultural practitioner are interlinked through sneakers. 'It's funny that learning about the shoe, I also get to learn about my friends.' Testament to Mkay's urge for creative collaboration, Hunting For Kicks currently have a mixtape out with Hype magazine. 'I got like 12 rappers, rapping about sneakers,' Mkay chimes.
For every superhero, there's an urban stage and Johannesburg has been Mkay's Kryptonopolis. Braamfontein pavements have served as the dominant backdrop for Hunting for Kicks. It was as though these streets resonated from Mkay's chest. He was the man who wove worlds together and the city echoed his vision. 'You and me, people like us, we come from small towns. My crew are from Durban, Eastern Cape, wherever. We're coming to Jo'burg to come dig this gold. We're coming for work. So our style becomes fused to the city that we live in, and its game over! You can't copy that.  It can't be trendy. Me and my crew we're so different because we come from different towns. We absorb the whole shit in different ways'.
The man lives borderless — straddling borders, and connecting across them, on our behalf. Because he knows that people are porous, Mkay has always been about the team — about bringing people together. He has stood for the idea that if young black creatives are to rise, they'll do it together. Camo, then, becomes an outward symbol for rolling squad-deep and having one another's backs.
'We all Shakas in the game. Every man wants to have his own kingdom. But when it's your project, I'm your boy. We're going 100 percent for you. I look at it more like an Odd Future mission or a Wu Tang [mission]. Everybody's got their own thing and we still come together'.
Undertaking to back local creativity, Mkay has helped get local urban labels into big stores like Shesha, and plugged creative collaborations between South African designers and US sneaker brands. He intends to start an agency, linking brands to street culture influencers — the act of connecting that has defined much of his prior work.
'I'll be sitting in a boardroom fighting for checks for the arts. Then I'll be sitting with cats on the streets saying, "If you really wanna get this money, this is how it's done". It's the best of both worlds.  It keeps me on the edge with my own businesses. I know I can't commercialise it that much, and I can't neglect the business side of the whole thing. I gotta stay authentic, but I gotta make money while doing it'.
In between his packed-out bookings, Mkay works with Slim [Jerome Du Plooy] on a charity project: Sunday School Foundation in collaboration with Slim Cares. For the past three years, they have taken 150 kids from Orlando West on regular outings: to the zoo, for ice skating, for Christmas parties. And again, he's threading worlds together. 'Expose them to different stuff so that they can see the world in a different way. Three years later, their confidence is crazy. We do bursaries too. But our main mission is to instil confidence'. 
Like the best of sneaker customizers, Mkay knows how to un-piece street culture, and then re-stitch its elements, curating undiscovered combinations. As he does this, he pulls people towards each other, links them to the cultural coalface, and generates spectacular collisions of people, product and place.