Ruth Angel Edwards is a multimedia artist whose work explores the communication of ideology through pop culture, drawing from mainstream and subcultural youth movements both past and present. Within these, she looks at the ways audio and visual content are used to manipulate an audience and to disseminate information. This is especially apparent in her exhibition High Life/Petrification shown at the À CÔTÉ DU 69, which marked the end of her residency in Los Angeles, CA. In this exhibition, social detritus collected from the location reveals a mythologised Venice Beach as a "ritual site of pilgrimage, a space where diverse subcultural histories continue to make it a mecca for fans of alternative histories as well as touristic voyeurs."
Feminism, gender, collectivity and commodification are recurring themes. In particular, this brings to mind Edwards' exhibition Enema Salvatore, held in Turin at the end of another art residency, showing new work at the Almanac Inn. The work questions the binary structures of western culture, the duality of good and bad. A cycle of ingestion, consumption, digestion, purification – and then finally – release, all explored through and within her own female body, whilst drawing external parallels to the "wellness/feel good" food industry. Hedonism, spectacle and rebellion are deconstructed and re-formed to create communicative and insightful immersive works.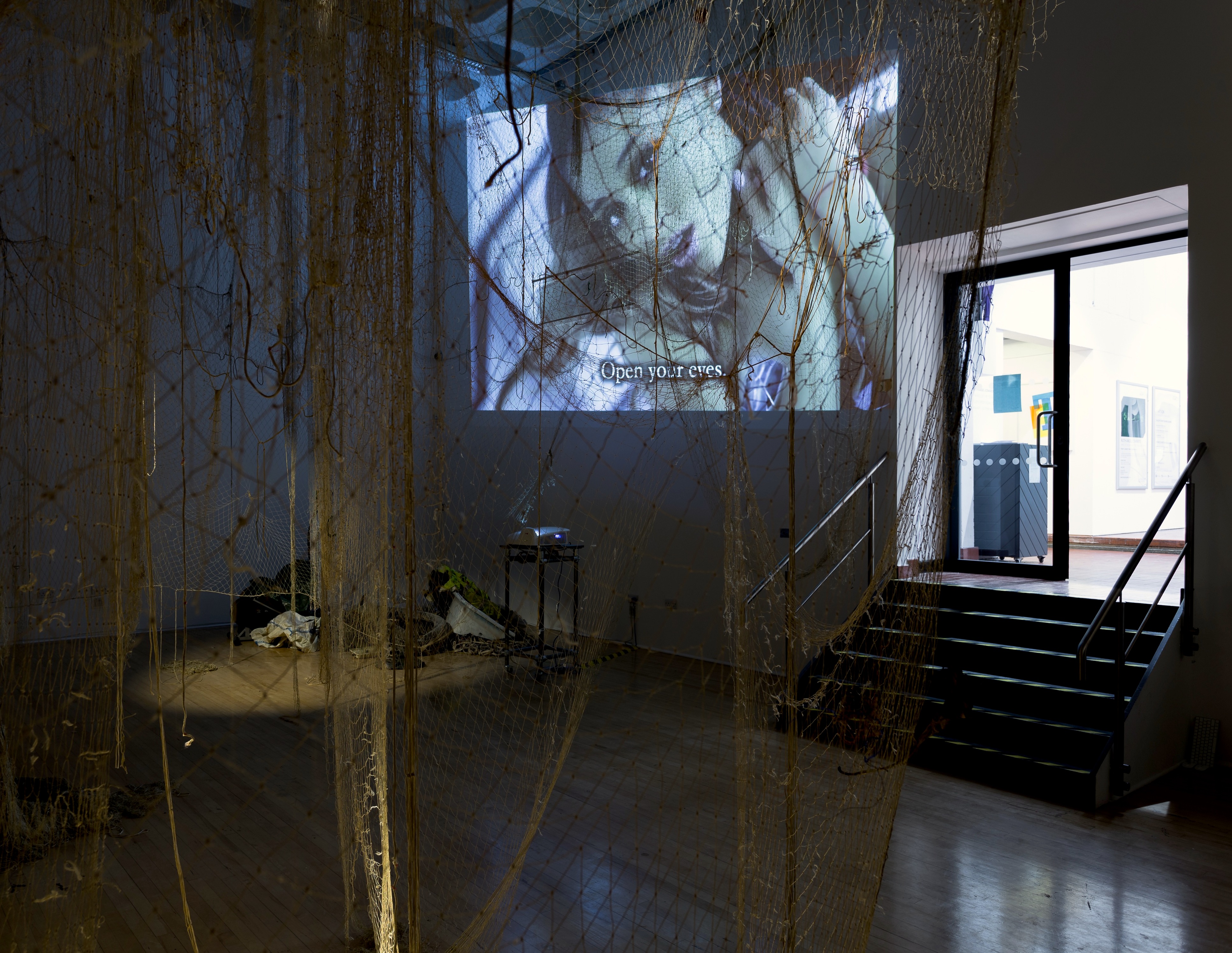 Edwards has been expanding on these themes in her most recent exhibition Wheel of the Year! EFFLUENT PROFUNDAL ZONE! commissioned by the Bonington Gallery as the first exhibition of 2018. An immersive installation invited the viewer to consider the inescapable cycles of waste and decay, a by-product of all our consumption, personal or material. Drawing clever parallels between overlapping ecologies – "from the futile pursuit of personal purification and 'clean living' to the increasingly rapid turnover of cultural content in the media and popular consciousness, to the wider perspective of the waste which is polluting our oceans, and threatening our very existence"– Edward's makes the observation that the only difference is that of differing scale, and utilises art's ability to evoke empathy and re-orient our often very narrow-minded subjectivities.
Using video, audio, sculpture, performance and printed media, subcultures and social debris are historicised, tracing their trajectories and examining the wider socio-economic environments which give rise to them. Edwards traces the complex symbiotic relationship between the underground and the mainstream, while exposing their failures and flaws as well as any under-celebrated histories and latent positive potential. Edwards continues to explore personal cycles of consumption and waste, natural functions that are transformed and inescapably politicised as they connect with global capitalist economies.
Ruth Angel Edwards studied Fine Art at Central Saint Martins and currently lives and works in London. Her work has been exhibited in the UK and internationally at Arcadia Missa Auto Italia South East, Tate Modern (London), FACT, Royal Standard (Liverpool), Human Resources, (Los Angeles) and MEYOHAS Gallery, (New York).
Be sure to check out her website to see more of her work.