There's a beautiful thought experiment that writer and theorist Kodwo Eshun suggests we should undertake:
"Imagine a team of African archeologists from the future—some silicon, some carbon, some wet, some dry—excavating a site, a museum from their past: a museum whose ruined documents and leaking discs are identifiable as belonging to our present, the early twenty-first century," he elaborates; "imagine them reconstructing the conceptual framework of our cultural moment from those fragments. What are the parameters of that moment, the edge of that framework?"
I was reminded of this prompt as I was looking through the virtual tour of Before Yesterday We Could Fly: An Afrofuturist Period Room. The period room is staged at The Metropolitan Museum of Art (MET) in New York, beginning with a reflection on Seneca Village — the nineteenth-century community of predominantly Black landowners and tenants that was displaced to make way for Central Park.
What piqued my interest in this project is the inclusion of objects made by Southern African artists including: Andile Dyalvane, Chuma Maweni, Zizipho Poswa and Atang Tshikare, which I read as an important moment in the re-reconstruction of the canon.
The period room is presented as a fabricated installation to create the illusion of authenticity, the MET explains: "powered by Afrofuturism — a transdisciplinary creative mode that centers Black imagination, excellence, and self-determination — this construction is only one proposition for what might have been, had Seneca Village been allowed to thrive into the present and beyond." 
By drawing particular attention to fiction as an analytical tool, the period room allows us a space to reconsider "facts" alongside wishful thinking, speculation and dreaming. The director of the MET, Max Hollein describes the project as a "consideration of the complex relationship between history and authenticity that call for reinterpretation and intervention" — a space of now and and a space for tomorrow.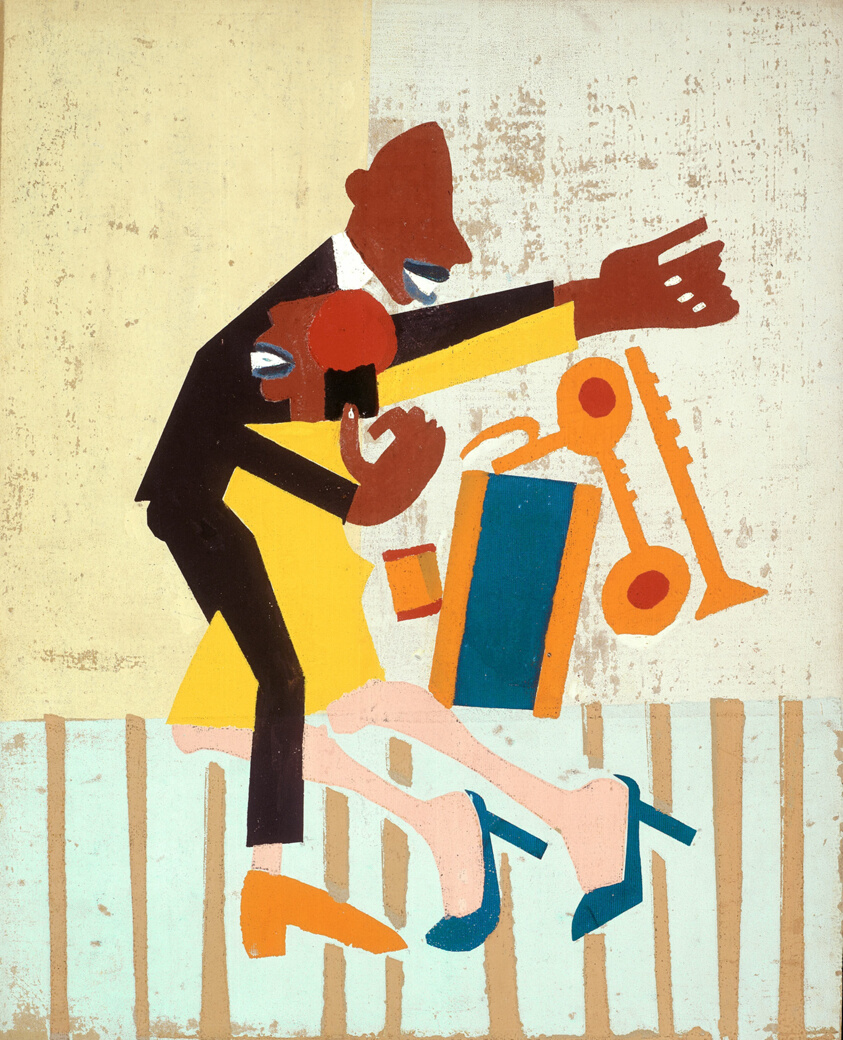 Jitterbugs II, William Henry Johnson, (American 1901–1970) ca. 1941.
For novelists such as Jean Rhys, it seemed important to "link facts with fiction" in order to contextualise specific social historical events to get to a "truth" through the reconstitution and reordering of facts. Looking at MET's period room, one has to wonder how both fact and fiction are organised and to wonder, too, if the display is underpinned by any degree of futurity.
Looking at the objects included in the exhibition, it is difficult to see how a future or multiple futures are imagined — for instance, how does a contemporary Graffiti Cup made in 2021 converse with a hair comb made in 1851 or a William Henry Johnson painting made in 1941? Surely the suggestion of the interconnectivity of time alone is insufficient in creating this context?
For the most part, it seems that the MET's imagined future seems firmly rooted in things of the past, unable to conceive wildy divergent, fantastic and maybe even absurd futures that are not tied to the logics of today.
If exhibitions, like thought experiments, provoke questions, they are also meant to suggest potential models of how to think through difficult ideas.
Knowing nothing about the history of Seneca Village, would a team of African archeologists from the future — as conjured by Kodwo Eshun — be able to deduce meaning from the MET's proposal towards something that is potentially generative? I think not. 
Crucifix, Kongo peoples 17th century.