To travel is to become familiar with the world and oneself. I find myself speaking about plans to travel in hypotheticals, even when I have already begun preparing. Perhaps, it is that the places one visits and inhabits often feel so separate from home that elements of the journey are like part of a dream. This trip was no different. My best friend, Mia and I planned to visit her brother in England for her 21st birthday in June, and when I returned to university in February, I discussed planning a trip around Europe with my friends, Thlabe and Luke.
Long story short, after selecting our dates and destinations – England, Berlin, Amsterdam, Spain, many visits to the visa office followed. After saving as much money as possible – because it really is worth living on a budget at home for a few months, to fully enjoy your overseas adventure; packing half my world into a suitcase for fear of forgetting something; ordering an excessive amount of gin and tonic on the flight and dragging what I eventually realised was far too many pairs of shoes through the terminal in my blue suitcase, I arrived in London with Mia.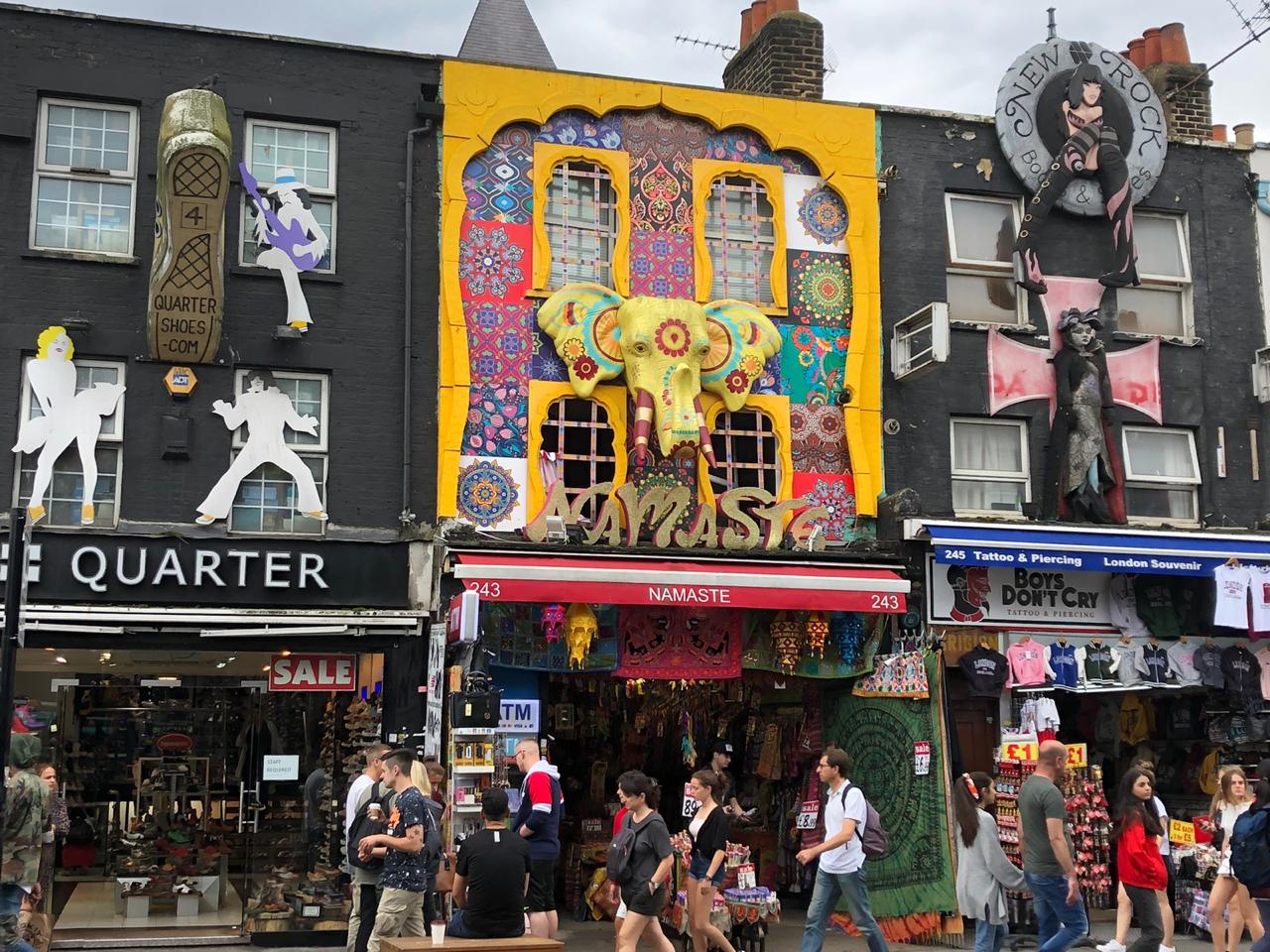 On our first day, we visited Camden Town which has a curious mixture of market, fashion and art on offer. It taps into a lot of niches in the market which makes it a fun and diverse place to explore. My favourite store was CyberDog, which offers cyber clothing and accessories accompanied by trance music. It is filled with the best festival outfits you could dream of, from flashing eyelashes and chokers to platform boots and latex dresses. Mia and I went through the entire collection and then to the basement section, Futurelovers, which specialises in sex toys and fetish wear. From there we took the subway to Buckingham Palace, and discussed the colonial legacies that paint the face of Europe. Although the resources it offers are beautiful, they came at a cost that we as South Africans still endure the effects of, and that is important to keep in mind when travelling there. We walked to Hyde Park and after two ice-creams each, made our way to Soho. Soho is full of beautiful locals and had internationals like us, laughing and drinking and entering shops and boutiques both known and new. Finally we ventured to Shoreditch, described to me by another South African as "the Braamfontein of London", and where Boxpark resides. This food and retail market made out of refitted shipping containers is one of the inspirations for 27 Boxes in Melville.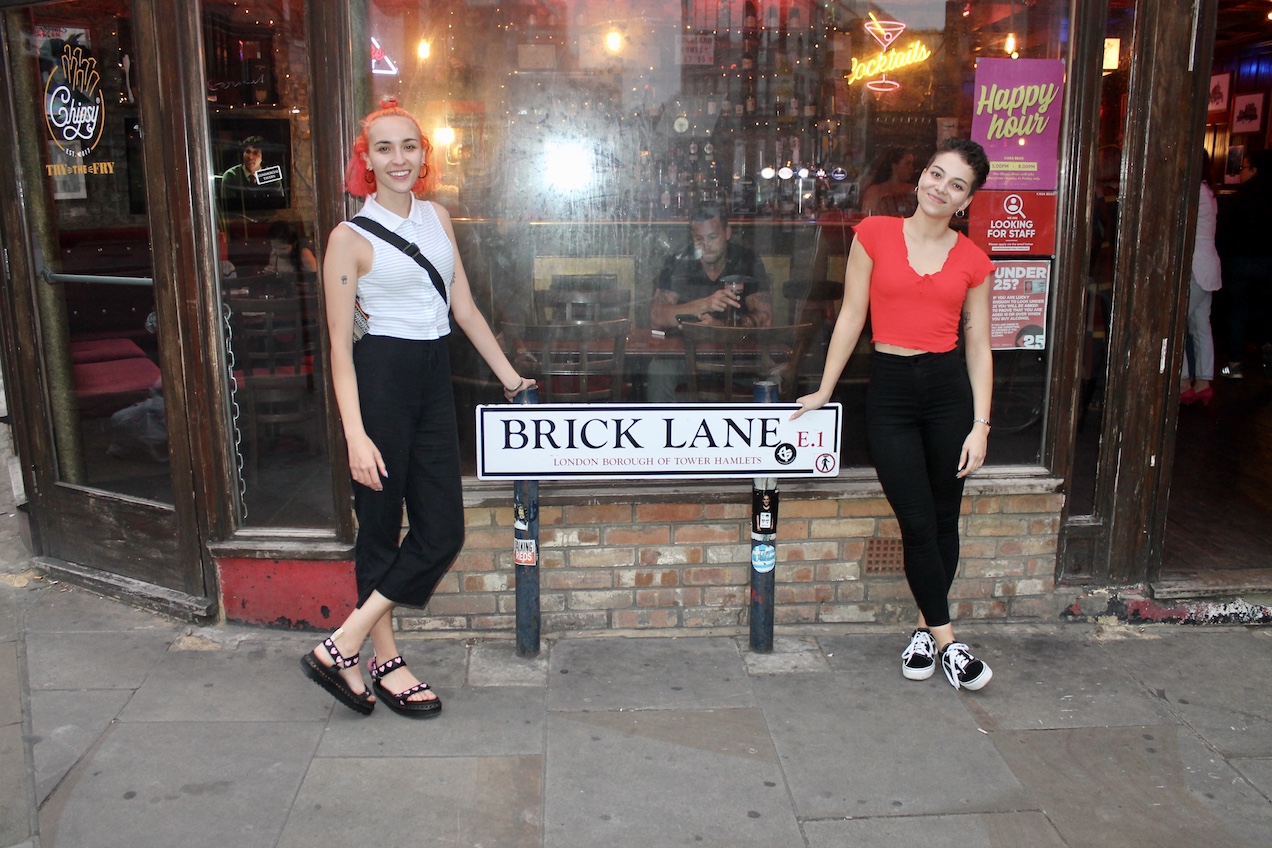 On our second day in London, we visited a number of famous museums: Science, Natural History, and the Tate Modern. I feel that visiting museums is important, as we have so much insight to gain from an environment where information is freely available to the public and is made interactive, to the viewer's benefit. I thoroughly enjoyed Tate Modern; it has a diverse and ever-changing collection of contemporary art – and the park at its entrance looks out on the River Thames. I especially enjoyed the Keith Haring exhibition at the Tate Liverpool, which we visited a few days later. I had the strange and beautiful realisation that his art moved from subway walls into the 'high art' space of reputed galleries worldwide, and that he had created his work for both spheres. After splitting 10 days between Milton Keynes, London, Formby, Liverpool and Cambridge, I left Mia with her family and boarded my flight to Berlin.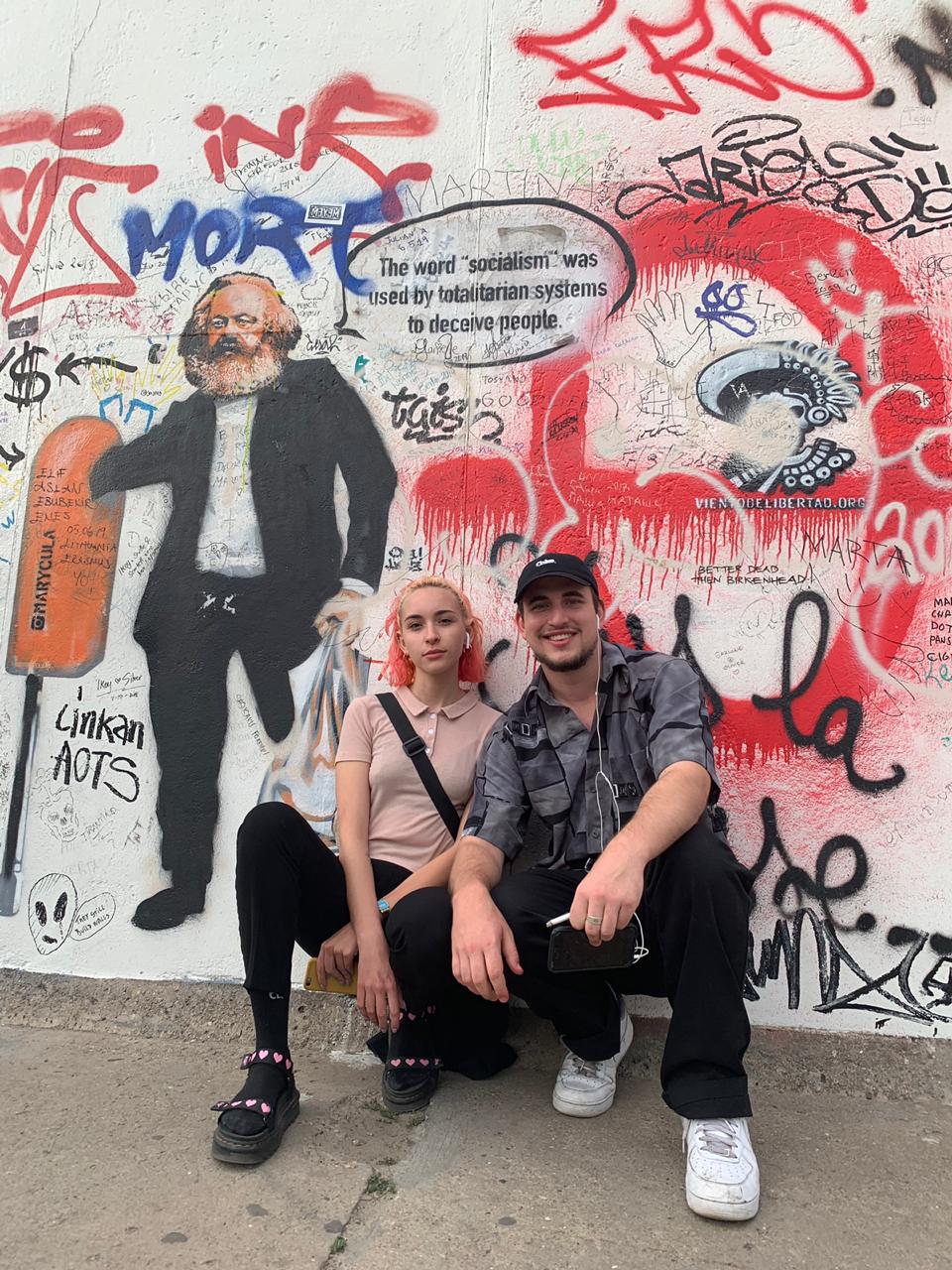 When I arrived in Berlin, I was eager to reunite with Thlabe and Luke at our AirBnB apartment in Friedrichshain. Berlin was my favourite destination because of it's effective public transport system, the table tennis and skating ramps in the numerous parks, legalized public drinking, the East Side Gallery, the queer tour, and Berghain. Each morning the three of us took turns getting ready in our single bathroom, walked across the road to the liquor store and bought our stock of beer and cider for the day. We found great pleasure in boarding the trains with our drinks (and often pastries too) and would have quite raucous rides, which starkly contrasted to the quiet and polite manner of the German locals.
Our visit to Berghain was a liberating and refreshing experience of club culture. Although the door staff can be intimidating, it is for all the right reasons. This club is a safe space, especially for the LGBTQIA+ community.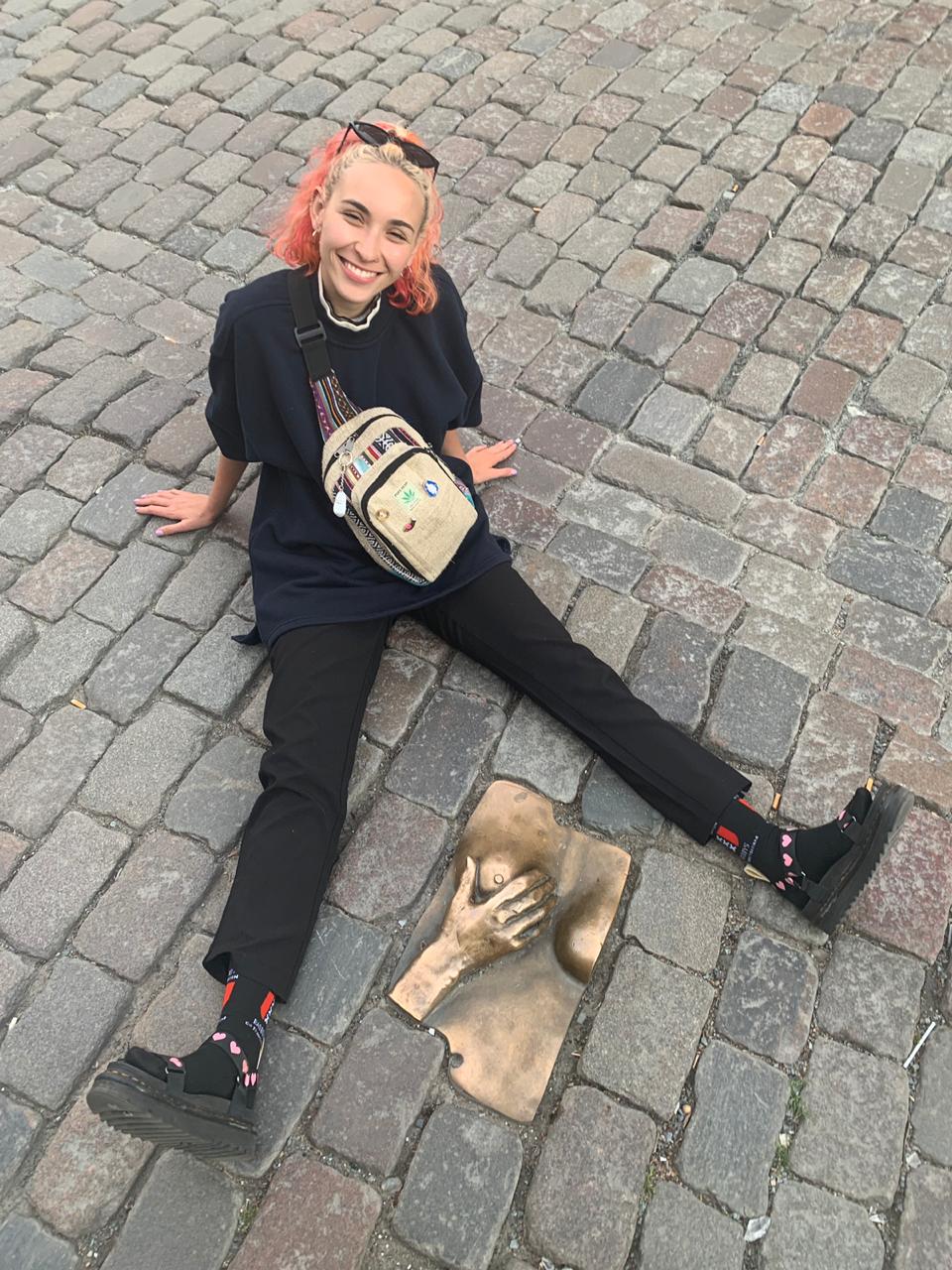 The venue is huge; the enormous industrial building in which it is housed has been reimagined into various spaces including numerous dance floors, a café and even an ice cream parlour. The three of us entered the venue with such excitement, heading immediately to the Panorama Bar. After dancing, we made our way to an upstairs balcony that overlooked the dance floor. We were met by the most mysterious person; they did not say a word but were playing with a body slinky that ran up and down their arm. By manner of greeting, they took our hand and the slinky ran down our arm. I'm certain I did not stop giggling for as long as they were around. They made their presence into such an event! And went so far as to snap their fingers at the people who surrounded us, implying that they observe the next trick, which was the slinky's journey down my ponytail. After hours of dancing and exploring we made our way back to the railway. On the train, I watched strangers open their beers and say cheers to a beautiful Sunday afternoon.
Berghain operates from 12am Sunday morning, until 12pm Monday afternoon, and considering there were still about 14 hours left of the party since we'd returned home and slept, Thlabe decided to go back for round two. Luke and I spent an evening in – packing, reflecting and getting an early night for our bus the next morning. When we woke up, however, Thlabe had still not returned. When he eventually arrived, we rushed through the city, but our bus had already left. We transferred our tickets to the next bus and still, too soon, left Berlin.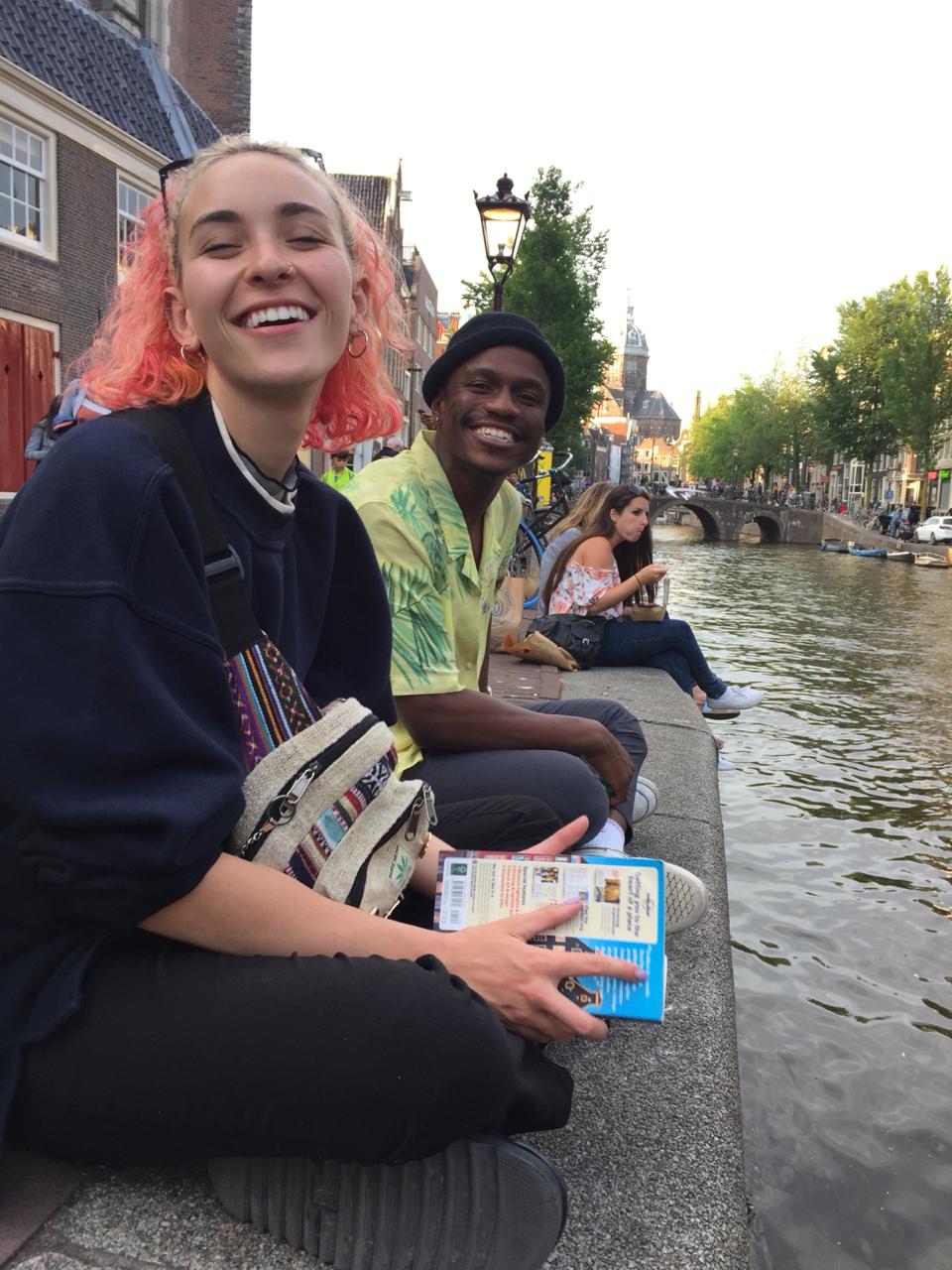 The bus to Amsterdam arrived at our hostel for the next week: Train Lodge, which offers accommodation aboard 10 vintage railway cars. The obviously interesting activity in Amsterdam is visiting coffee shops, of which Train Lodge provided a comprehensive list. We visited the original The Bulldog coffee shop before proceeding to the Museum District, where we discovered the peaceful and well-curated Van Gogh Museum. Our visit to The Red Light District was underscored by TonTon arcade. Here, we ordered nachos and played Cards Against Humanity as night fell and the curtains opened in the streets outside. As we made our way home we found the most stunning and confident women beginning their night shift. On our last evening we went to De School, which is a technical school turned nightclub, hosting DJs that will have you lose hours on the dance floor. Inside, there is a large atrium – a magical addition to an already innovative venue. Our canal cruise the next morning was so tranquil that we took turns napping on one another's shoulder. Afterwards, we got our last order of crêpes and dragged our bags to the airport. On to our next destination – Spain.
I was so lucky to travel with friends because they made even the most menial activities fun. Whether it was a tram, train, or plane, the duration travelling was shorter and sweeter because of their company.
Our flight to Barcelona was followed by a bus to Teià and finally we were beach bound. The seafood, La Rambla and Museu Picasso were some of my highlights from this leg of the trip. I also had the pleasure of attending the Sonar Festival. Performers included Skepta and Kaytranada, alongside incredible South African acts like Sho Madjozi and DJ Lag. It was surreal to see Desire and Fela (together, FAKA) in Barcelona – especially with their post-show glow – and drink to their success. I was star struck when Peggy Gou came on stage, and danced in awe well into the morning. However, all this adventuring and dancing necessitated a period for pure relaxation. Spain calls for your body to be free and kissed by the sun. Afternoons should be spent roaming the streets or the beach with a drink in your hand and paella on the menu.
On returning home, what I realise is that: the world is diverse and exciting and we should want to know more about it and live in it. When travelling, for long periods of time especially, you are thrown from your comfort zone, which allows you time to reflect on your self, your world's microcosm, and gain perspective. Use time travelling to live in your body, walk out your legs, and let laughter fill your lungs as you breathe foreign air. Do what you want and do what you are afraid of. I can guarantee that you will find something you love along the way.