"This is a global business, yet the way we communicate is still very old-fashioned in many ways…We're in the midst of a technological revolution. We all know it, we talk about it, but we have to live it. The most difficult step is just to go for it" 
Helmut Lang to WWD, 1998 
In a pandemic centred world in which every industry has adjusted to operate under a new norm, it is easy for one to think that every change in the industry is due to COVID-19 restrictions. It was not until recently that I discovered that 22 years before the world entered the pandemic Austrian designer, Helmut Lang, was already showcasing collections online. Lang's spring 1998 collection was much anticipated as it followed the designers move from Europe to New York causing an overwhelming amount of pressure to be placed on the designer, and consequently presenting a threat to the presentation format Lang introduced in Paris in 1988. Lang then had the idea of making fashion accessible, describing the 1998 show as a way to open up the industry and include the end consumer in a more direct manner. This resulted in the online streaming of the collection of 81 new looks on HelmutLangNY.com as well as the collection be distributed on a gold CD. While the online show received backlash from fashion journalists and critics, Lang presented a method of working never done before.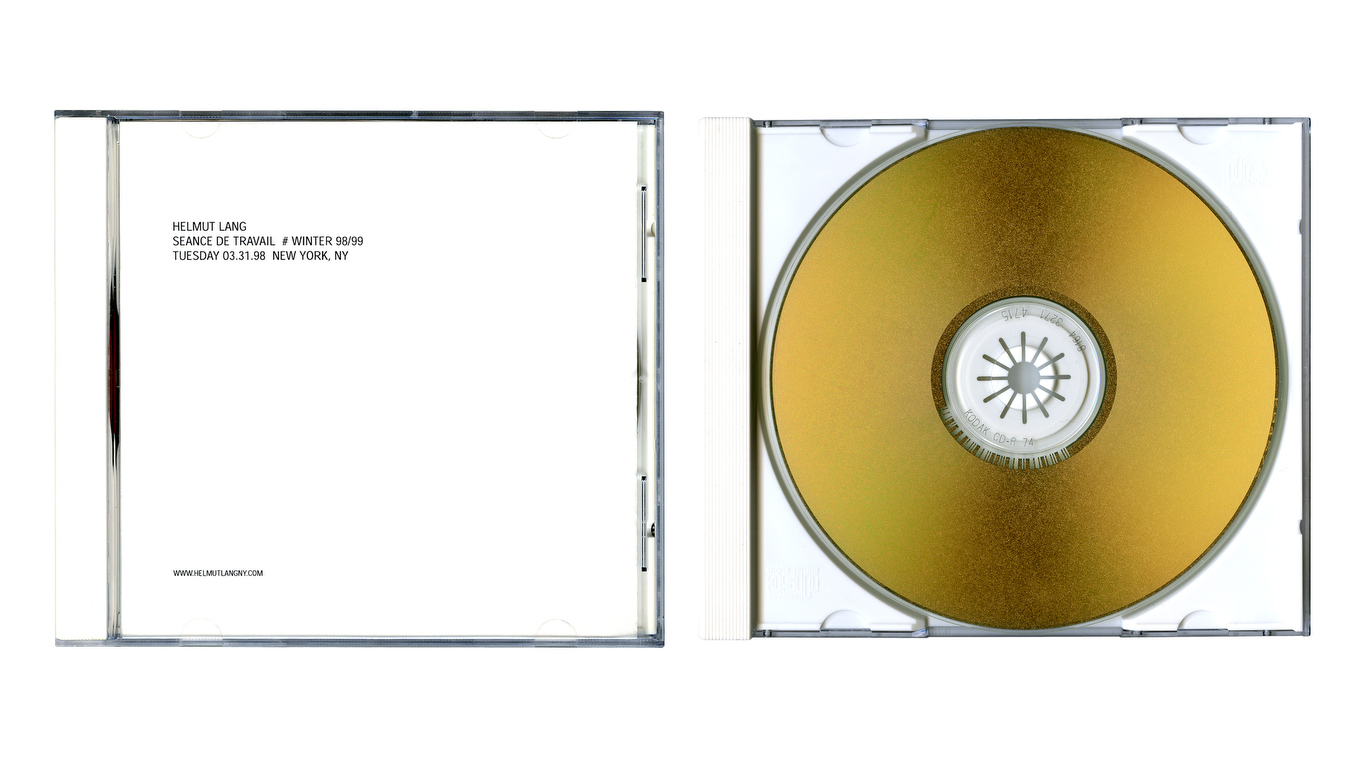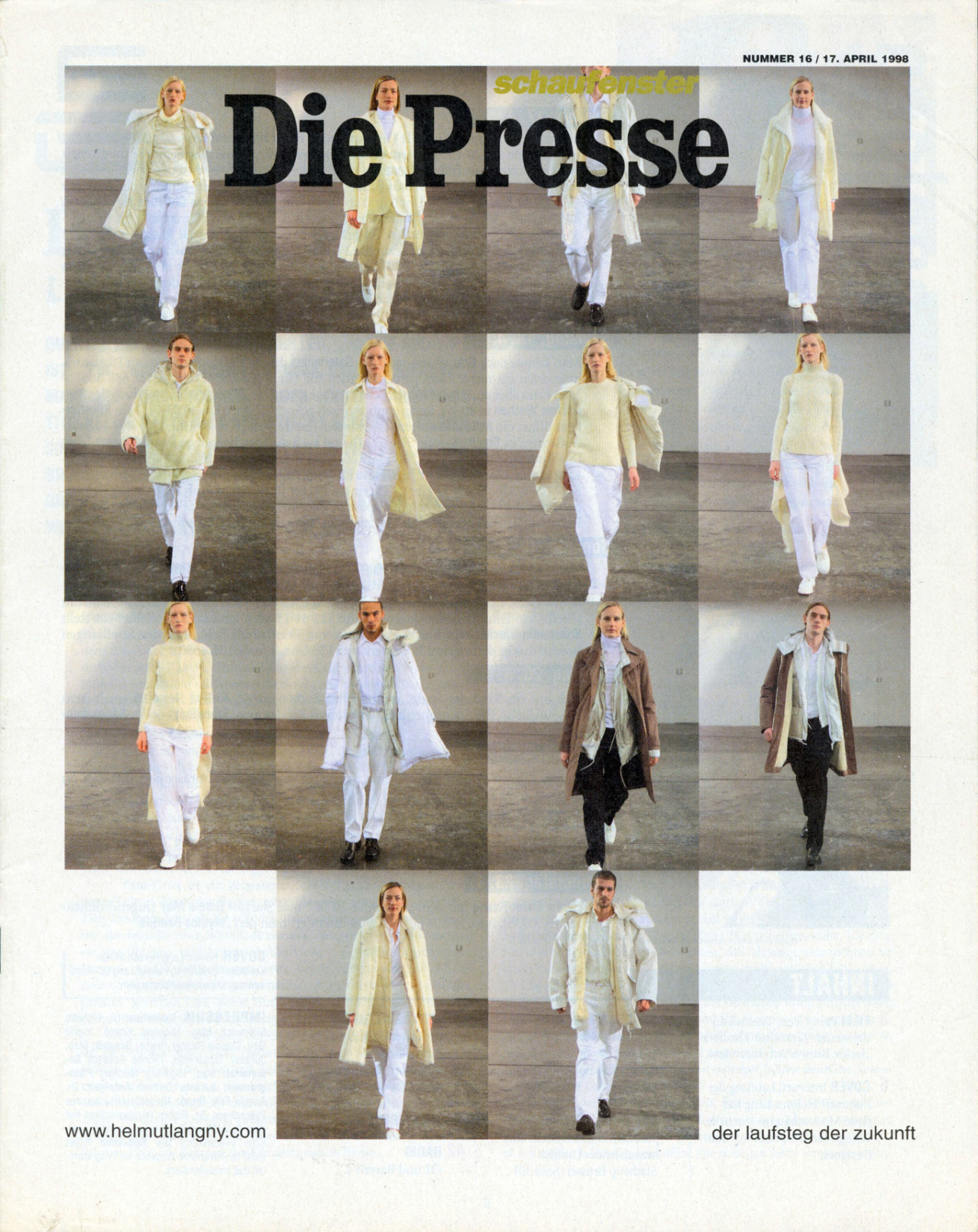 Cover of Die Presse weekend supplement showing Helmut Lang's Spring 1998 collection
When I think about the first fashion show being hosted online 23 years ago it becomes clear how slow the fashion industry has been in embracing and utilising technology as a way to democratise fashion and, importantly, runway shows. Pointing out fashions lack of tech-savvy in a review for The New York Times Constance C.R. White notes that "It is odd that in an industry that lives by changes every season, the method of presentation has not changed in almost 50 years." In the fashion weeks gone by there has been a level of elitism associated with being afforded the privilege of being seated front row at runway shows, experiencing in motion the newest collections from fashion's biggest names. While still, images and recently video footage from the worlds fashion weeks have become available for us consumers to indulge in, they still stand weak in comparison to the experience of a full runway show in real-time. There has been a realisation over recent years that a move towards modernisation is much needed for the fashion industry, especially in a fast-paced world of overconsumption and over-information, but it was not until lockdown restrictions were imposed on the fashion capitals of the world that the industry caught wind of a different way of presenting collections. Perhaps necessity truly is the mother of invention, or in this case re-invention.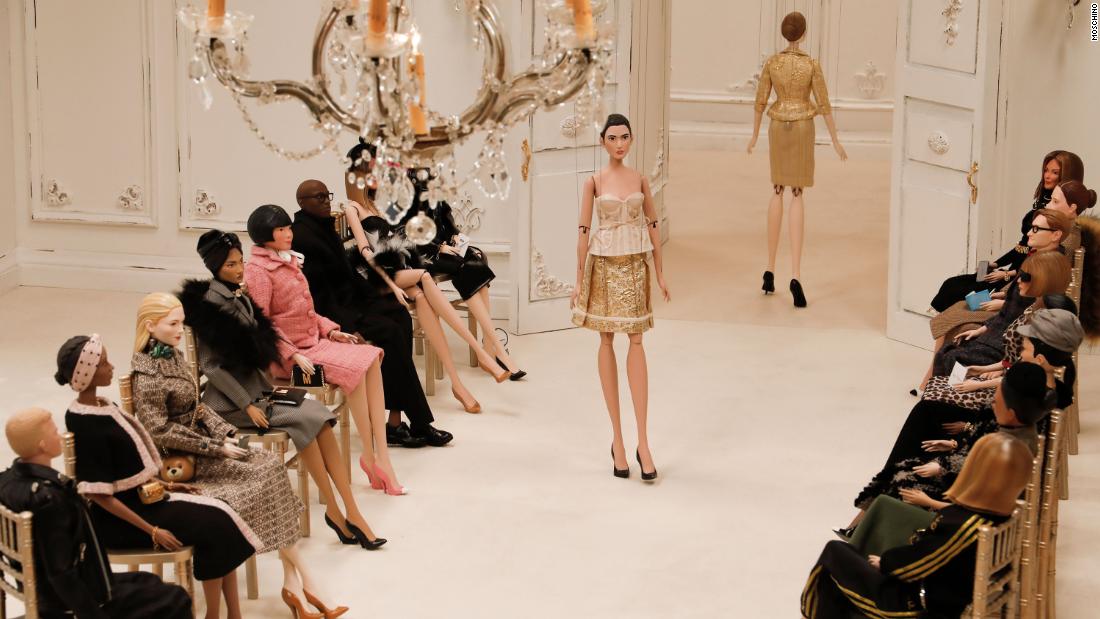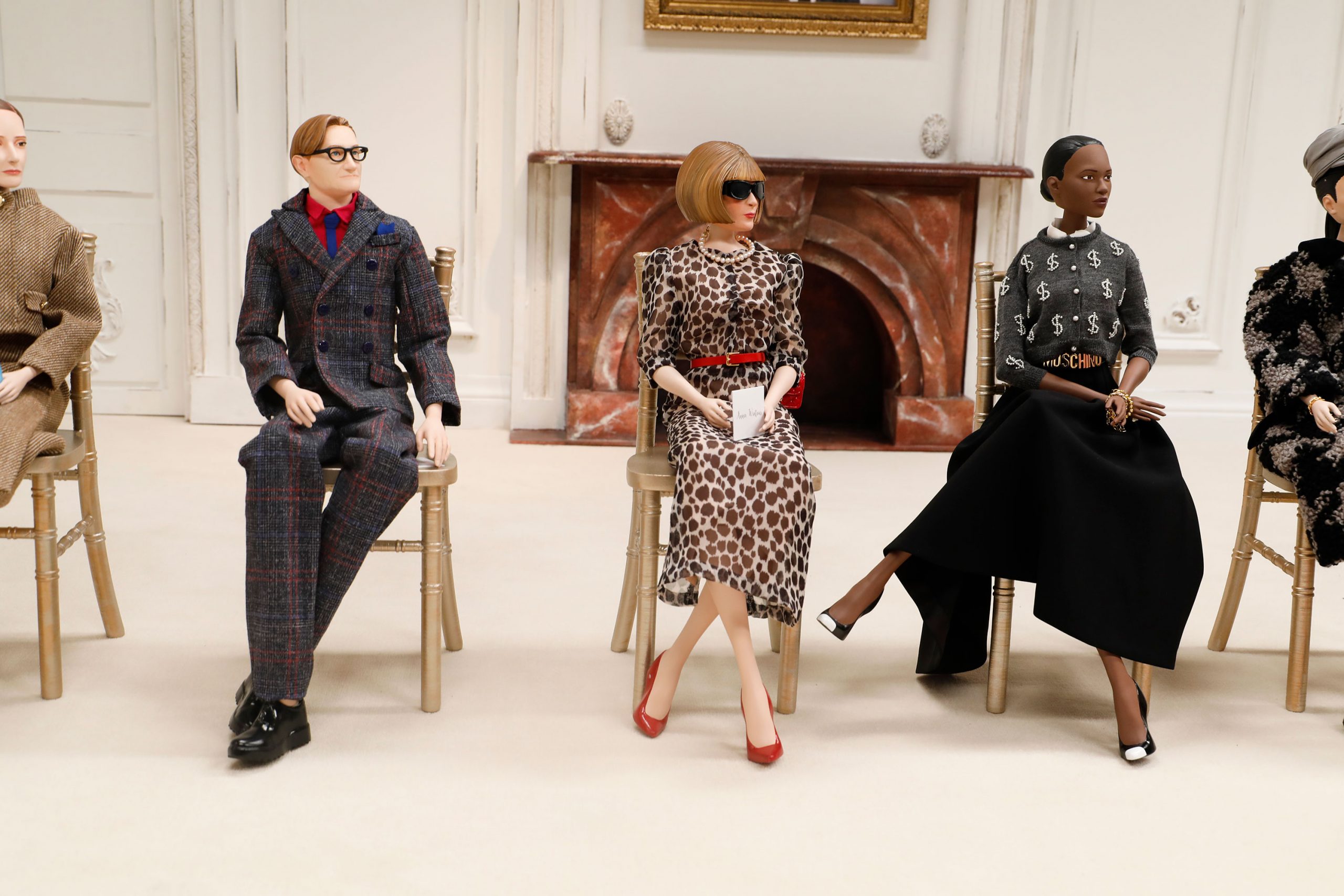 From Virgil Abloh's 'Ebonics' collection, for Louis Vuitton, taking the form of a multi-disciplinary artistic performance and re-imagining masculine stereotypes to Moschino Creative Director Jeremy Scott —in collaboration with Hudson's Bay— creating a collection of doll-sized garments to be displayed in a runway show of marionette dolls, complete with a marionette audience resembling regular front-row attendees, the stages we set for fashion to be viewed are changing. Perhaps, one of the most interesting online fashion shows came in the form of the deep-fake fashion show presented by Balenciaga for their spring 2022 read-to-wear collection. In the same way that Lang questioned a new reality for how fashion could be presented online, Balenciaga questions how our perception of fashion is altered online beginning the video showcasing the collection with a statement reading "We see our world through a filter- perfected, polished, conformed, photoshopped. We no longer decipher between unedited and altered, genuine and counterfeit, tangible and conceptual, fact and faction, fake and deep fake…" The collection is modelled entirely by one model Eliza Douglas walking a white runway in both women's and menswear while observed by a uniformed, black-clad audience. But no one was "there" and no one is "real." "It's a show that never happened," Balenciaga's Creative Director Gvasalia laughed in a standout comment to Vogue mirroring labels journalists placed on Lang's online show in 1998 naming it a "no-show". Balenciaga's 'Clones' collection was made possible due to techniques of photogrammetry, C.G. grafting of Douglas' scanned face, machine learning, and 3D modelling. The show stands out not only due to it cementing Gvasalia as a visionary taking the opportunity to shift the brand into the realms of multilevel creation but also due to its commentary on how far the fashion industry could have evolved if it were to embrace technology at a faster rate.
The 1998 Spring collection show by Helmut Lang serves as a reminder that going against the grain in an ever-changing world might not pay off immediately, but those artistic breakthroughs are often criticised at first only to be praised in years to come. I cannot imagine anybody emerging from the turmoil the pandemic has put us through wanting to be met with the same unimaginative forms of fashion runways. So while we think of the pandemic as a means for the fashion industry to reinvent the way it operates, we cannot overlook the thinkers who took the first steps towards the modernisation of fashion shows. We also cannot overlook the industries lack of embracing new forms for decades and must realise that due to the industry being too set in its ways we as consumers of art and fashion have been denied many moments of excellence. Helmut Lang ultimately returned to presenting collections in more traditional methods before making his final exit from fashion in 2005, but his contribution to fashion is remembered today as the foundation of the new norm of online fashion shows.