Flare frames a face, a neck. A clouded sky becomes a solid area of both possibility and pain. A voice of longing. Intimacy. A cinematic dream.
"Love and Leave" is a music video created by an all-womxn team of creatives. I had the opportunity to speak to director Amy-Leigh Braaf and songstress Hee Young about the process of creating the cinematic piece as well as their influences.
Can you tell me a little more about Hee Young? How long has she been making music? How would she describe her music?
Born in a small seaside town to a singer mother and a composer father, Hee Young grew up in Seoul, South Korea. At age sixteen, she left home to fulfill the American Dream, but after a year spent in a middle of nowhere town in South Georgia in the land of endless cotton fields, she found herself alone with no high speed Internet or a television and no close friends and family, but an old piano and a slight Southern accent. That's when she started speaking the language of loneliness and unrequited love and matching them to her own melodies. She studied Studio Composition (other graduates include Regina Spektor and Mitski) in the music conservatory of SUNY Purchase College and spent her 20s in Brooklyn and relocated to Seoul, South Korea in 2016. Love and Leave is her first release since her last full-length album Sleepless Night.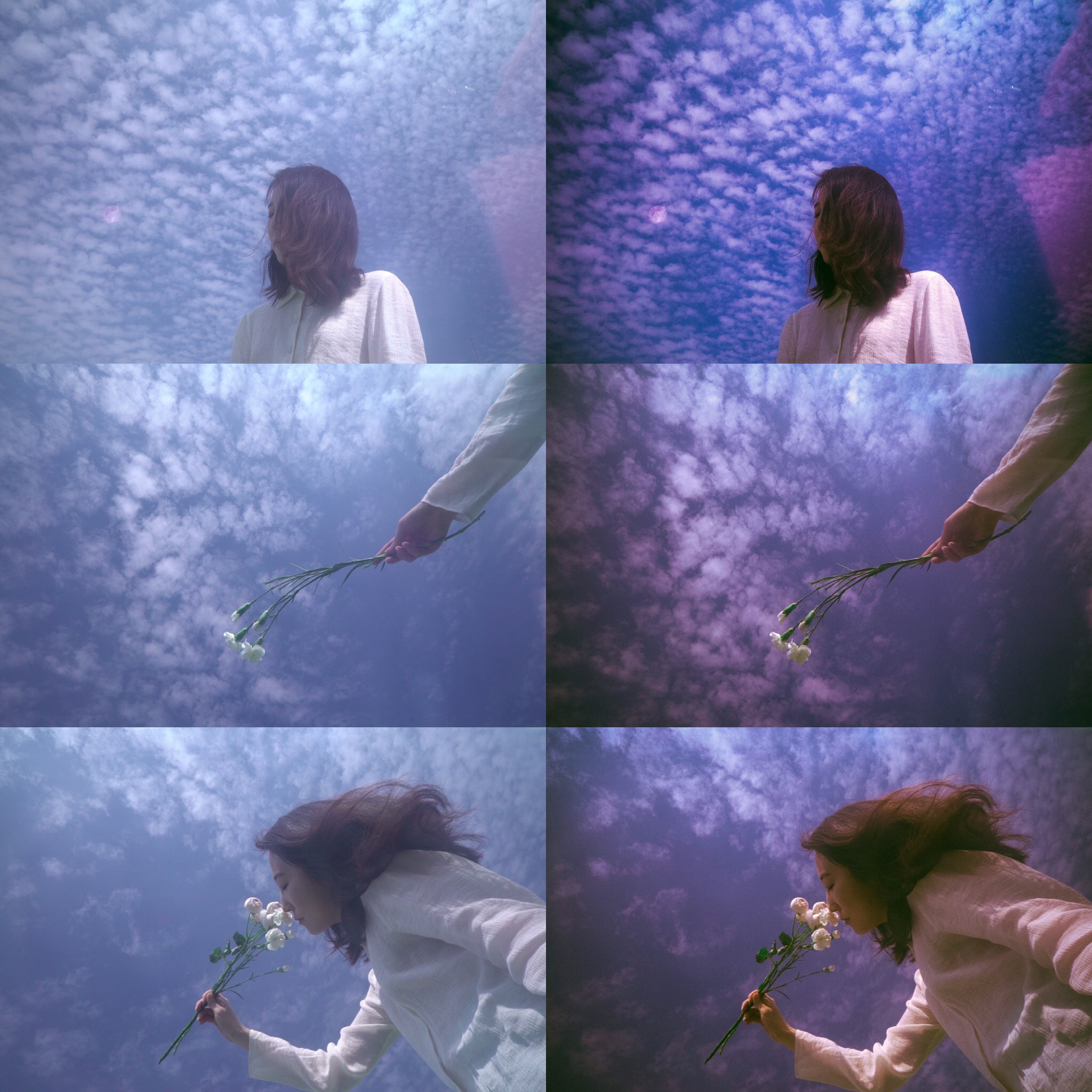 Could you walk me through the conceptualization process of this video?
I met Hee Young in Seoul, and we both immediately struck a conversation about our art–and realized we had chemistry and wanted to create together. As two strong creative womxn we wanted to have an all womxn team to bring our nostalgic and dreamlike art forms together to create something quite spectacular. With my cinematic photography we started working together on photoshoots eventually we found ourselves drawn to a very decadent colour palette – one of gold, and crimson with sky blues to balance. We wanted to create a video that allowed the emotions in her song to manifest. As director I wanted each scene to be extremely well planned out – with organized yet unusual compositions – which contrasted with the emotive cinematic element as well. Hee Young also wanted us to include flashbacks to create a feeling of nostalgia – which works well with the moody richness of the other scenes.
What is the song about?
Hee Young wrote the song to emphasis ideas about how easily disposable we have become in this day of SNS and online dating and feeling at unease with it. She wrote this song in mid-December 2018 after a short lived love affair having realized that she had fallen for a ghost who was willingly fading faster than a vivid dream. She then recorded a demo of the guitar and vocals in her living room on Christmas Eve using a cheap Radio Shack mic and ended up keeping them. Then with help from slowminsteady and Saul Simon MacWilliams (Ingrid Michaelson, Chris Garneau) it got to see the light of the world!
Who is your team and why did you decide to work with an all-womxn crew? What does it mean for the music video?
I was the director, cinematographer and editor – Hee Young of course wrote the song and featured in the music video alongside Neil Huysamer – an incredible filmmaker I studied with in South Africa. Kelly Belter was working on art direction and helped a lot on set – as well as took film photographs which we used in the music video as well as for behind the scenes. The reason why we wanted an all female-crew in the conceptualization of this video was because we shared a chemistry and knowledge that could only be brought to life because of how vulnerable and safe we were able to be on set. I normally work with womxn creatives and this was no different – there is an indescribable beauty that comes with creating art alongside womxn who have shared similar experiences as you. Not only is it therapeutic – it allows us to connect with each other on a level that is so far deep within ourselves that we felt cosmically tied to one another after filmed. Hee Young also believes that where she is in her life – she feels most supported by the womxn around her –  we are fans of each other's work so she could see how easily our ideas and visions for the video flowed.