As a South African watching Christmas films, I couldn't help but feel somewhat of a disconnect, mainly because holiday films usually take place during the snow stricken winter season of America while I — living on the other side of the hemisphere — was experiencing the glorious suns out, bums out summertime.
Of course, during the general holiday season worldwide, one would assume that there is a shared sense of community and family engagement, rituals of food and drink intake, a switch up in attire and change in activities to pass the time. 
For the American cinematic universe, the scene usually involves some version of a heteronormative family — dog in tow, preferably a Labrador or Golden retriever — seated around a fireplace in their Christmas onesies, eating cookies and reciting their favourite Christmas tales.
Needless to say, in South Africa, well… it's… different. We too have fire, yes, but it is mainly in the form of a braai. You are most likely to find the majority of us spending time with our chosen families, and yes, there are storytelling sessions – probably of the more R rated variety — but storytelling nonetheless. The general atmosphere is fast paced, sweaty, exciting and somewhat adrenaline filled. Voices are higher, the atmosphere is lighter, the food is spicier and the general tone is sexy and seductive. 
For this reason I have taken it upon myself to compile a list of "holiday films" I feel better represent the distinct feeling of our festive season. A season filled with fun, sun, sex and rock n roll — well, Amapiano actually — but you get my point. 
So whether you're looking for a film that is easy to watch; one you do not have to pay much attention to, or if you're looking for a film that requires concentrated intellectual, emotional, or perhaps even physical engagement, this list's got you. No cringe Christmas films, I promise. There's a whole separate list for that. 
Films drenched in sunlight: perfect for South Africa's holiday season
Le Genou de Claire, 1970. Dir. Éric Rohmer — French. English subtitles.
"I find all men attractive. That's why I can't pick one. Why one and not another? I need a reason to choose one specific man. Since I can't have them all, I prefer to do without any."
In this chatty lighthearted slow-paced melodrama, Jerome — a cultural attache — spends his last summer holidays as a bachelor at Lake Annecy where he meets Aurora, an Italian writer and old friend. She talks him into a flirt with his landlady's teenage daughter, Laura, which he indulges in until he meets and falls for Laura's blonde half-sister Claire.
Jerome eventually dares to try his luck with Claire, only to realise that, unlike with Laura, his affections this time are mostly one-sided.
https://www.imdb.com/title/tt0065772/plotsummary?ref_=tt_ov_pl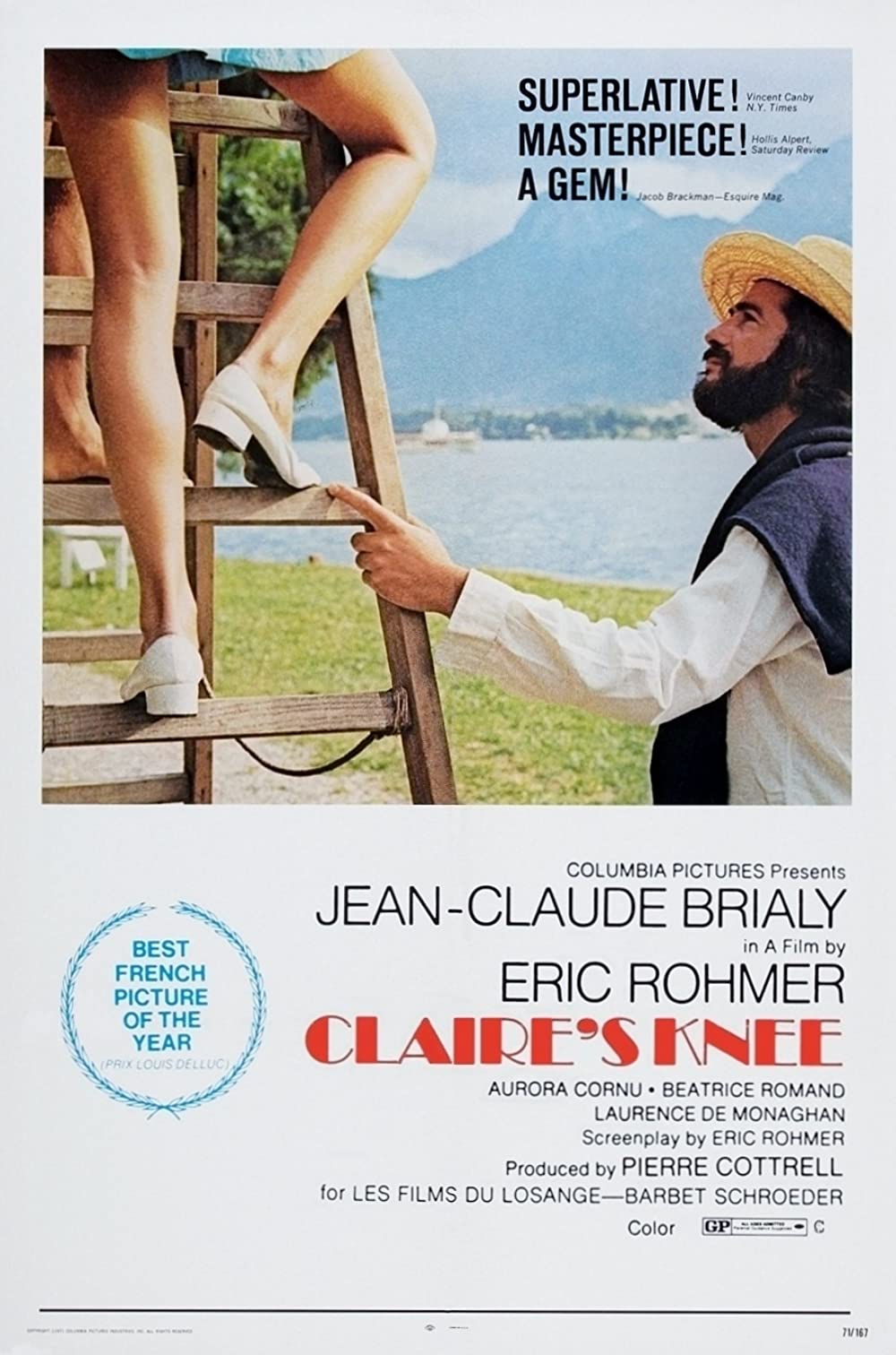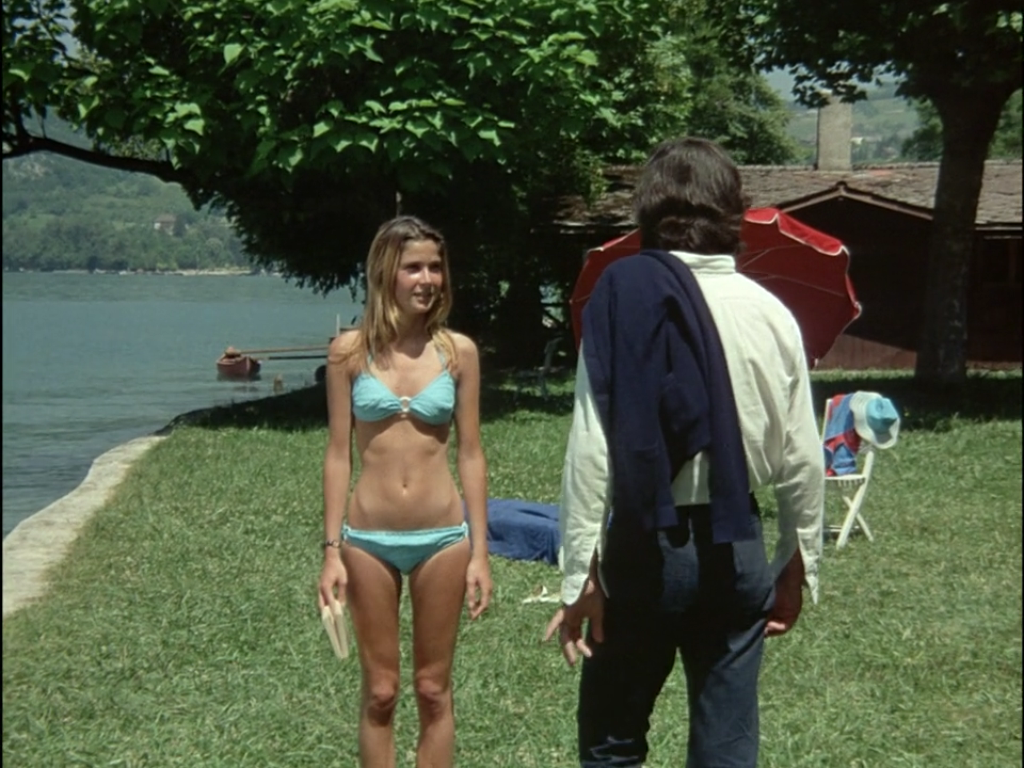 La Piscine, 1969. Dir. Jaques Deray — French. English subtitles. 
"He likes no one. And he wants everyone to love him." 
Lovers Marianne and Jean-Paul spend their vacation in a villa on the French Riviera near St-Tropez. Marianne invites her former lover, Harry, and his teenage daughter to stay.
Tension rises between them, especially when Jean-Paul seduces Penelope.
https://www.imdb.com/title/tt0064816/plotsummary?ref_=tt_ov_pl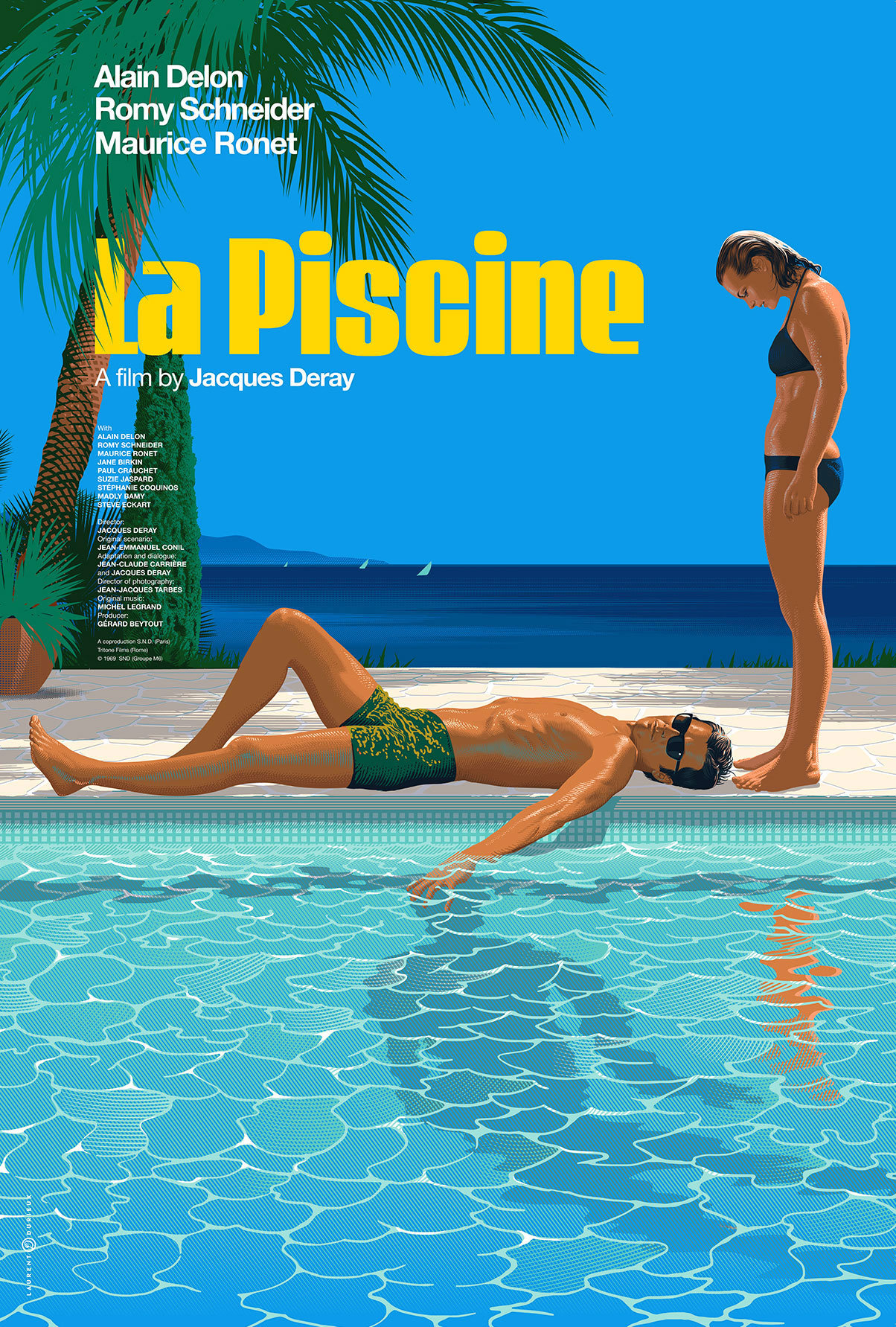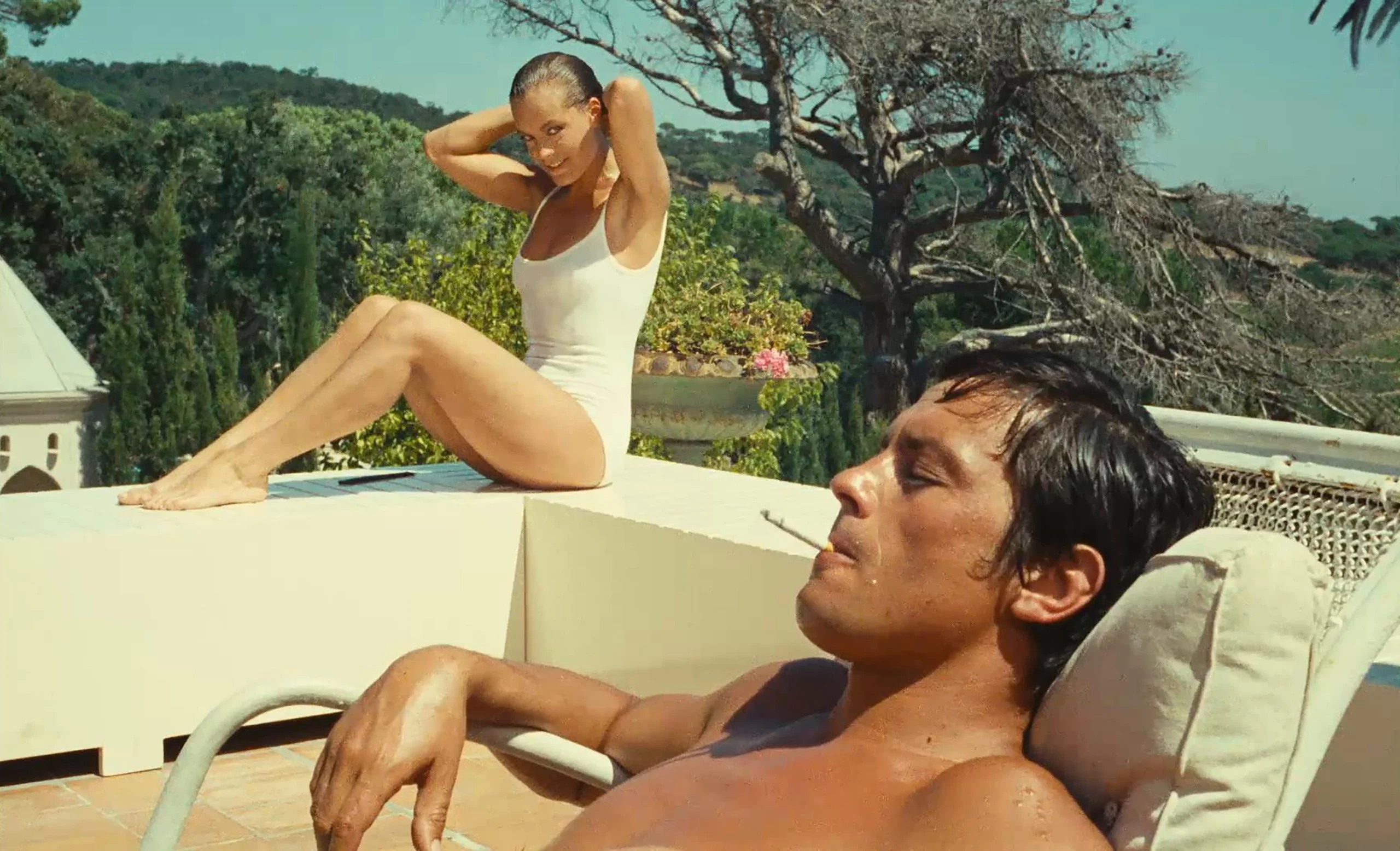 Pad Na Jou Haart, 2014. Jaco Smit — Afrikaans. English subtitles. 
"I don't slow dance."
Basson has five days to get to his father's funeral in Cape Town, however, he needs to complete certain tasks on this trip before he can call the family company his own.
On the road he meets free-spirited bohemian Amory. As they journey across South Africa's breathtaking landscape, they meet wonderful characters who allow for hilarious moments and life-changing experiences.
https://www.imdb.com/title/tt2988490/plotsummary?ref_=tt_ov_pl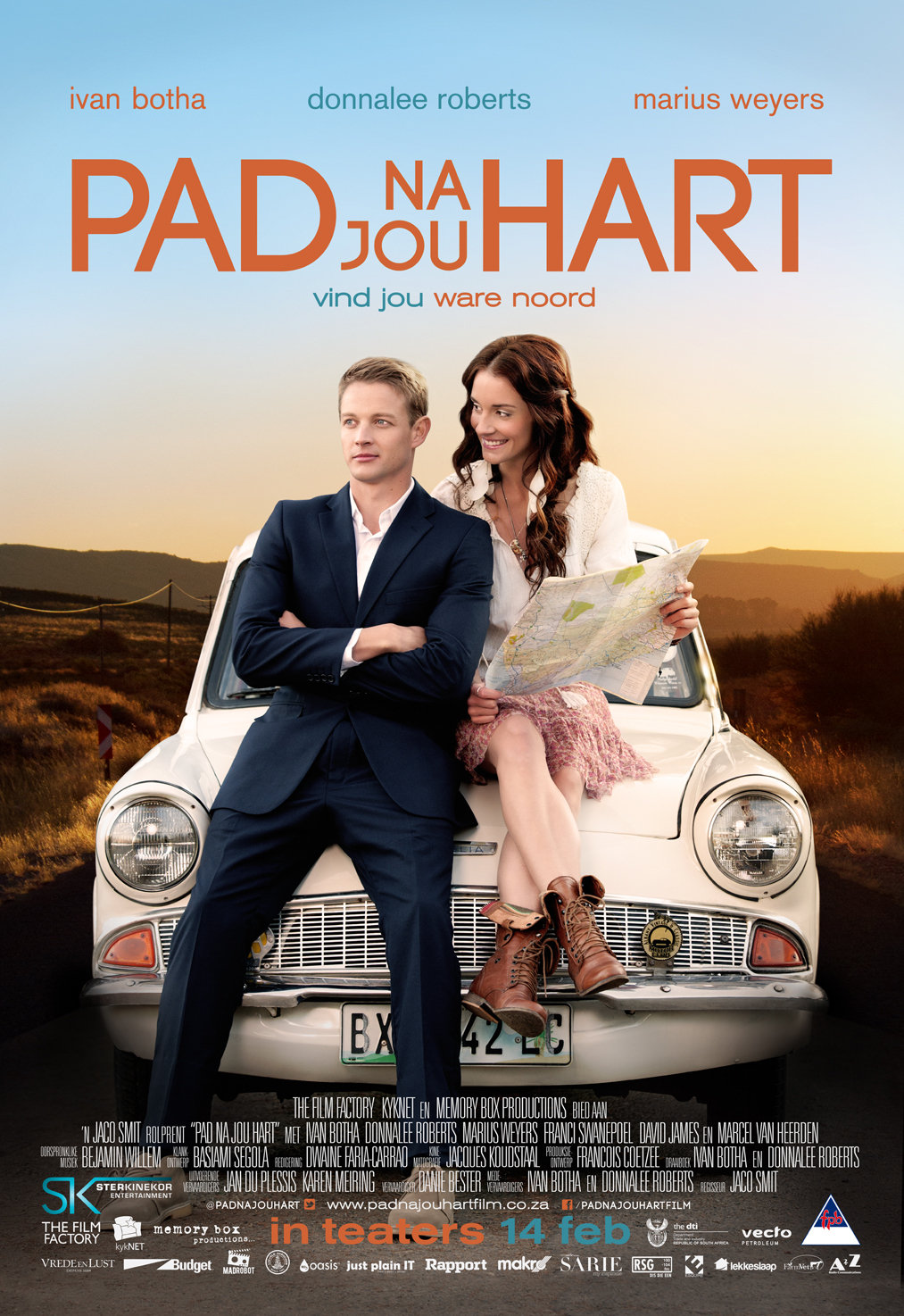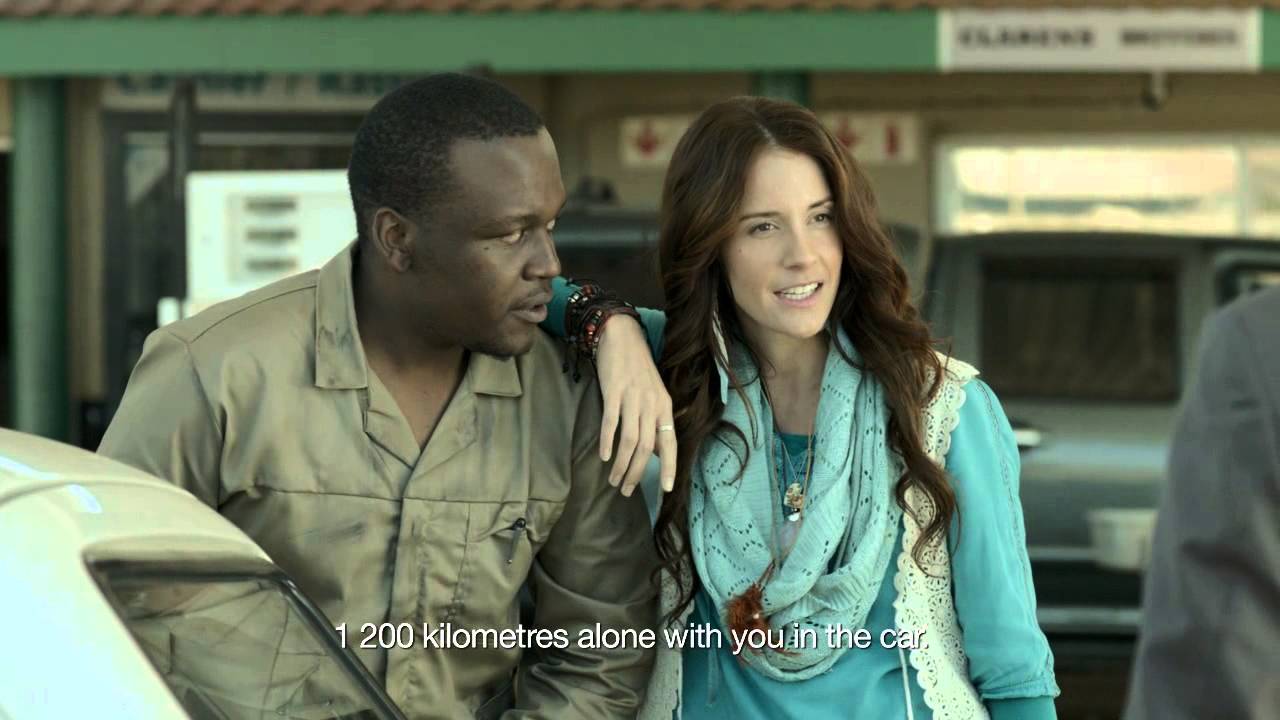 Fluorescent adolescence: films for when you're feeling nostalgic
Dazed and Confused, 1993. Richard Linklater — English. 
"All right, all right, all right."
The adventures of a group of Texas teens on their last day of school in 1976, centring on student Randall Floyd, who moves easily among stoners, jocks and geeks. Floyd is a star athlete, but he also likes smoking weed, which presents a conundrum when his football coach demands he sign a "no drugs" pledge.
https://letterboxd.com/film/dazed-and-confused/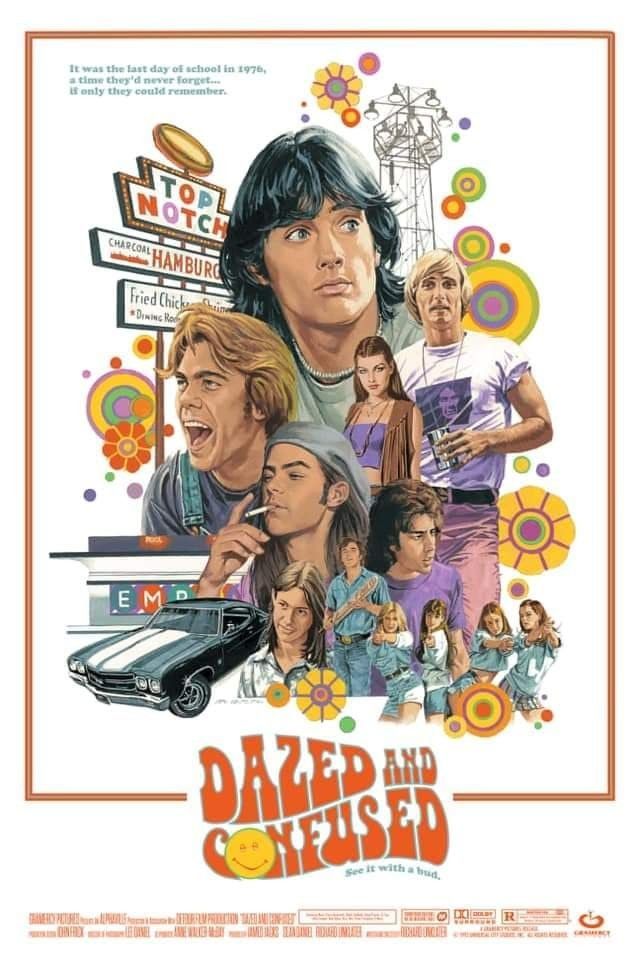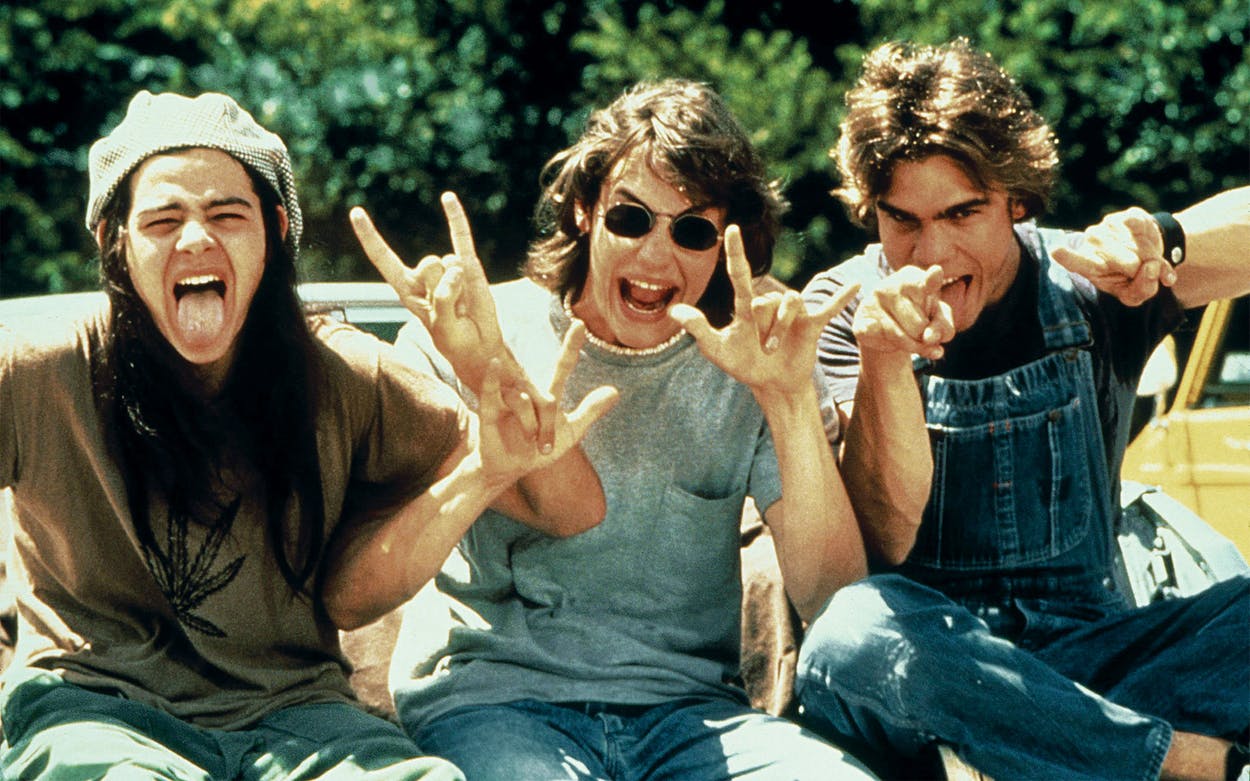 Mid90s, 2018. Dir. Jonah Hill — English. 
"Hey, you can't say n*gga. I don't think. You f*ckin'… Sheryl Crow lookin' mother f*cker!"
Stevie is a sweet 13 year old about to explode.
His mom is loving and attentive, but a little too forthcoming about her romantic life. His big brother is a taciturn and violent bully. So Stevie searches his working class Los Angeles suburb for somewhere to belong.
He finds it at the Motor Avenue skate shop.
https://letterboxd.com/film/mid90s/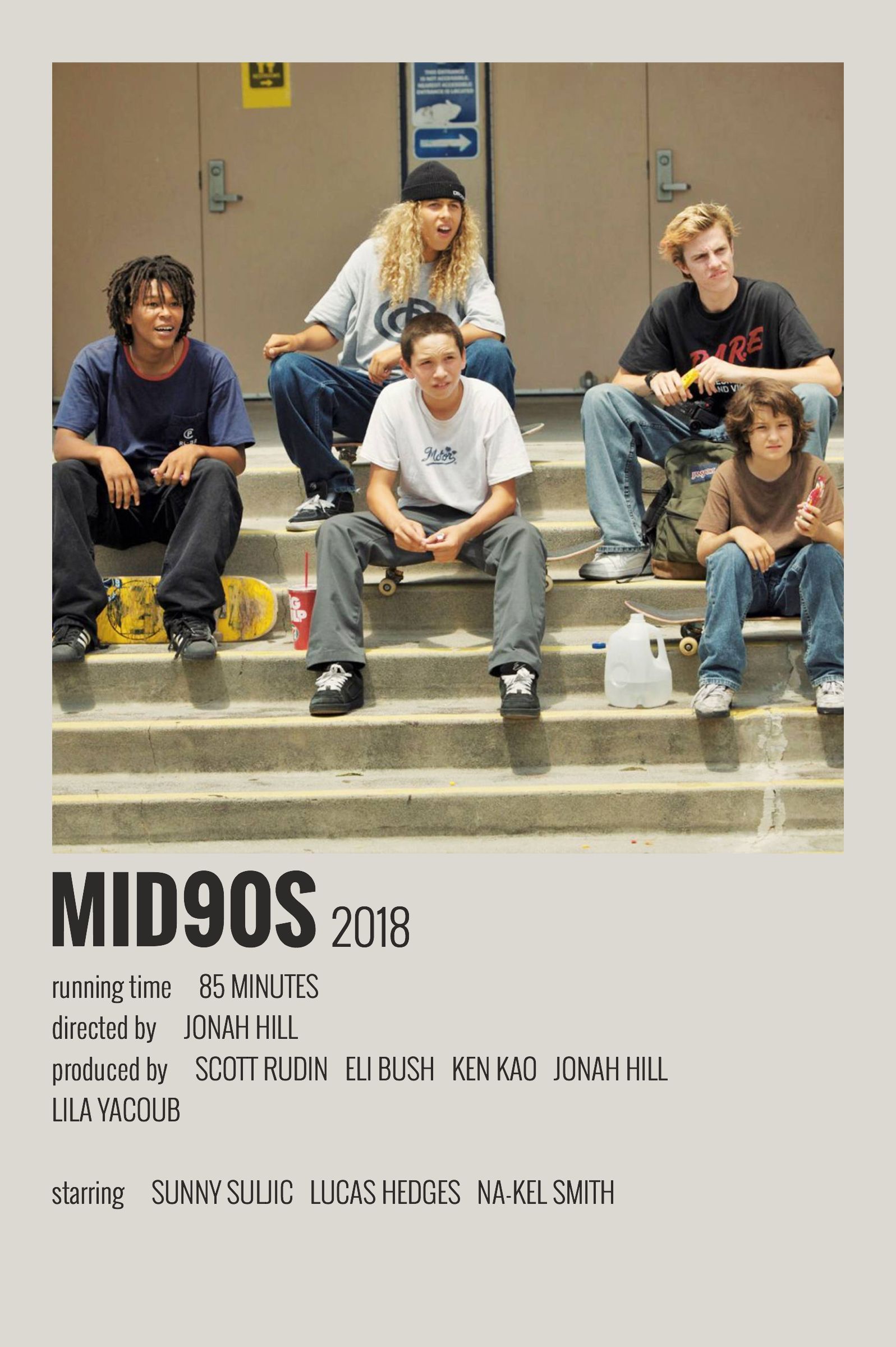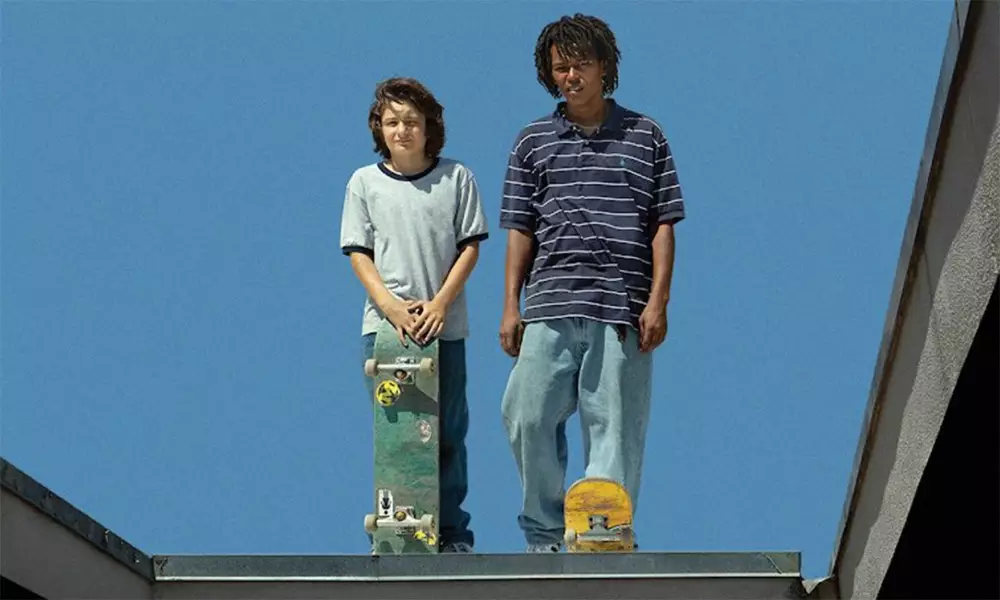 Almost Famous, 2000. Dir. Cameron Crowe — English.
"It's all happening!"
In 1973 and 15 year old William Miller's unabashed love of music and aspiration to become a rock journalist lands him an assignment for Rolling Stone magazine to interview and tour with the up-and-coming band Stillwater — fronted by lead guitar Russell Hammond and lead singer Jeff Bebe.
https://letterboxd.com/film/almost-famous/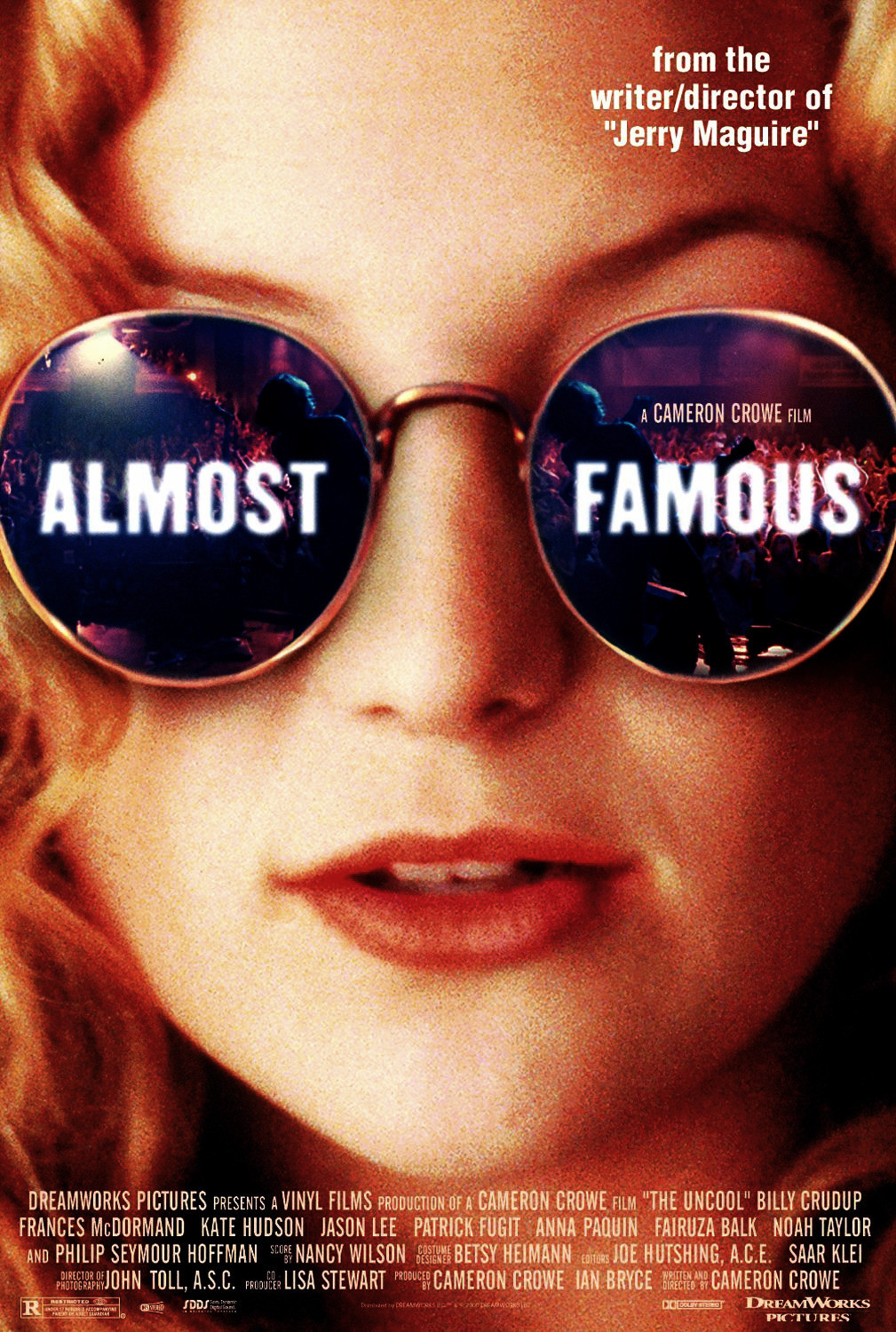 Surf's up: films about surfing 
Dogtown and Z-Boys, 2001. Dir. Stacy Peralta — English. 
"If a person has a big ego, you'd better be able to back it, and Tony could back his ego."
This award-winning, thrilling story is about a group of discarded kids who revolutionised skateboarding and shaped the attitude and culture of modern day extreme sports.
Featuring old school skating footage, exclusive interviews and a blistering rock soundtrack, DOGTOWN AND Z-BOYS captures the rise of the Zephyr skateboarding team from Venice's Dogtown, a tough "locals only" beach with a legacy of outlaw surfing.
https://letterboxd.com/film/dogtown-and-z-boys/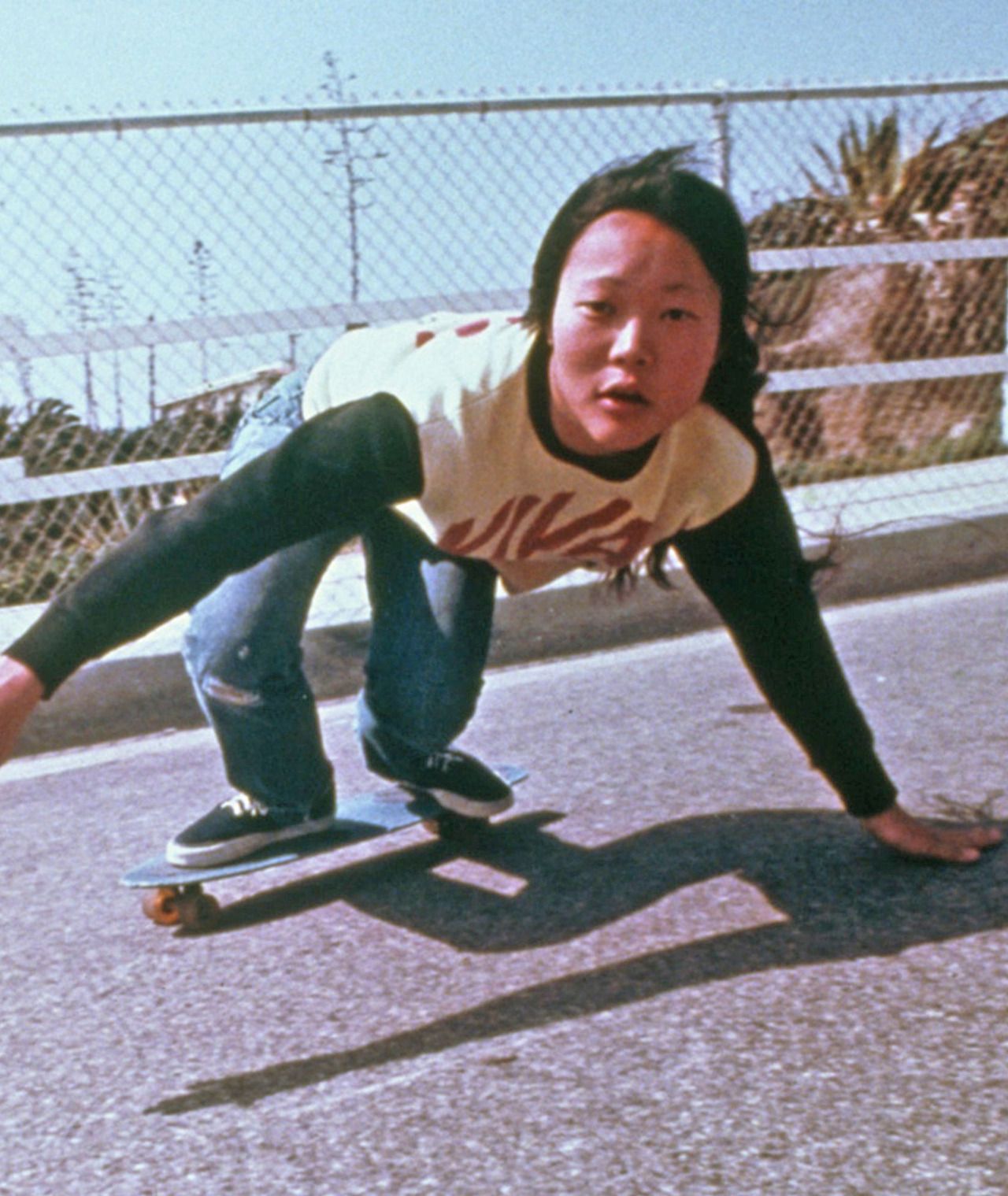 View From a Blue Moon, 2015. Dir. Blake Vincent Kueny — English. 
"This is one of those places that make you go back to zero and discover where you're at in life. There's no money, no people…nothing. You're here with what you have and who you have with you." 
From the dreamy blue perfection of the South Pacific, to the darkest uncharted waters of Africa — and everywhere in between — John Florence faces a broad spectrum of emotions as he continues to seal his legacy as one of the most gifted surfers ever.
While the young Hawaiian is pulled in increasingly different directions, there is no form of pressure that will keep him from his ultimate goal; to redefine what is possible in the ocean.
https://letterboxd.com/film/view-from-a-blue-moon/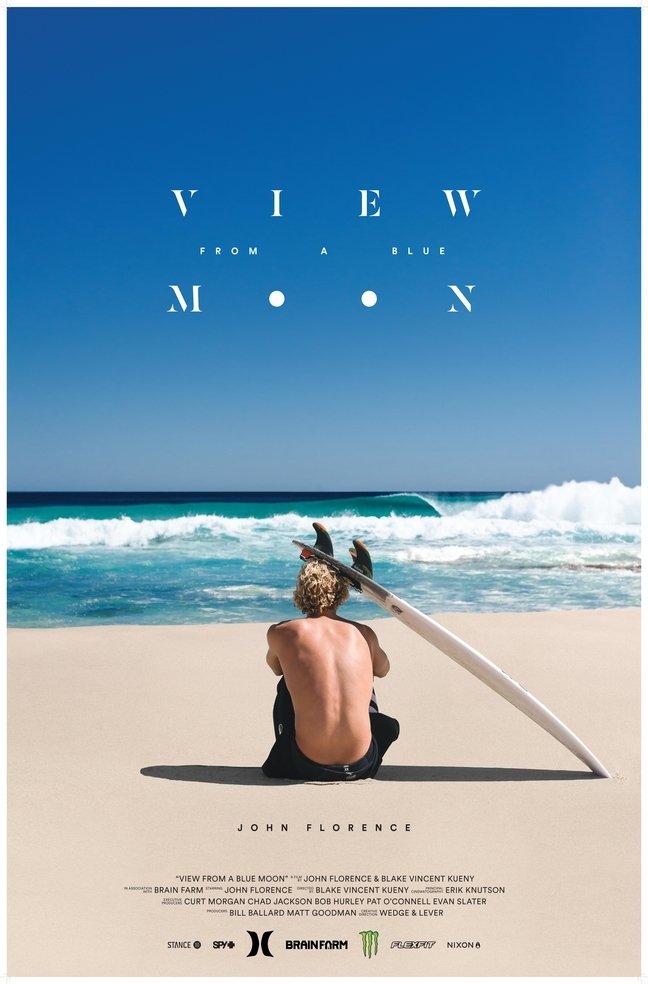 In God's Hands, 1998. Dir. Zalman King — English. 
"There's a wave out there, it's going to be massive, and all I can think about doing is riding it,"
Three pro surfers — gifted Shane, once-great Mickey and rising young star Keoni — travel to Madagascar, Bali and Hawaii in search for the ultimate wave.
The Beach: A Photographer's Journey, 2014. National Geographic — English.
This 60-minute TV series on the community and geography of Thailand's islands in the Andaman Sea and the Gulf of Thailand has won an intermedia-globe GOLD Award at the World Media Festival 
https://www.traveldailynews.asia/the-beach-a-photographers-journey-tv-show-wins-world-media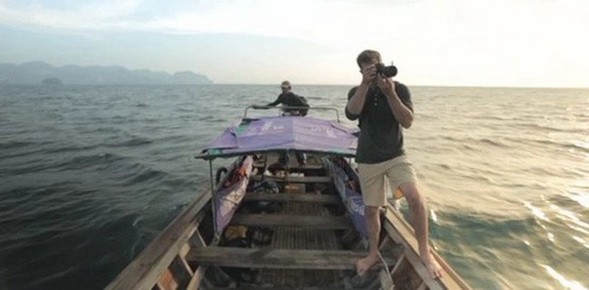 Up all night to get lucky: films about partying and going out
Swingers, 1996. Dir. Doug Liman — English. 
"Baby, you are so money and you don't even know it". 
After 6 years together, Mike's girlfriend leaves him, so he travels to Los Angeles to be a star. Six months on, he's still not doing very well.
So, a few of his friends try to reconnect him to the social scene and hopefully help him forget his failed relationship.
https://letterboxd.com/film/swingers/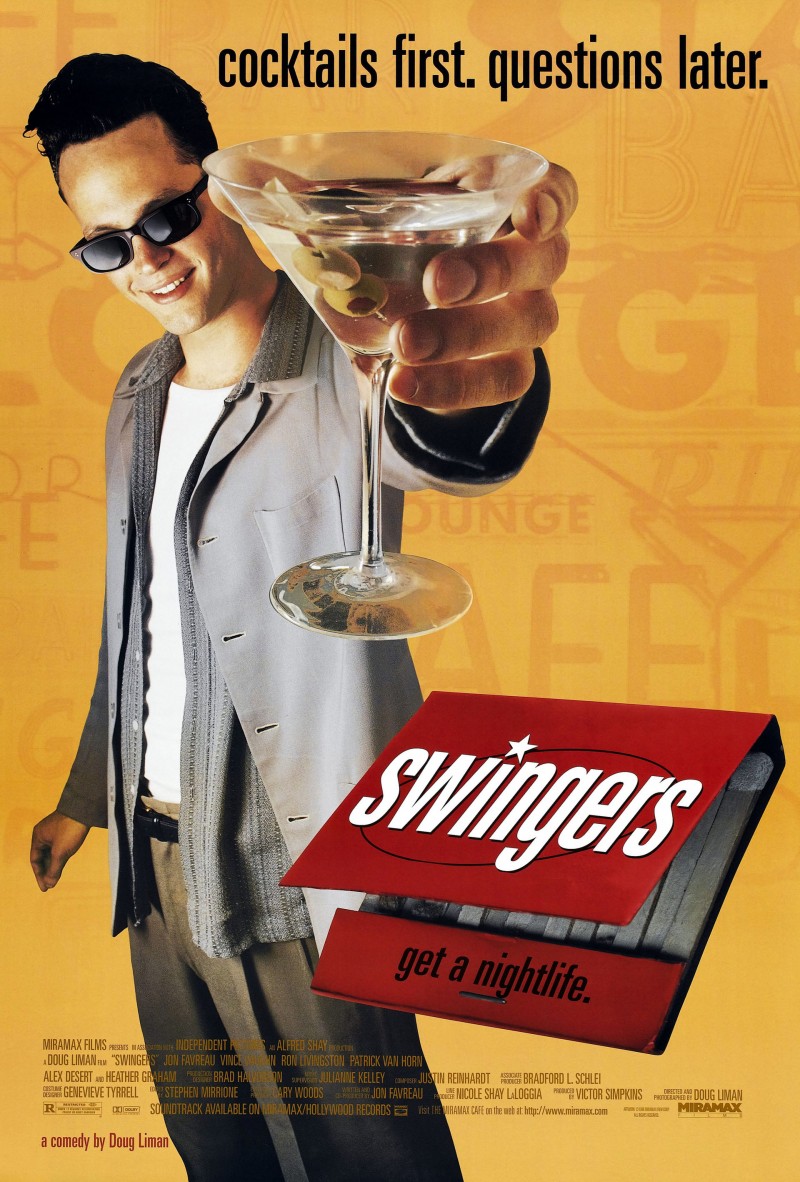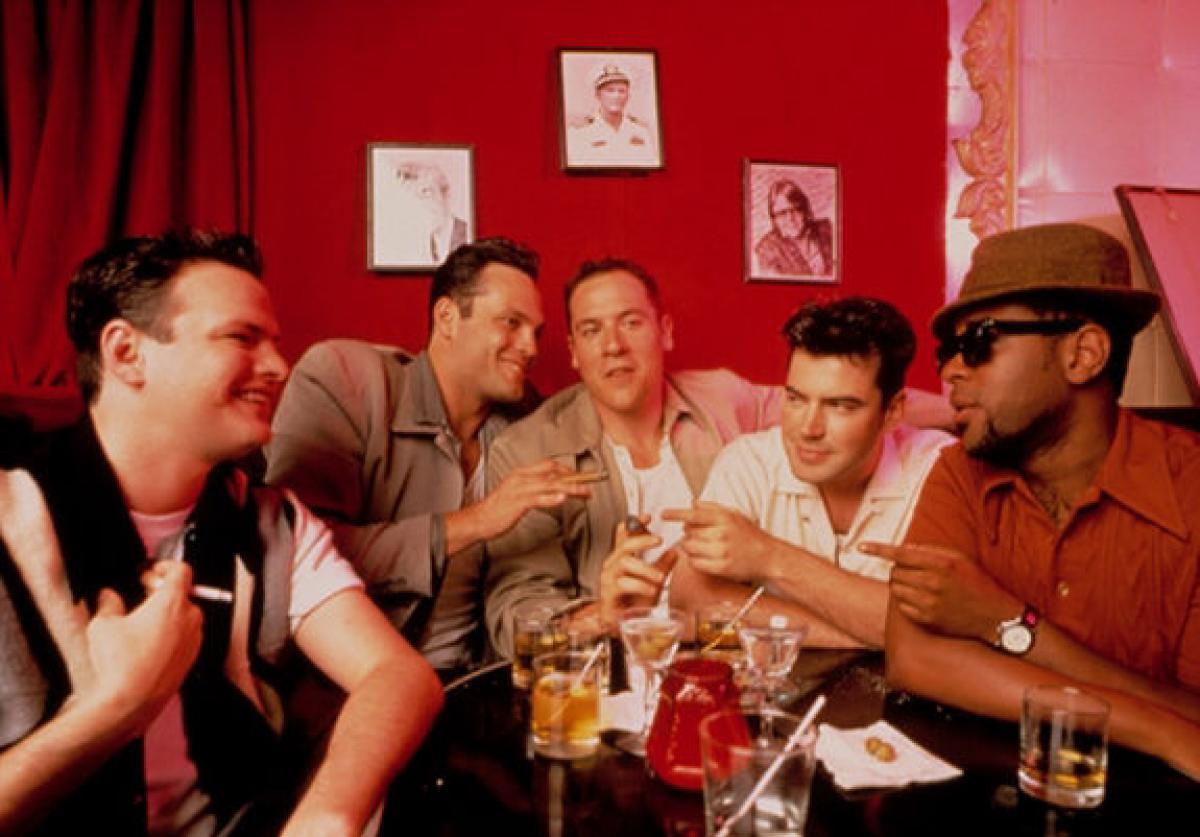 Another Round, 2020. Thomas Vinterberg — Danish, Swedish. 
"What is youth? / A dream / What is love? / The dream's contents." 
Four high school teachers launch a drinking experiment: upholding a constant low level of intoxication.
https://letterboxd.com/film/another-round/details/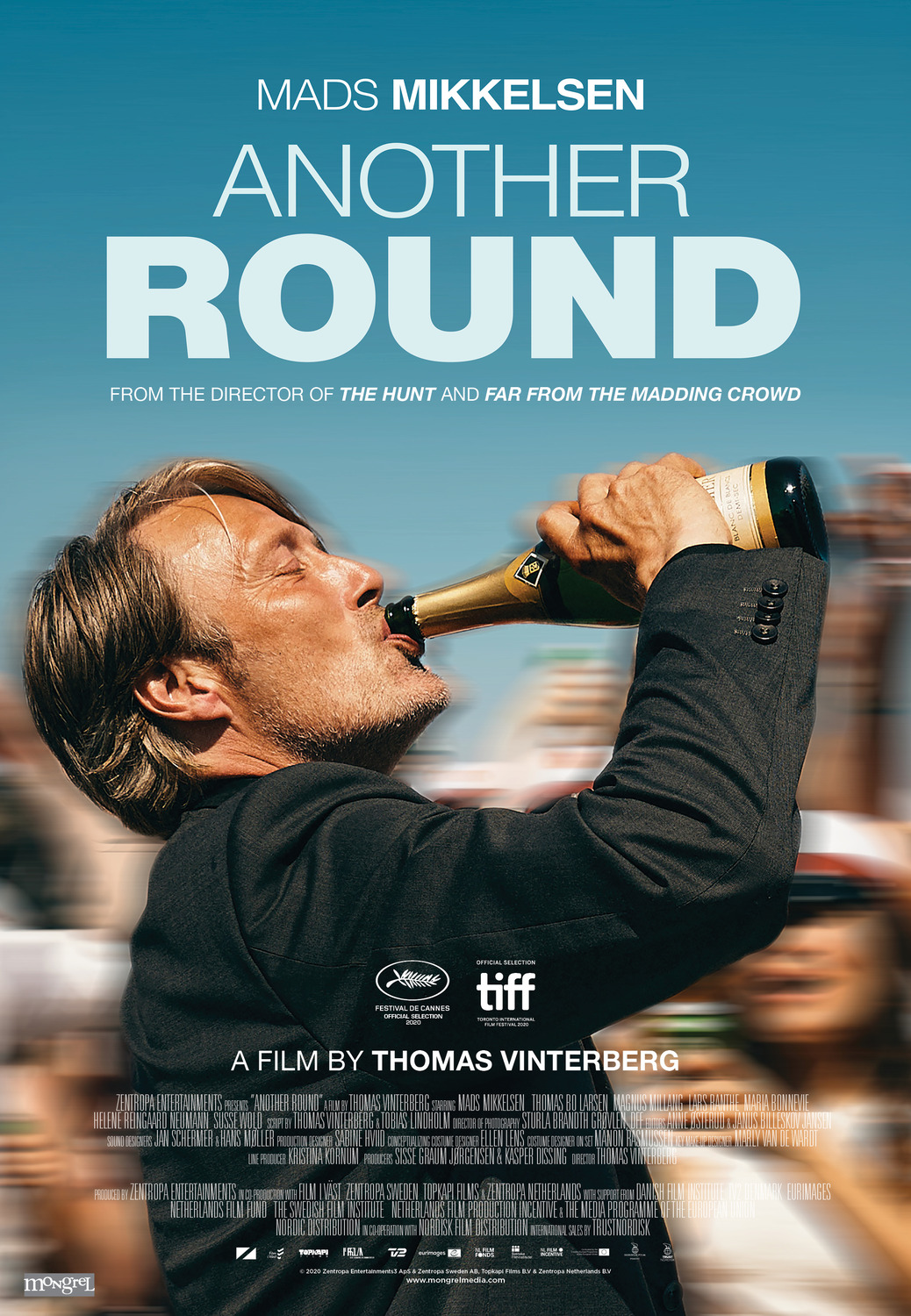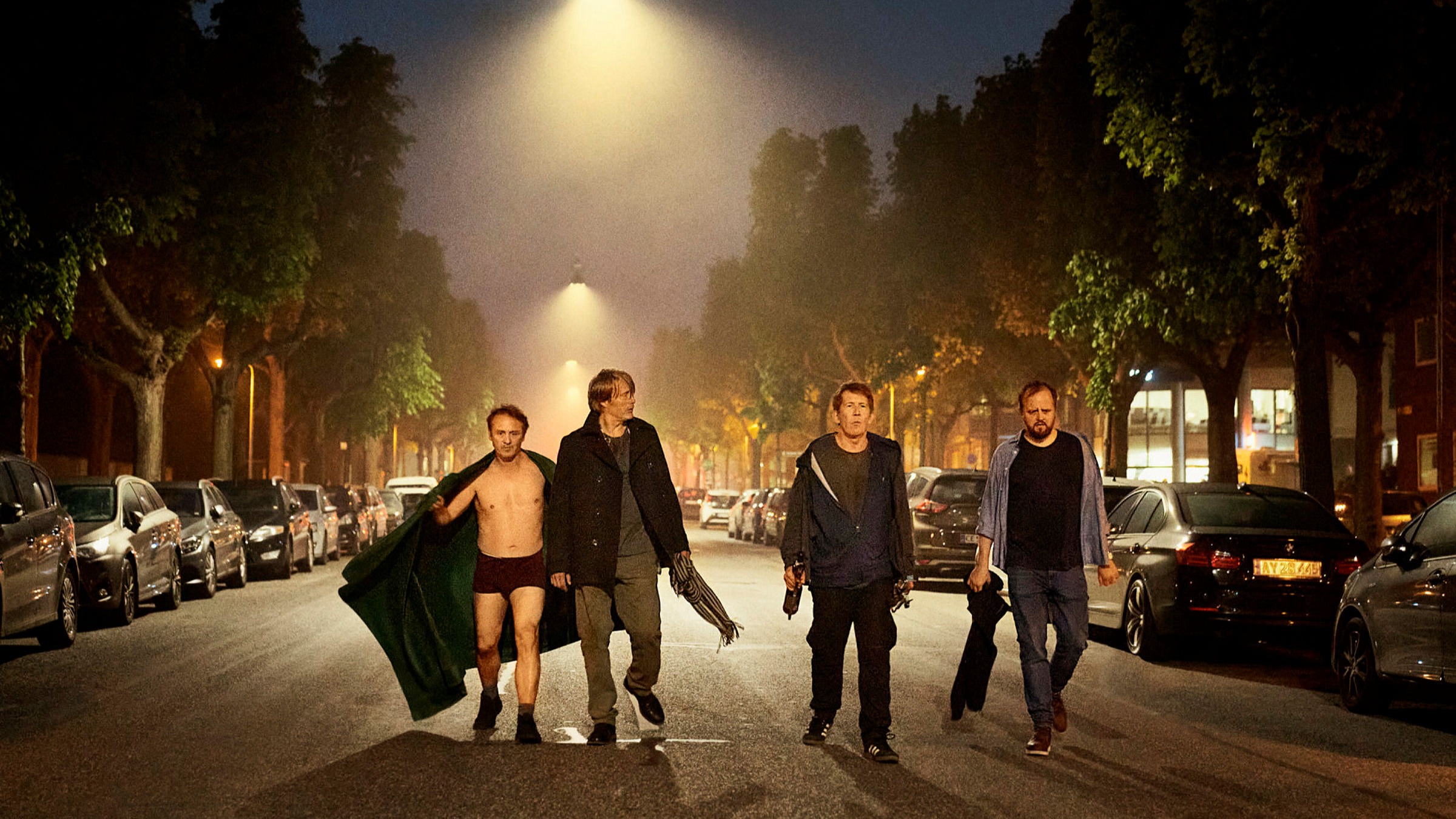 Project X, 2012. Nima Nourizadeh — English. (Predictable I know but still a good ol' time)
"Costa! Give me back my fucking gnome!"
Thomas, Costa and JB are three anonymous high-school seniors who are determined to finally make their mark. But how to make themselves unforgettable in the annals of high-school history? 
With an epic party, of course! The idea is innocent enough, but nothing could prepare the three friends for this shindig. As word of the soiree's awesomeness spreads, dreams are ruined, records are blemished and legends are born.
https://www.rottentomatoes.com/m/project_x_2011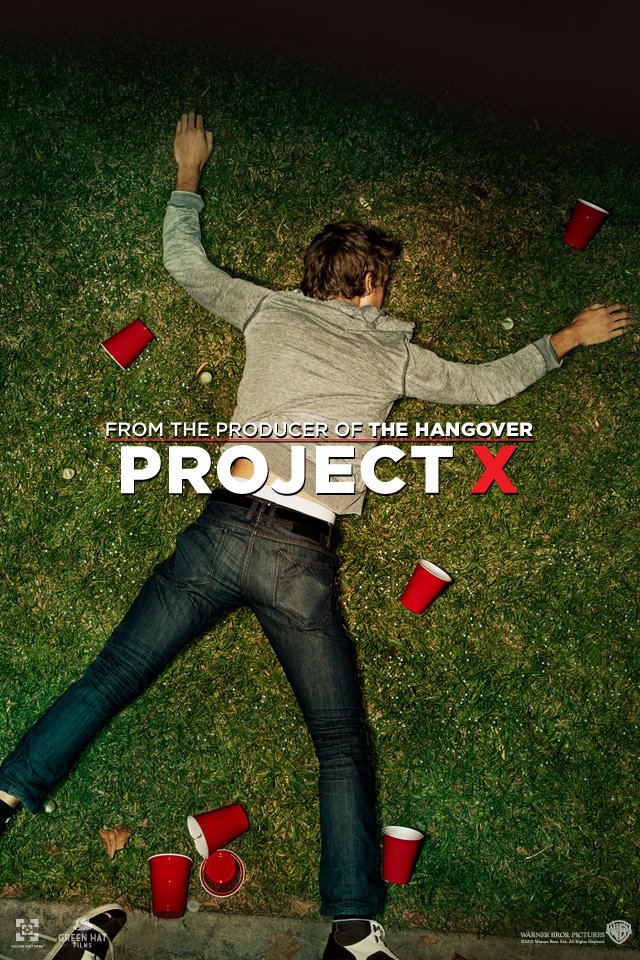 Delicatessen: films about Food
Chef, 2014. Dir. Jon Favreau — English. 
"Why don't you come by again tonight? I've got a whole new menu just for you, a**hole". 
When Chef Carl Casper suddenly quits his job at a prominent Los Angeles restaurant after refusing to compromise his creative integrity for its controlling owner, he is left to figure out what's next.
Finding himself in Miami, he teams up with his ex-wife, his friend and his son to launch a food truck. Taking to the road, Chef Carl goes back to his roots to reignite his passion for the kitchen – and zest for life and love.
https://letterboxd.com/film/chef/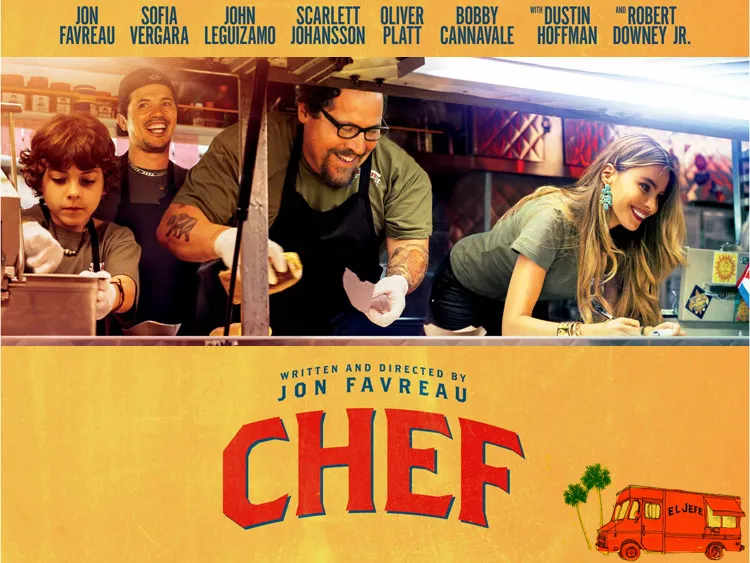 Chocolat, 2000. Lasse Hallström — English. 
"…and the world is still indulging!". 
A fable of emotional liberation and chocolate. A mother and daughter move to a small French town where they open a chocolate shop. The town — pious  and morally repressive — shuns them as they represent free-thinking and indulgence.
When a group of travellers float down the river the prejudices of the Mayor leads to a crisis.
https://letterboxd.com/film/chocolat/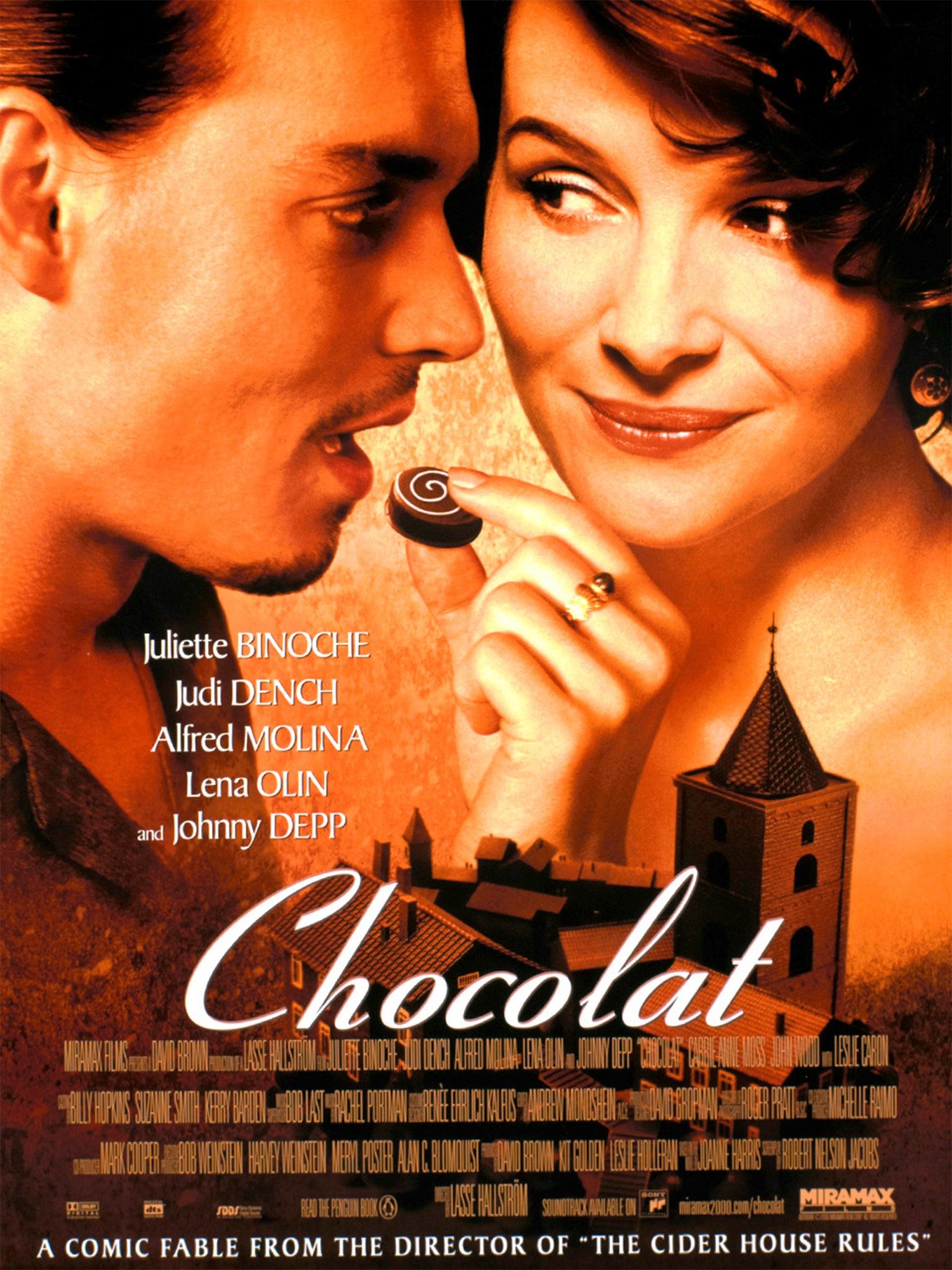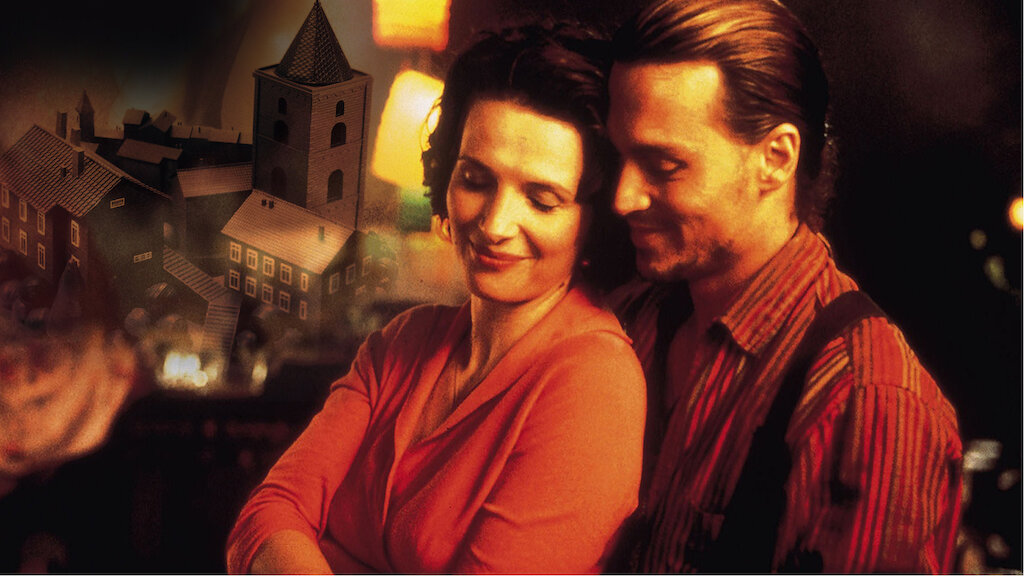 The Cook, the Thief, His Wife and Her Lover, 1989. Dir. Peter Greenaway — English. 
"Try the cock, Albert. It's a delicacy, and you know where it's been."
The wife of a horrendous crime boss engages in a secret romance with a gentle bookseller between meals at her husband's restaurant.
Food, colour coding, sex, murder, torture, and cannibalism are the exotic fare in this beautifully filmed — but brutally uncompromising modern fable.
https://www.imdb.com/title/tt0097108/plotsummary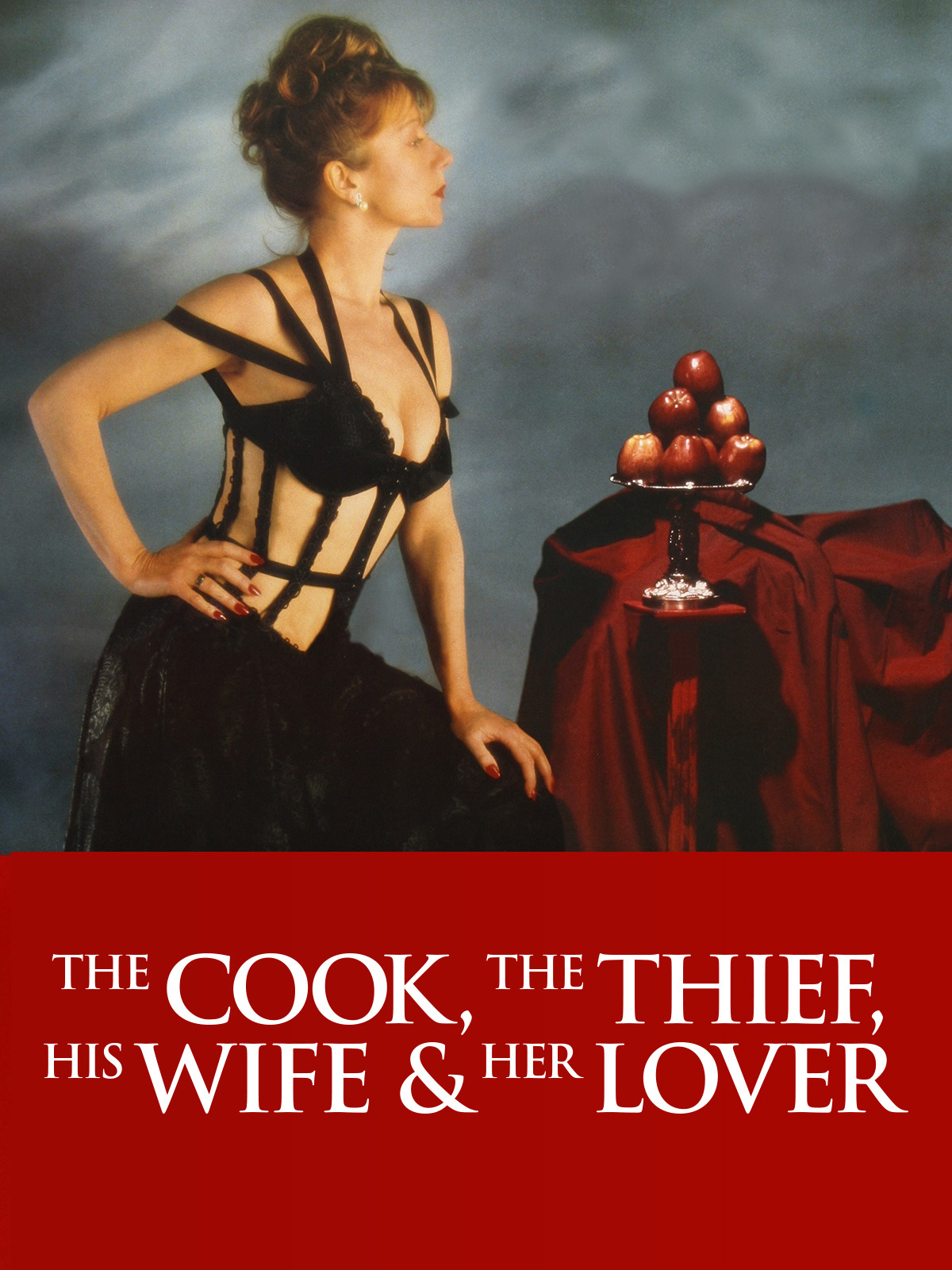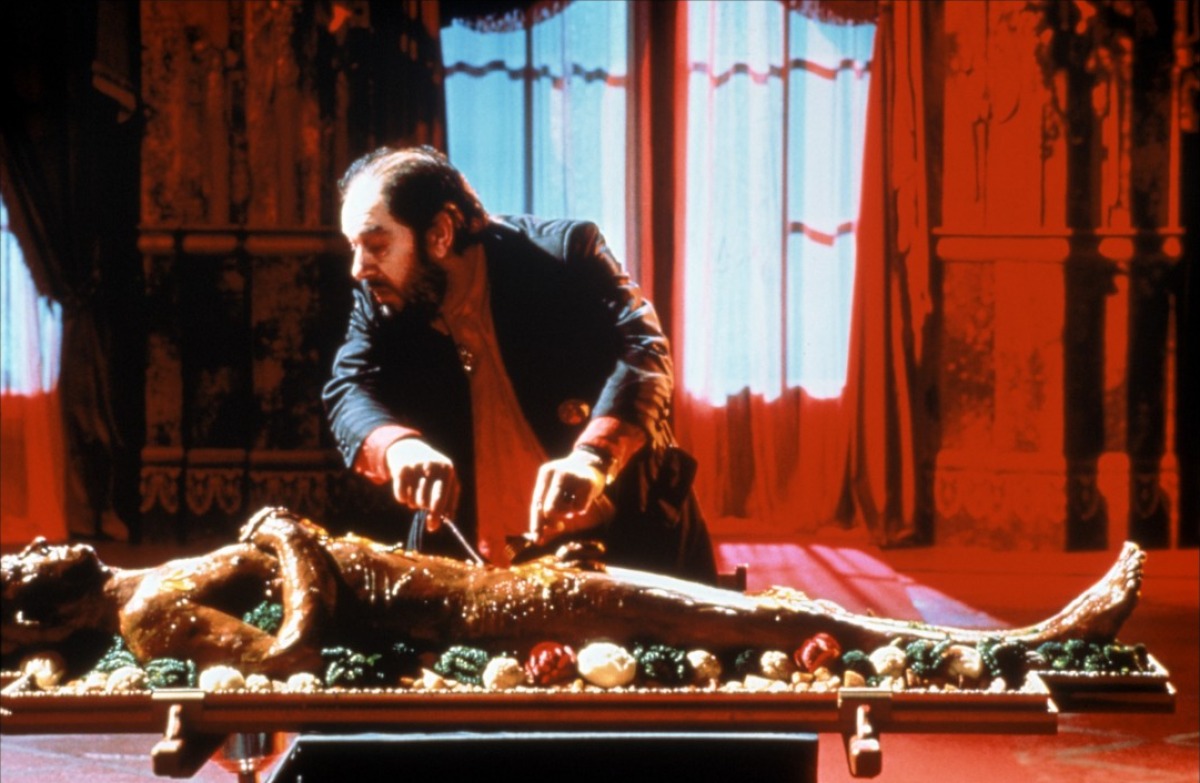 Talk that talk: films full of chats
Slacker, 1990. Dir. Richard Linklater — English.
"I may live badly, but at least I don't have to work to do it."
Austin, Texas, is an Eden for the young and unambitious. From the enthusiastically eccentric to the dangerously apathetic — here, the nobly lazy can eschew responsibility in favour of nursing their esoteric obsessions.
The locals include a backseat philosopher who passionately expounds on his dream theories to a seemingly comatose cabbie, a young woman who tries to hawk Madonna's Pap test to anyone who will listen and a kindly old anarchist looking for recruits.
https://letterboxd.com/film/slacker/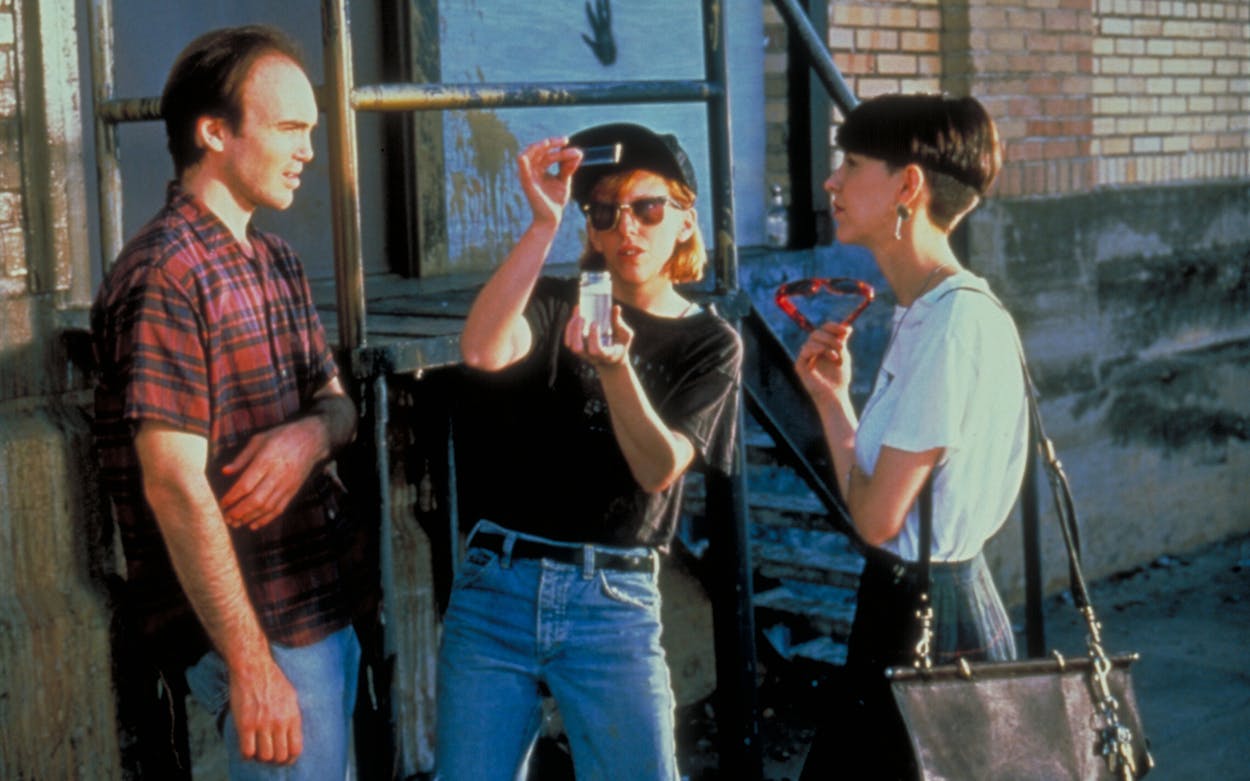 Coffee and Cigarettes, 2003. Dir. Jim Jarmusch — English.
"Cigarettes and coffee, man, that's a combination."
Coffee And Cigarettes is a collection of eleven films from cult director Jim Jarmusch.
Each film hosts star studded cast of extremely unique individuals who all share the common activities of conversing while drinking coffee and smoking cigarettes.
https://letterboxd.com/film/coffee-and-cigarettes-2003/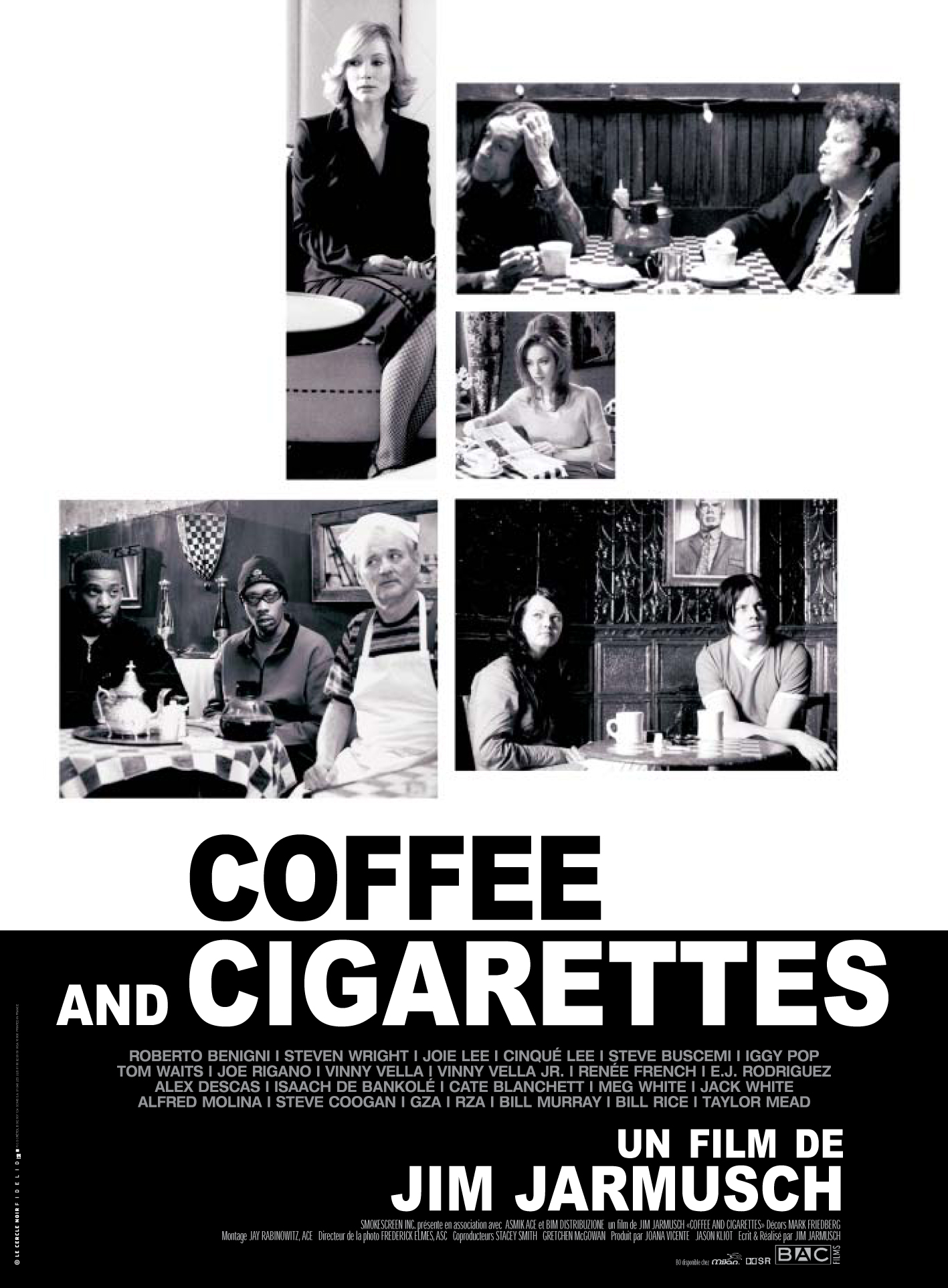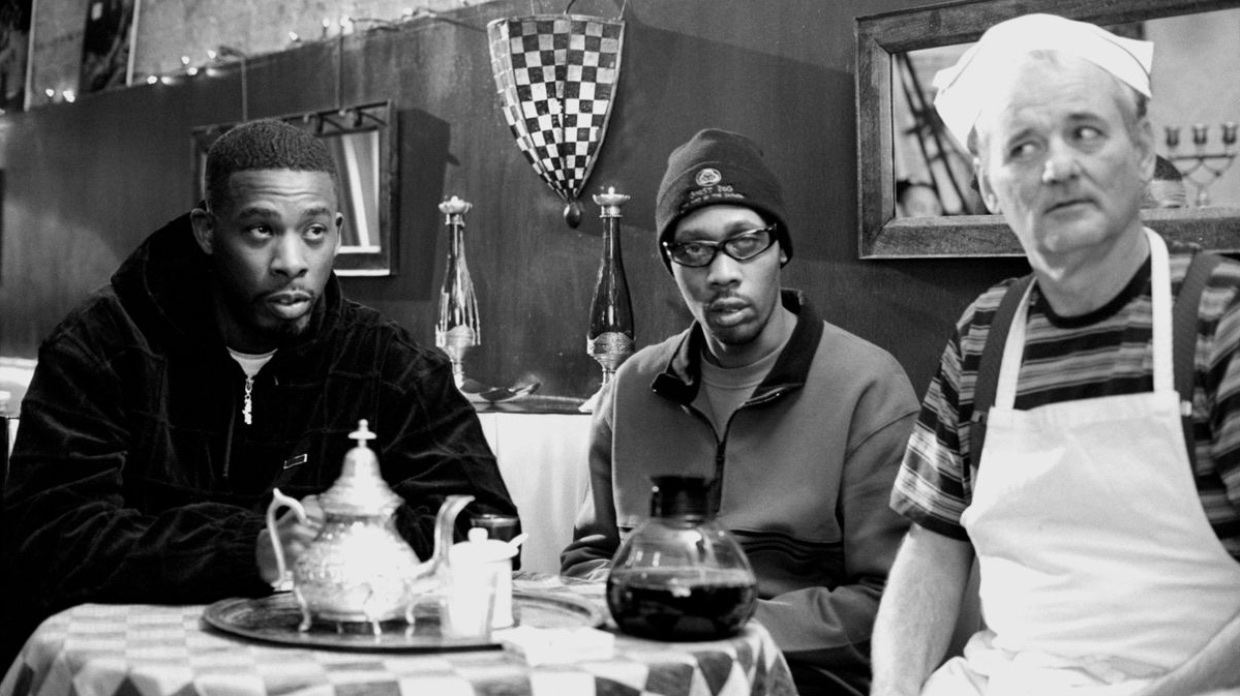 My Dinner With Andre, 1981. Dir. Louis Malle — English. 
"We're just going around all day like unconscious machines, and meanwhile there's all this rage and worry and uneasiness just building up and building up inside us" 
Wallace Shawn and Andre Gregory, seemingly playing themselves, share their lives over the course of an evening meal at a restaurant.
https://letterboxd.com/film/my-dinner-with-andre/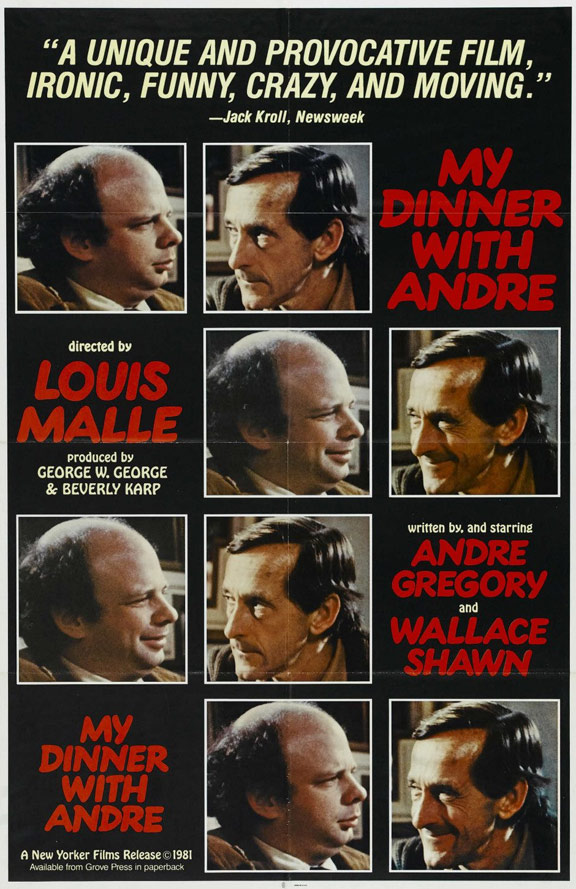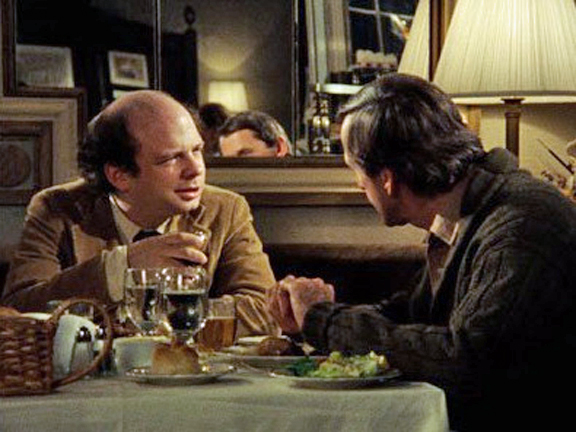 Masculin Féminin, 1966. Dir. Jean Luc Godard — French. Subtitles available online. 
"Would it please you if I said I might love you one day?" 
Paul, a young idealist trying to figure out what he wants to do with his life, takes a job interviewing people for a marketing research firm.
He moves in with aspiring pop singer Madeleine. Paul, however, is disillusioned by the growing commercialism in society, while Madeleine just wants to be successful. The story is told in a series of 15 unrelated vignettes.
https://letterboxd.com/film/masculin-feminin/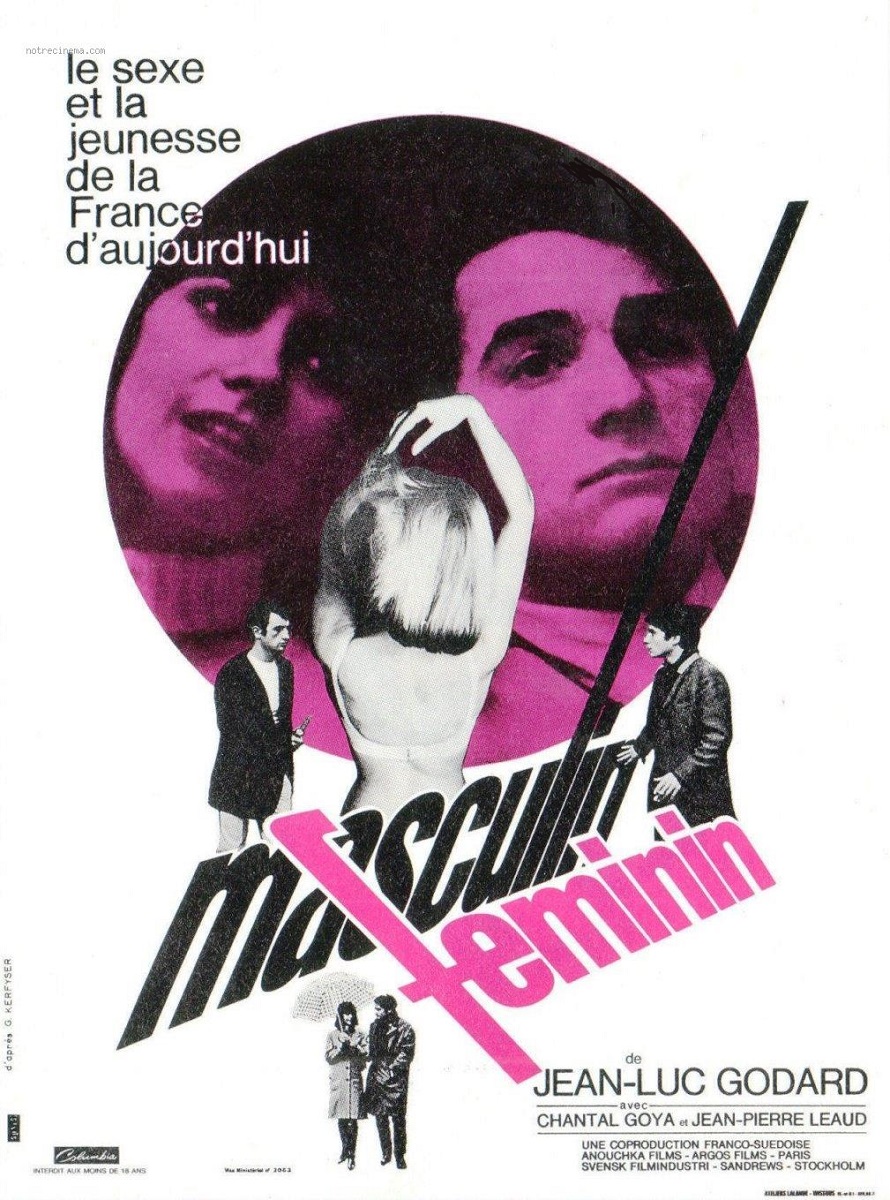 Losing my religion: existential films
Synecdoche New York, 2008. Dir. Charlie Kaufman — English.
The plot follows an ailing theatre director — the late Philip Seymour Hoffman — as he works on an increasingly elaborate stage production whose extreme commitment to realism begins to blur the boundaries between fiction and reality.
https://movies.fandom.com/wiki/Synecdoche,_New_York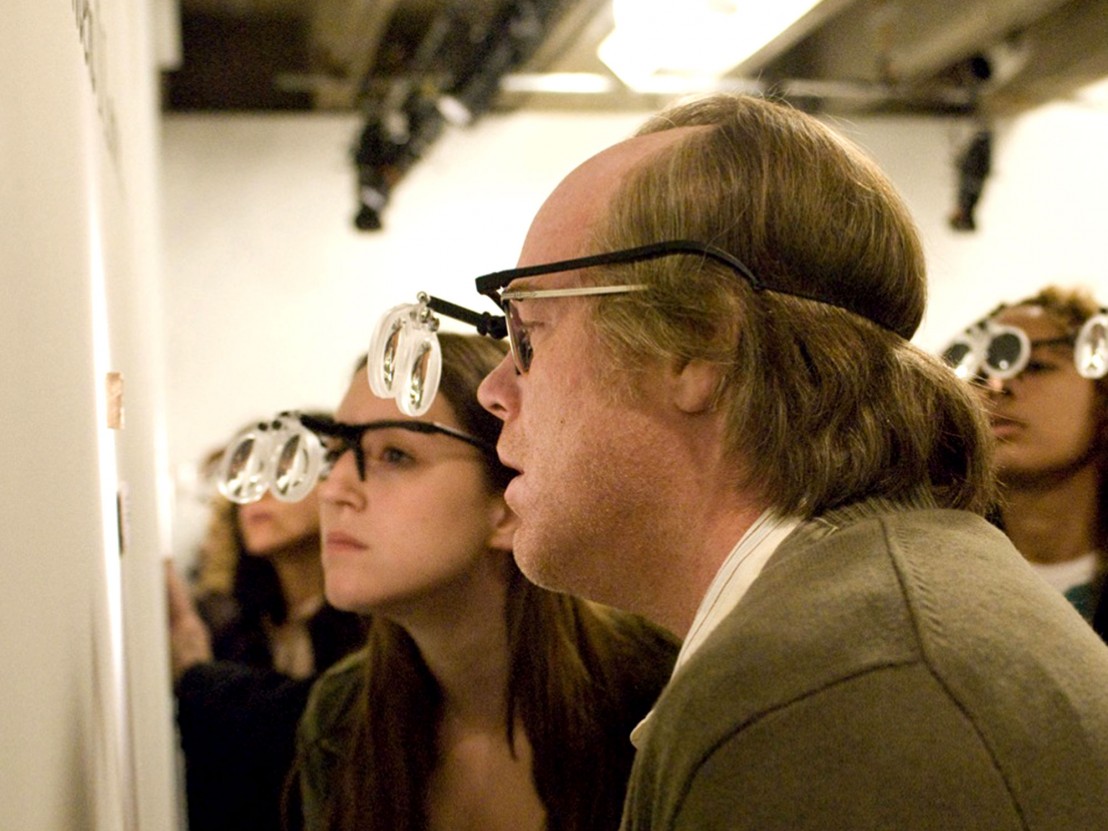 The Holy Mountain, 1973. Alejandro Jodorowsky — English. TW: blood, self harm, violence, excrement.
"You are excrement. You can change yourself into gold."
A Mexican master leads a Christ figure and other disciples to a mountain of immortal wise men. The scandal of the 1973 Cannes Film Festival, writer/director Alejandro Jodorowsky's flood of sacrilegious imagery and existential symbolism in The Holy Mountain, is a spiritual quest for enlightenment pitting illusion against truth.
The Alchemist (Jodorowsky) assembles together a group of people from all walks of life to represent the planets in the solar system. The occult intention is to put his recruits through strange mystical rites and divest them of their worldly baggage before embarking on a trip to Lotus Island. There they ascend the Holy Mountain to displace the immortal gods who secretly rule the universe.
https://letterboxd.com/film/the-holy-mountain/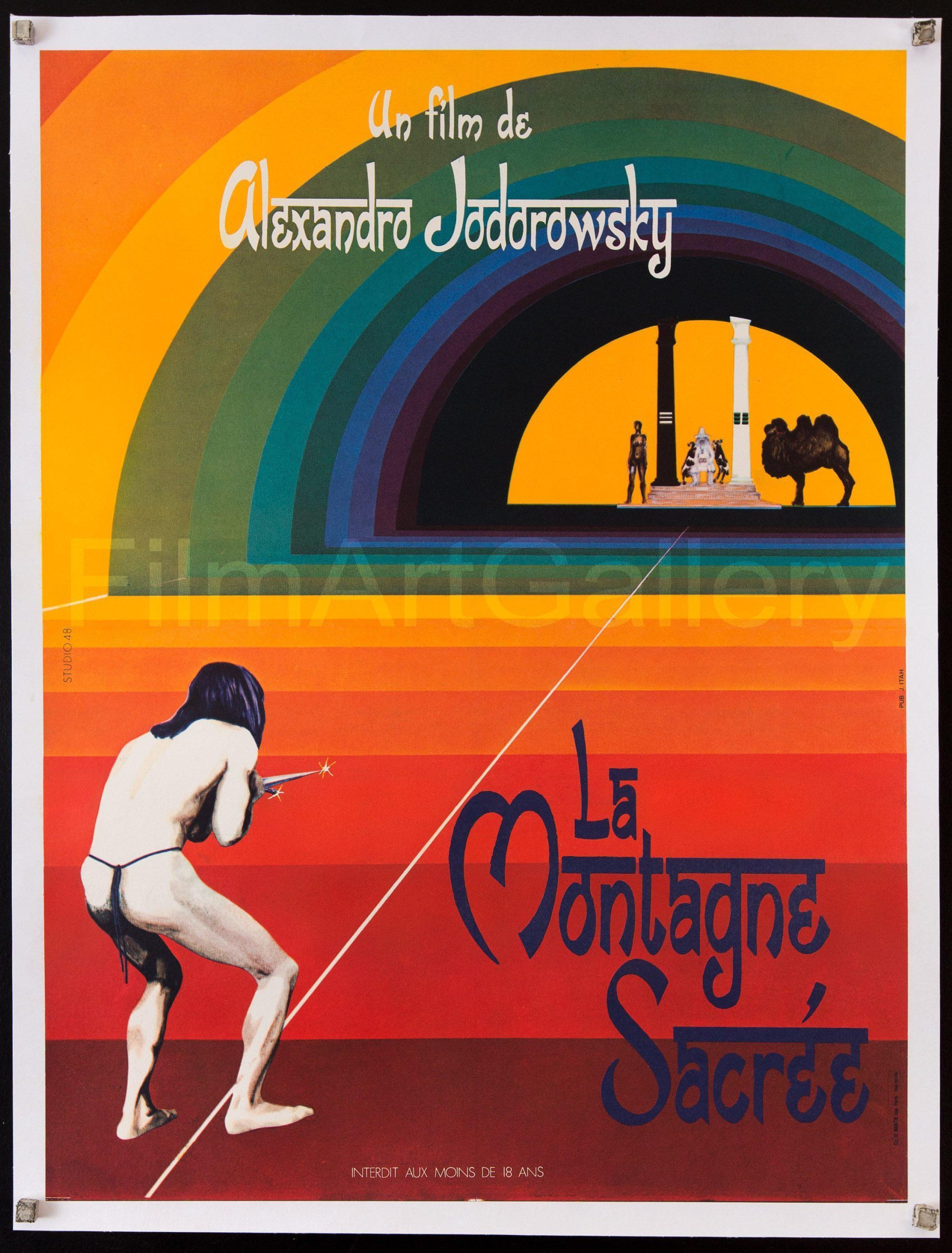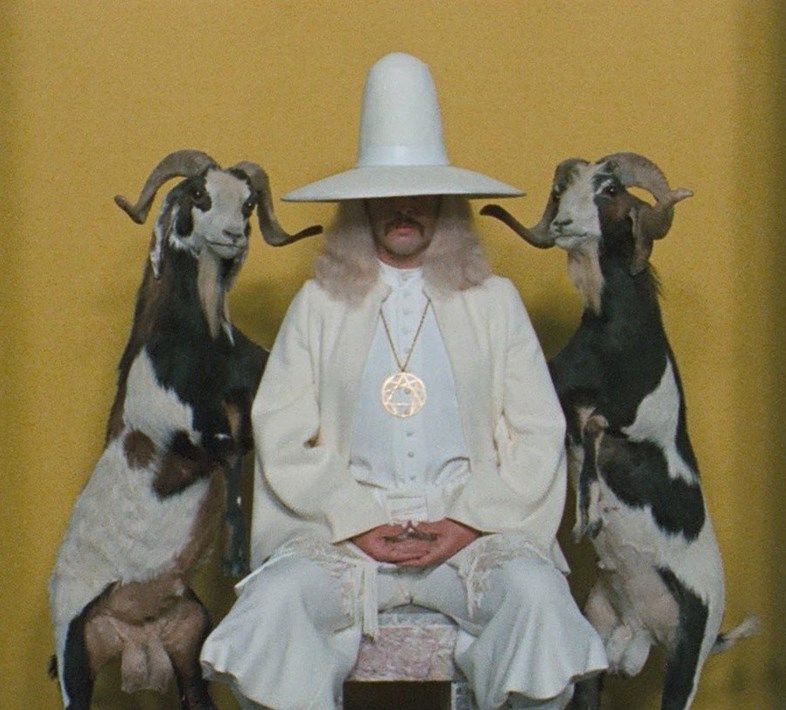 Trainspotting, 1996. Dir. Danny Boyle — English. TW: death, drug use, excrement.
"… Who Is, In Her Own Domestic And Socially Acceptable Way, Also A Drug Addict."
Mark Renton, deeply immersed in the Edinburgh drug scene, tries to clean up and get out, despite the allure of the drugs and influence of friends.
https://letterboxd.com/film/trainspotting/