"Bella, Gigi and Dua… Hamas calls for a second holocaust. CONDEMN THEM NOW", reads the headline to a disturbing advertisement published in The New York Times this past Saturday. The advertisement which took the form of a letter to the three prominent stars ran in the main section of the newspaper and named the Hadids as "mega-influencers" who have "accused Israel of ethnic cleansing" and "vilified the Jewish State." The ad depicted face images of the three femme individuals who have "accused Israeli of ethnic cleansing" superimposed over a picture of a rocket strike from Hamas and was accompanied by a lengthy inflammatory text which attempted to link the three stars with antisemitism, genocide and terrorism. The advert was organised, produced and paid for by Rabbi Shmuley Boteach, the head of the World Values Network. It is also not the first time he has published an ad in The New York Times aimed at a celebrity for choosing to criticise Israel — Rabbi Shmuley Boteach has previously paid to publish defamatory ads against singer Lorde and actress Natalie Portman. Although, in this case, I find it particularly strange that out of the hundreds of celebrities that have taken a public stance against Apartheid Israel that these three femmes were chosen to be targeted.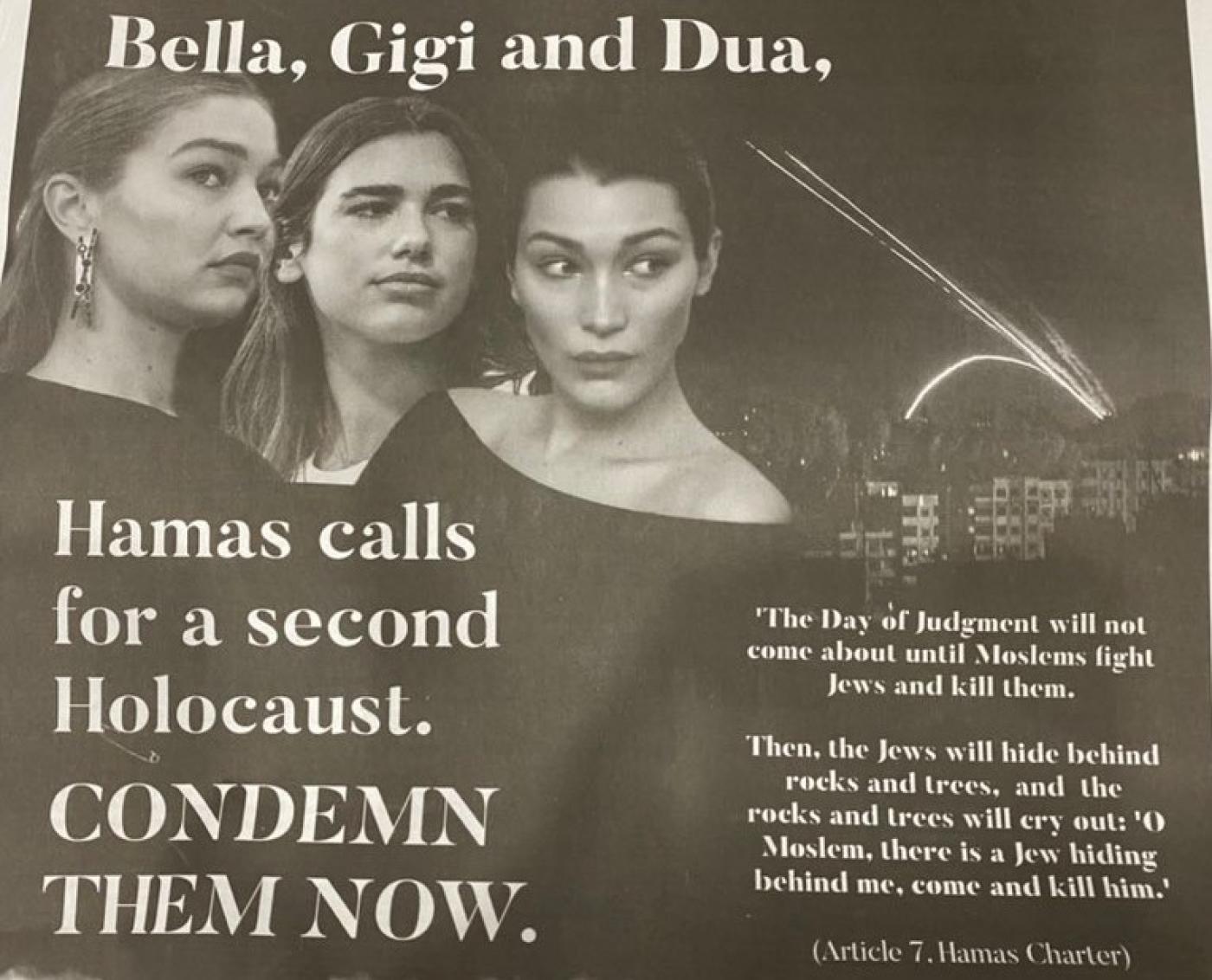 Many celebrities have taken to social media to post pro-Palestinian messages, including singers Zayn Malik, The Weeknd as well as actor Mark Ruffalo. While Bella Hadid has been one of the most vocal celebrities speaking out against the human rights violations committed by Israel — even attending protests standing in solidarity with Palestine — one cannot help but think of how she was attacked due to her Palestinian heritage along with her sister Gigi. It is also not the first time a 'scare tactic' like this has been used on Bella as reports have noted that she has also recently become less vocal regarding her activism on social media following threats made towards her and her family. Bella was also falsely accused by Israel's official Twitter account of advocating for Jews to be thrown in the sea, after she joined in with the pro-Palestinian chant "From the river to the sea, Palestine will be free" during a protest in Brooklyn. Many social media users have also noted that all three femmes in the ad have proximity to Islam, Dua Lipa is dating Bella and Gigi's brother, Anwar, leading people to speculate on whether this is not only an attack on femmes who criticise Israel but also an attempt to spread Islamaphobic beliefs? Thus further giving false validity to the claim that this is a matter rooted in religious disputes.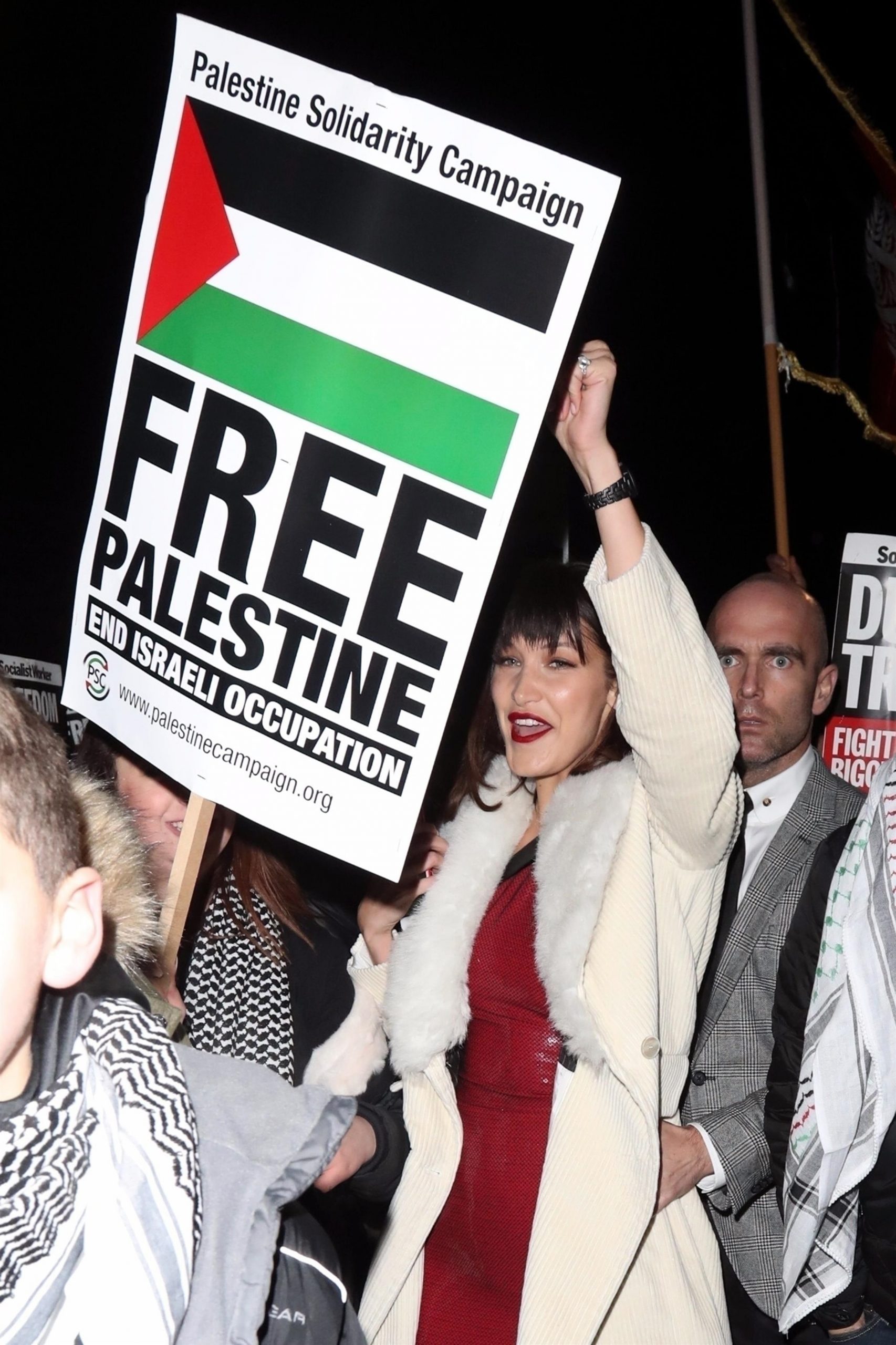 The silencing of the struggle of Palestinians is further perpetuated when major publishing houses aid attacks on those who speak up for the right of Palestinian people. "People who support Israeli apartheid have relied on smearing and intimidating those who speak up for years," wrote Palestinian-American analyst Yousef Munayyer. "But the truth is, once people start standing up to them the fear barrier starts breaking and transformational changes become possible." Dua Lipa responded to the advertisement by making a statement on her social media setting the record straight and slamming The New York Times for alleging that she is anti-Semitic for her pro-Palestine stance. "I utterly reject the false and appalling allegations that were published in The New York Times advertisement taken out by the World Values Network," she wrote. Now, while the page long ad ended with a disclosure that it had been paid for, the fact of it merely appearing in the publication could seem hard to reconcile. 
However, when looking at The New York Times' history of previously run ads, this begins to look like yet another day at the office for them. In 1989 The New York Times also published a full-page advertisement paid for by Donald Trump calling for the execution of five Black teenagers for a crime they had not committed. This ad contributed to the wrongful conviction of the Black teenage boys, who were all (significantly) later found innocent through DNA evidence and exonerated of all charges. Beyond time being lost by the Exonerated Five, there was also a loss of life that could be lived. There used to be a time when news and publications functioned as institutions of holding truth to power and championing for the protection of the civilian public, however, it seems we are a long way from that. When thinking about fake news one might think of Facebook posts, WhatsApp groups and Snapchat stories not of 169-year-old publishing houses being nothing but a mouthpiece for anyone willing to pay to be published.