I dare make the argument that for many, Converse exists as more than just a sneaker, apparel, and accessories brand. Converse was the brand within which we ran through our teenage daydreams with a burning speed; beloved colourful declarations of defiant spirits worn on our feet. The brand has launched their new Peace Campaign Initiative with a rallying call of "what kept us apart has brought us together". The Peace Campaign launched on 25 May Africa Day, inspires artists emerging from various and varying backgrounds and cultures to connect and progress towards peace through collaborative artistic creation. One of the driving ethos of the campaign is the belief that art has the power to act both as a mirror in reflecting the conditions of the current times back to society, and as a catalyst to spark conversation and build bridges of understanding between us. The Peace Campaign initiative calls on two artists to creatively collaborate on a sneaker to form part of the range, with the idea that the design and space of co-creation will speak to themes of borderless creativity. The Azaniah sneaker, by Fhatuwani Mukheli and Sindiso Nyoni is the manifestation of the collaboration visually depicted on Converse's iconic Chuck Taylor 70's canvas. Asking Sindiso Nyoni about how art in relation to the Peace Campaign's underlying sentiment can act as a bridge to bring people together through creativity, the artist had this to say:
By combining imagery, sound, text and other mediums that appeal to our senses, Art has the ability to inspire people out of placidity. The arts can be a good vessel or powerful tool to communicate with communities because of the way art practitioners have a way of instantly communicating essence… My body of activist artwork often attempts to tackle some of Africa's most pressing issues in the form of visual art. I also explore the use of illustration as a medium for communication design. With the use of social commentary my art uses protest and dissent to communicate messages. I employ a journalistic approach, similar to Fhatuwani' s photographic documentary work with ISADY whereas mine is veered more to social issues combined with an intricate, illustrative style which result in some thought-provoking artworks that give a voice to issues that most would shy away from. This seems to be a recurrent theme running throughout my artwork, to give the impression that my goal is to emulate, provoke, and entice people into thinking about socio-political issues. This aspect of my approach to visual art is what informed the collaborative effort.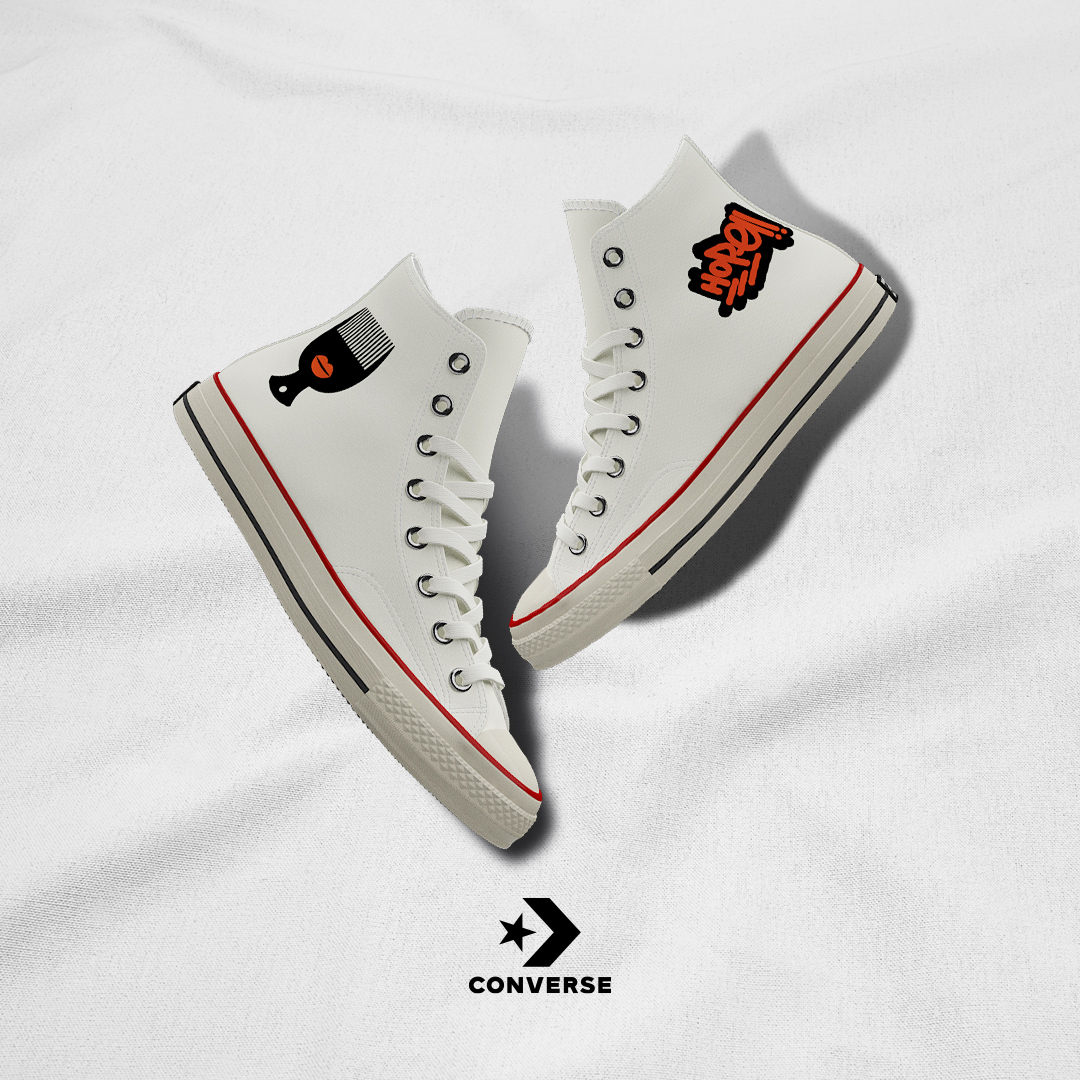 It's interesting to think about how each individual artist coming together to collaborate with their own distinct artistic vision found a way to equally occupy imaginative space when designing the sneaker. Speaking to these thoughts Fhatuwani had this to say:
The overall campaign message talks about "what has kept us apart has brought us together", and this is visually depicted by the word "Hope" which conveys aspiration, and desire for a unified nation, especially during these trying times, we are living in. Co-creating with Sindiso on Azaniah was such an exceptional feeling because it allowed us to break the barriers, stigmas and perceptions of two African artists from different backgrounds working together. It gave us an opportunity to show that art is able to build brotherhood, bridges, connections and progress towards peace.
With all net proceeds from the sneaker sales going to the Nelson Mandela Children's Fund, the collaborative design created by Fhatuwani and Sindiso will be available for sale exclusively on converse.co.za.