90s nostalgia has been permeating mass popular, media and fashion culture(s) for a little over a while now — with a little over a while being 5 years or so.
Perhaps this has something to do with the global spread of Pan African media cultures through the rise of Nollywood and subsequent new media cultures that flowed from it such as the instagram page Yung Nollywood which is curated by igbospice.
Or perhaps, it has more to do with humanity's propensity towards nostalgia — maybe there's some kind of familiar comfort we find in our cycles of remembering, looking back and our resurrections of the past.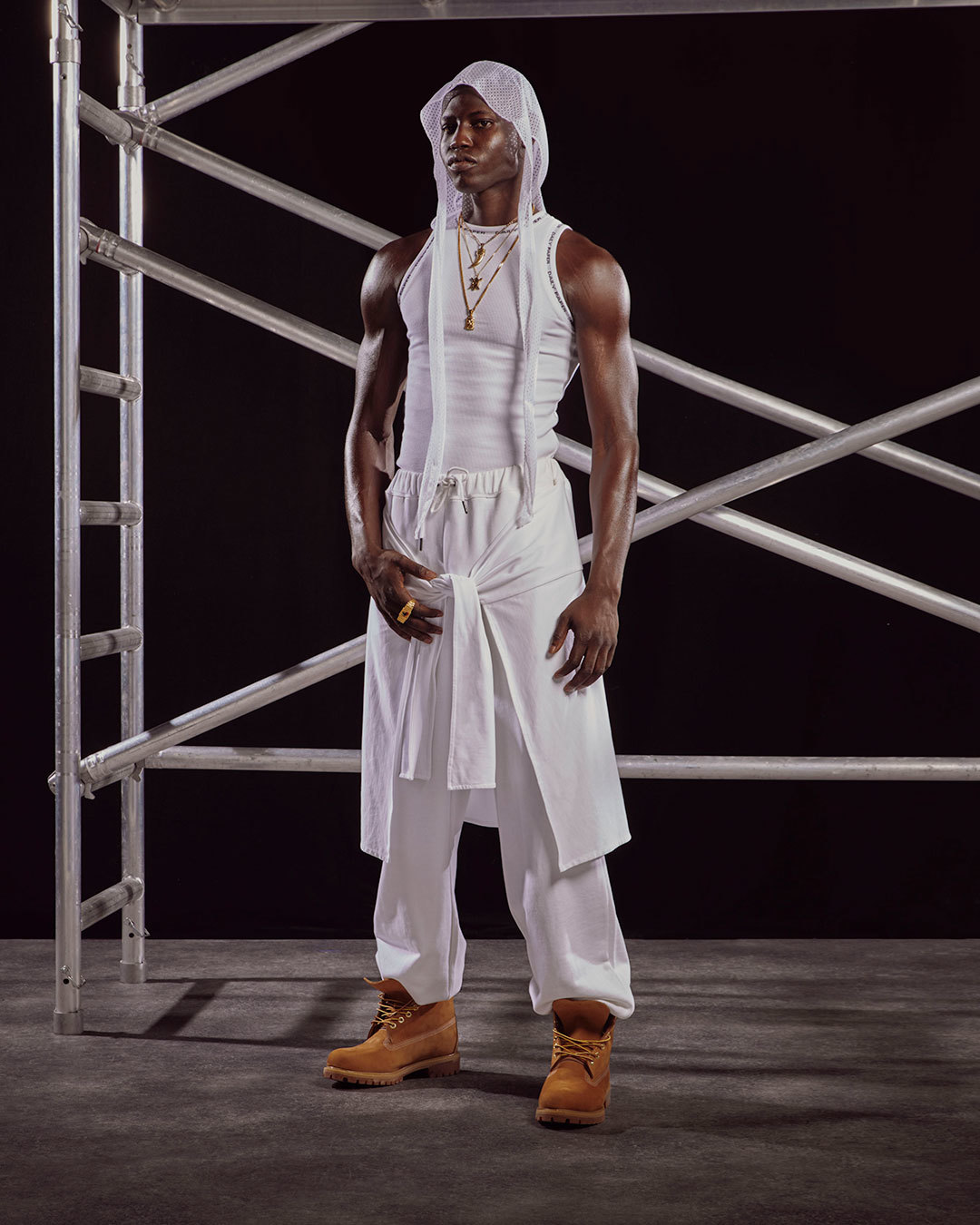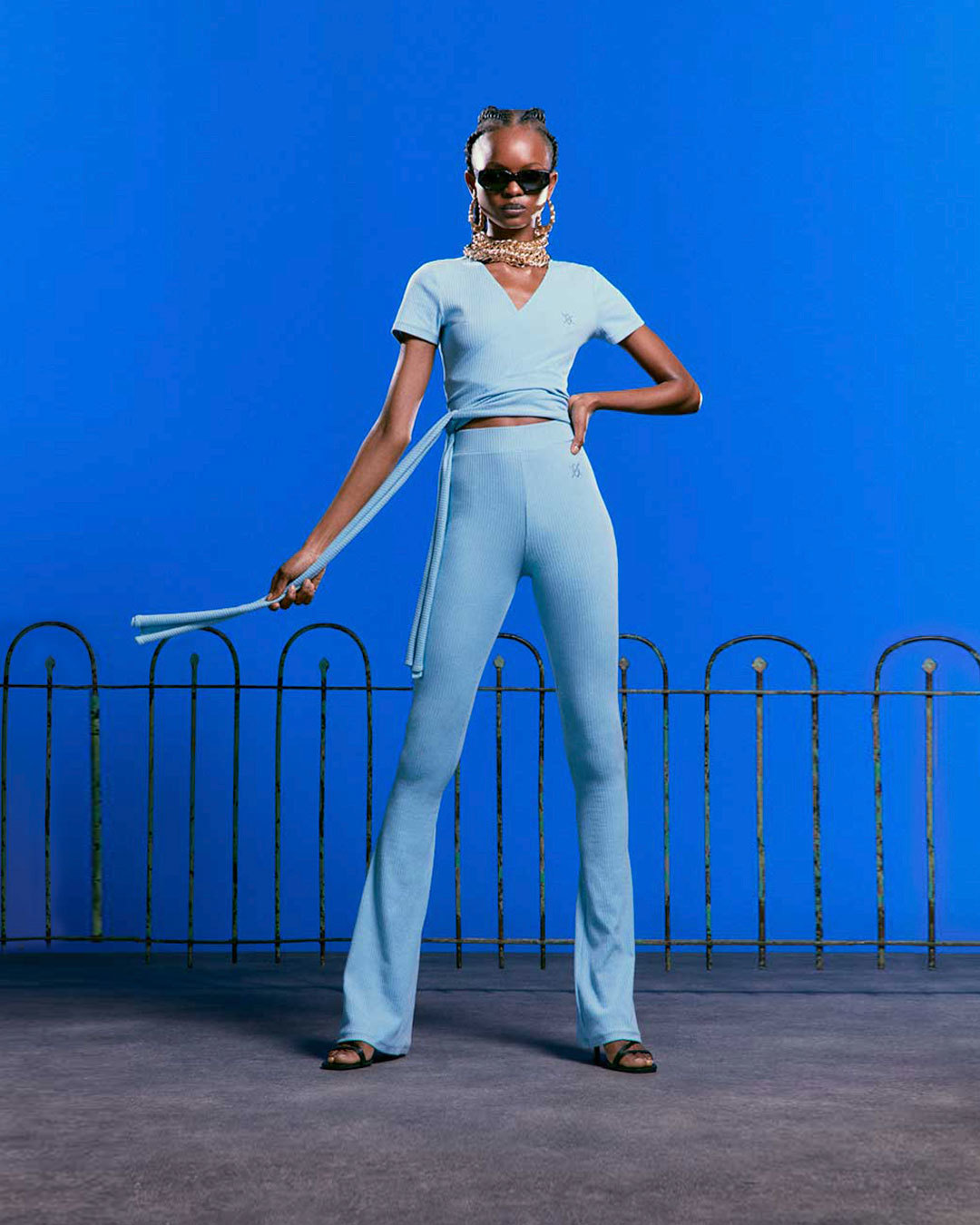 With a nod to the 90s — specifically the 90s and its hip hop culture and aesthetics — Daily Paper revisits nostalgic silhouettes whilst giving them a contemporary spin with their Spring/Summer 2022 collection.
Speaking about the process of creating the collection, Co-Founder and Director of Daily Paper Abderrahmane Trabsini shares: 
I enjoyed working on this collection a lot as Hip Hop has always been, and still is, a big inspiration to us. The influence of Hip Hop and its community had a significant impact on how Daily Paper came to life.
First through telling stories around street culture on our blog which later evolved to become the fashion brand we are today.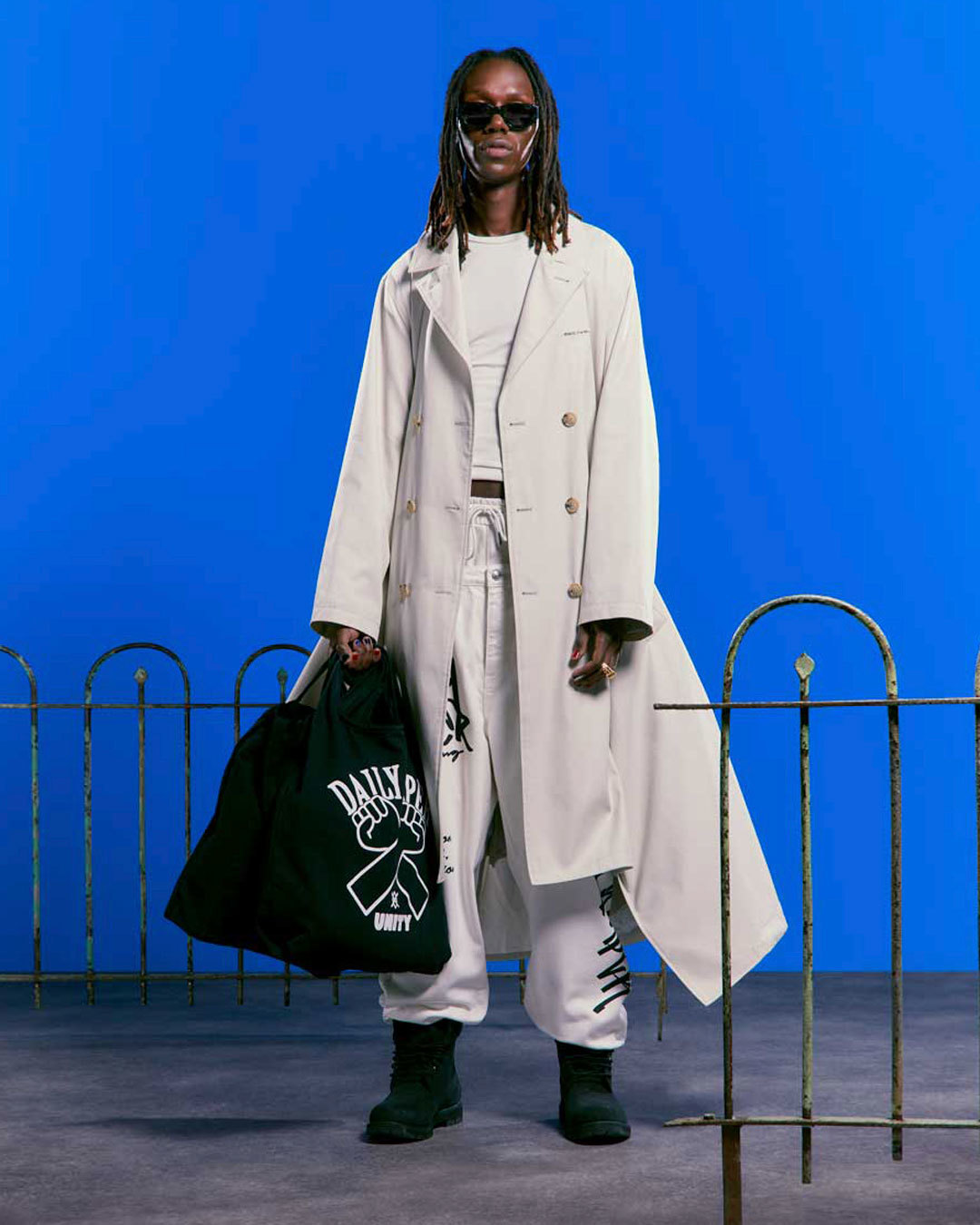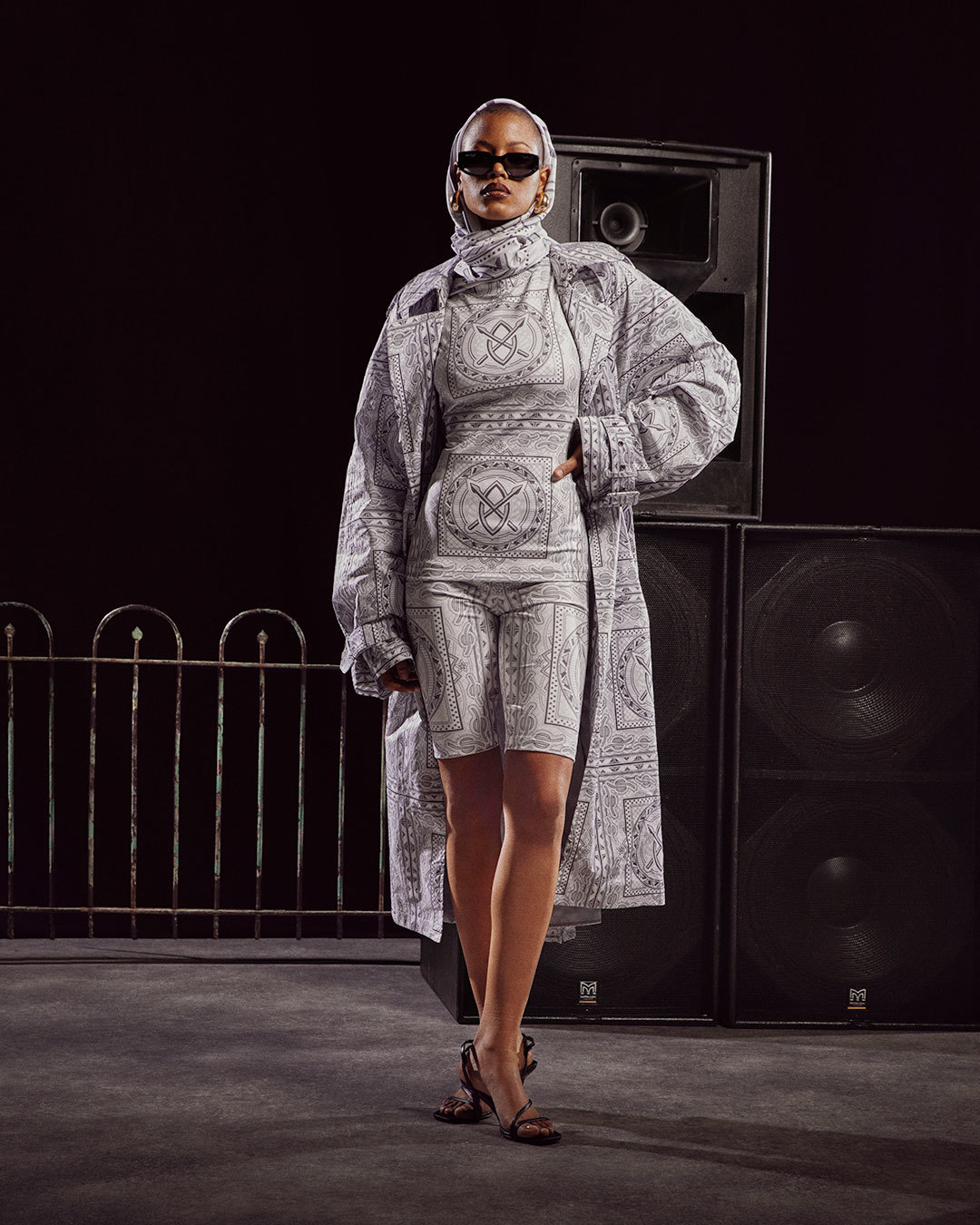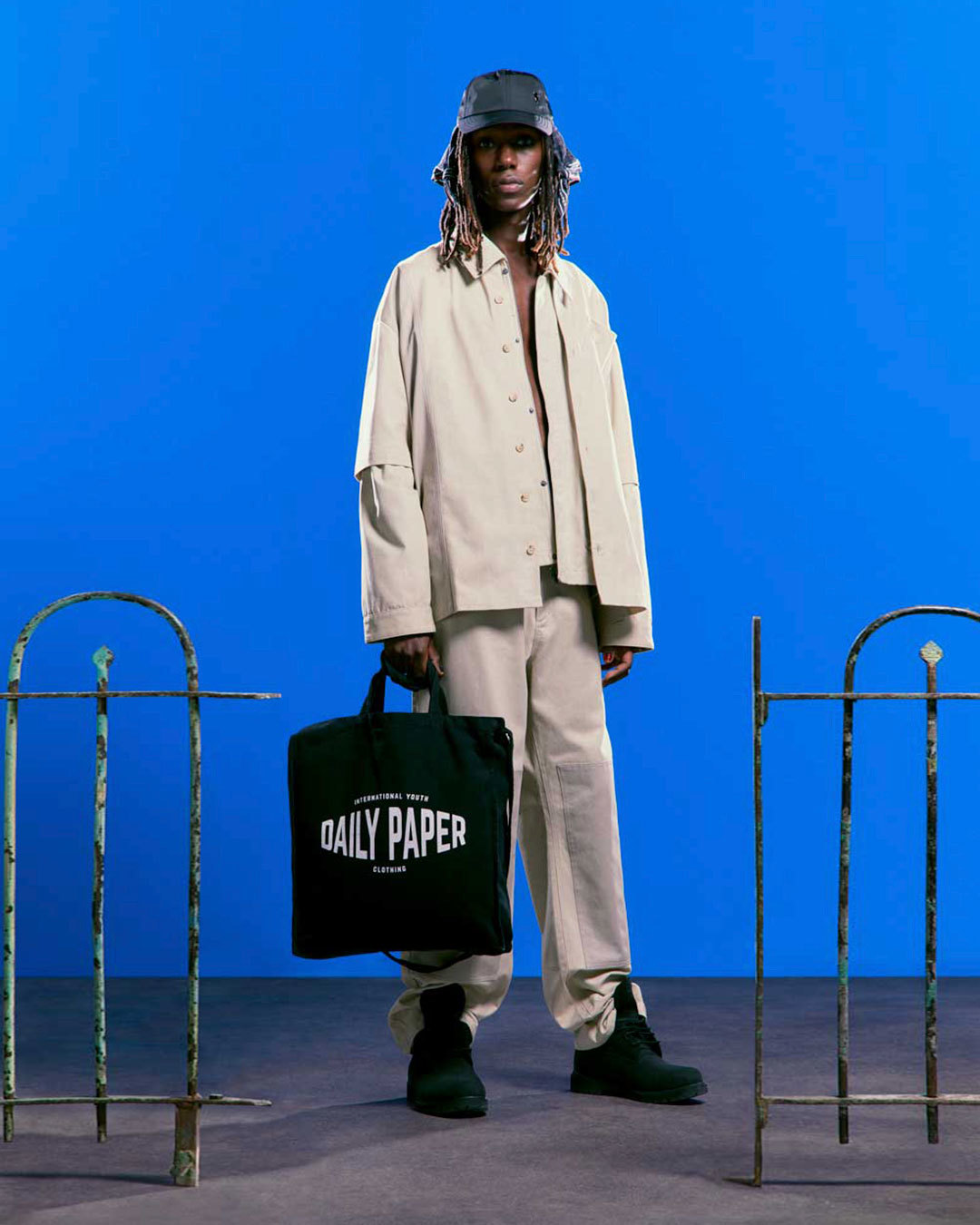 "I reminisce so you never forget this. The days of way back, so many bear witness the fitness", Pete Rock rapped over a jazzy tune in "T.R.O.Y" and Daily paper's new collection is a material creative exercise in just that. 
The collection revisits nostalgic silhouettes, whilst giving them a contemporary spin.
Its design references include oversized all-over monogram sweat suits in towelling fabric, denim dungarees, bold patterns, classic tank tops, luxurious tracksuits and colourful bandana prints and bucket hats.
"My God. It's so yeah, so lovely. That's how we like to do it in the 90's".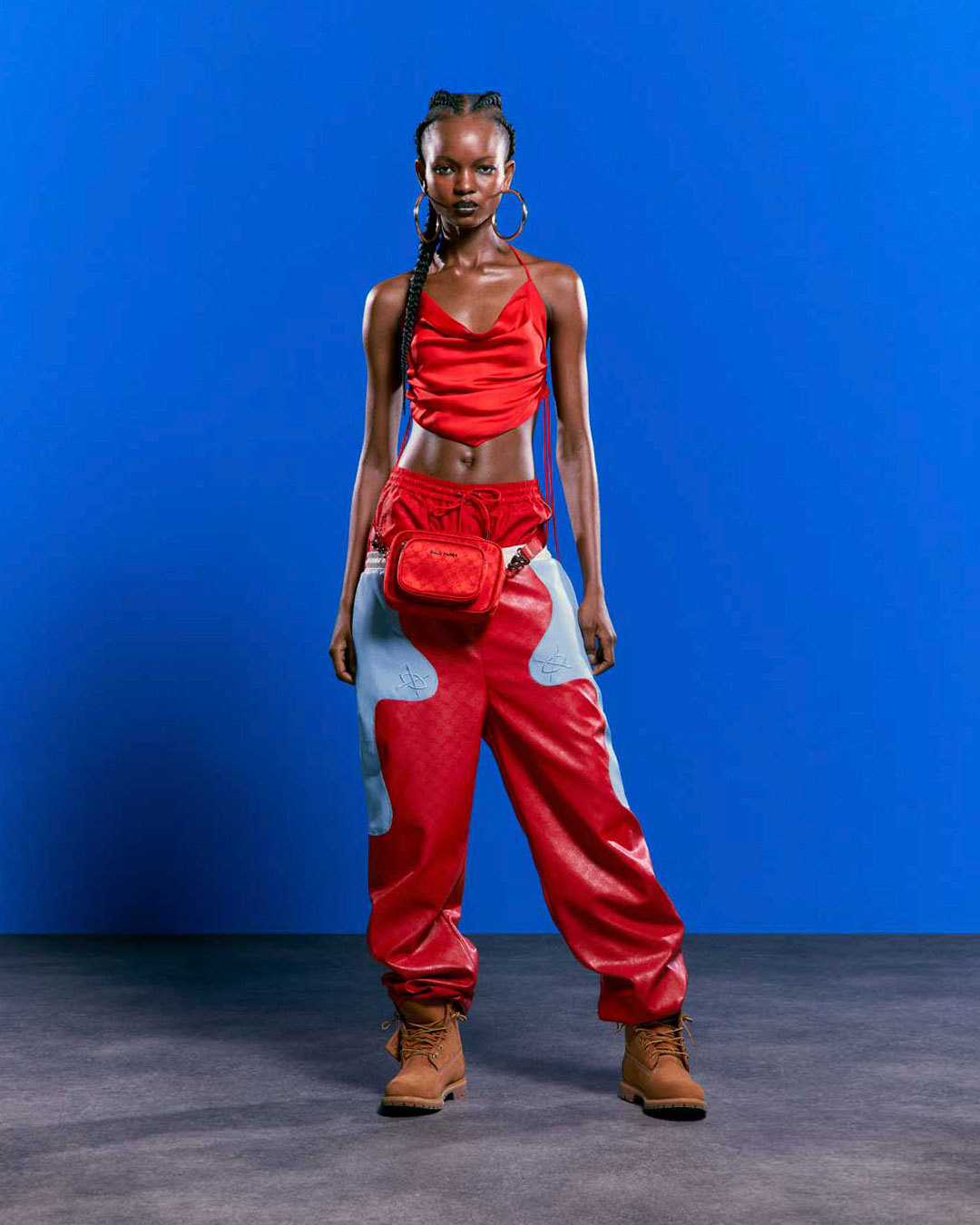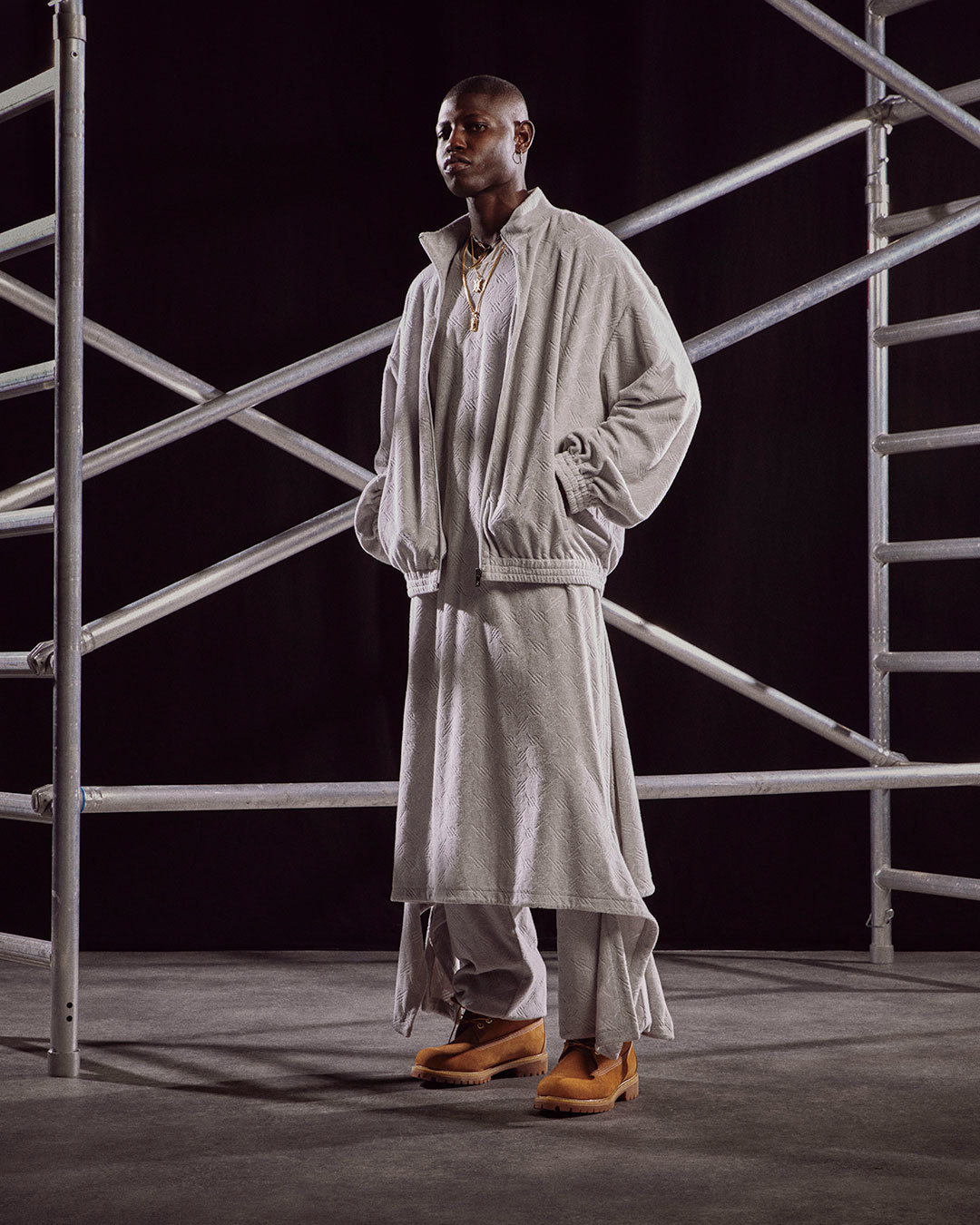 The diverse and deep rooted Afro-diasporic culture is the bedrock of Daily Paper as a brand. This is echoed in each of their collections and is always portrayed through the lens of youth cultures, with an ability to unite global communities across borders.
In their SS22 collection this comes through in the red, black and green colourways from the Pan African flag, symbolising liberation and unity of the African Diaspora. 
It's reinterpreted through a branded bandana design on a silky halter neck slip dress and a satin tracksuit.
The same design is translated into a light grey and white colourway onto a trench coat, a light weight cotton workwear set and an athletic top and bike shorts.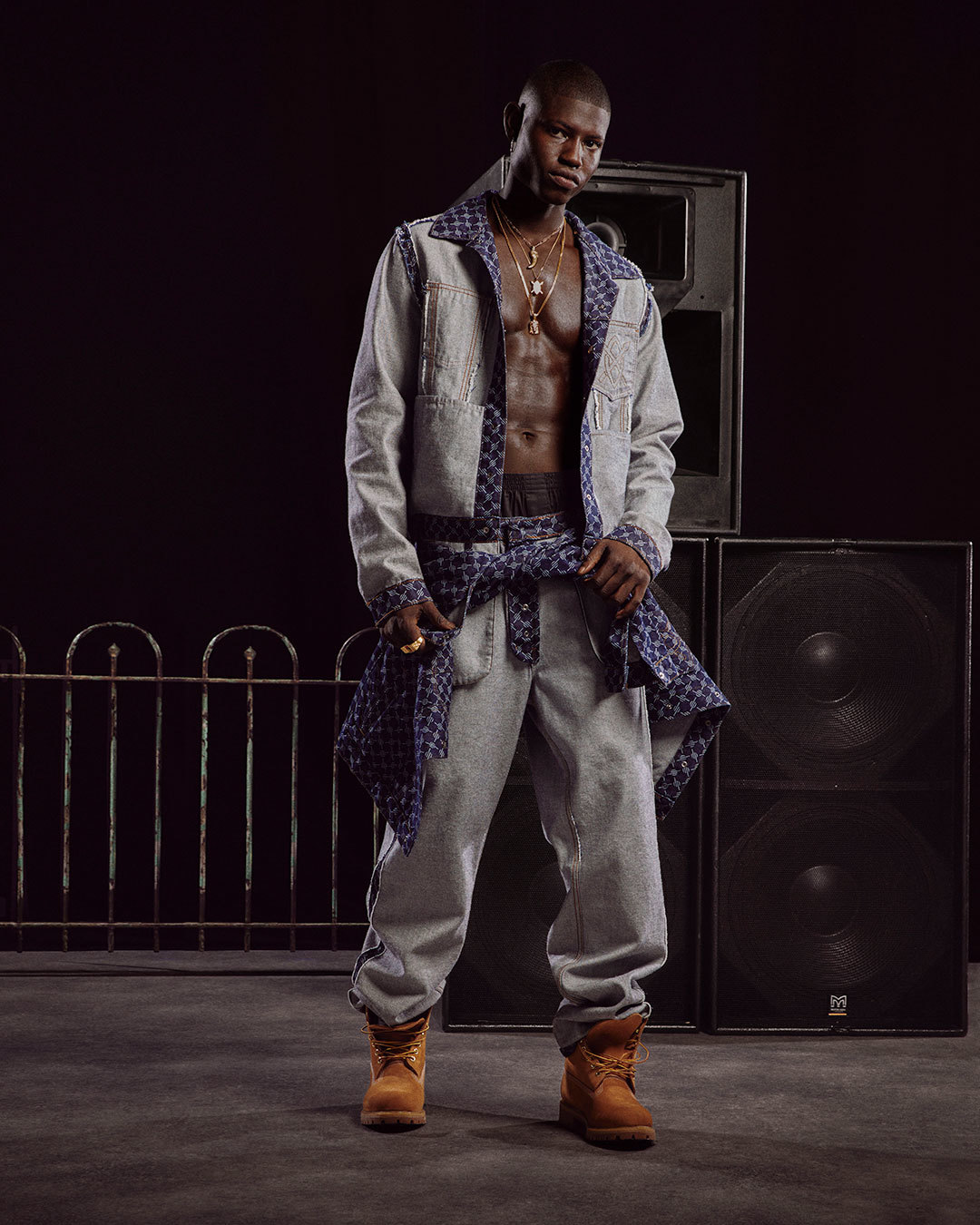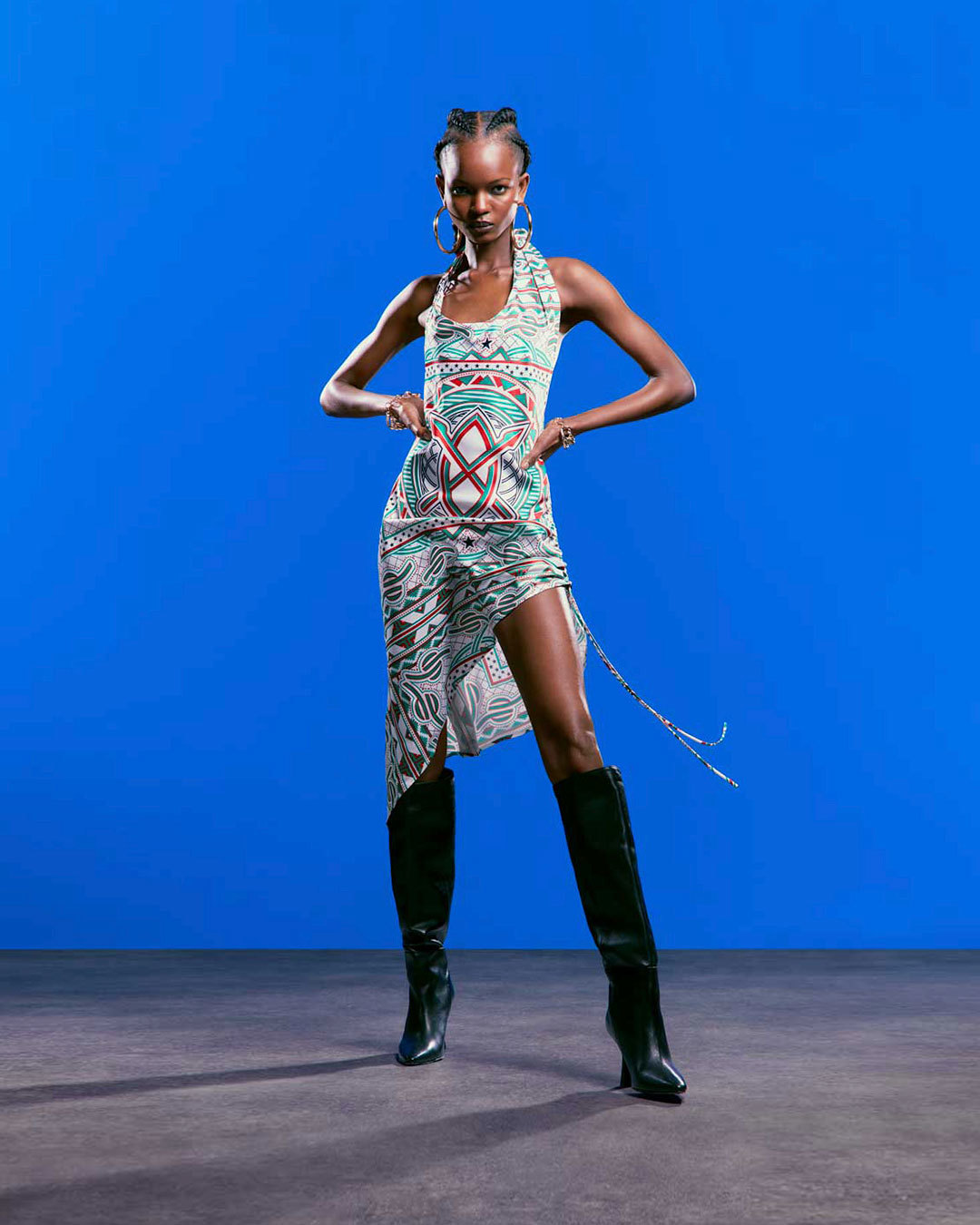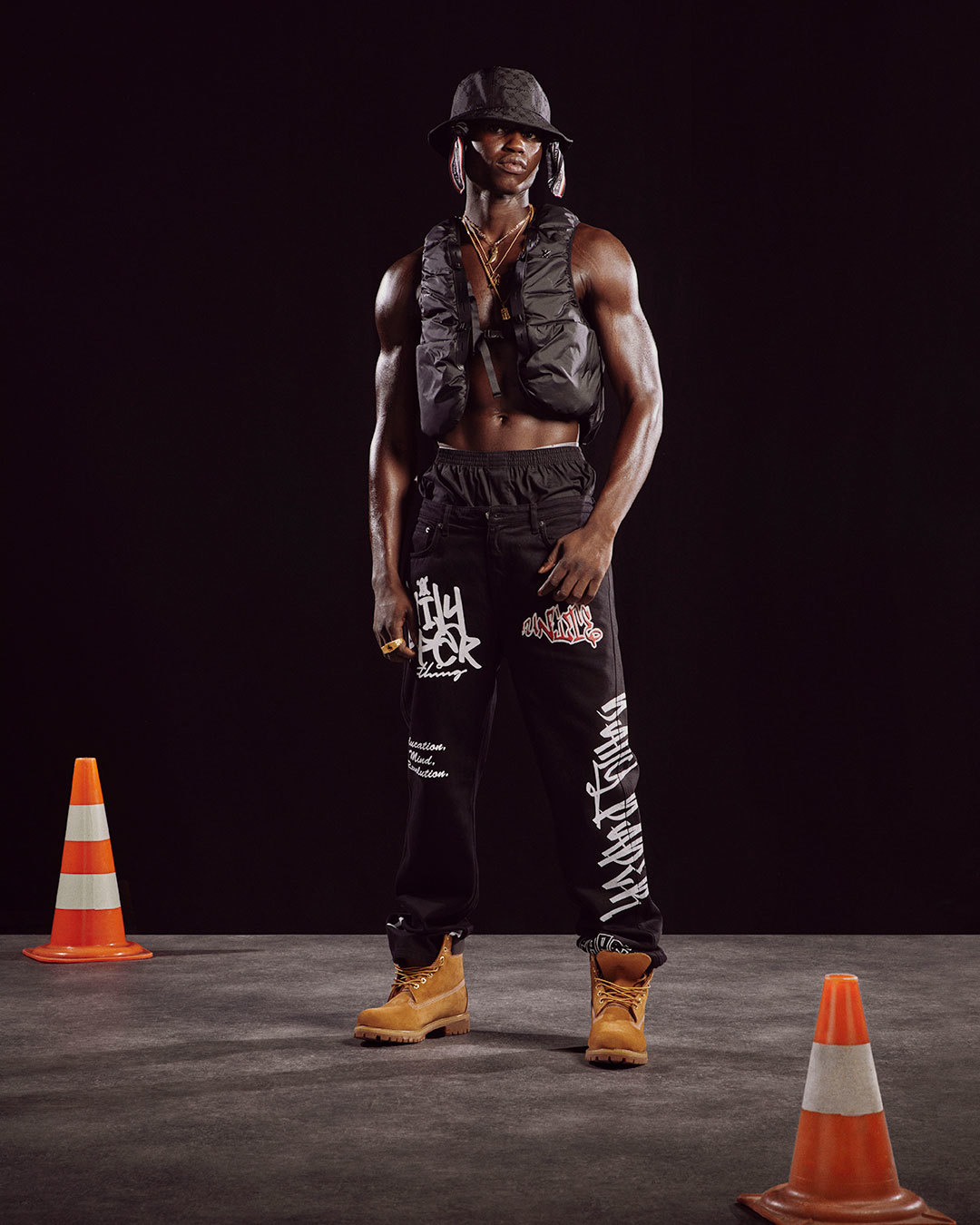 Sure, I was only born in the 90s but I myself can't help but think back to this time with a fond sense of nostalgia that conjures up joy.
The type of Blackity Black 90s joy I feel when I listen to Blackstreet's "No Diggity" or Naughty by Nature's "Hip Hop Hooray" — and dungarees, bandanas, durags, baggy jeans and all — Daily Paper's SS22 collection conjures the same type of feelings.
*Daily Paper's SS22 collection is available globally online at dailypaperclothing.com and in-store across Daily Paper flagship stores in Amsterdam, London and New York.
LOOKBOOK CREDITS:
Talents: Omar Sesay, Jenn Moon, Grace Quaye & Victor Kassiga
Photography & Set Design: Zach Apo-Tsang

Styling: Dennis Schreuder & Keanna Williams

Make up: Edna Akosua Gymfua

Hair: Keanna Williams