Mx Blouse's debut album, Elementality, was born out of a desire to create songs about human connections and not with the intention of creating an album. Upon realising that 8 of the tracks they had recorded worked together, Mx Blouse decided to compile and release them as an album. "I think I ended up making 15 or 16 songs and then I worked backwards from there to see what songs work with what. I found that 8 of those tracks worked perfectly sonically." The resulting 8-track album is a dance record that sees Mx Blouse build on the sonic aesthetics they have developed over the years. Despite being relatively genre-fluid, Mx Blouse has cemented themselves as a leading figure in contemporary kwaito. Their latest offering remains rooted in the genre while simultaneously exploring a variety of sonics that have shaped them as an artist including house and hip hop – resulting in a record that pushes the boundaries of what one expects from a kwaito release. In fact, the intention was never to create a kwaito record. "I really wanted to make a dance album. I don't think it's a move away from kwaito, I like to think of it as a progression from the sound that I put out before. I think my delivery is still in the kwaito realm".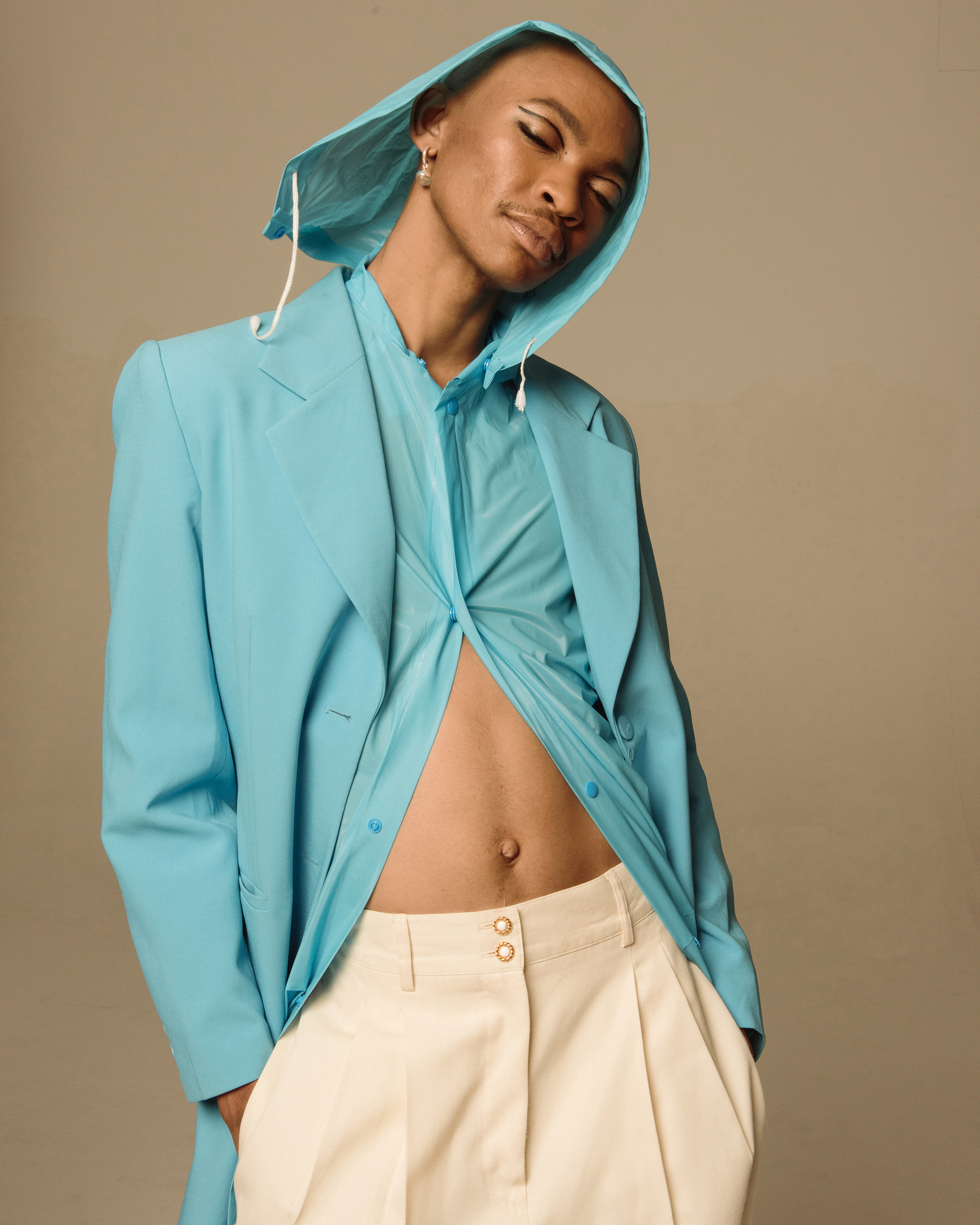 Photograph by Zander Opperman
Delivery aside, the kwaito-influence can be heard on tracks such as the opening, Micr.Pluto and Eye on Feather produced "Phuzamanzi", with its laid-back, yet bouncy bass-line or the driving kick of "Zandla Phezulu", also produced by Micr.Pluto as well "Third Place". The album also includes the Eye on Feather produced "Yesterday's Nostalgia", a track which was first created in 2018 after the release of "Is'phukuphu" but which has seen a number of updates since then. "We've made a lot of additions to the track as time went by. It's one of those tracks I've been holding on to for quite a while and it just didn't feel like it worked with the EP, and finally, with this bunch of songs it felt like it had a place." Contributions also come from other producers such as MISSU who produced "Hold Me Down" and "Self-Love", the former standing out, thanks to its lively drums and shimmering guitar intro and the latter a high energy offering with Mx Blouse delivering their raps at a furious pace over rhythms reminiscent of jungle breaks. "A Broken Heart", produced by Bakai, sees Mx Blouse shifting their energy, pushing more low-slung raps over an equally lazy beat which features a punchy bass and mellow keys. Finally, long-time collaborator Parabyl returns, producing the closing track "Candyflossin'", punctuated by a broken-beat and phased synth chords that give the track an air of nostalgia.
As a dance record, Elementality encapsulates the raw energy of South Africa, which while ranging from the low-slung to the energetic, still manages to remain cohesive and its theme of human connection makes it not only a danceable but also an incredibly relatable release.
Credits: 
Pink Dress by: Amanda Laird Cherry
Shot by: Brett Von Dort
Blue jacket look
styled by: Bee Diamondhead 
Shot by: Zander Opperman
Make up: Orli Meiri