Kewpie was a hairdresser and celebrated queer figure from District Six. She was born in 1941 and identified as gender fluid according to available knowledge. She preferred the use of feminine pronouns as did her friends, though she did not strictly regard herself as either male or female. After her dreams of becoming a dancer were shattered by her father, she focused her energy on hairdressing. She expressed in an interview, "I never worked, I started hairdressing at the age of 14 at home…".  Before opening her own salon, Salon Kewpie, in Kensington, she apprenticed at Salon André in Hanover Street. The night life saw Kewpie as a well-known attendee at vogue offs that she often participated in, performing on the stage.
She's beautiful. As I slowly work through the archives of her personal photographs at GALA I get to know her. She's happy. She lives her life in the open. She has many friends, many lovers. She always has the best hairdo, the most fashionable clothes and the most striking poses. My gloved hands attempt to connect with her and her life. I feel her presence lingering in my mind long after I have left the library. Who was she? How was she able to live her life so unapologetically in apartheid South Africa? The Kewpie photographic archive is GALA's largest personal photographic collection and consists of over 700 images and their negatives. These images were photographed between the decades of the 1950s and the 1980s and were most often personally captioned by Kewpie upon their transfer to GALA in 1999. The photographic archive depicts images of Kewpie working in the Salon, Kewpie and others socialising and performing at events, portraits of Kewpie and her friends, her lovers, her neighbours, parties as well as extensive documentation of everyday life within District Six. These images further become a lens into the physical and political landscape that was changing in District Six while simultaneously reflecting the socio-political effects of the forced removals in the area during the 1960s.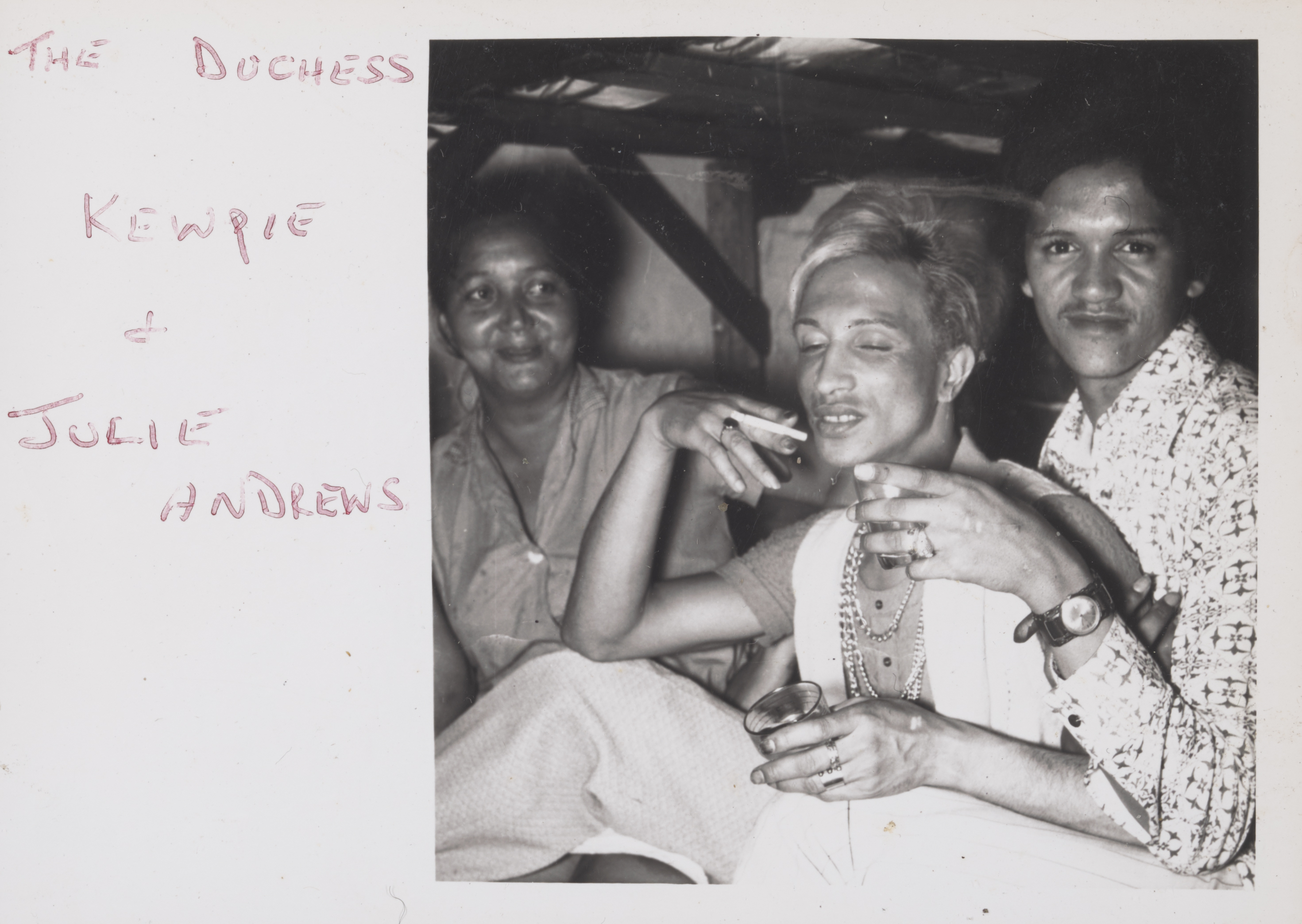 I heard about Kewpie for the first time on the weekend that the show, Kewpie: Daughter of District Six opened at Market Photo Workshop. Within the picturesque setting of a hair salon. There, with bleach smeared in my hair I was 'skinnering' (gossiping) with my two favourite hairdressers when the one, who also happens to be queer, told me about this wonderful show and the hairdresser it's about. Who's a massive inspiration to the LGBTIQ community, Kewpie. After hearing the way in which he spoke about Kewpie with such admiration I immediately knew that Kewpie was someone to be celebrated. The amazing thing I think is how I heard about her in the setting of a salon while skinnering… echoing the familiar noises of Salon Kewpie and for a moment I wondered what it would be like to have my hair bleached and toned by the flamboyant Kewpie herself.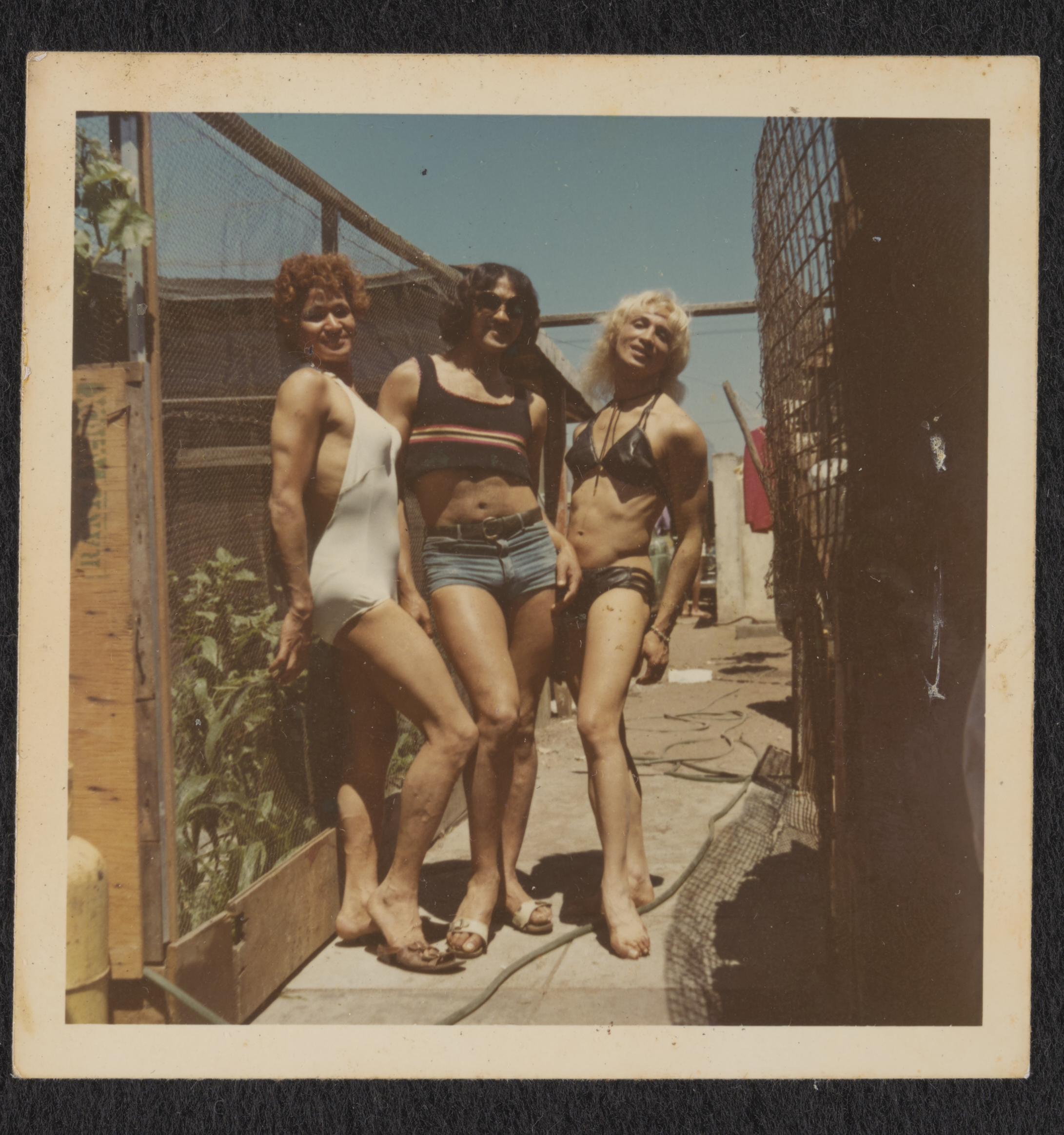 GALA had a long-standing dream to create an exhibition centred around Kewpie. This ambition was fulfilled in 2018 with the actualisation of the current Kewpie exhibition running at Market Photo Workshop. For GALA, it was critical to take the "geopolitical context embedded in the Kewpie photographic collection" into consideration during the process of curation. This was achieved by collaborating with the District Six Museum as a means of honouring the legacy of Kewpie that as we shall see throughout the course of this writing, was a legacy that spoke to a refusal to be erased both as a member of the LGBTIQ community as well as a resident of District Six. Kewpie's personal photographs are a document of the lived experiences of both Kewpie and her friends in the light of great societal change. Kewpie: Daughter of District Six lays bare the way in which Kewpie's life subverted convention and broke down the boundaries of gender expression as well as class and racial discrimination. Her life was above and beyond the restrictions of apartheid­–the practice of discrimination could not stop her from living her truth and nothing and no one ever could as she was unapologetically Kewpie. The queer community that Kewpie was a part of was not only highly visible but completely integrated within the community forming an important building block of the social and cultural dynamic of District Six.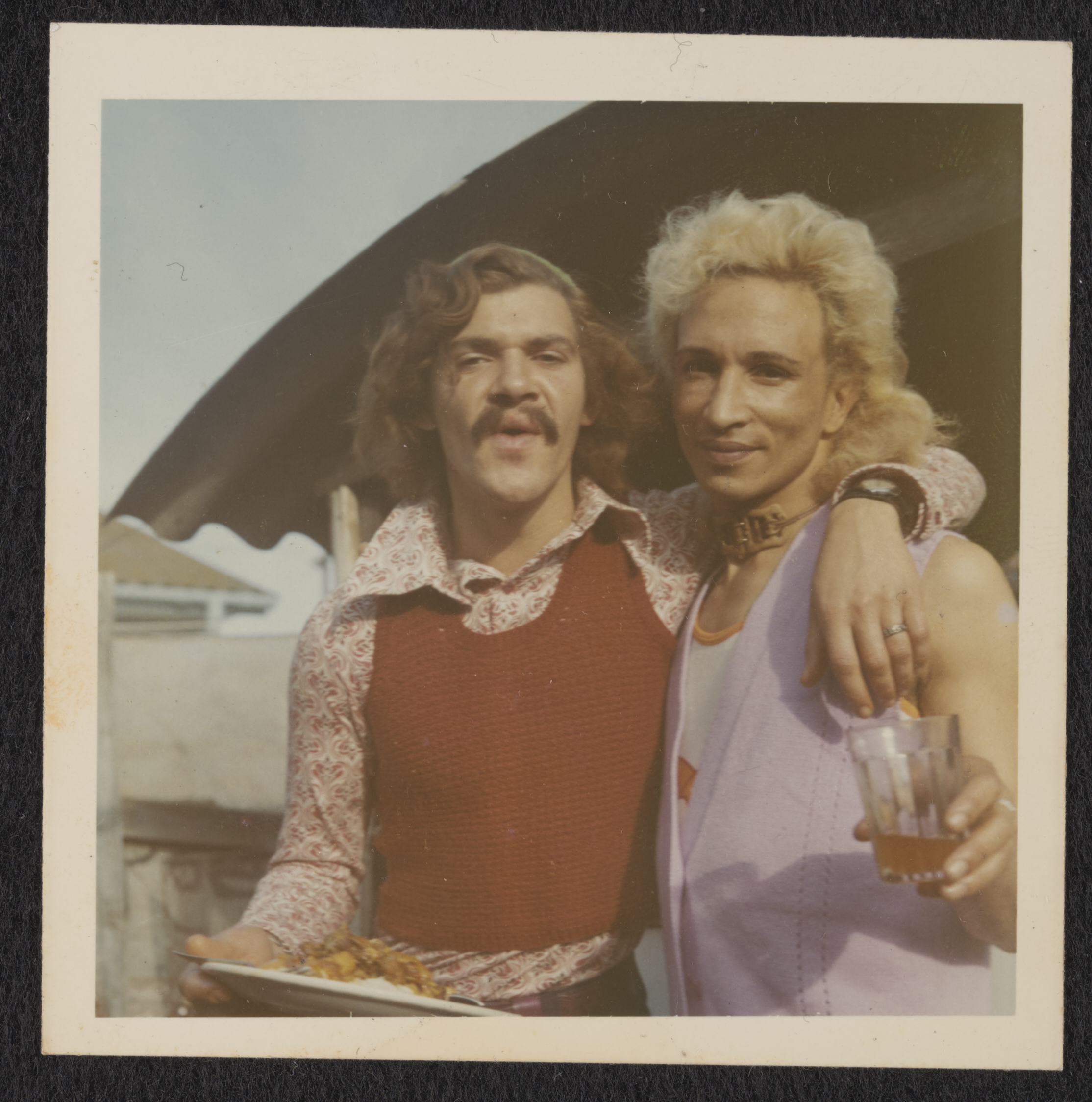 Kewpie was always known as just Kewpie. She expresses in an interview, "I have never ever realized I was gay. I've always realized that I am me. I'm Kewpie. I'm just me. And seeing femininity around me and seeing beautiful things around me, it wasn't just a matter of gay, it was that feminine way that feeling that nature in me."  In the interview I accessed at GALA Kewpie expresses that she was never political yet looking into her story it becomes clear that Kewpie was political­. She was political in her body politic as she identified as neither male or female, the way that some people would identify as trans today at a time when people did not even use the word trans and so she was and still is an icon to queer folk. Her unapologetic life becomes a story of courage and hope for LGBTIQ members to live equally unapologetically. "Well the meaning to be gay today is being gay. Like former years the people used to say moffie. But being a gay today it's just a natural thing to me as being then and now. I'm naturally just me. To me it's just that people can't say I'm a man, they can't say I'm a woman…"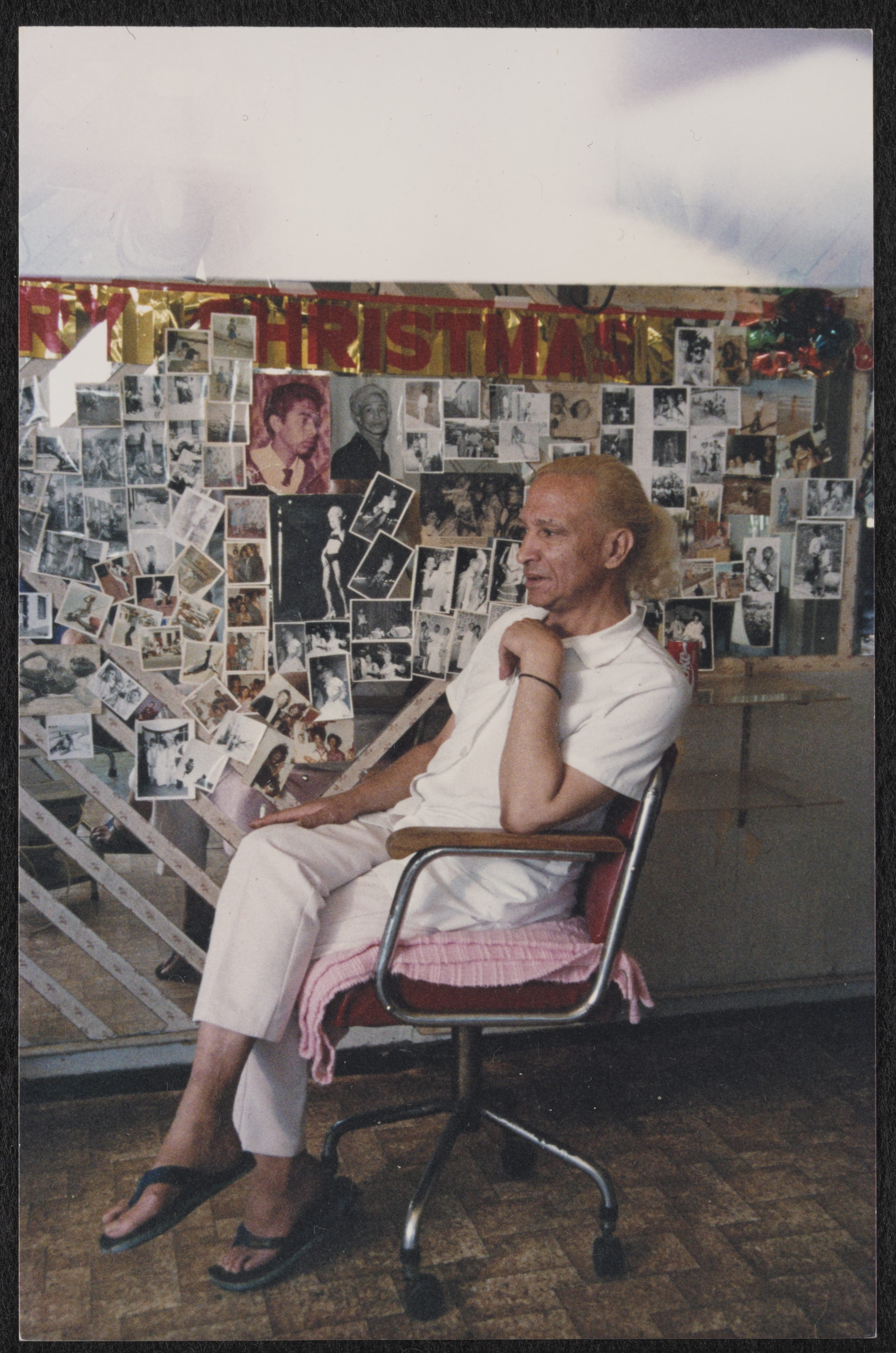 Our narrative as LGBTIQ people has historically been cast aside in archives and written texts. The Kewpie photographic collection become an opposition to this historical erasure of the queer narrative. These images make it clear that queer people were a part of the fabric of the community of District Six and as Kewpie mentions in interviews, they were not only accepted but loved as she was loved as a daughter­–the daughter of District Six. This photographic archive carefully preserved does not only give insight into life in District Six but is a vital facet of queer history. The Kewpie exhibition (which is still running for a few days) gives us as the queer community the chance to celebrate in our heritage, a heritage which is certainly not spoken enough about or written enough about. It is our duty as members of the LGBTQIA+ community to remember Kewpie thereby remembering ourselves and to make sure that she as well as us are not written out of history. The resilience of Kewpie and her refusal to be erased acts as an inspiration for us who are carrying the baton forward.
Kewpie's story is very relevant today and I wonder what she would have been like if she was a twenty-something non-binary queer South African person of colour living in Cape Town in 2019. Would she actually prefer them/they pronouns or would it just be Kewpie?
– Genevieve Louw
Special thanks to GALA for granting us access to this information as well as the Kewpie photographic collection.