Hey Bonita, glad to meet ya
For the cunning, stunning you, miss, I must beseech ya
Hey, being with you is a top priority
Ain't no need to question the authority
Chairman of the board, the chief of affections
You got mine's to swing in your direction
Hey, you're like a hip hop song, you know?
Bonita Applebum, you gotta put me on
Raps a laidback and earnest Q-Tip to the women with the "elaborate eyes…over a wistful sample of "Daylight" (1977) by Roy Ayers' proteges Ramp, punctuated by the sitar lick from Rotary Connection's "Memory Band" (1967)". As a part of A Tribe Called Quest's (ATCQ) track-list for their classic 1990 album, People's Instinctive Travels and the Paths of Rhythm; that track, that verse, those first few beats of its opening as Tip croons "Do I love you? Do I lust for you? Am I sinner because I do the two?", are arguably amongst the most recognisable globally where hip hop is concerned — with A Tribe Called Quest and their genius discography & its influence on the sonic art form firmly solidified in hip hop H/history. Listening to MultiChoice Talent Factory alumni and co-founders of A Tribe Called Story; Aluta Qupa and Thembalethu Mfebe share their journey and the intentions that drive the work they do — the production company's name and its tribute to the legendary hip hop group makes more and more sense. As one of the hip hop's most beloved groups ATCQ's "unique approach to rap music by employing jazz infused soundscapes to Afro centric rhymes, was largely responsible for the popularity of a new genre" that dominated the sound's of the two coasts in the early 90s. And the complex and far-ranging socio-political issues affecting/effecting the Black American population emcees Q-Tip, and the late Phife Dwag addressed, lyrically resonated deeply with their audience. Having already produced three commissioned movies for prime-time broadcast on Mzansi Magic: including Umqhele, Unkosikazi Wokuqala and Moratuwa, as well as critically-acclaimed thirteen-part drama series Impilo: The Scam — A Tribe Called Story aims to reimagine and portray on screen, stories that will resonate with the experiences and conditions of being young, Black and South African while navigating the world today. As Bubblegum Club's next featured cover artists, I sat with A Tribe Called Story in conversation in the interview that follows below.
What led to the formation of A Tribe Called Story (ATCS) and what was its founding vision?
Aluta: What led to the formation of our production company, was that Themba and myself met during our internship at the MultiChoice Talent Factory SA (MTFza) in 2015. After we were afforded that opportunity, we saw a gap in the market being that there aren't a lot of young storytellers out there — most of the production company's have been around for a long time. So we thought that it was our time and opportunity to come together as a director and as a producer to tell our own stories driven by the youth and here we are.
Thembalethu: The founding vision for ATCS goes a little like; my business partner and I were in the Talent Factory together, where we had so much momentum creating amazing stories and we wanted to [continue telling] more stories together with cool people we wanted [to collaborate with]. And start a little "tribe" while telling South African stories, we see ourselves as modern day African griots.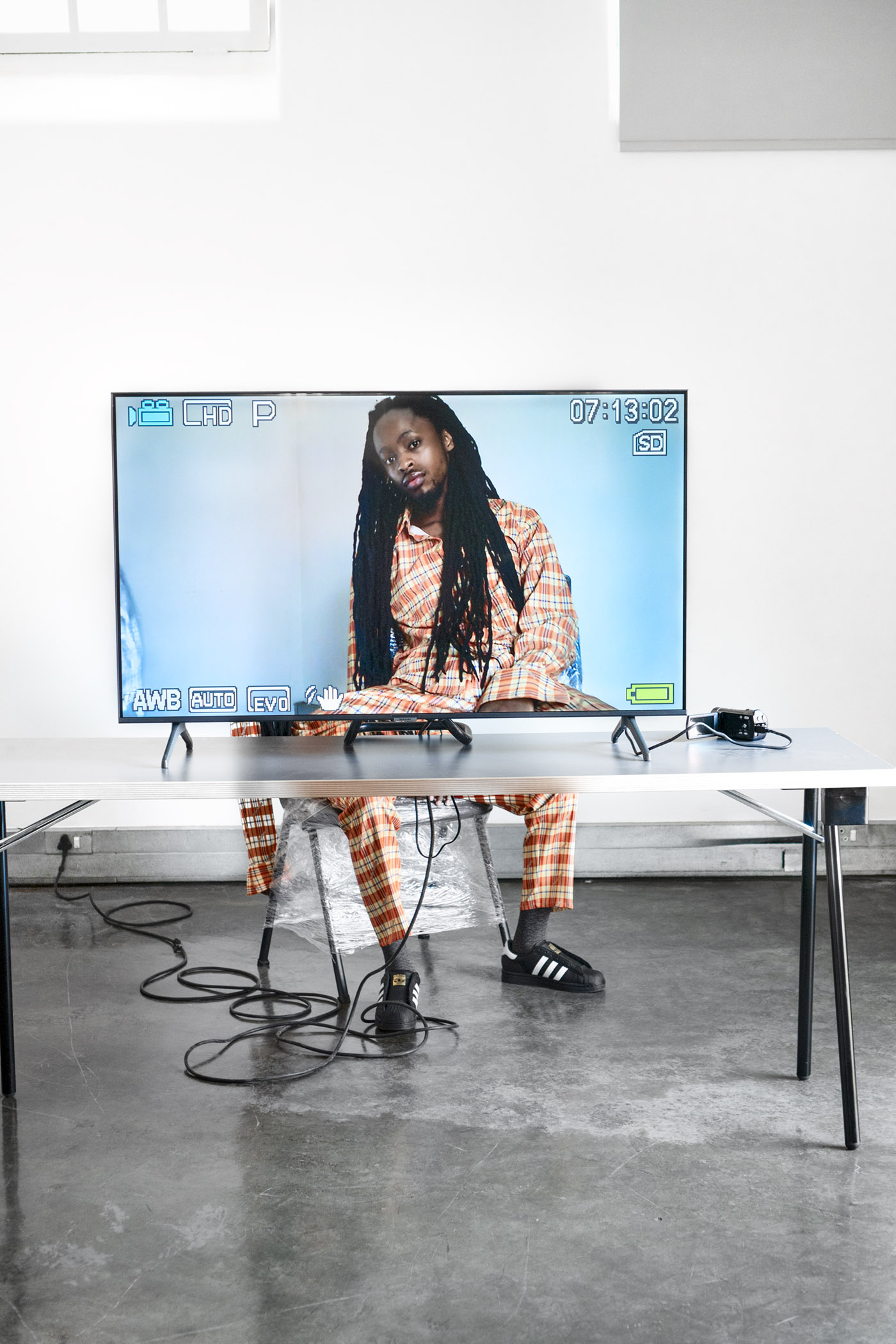 Can you speak a bit about your experience at MTFza and the overall affect/effect of being in the programme?
Aluta: This is a very difficult question…Being part of the internship was a life-changing experience. I was fresh out of university and I would say that it was my first "job" — we were given the opportunity to go to different production companies to see how everything runs. From writing a story to how it ends up on television, now, I realised that it was very different to how I had come to learn about it in university — so this was on the job experience. It gave me the confidence to be sure in my conviction of being a producer — which is what I'm doing now — I think had I not gone through that, it would have taken me longer to realise my true passion and what I actually want to do in this industry. We were exposed to [several] industry giants, your Shona Ferguson, we went to your BOMB Productions, we experienced your Clive Morris. So, as a producer I was able to gain an understanding of what each person does in production as a whole and there were different mentors for that.
Would you say that there's enough information, resources and organisations furthering the effort of film and TV education in SA, even just where exposing individuals to roles beyond directing or writing in the industry is concerned?
Aluta: I don't think that there's a lot of information available to people who want to get into our industry. I know that after I had just graduated, I was in panic mode because I didn't know where to go, what to do or even whether what I wanted to do was actually what I wanted to do. So, I think we need more programmes that support and guide the youth, and that help bridge the gap between university and on the job experience. I [wish] we had more initiatives like MTFza cause there are so many people who would appreciate that kind of [immersive] experience.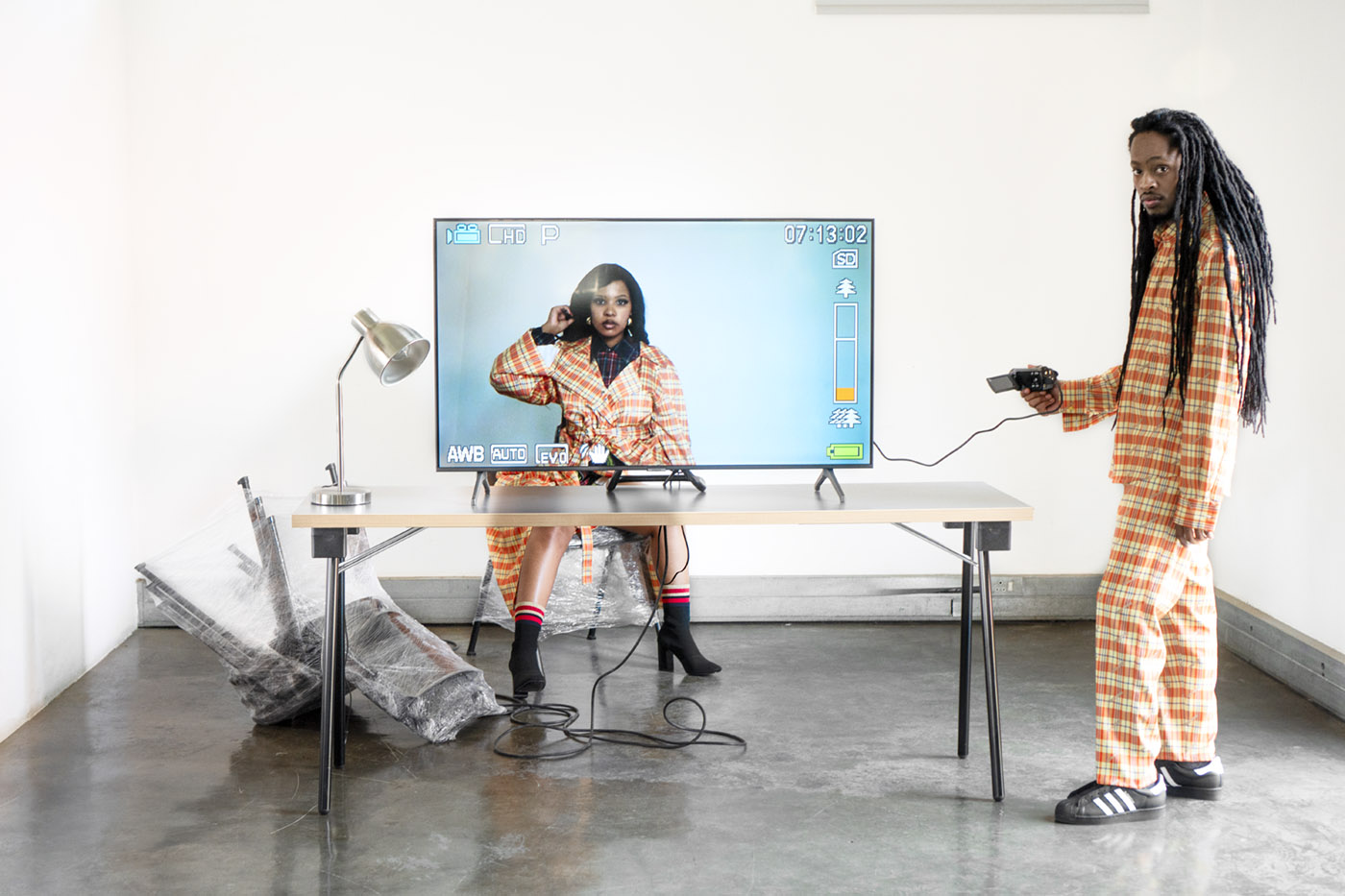 You say you see yourselves as "modern day African griots", what is the manifestation of a "modern day African griot", or what is the modernised articulation of an African griot to you — what exactly does it mean?
Thembalethu: The way I see it, stories would always bring people together to the camp fire and make us all feel warm. So, in our context instead of creating that campfire, we are bringing our audiences to [gather around] the screen and we are using a camera [to do this]. We [essentially] still want to tell stories that make people feel warm inside.
With the stories you tell, are they rooted firmly in a South African context or do they move porously between different African countries and their diasporic networks?
Thembalethu: [Right now, we've been telling] South African stories because we see ourselves through those lenses. However, we would [someday] love to have more encompassing stories [coming out of the continent]. I do also feel as though there aren't really too many differences between us across [the continent] — a story shot in Senegal, in Kenya etc…can still resonate in South Africa. Our production company also wants to put emphasis on young people at the moment because we are part of them — we think its better to tell story's which are true to your own experience. This also a time in South Africa where we are mostly seeing older people on our screens. So, this will give us a chance as young people to see ourselves; [both] represented and reflected on screen, which makes us feel good. And eventually we are going to grow up, and so will our audience [who we want to share that experience — of getting older — with].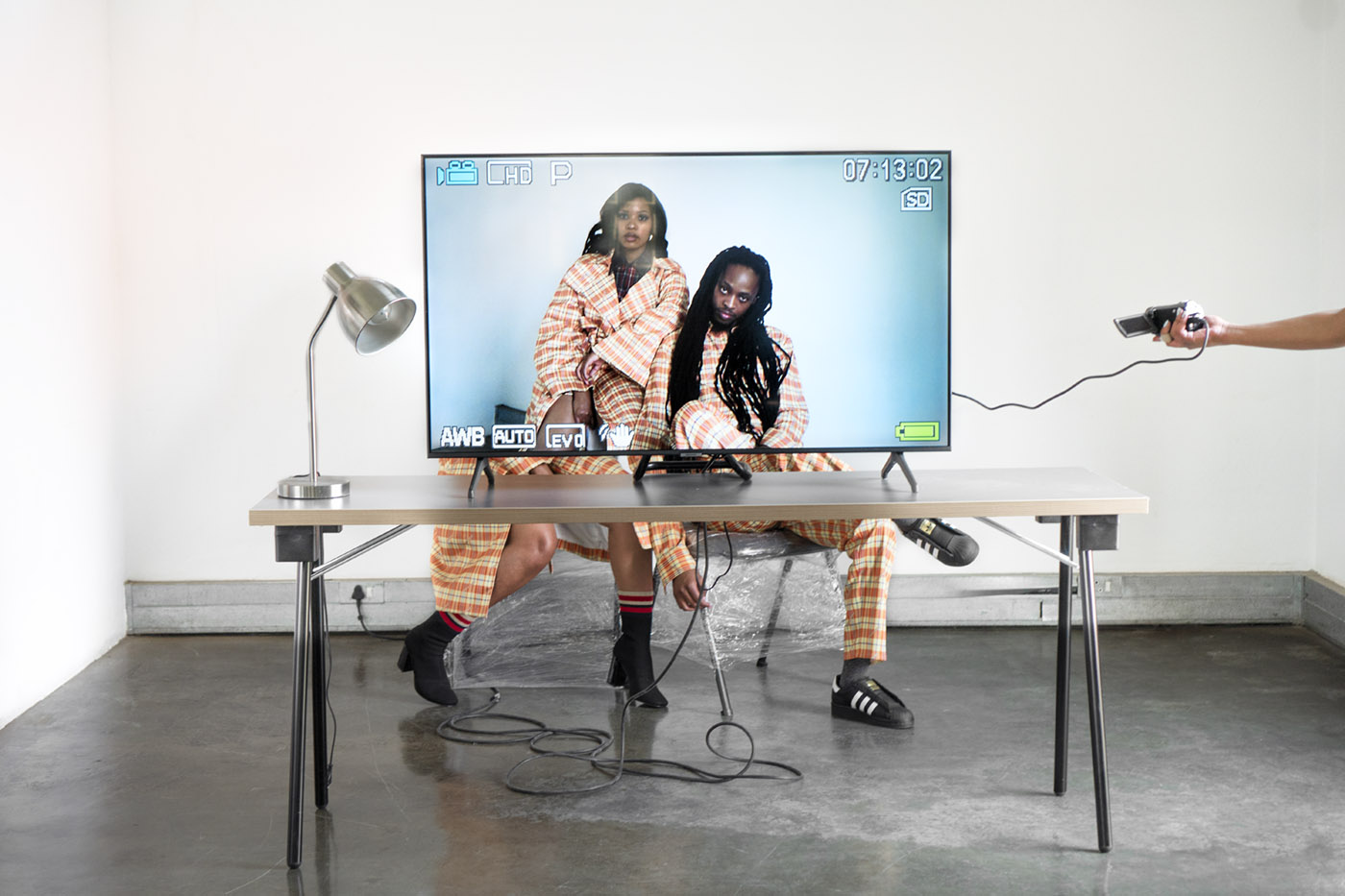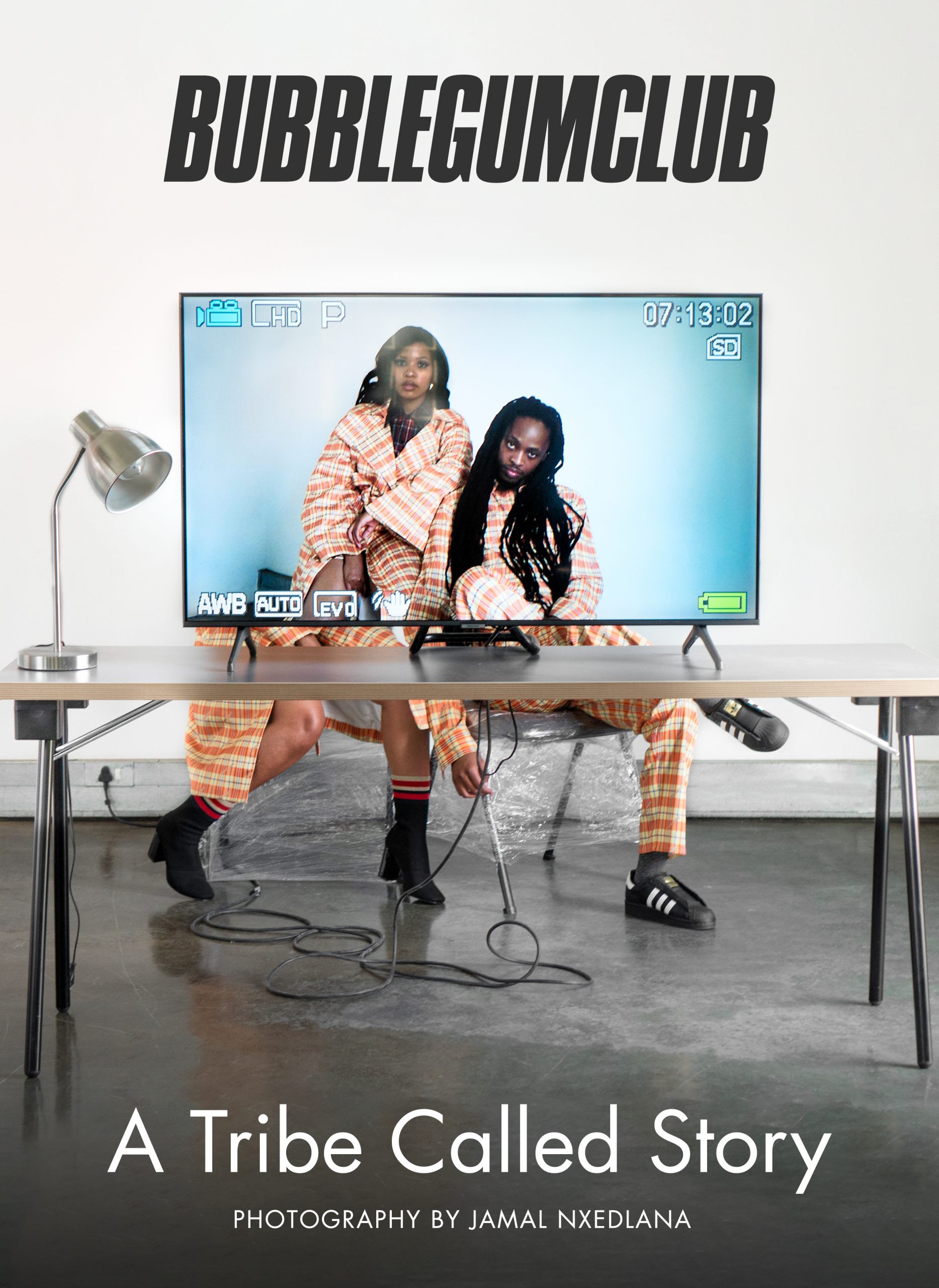 CREDITS
Photography: Jamal Nxedlana
Styling: Lebogang Ramfate
Make up: Aimee (Bobby) lokota
Hair: Israel
Thembalethu Mfebe wears: Shirt and pants by Rich Mnisi, shoes by adidas
Aluta Qupa wears: trench Coat by Rich Mnisi, shoes sourced from Styled by Boogie