Sunday March 4, 2012. During the now extinct program Esquenta—which ran on the Brazilian Broadcast TV channel Rede Globo—presenter Regina Casé talks about tecnobrega. A Brazilian rhythm born in the northeastern region, more specifically in Belém do Pará and spread becoming popular throughout the country. Musical group Banda UÓ, which was famous at the time for parodies of songs like "I Whip My Hair by Willow Smith and "Last Nite" by The Strokes, were also part of the show. I was 13 years old—already a fan of the group—gathered with my family in front of the TV, when we watched a member being asked if she suffered any prejudice for being transgender. The fact that she was not a cisgender person shocked not only the other guests but both the audience and my family. She was the legendary Mel; an infamous life, whose discursive existence is capable of presenting on national broadcast TV and within the recording industry dislocations, ways of saying related to practices of freedom, corporeality and hetero-topic subjectivities. And she did that long before political discussion regarding gender gained strength on the Internet and migrated to all kinds of media.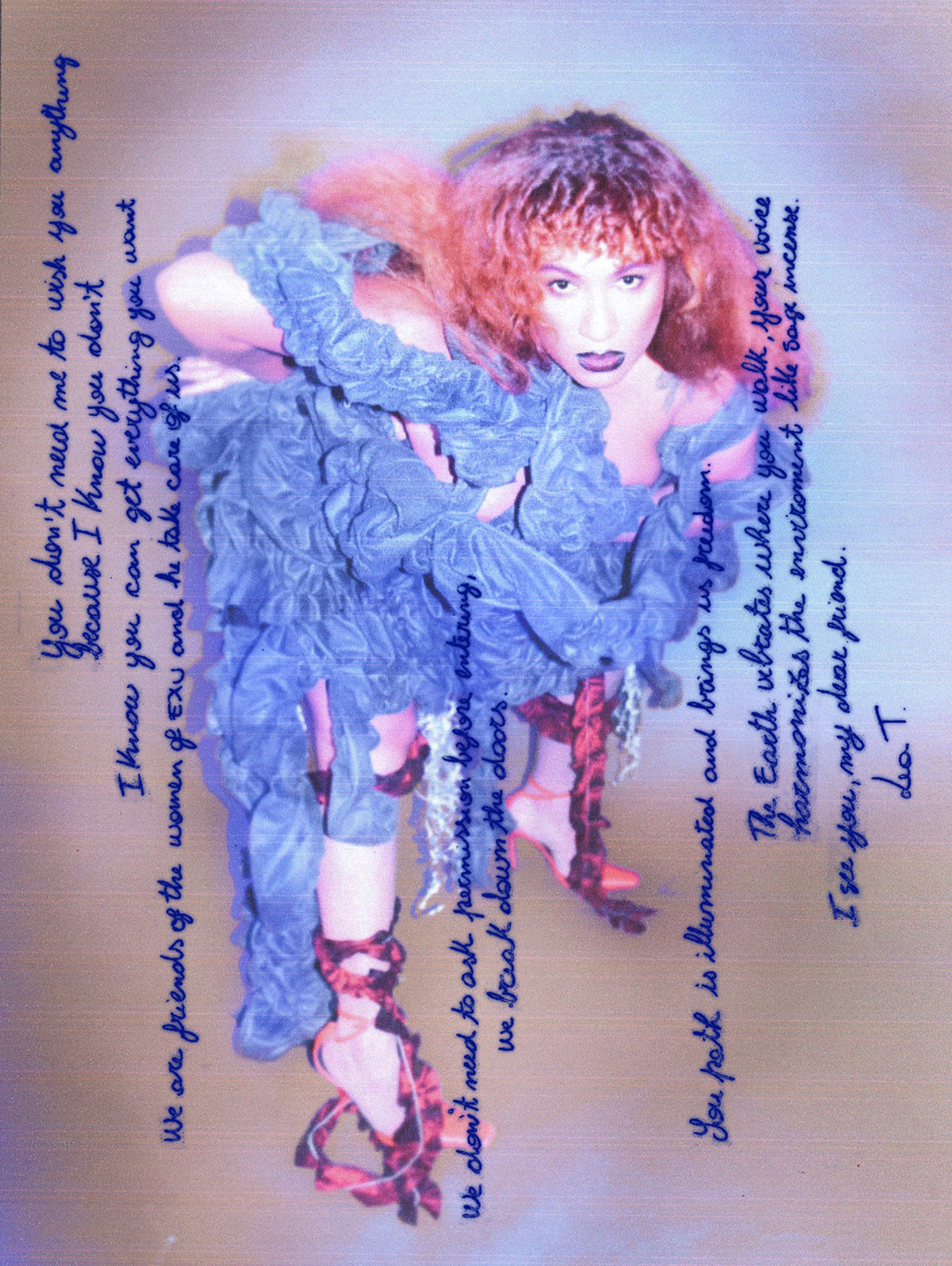 In April of last year—in the context of the uncontrolled increases in the numbers of deaths caused by COVID-19 in Brazil—the artist Bruna Kury and artist and and independent curator Walla Capelobo, concluded the four-handed text "DESEJO QUE SOBREVIVAMOS POIS JÁ SOBREVIVEMOS" [I WISH WE SURVIVE BECAUSE WE HAVE ALREADY SURVIVED] by saying that for us, dissident bodies, social distancing is not something new. Next, they state as follows:
We are already separated from the cis-hetero norm and we have paid the price for our lives following paths of precariousness, which makes us bear in mind the need for a pact of continuous protection at this time that requires a greater dose of care. It is necessary to conjure up life for after the coronavirus! It is always good to remember the words of Conceição Evaristo to give continuity to the processes of experiences elaborated by those who have always known how to survive: "Eles combinaram de nos matar. E nós combinamos de não morrer!" [They agreed to kill us. And we agreed not to die!].
However, lives like that of Brazilian singer Mel also needed to be valued before the pandemic. Born into a poor family in the interior of the State of Goiás and raised by her aunt and grandmother, the singer has faced (and still faces) many obstacles to achieve the prominent place she occupies today in Brazil's art and cultural scene. Poor, Black and transgender—Mel was already dealing with prejudice at home when, at the age of 16, she decided to own her identity. In an interview, Mel shares how in the beginning, her relationship with her family was not easy. At the same time also sharing that it has improved a lot, "They have left me in a place of silence, of rejection," she explains. "My grandmother is the most loving person in the world, I love her with [a] passion but I heard horrible things. She said that she was afraid to see me arrested, stealing… as if this was my only possible future". Years later, in 2011, Mel arrived in São Paulo with Mateus Carrilho and Davi Sabbag, her friends from Banda UÓ. Overtime the group achieved national visibility, took militancy and relaxation to the public and conquered a unique space, proving that it is possible to mix rhythms, sing tecnobrega and have some laughs in Brazilian popular music. As early as 2015, the singer gained prominence by being chosen by Avon as the lead face in the brand's advertising play for the Pink October campaign. This was the first time a transgender woman starred in this type of campaign. A significant happening, considering that information material on the importance of early identification of breast cancer is extremely necessary both for transgender women and travestis, due to the amount of hormones we take.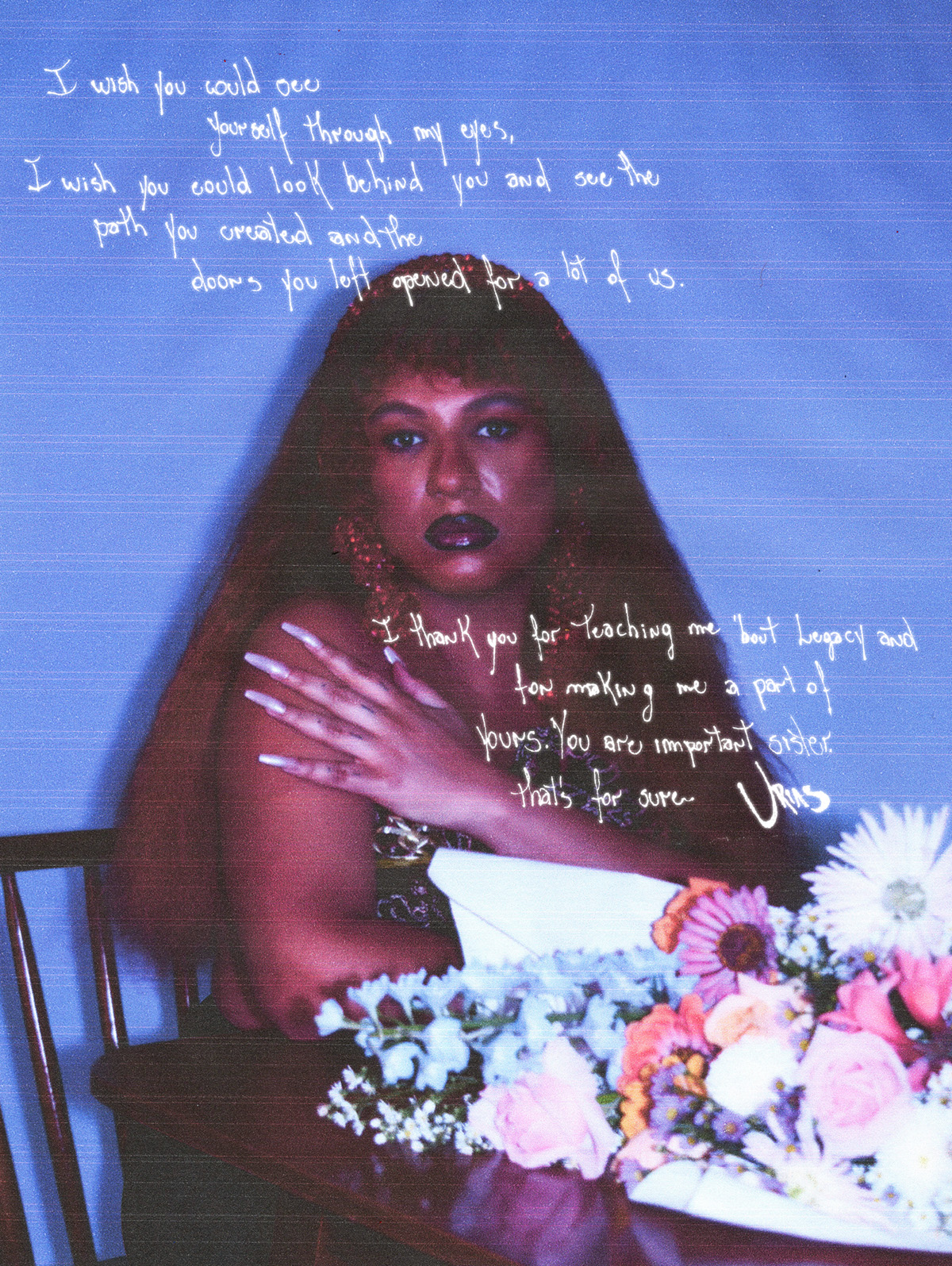 Thus, in March 2016, Mel joined the team of presenters of the debate show Estação Plural, together with singer Ellen Oléria and journalist Fernando Oliveira. The programme was the first aimed at the LGBTQIA+ public on broadcast TV usually addressing current issues. To cite only a few of her various achievements—after a hiatus of almost three years in her musical career—Mel finally launched in October 2020 her first solo work, the single and music video "A Partir de Hoje". Despite this, her period of not releasing solo music didn't stop her from investing in other fronts, such as the released videos reciting texts she had written, "O Cabelo" featuring Uma Luiza Pessoa and "O Medo" featuring Liniker. The singer also had her cinema debut in Daniel Nolasco's feature film "Vento Seco", which was selected for the 2020 Berlin International Film Festival.
With a career spanning 10 years, Mel has become someone of great importance to many of us and an icon for people who were and are icons for the singer herself, like models and friends Lea T., Camila Ribeiro and singer Urias—with whom Mel shared a place. The fact that we see Black trans women only in marginal spaces or spaces related to activism means that we no longer see our population outside the suicide and murder rates and outside of an activism bubble. It is as if we do not have specificities, characteristics and individualities. As if we were puppets serving the cisgender hegemony. Therefore, my claim revolves around praising not only Mel, but all transgender women and travestis transforming our actions into tributes while we are alive. So, in this way, I ask you to praise—even if that may seem silly—a trans woman and a travesti in your daily life. That way, you will transmit the message that no matter how much we are not with you, we are present and deserve to be loved.
Paraphrasing Jota Mombaça in a letter written to Castiel Vitorino Brasileiro:
For us nothing is intact. That is history demanding cruelty from us. We see the cure, and we see in the cure the limit of the world that was given to us. We know that the seed of this is to blossom now. A partir de hoje [from today], we have created a pact to love transgender women and travestis and to be the countercurrent of epistemicide.
With love, Ode.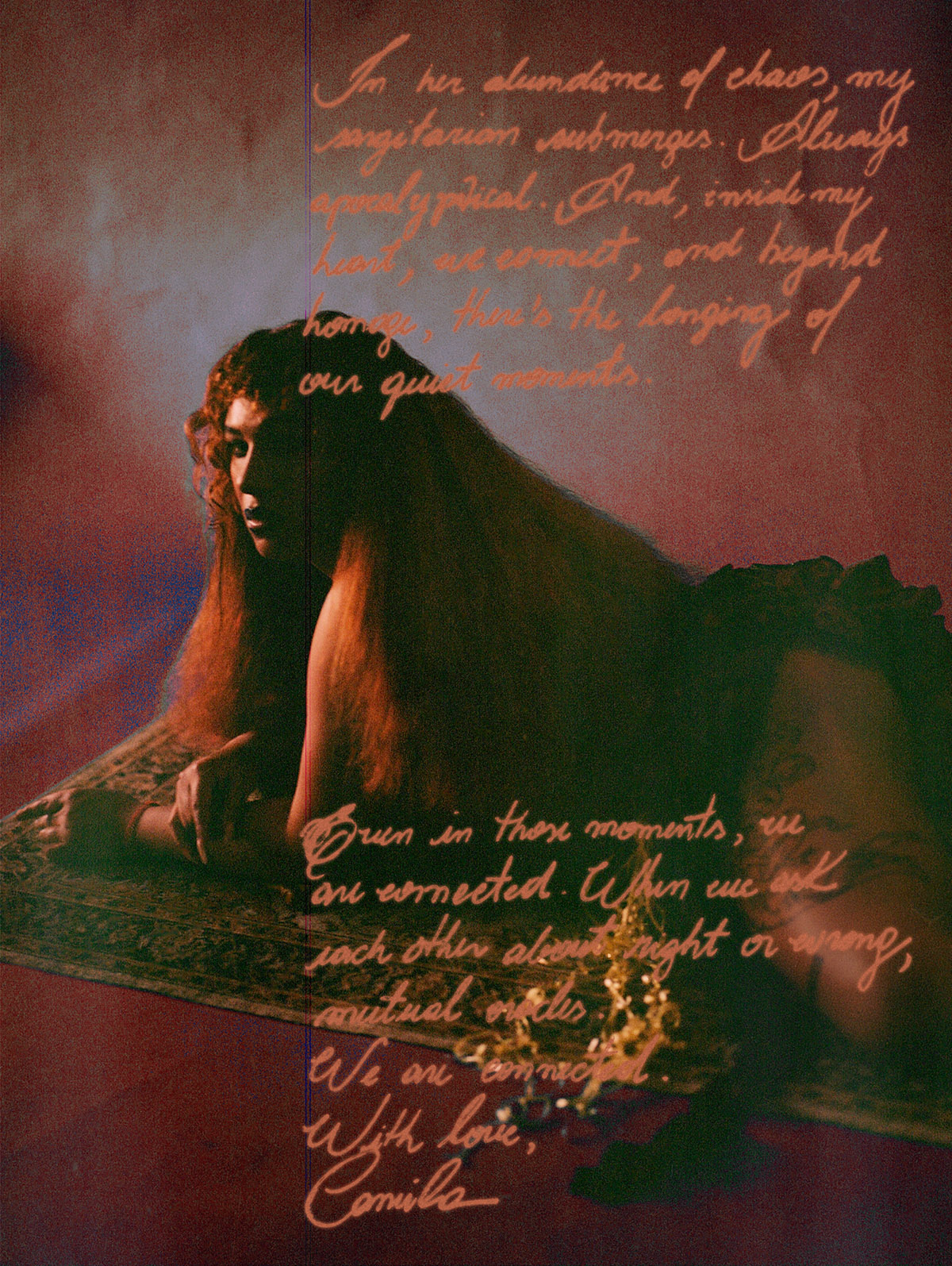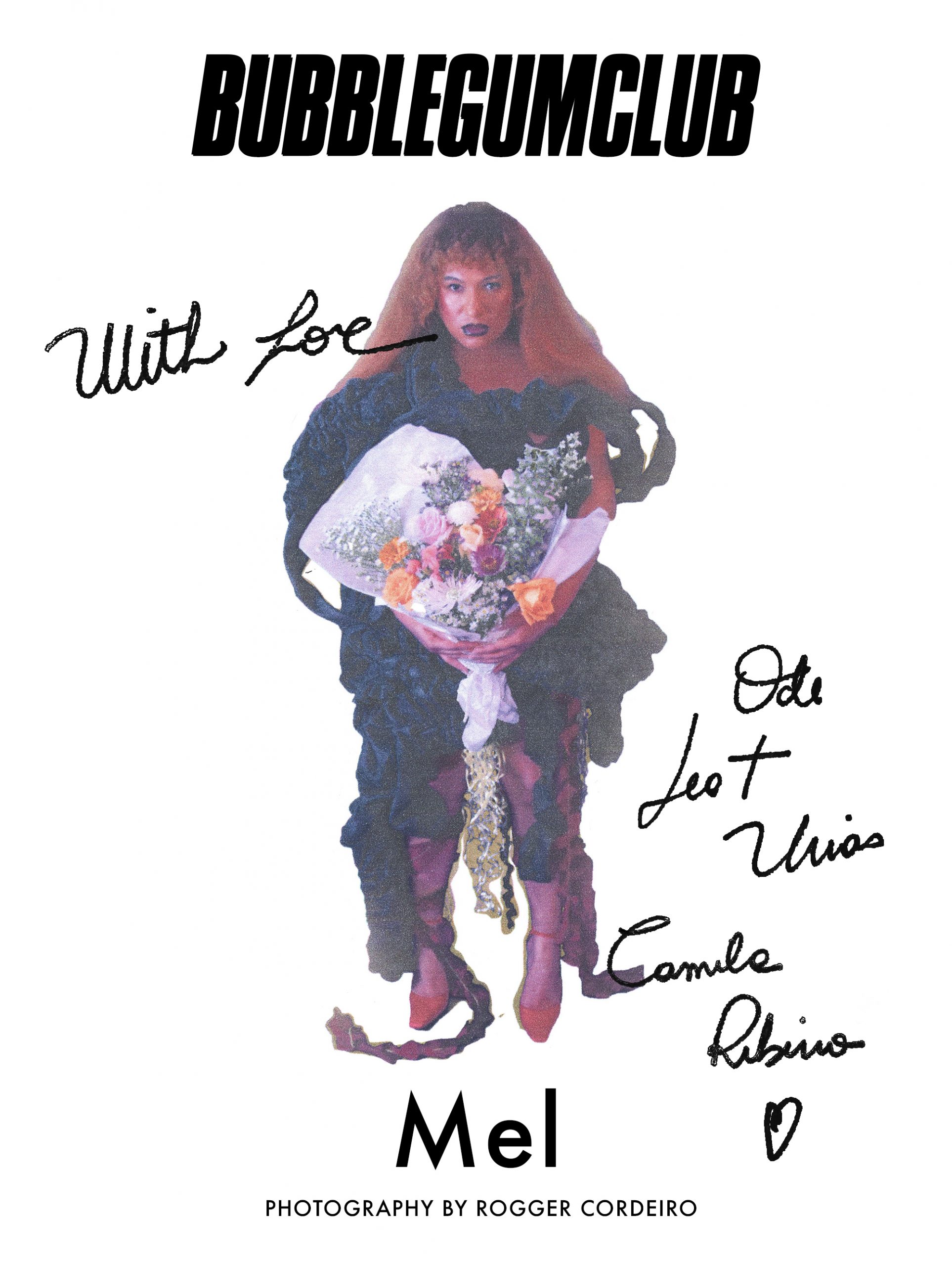 Credits
Styling and creative direction: Ode
Art direction: Raphael Mendes
Writings: Lea T. , Camila Ribeiro and Urias
Photography: Rogger Cordeiro
Make-up: Magô Tonhon and Rapha da Cruz
Hairstyling: Janice Mascarenhas
Flowers: Amorphophallus
Nails: Dayane Santos
Brands: Obrigon, PEDRA, Gansho and Gianni Versace Pre-Owned