Picós [have] served as communal entertainment for Colombians in coastal areas, where a majority of the country's black population lives. The culture of the sound systems have always embraced and promoted African music and, as FACT Mag points out, 'played a vital role in building a collective diasporan identity for many Afro-Colombians living in a country heavily scored along race and class lines.' Picós not only represent Afro-Colombian culture through music, but also tie together art, dance, and community.
H/history can be told in many ways; the possibilities of its remembrance as kaleidoscopic as the subjectivities who dance upon its dusty breath. Moreover, H/history can also be conjured and felt through different forms and abstractions—through colour, taste, the ocean, the curve of a setting sun that looks and feels like the way a head once rested upon your shoulders, and even through music and all it carries with it.
Now, in this particular case — where this particular H/history is concerned — both the ocean and music are integral companions to its making and remembrance. PICÓ: Un parlante de Africa en America is a documentary and sonic inquiry into the Colombian tradition of Picós, a H/history which sprung forth from the abyss of enslavement and the Trans-Atlantic slave trade and route.
During this time Colombian port towns such as Barraquilla and Cartagena played a pivotal role in granting access to the trade. Cultures and traditions travel with people; they become anchors and manifestations of home, perhaps even more so when the leaving of home was violent and forced.
Colombian port cities were access points for technological devices, culture and music from Western Africa which paved the road to the birth of the culture of the Picós. Thus the displacement of enslaved African people in Columbia brought with it an explosion of African sound to the streets, dominated by the newborn genre called Champeta, which brought together Salsa, Latin and Caribbean music.
Although some say the origins of picós goes back as far as the 1930s, it wasn't until the 1970s that they became synonymous with the party scenes of Cartagena and Branquilla.
They can be described as vividly decorated sound-systems which animate celebrations on the Atlantic Coast and the Afro-Columbian sounds reverberating from the culture of picó, came to represent acts of freedom in a national context divided along the lines of race and class.
The earliest versions of these sound systems were hung from trees. But over time that became impossible. 'In the '90s, the picós grew disproportionately in size and power; it was the time of picó concerts, and they could only be used in very large spaces,' says filmmaker Roberto de Zubiria, who made a documentary about the subject.
Nostalgic picoteros still remember when the sound systems were so powerful that turning them on at full volume would break water jugs, blast open roofs, and give you a toothache.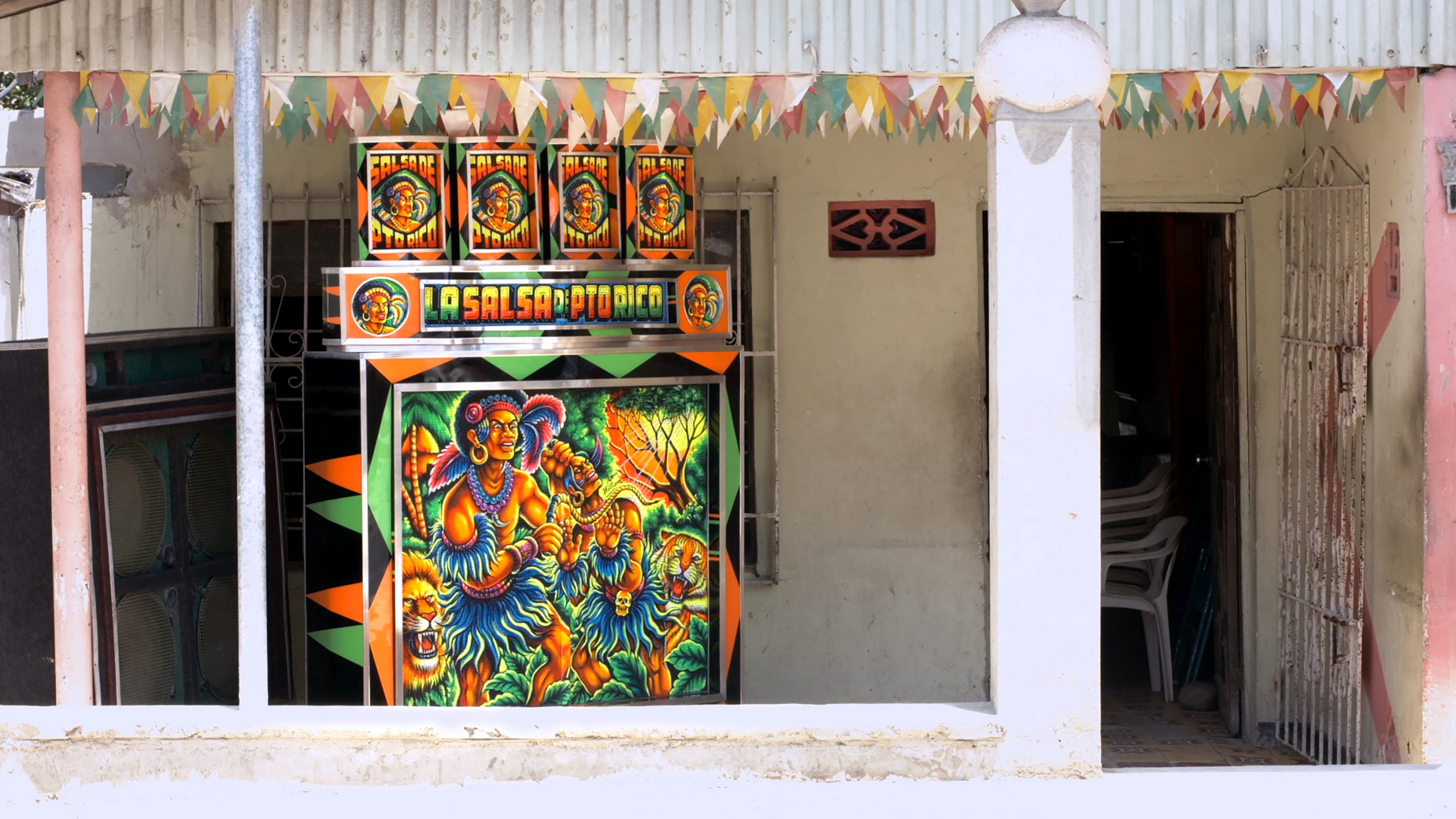 Invernomuto & Jim C. Nedd, Pico–Un parlante de Africa en America, 2017 (film still).
For this project of sonic inquiry at Auto Italia, led by artists Invernomuto (Simone Bertuzzi and Simone Trabucchi) and Jim C. Nedd, the investigation and documentary situate picó culture within a global discussion on the role and potential of sound system cultures as sites of sonic resistance — exploring how these physical contexts enable communities to come together and re-define social relationships against the backdrop of racial capitalist subjugation.
This investigation materialises through a digital programme of text, mixed media and image commissions led by an international community of producers, DJs and artists — for whom sonic practices are communal devices to explore the global resonances of African diasporic sound within music production.
It also includes a newly commissioned public work by Jim C. Nedd, installed on the facade of Auto Italia's project space, drawing from the lens of documentary film to explore the political potential of music in public environments of celebration and dissent.
The programme conceptualised by Auto Italia and the documentary PICÓ: Un parlante de Africa en America, are those sites/sights of inquiry that are also brimming with possibilities of (re)imagining remembrance and our ideas on the forms and ways in which H/history still reaches forth to us from its ethers. As echoed in the films trailer:
When one studies art, you identify yourself according to your interests. I started taking an interest in Salvador Dali, for his madness, his surrealistic art. Art that parts from reality, the tangible and physical. One sees in the images I create here, there's much surrealism. He used to create things that do not exist in reality: a flying person, an animal flying, an elephant flying, a cloud  the sky, an island as a cloud. Like when you're daydreaming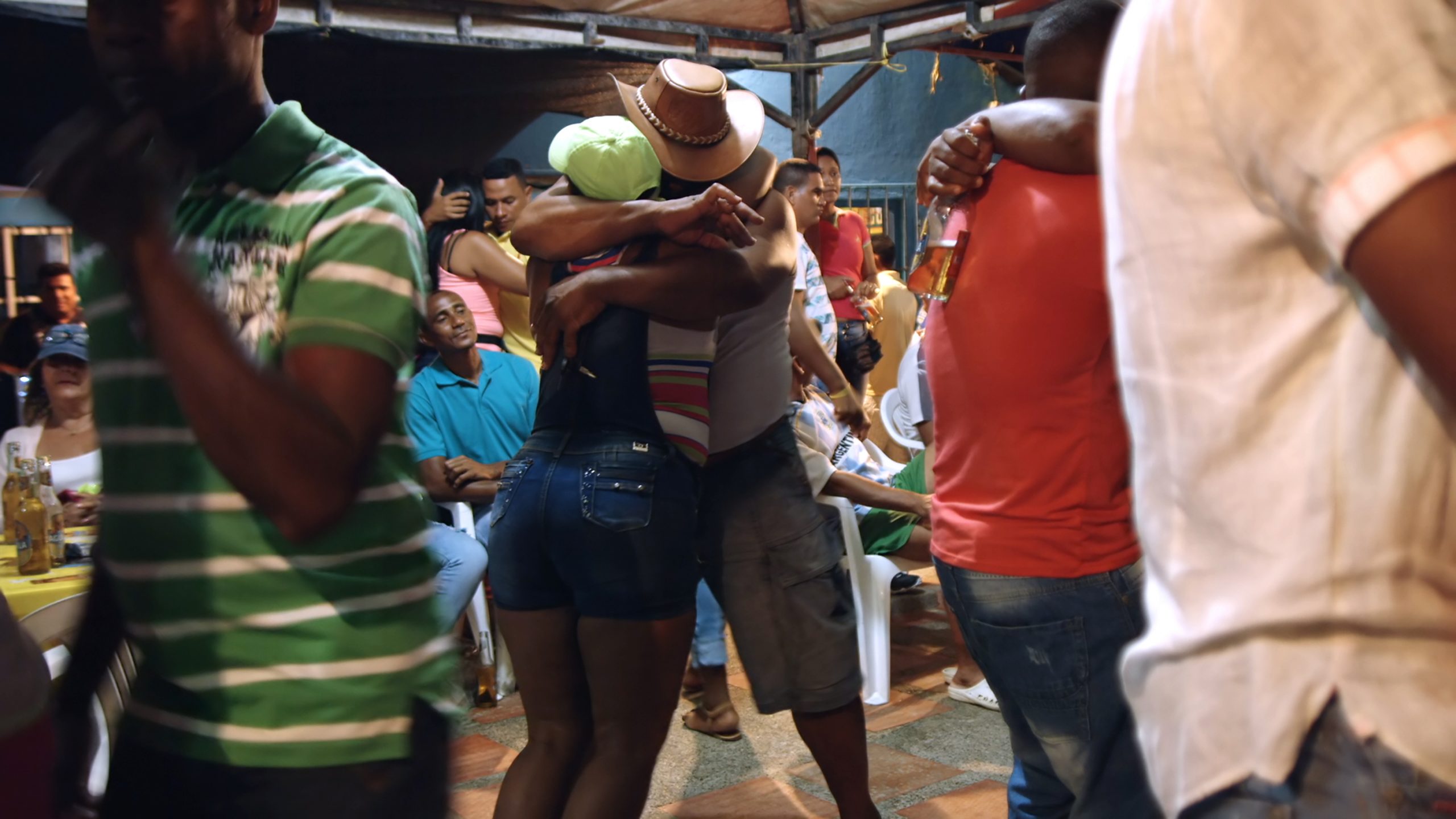 Invernomuto & Jim C. Nedd, Pico–Un parlante de Africa en America, 2017 (film still).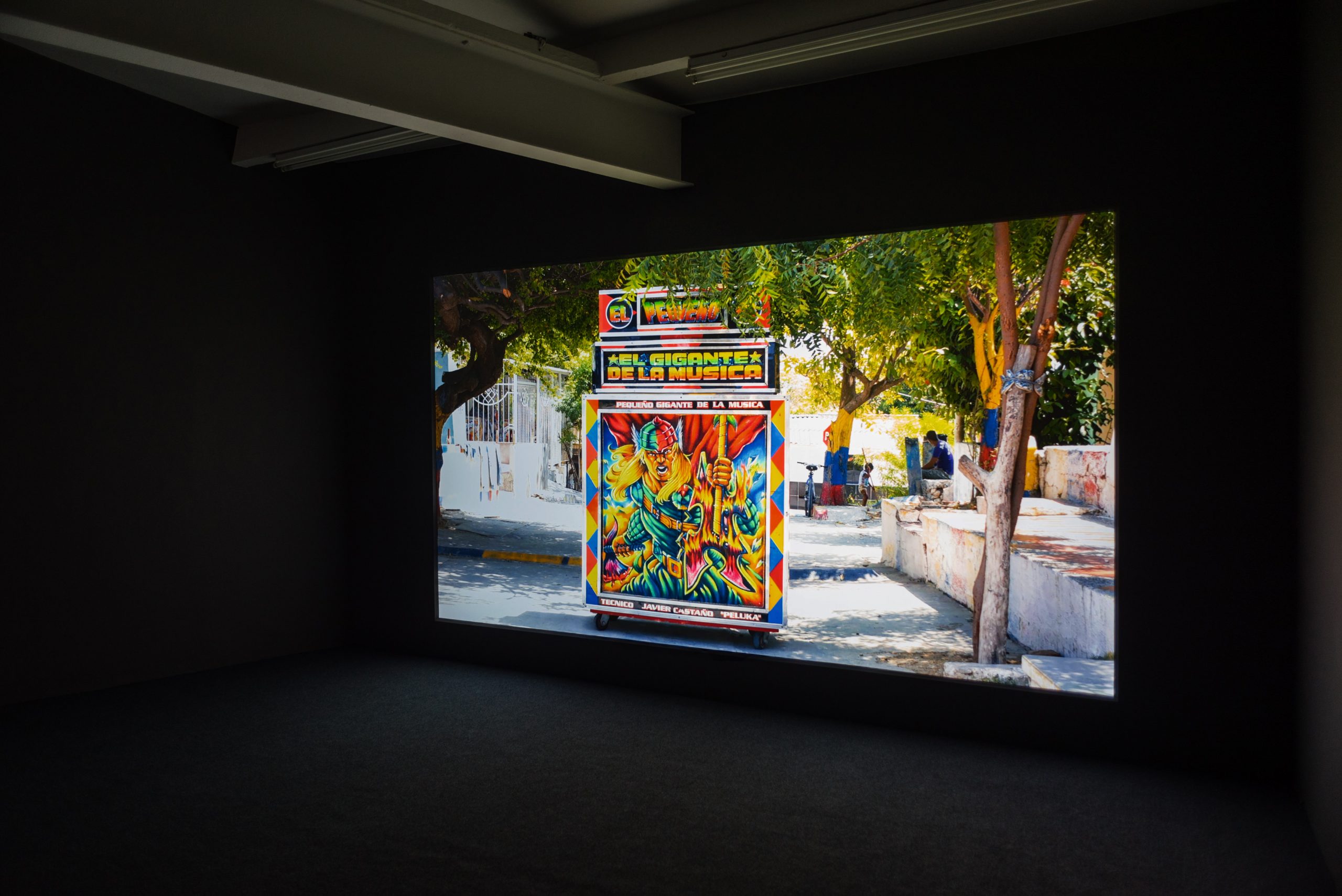 Invernomuto and Jim C. Nedd, PICO: Un parlante de África en América, installation view at Auto Italia, London (2020).
Exhibition continues: 11 October – 13 December 2020.
Check out the Auto Italia page here for more info!